Phanton vs Kron / Splinterlands Art Contest! // Week 155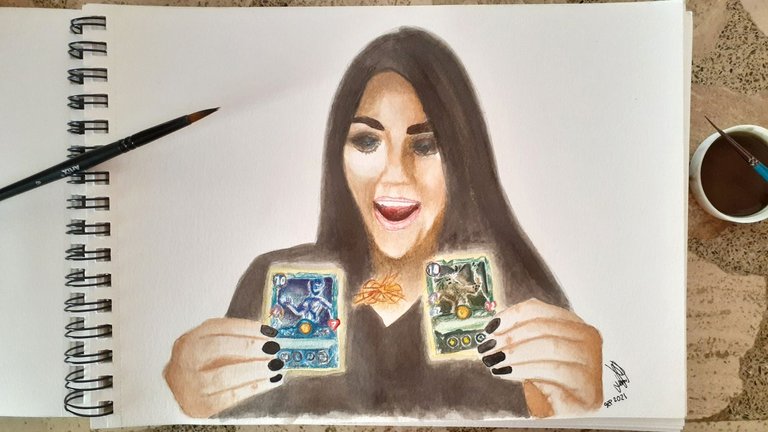 Se me ocurrió una idea para el concurso de arte de Splinterlands. Quise humanizar un poco el arte, incluyendo a una modelo. También combiné varias técnicas como el fotomontaje y la acuarela.
Usé dos cartas legendarias de ataque de magia. También tienen el mismo mana. Una pertenece al Splinter de Agua y la otra al de Tierra. Son extremadamente poderosas y muy costosas en el mercado. Hablo de Phanton y Kron; con 10 de mana y 4 de magia en su nivel más alto.
Es por eso que @enmy las sostiene mientras se atacan la una a la otra, pero la magia se pega entre si, impidiendo que llegue a la carta. Ella está sorprendida del poder de las cartas y su furia, porque apenas se vieron, se lanzaron el ataque. Enmy pensando que podían ser amigos, pero no; fue imposible, se odian demasiado. Uno es el rey de los océanos y el otro de los bosques.
I came up with an idea for the Splinterlands art contest. I wanted to humanize the art a bit, including a model. I also combined several techniques such as photomontage and watercolor.
I used two legendary magic attack cards. They also have the same mana. One belongs to the Water Splinter and the other to the Earth Splinter. They are extremely powerful and very expensive on the market. I'm talking about Phanton and Kron; with 10 mana and 4 magic at their highest level.
That's why @enmy holds them while they attack each other, but the magic sticks together, preventing it from reaching the card. She is surprised at the power of the cards and their fury, because as soon as they saw each other, they launched the attack. Enmy thinking they could be friends, but no; it was impossible, they hate each other too much. One is king of the oceans and the other of the forests.
---

Lo primero fue perdirle a @enmy que se tomara una foto sosteniendo unas tarjetas. Hizo varias pruebas y quizás ella haga un post, porque muchas de sus caras fueron graciosas. Esta fue la que más me gustó, porque aunque está sorprendida, también deja ver una sonrisa.
Después reflejé la foto, porque se la tomó con el lente tracero de la cámara. Incluí las cartas y en el centro una explosión cuando chocaron los dos ataques de magia.
The first thing was to ask @enmy to take a picture of herself holding some cards. She did several tests and maybe she will do a post, because many of her faces were funny. This was the one I liked the most, because even though she is surprised, she also lets a smile show.
Then I mirrored the photo, because it was taken with the back lens of the camera. I included the cards and in the center an explosion when the two magic attacks collided.
---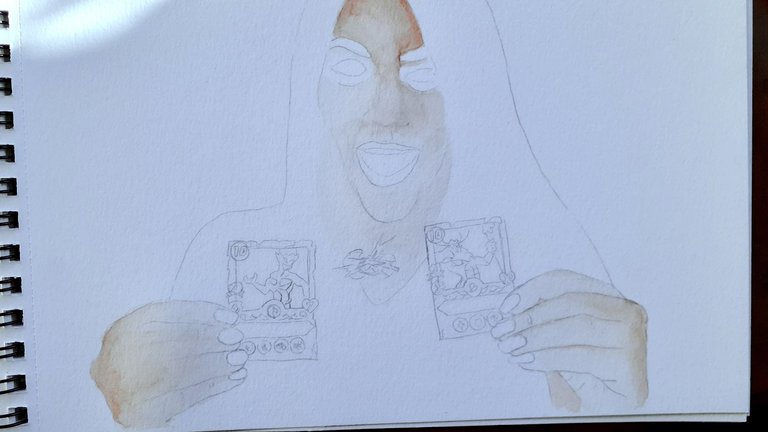 Comencé por la piel, porque es lo más claro y delicado. En el progreso el dibujo se va saturando de color. Me estaba gustando como se iba viendo, aunque sabía que el mayor reto serían las cartas, por la cantidad de detalles tan pequeños.
I started with the skin, because it is the clearest and most delicate. As the drawing progresses, it becomes more saturated with color. I was liking how it was looking, although I knew that the biggest challenge would be the letters, because of the amount of such small details.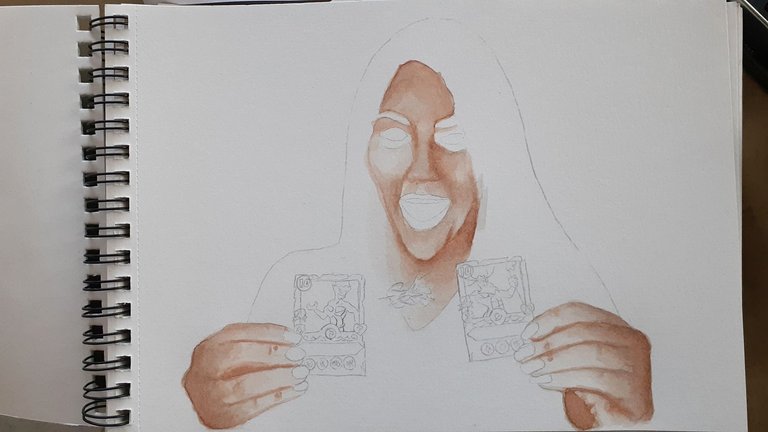 ---
Comnecé pintando a Phanton, quizás lo vi más fácil. Vi dificultades con Kron por los colores más dfíciles de lograr, aunque son unos tonos que me encantan.
Lo pequeño de los detalles me complicaban la técnica de acuarela, que no la maneja en proporciones tan pequeñas.
I started painting Phanton, maybe I saw it easier. I saw difficulties with Kron because of the more difficult colors to achieve, although they are tones that I love.
The smallness of the details complicated the watercolor technique, which does not handle it in such small proportions.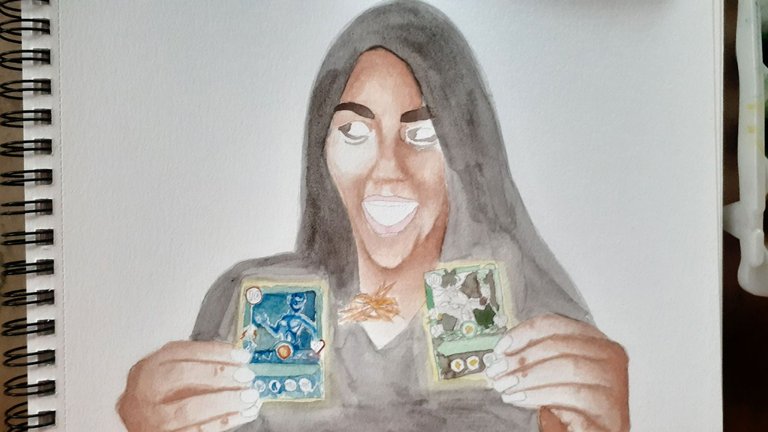 ---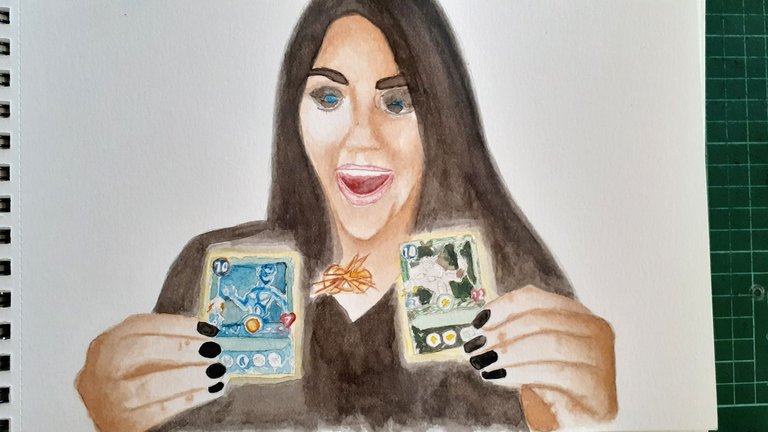 Una vez que tenía pintado la base en los respectivos colores, me dediqué a orcurecerlos y saturarlos, aplicando más y más acuarela.
Los ojos se me hicieron complicados por su posición y esa sombra azul del maquillaje. Lo que más me gustó fue la boca como quedó. Después de oscurecer el pelo y las cejas; el dibujo agarró mucha vida.
Once I had painted the base in the respective colors, I dedicated myself to darken and saturate them, applying more and more watercolor.
The eyes were complicated because of their position and the blue shadow of the makeup. What I liked the most was the mouth. After darkening the hair and the eyebrows; the drawing took a lot of life.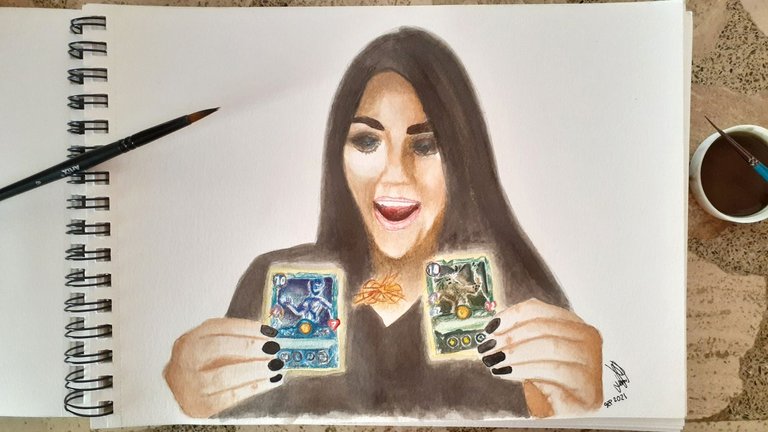 ---
Se me ocurrió hacer unos detalles con rotulador negro a las cartas, temiendo que pudiera dañarlas, sin embargo el resultado me encanta. Parecen caricarutas y le dan nueva vida, además que un toque diferente.
It occurred to me to make some details with black marker to the cards, fearing that it could damage them, however I love the result. They look like caricatures and give a new life to the cards, as well as a different touch.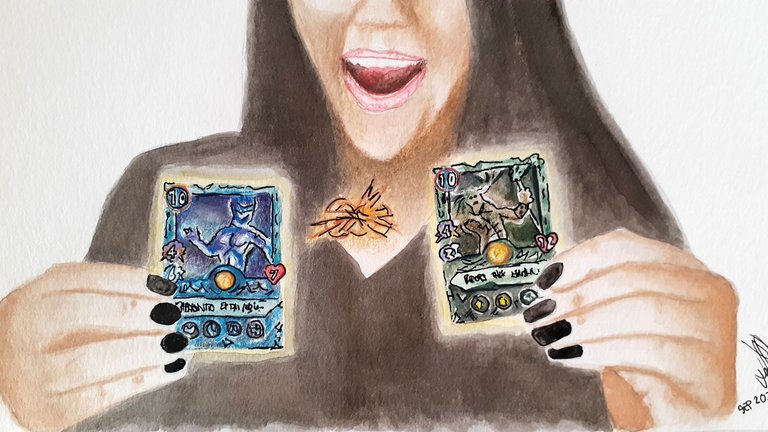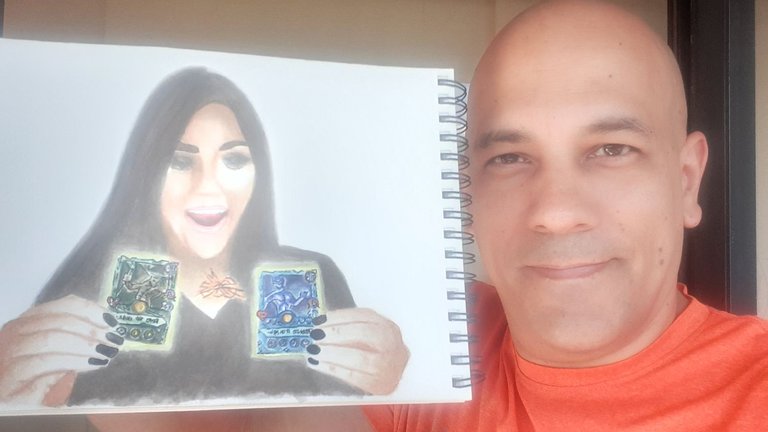 Cuéntame. ¿Haz jugado con estas cartas? ¿Cuál te gusta más?
Tell me, have you played with these cards, which one do you like the most?
---
Si todavía no te registras en el juego, lo puedes hacer aquí / If you have not yet registered for the game, you can do so here:
https://splinterlands.com?ref=danielvehe

---
---