Splinterlands Art Contest! // Week 158 // Fire Spitter x Charizard
Fire Spitter x Charizard

Hello everyone, I'm back! It's been two weeks and it's a shame I wasn't able to publish anything the previous week, but I am very proud to present to you, my entry for Splinterlands arts contest entitled Fire Spitter x Charizard, a cross-over between Splinterlands and Pokémon - a successful video game and anime series with a large multi-generation fanbase.
This time, I have chosen to work with Fire Spitter. If you want to know why, well, its a dragon. A freaking FIRE DRAGON! Mighty creatures with destructive force that can turn enemies to ashes with a single breath! The seven year old me (and the present me) is still dreaming of riding one as it soars!
Since Fire Dragons are commonly portrayed in fantasy films and anime, there are a lot of choices for Fire Splitter's counterpart. But for this particular artwork, I have chosen one of the most famous fire dragon that have existed in video games and anime. Let me say it like a Pokémon trainer, "Charizard, I choose you!"
​
Medium and Software:
​
Mobile Phone: Realme XT
Software: ibisPaint X & Adobe Lightroom CC
​
Step by Step:
​
Here is the step-by-step process on how I made Fire Spitter x Charizard digital artwork:
​- First of all, I gathered reference materials that will be used for my artwork. For Fire Spitter, I have used the card in the official Splinterlands website. For Charizard, I chose its Super Smash Bro Ultimate version. For Copyright purposes, I can not post any of the two photo reference. However, I will be including on the latter part of my post the description of my reference photos so that it can be searched easily incase you may be interested.
The next step is to draw the body of the dragon. For this particular artwork, I have decided to use the reference photo of Charizard as base and incorporate the main features of Fire Spitter.
​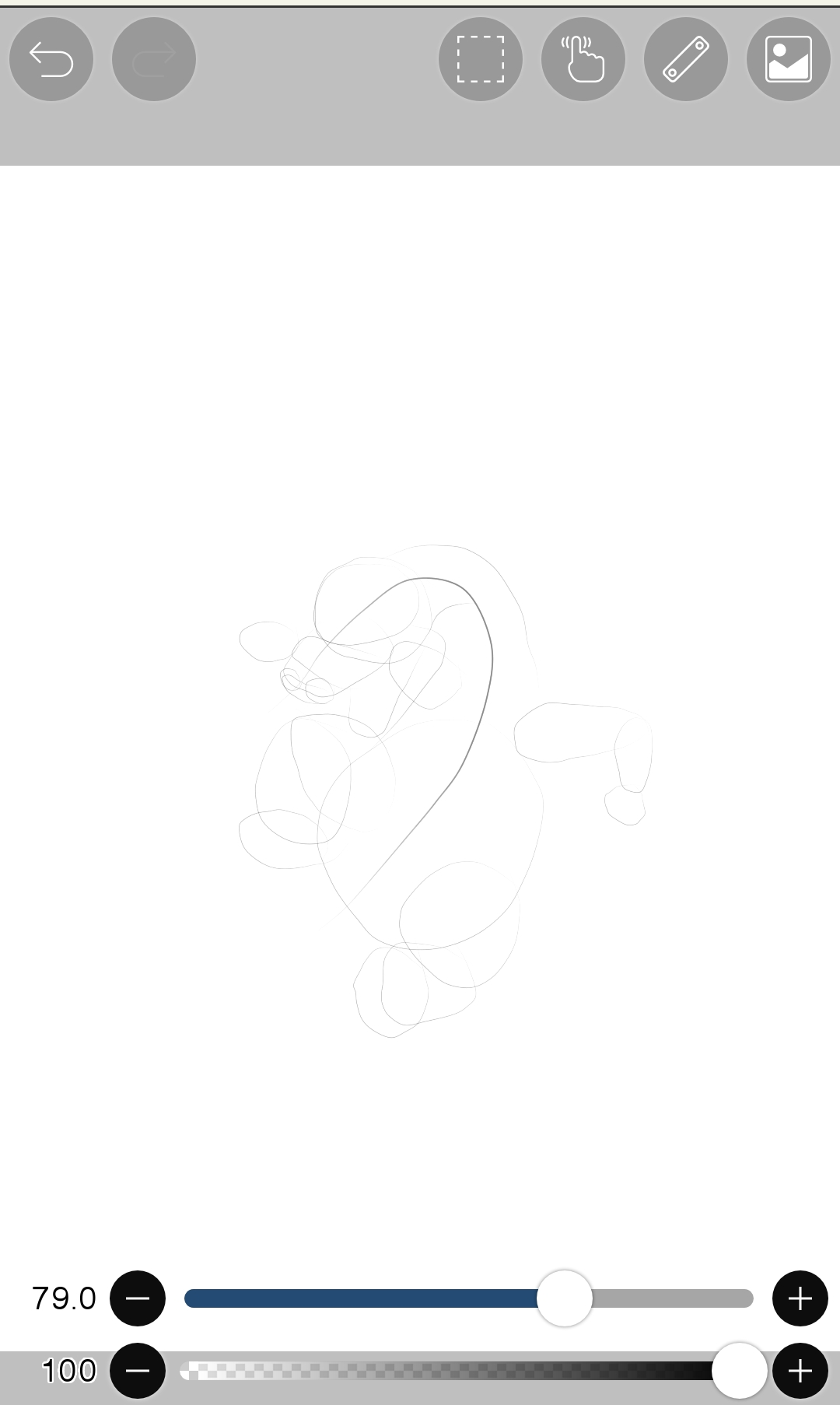 Then, instead of my conventional way of drawing the outline for details, I went ahead and started my artwork by directly painting since most of the features and details are defined by lighting and shadows.
I started by painting the eyebrows, the base of the head including the nose, the mouth and eyes, and then the neck connecting to the main body. Before proceeding to other parts, I have provided the major details so that there won't be a need to edit them again unless it is to add some minor details.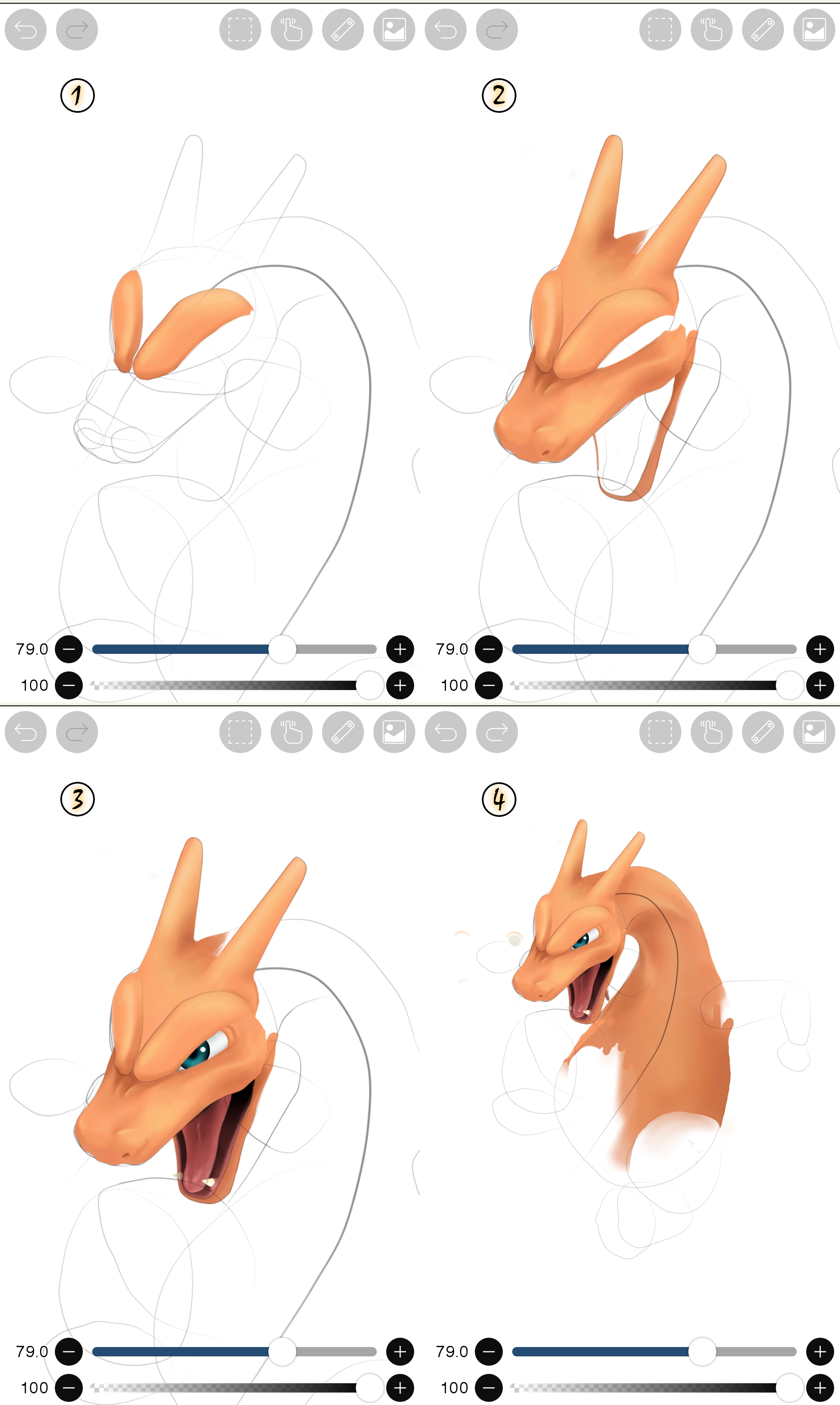 Then I started adding the limbs, both arms and both legs, and the base for the belly. After this step, we can see that the Charizard base is almost complete.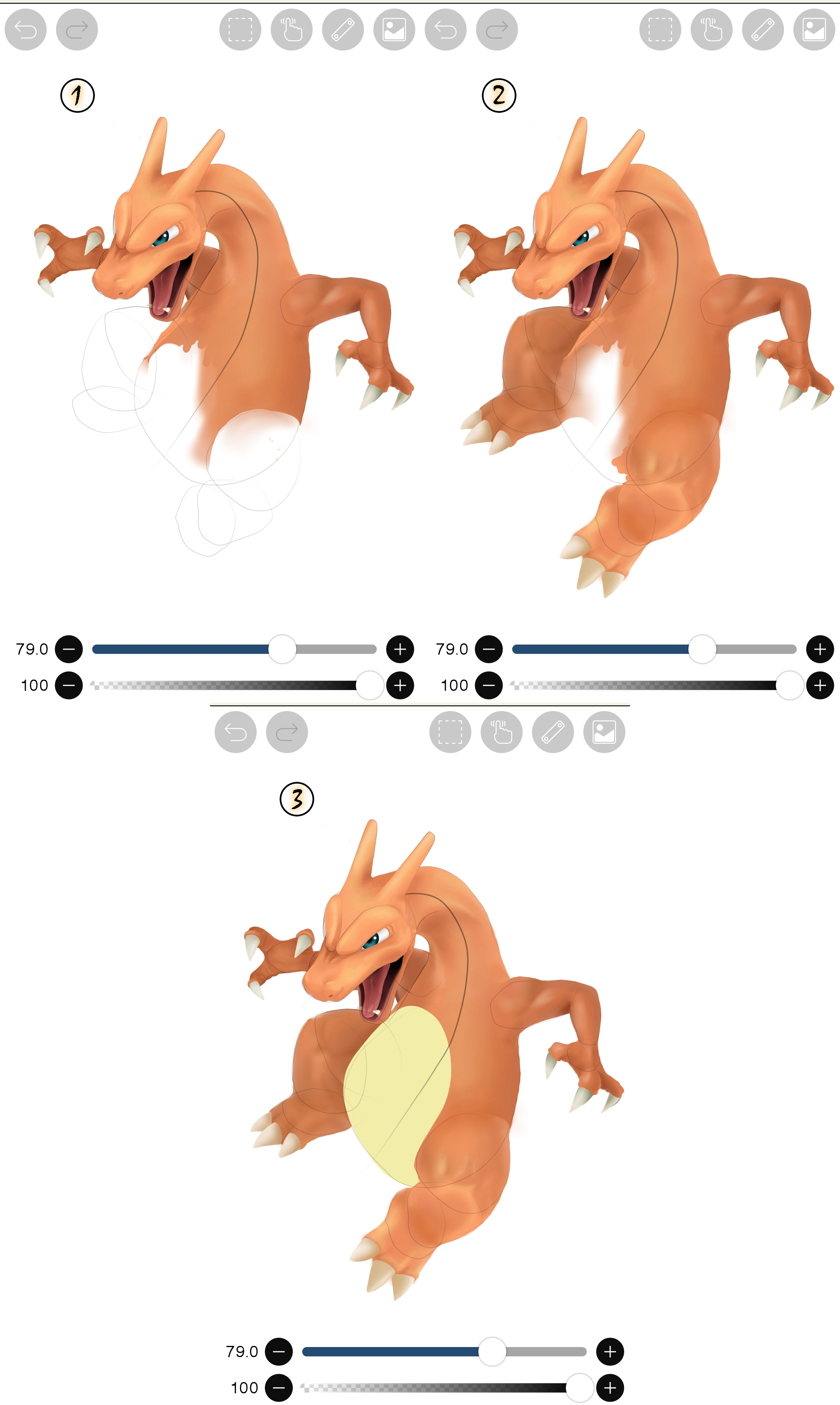 After creating the base, it's time to add the main features of Fire Spitter! I added the stripes on the belly, one of the main features of the Fire Spitter. I added Charizard's tail also with the stripe feature. Then, I have adjusted the main color of Charizard to that on the main color of Fire Spitter and added wings.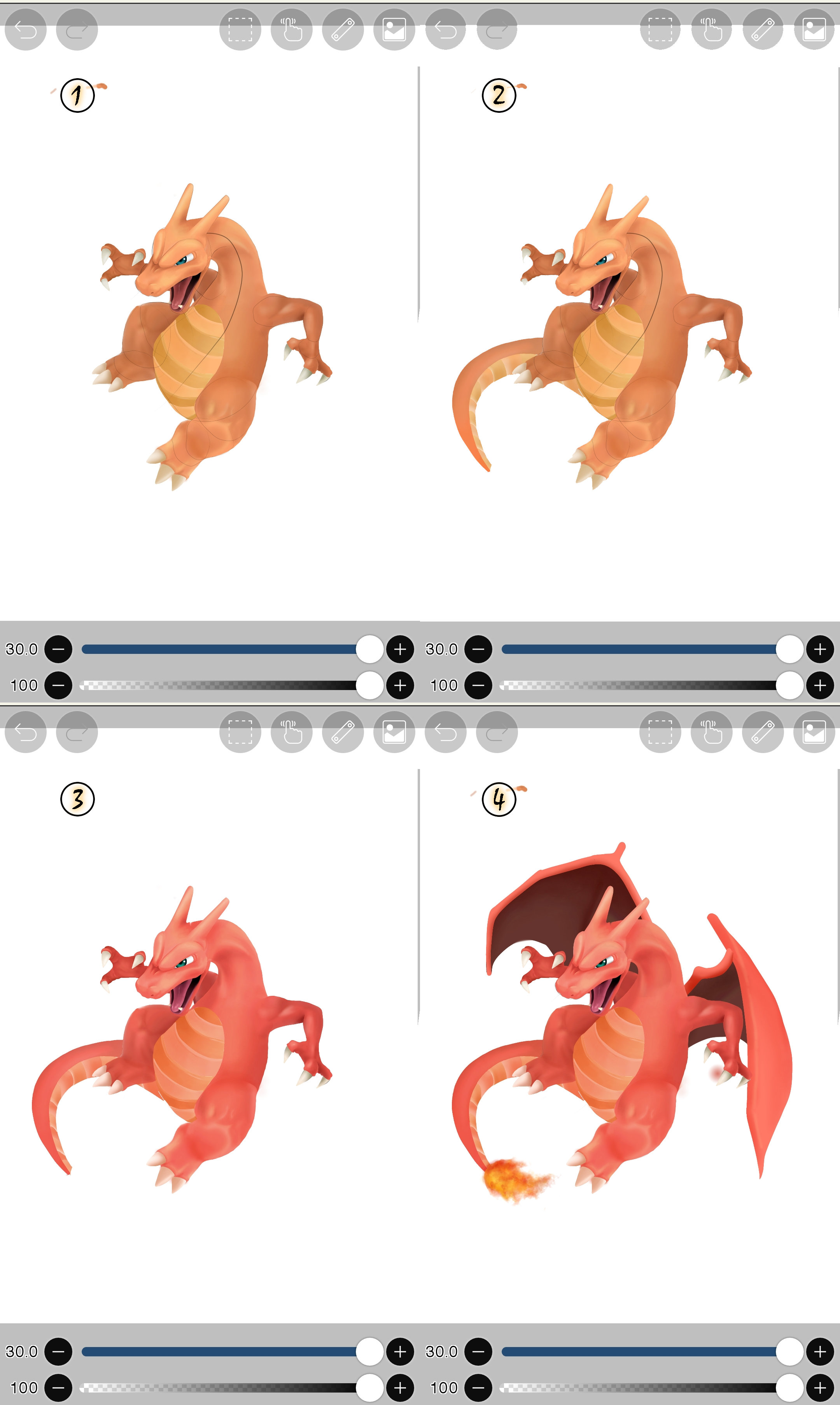 I have added one of the main features of Fire Spitter which is its fins growing from the top of its head down to the end of its tail.
Another is its pair of blazing wings. As for my artwork, I have tried creating a pair of wings made of fire. However, as I am now, I am unable to create something I am satisfied with. That's why I have settled with retaining the top part as Charizard wings and turn the lower part as flames which I think suits my work better. To highlight the effect of flames, I have changed the background to a dark color.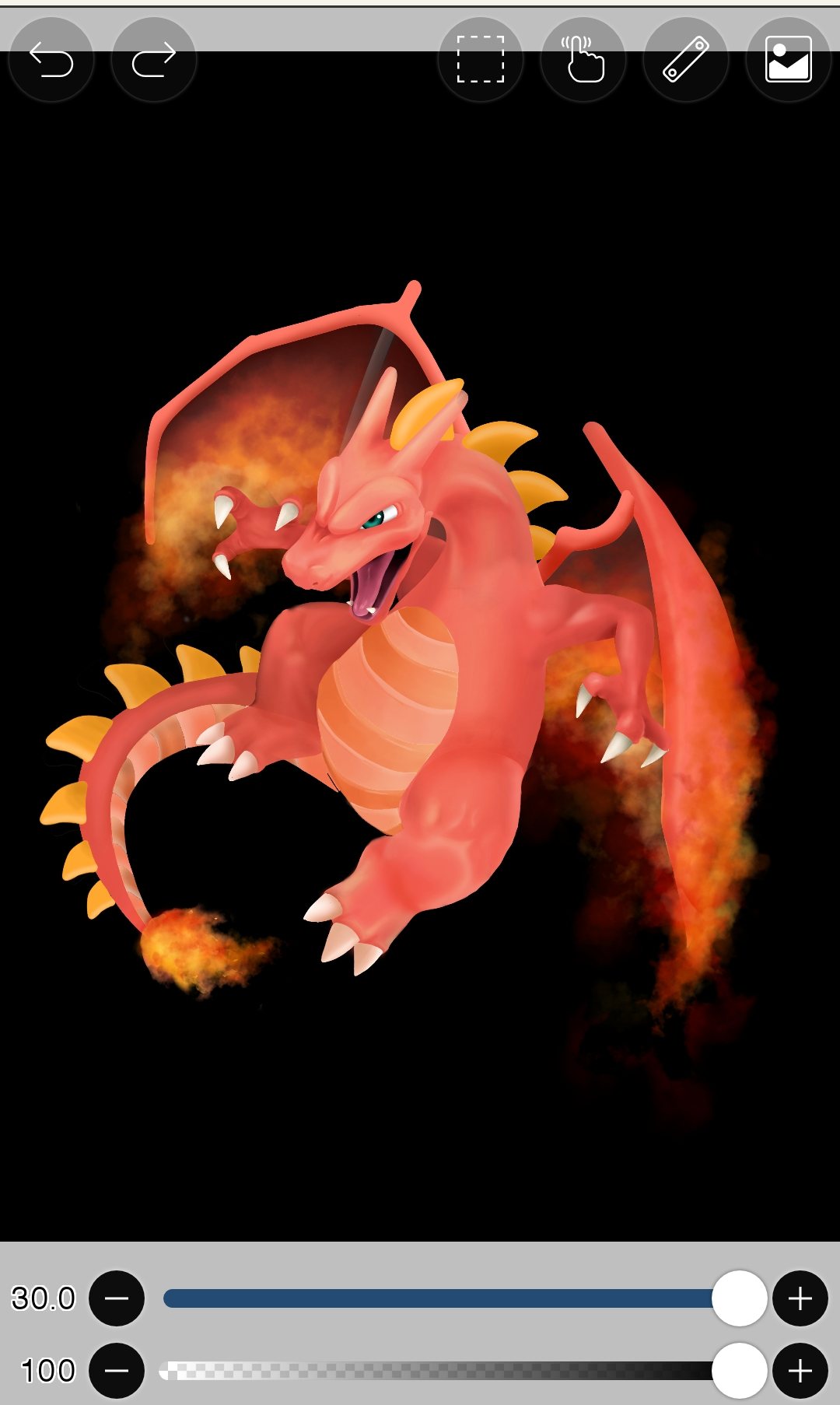 For the background, I have decided to create more flames as it will compliment the nature of Fire Spitter. Shown below is the step-by-step procedure on how I made the background. I have assigned a different background color to improve its overall impact.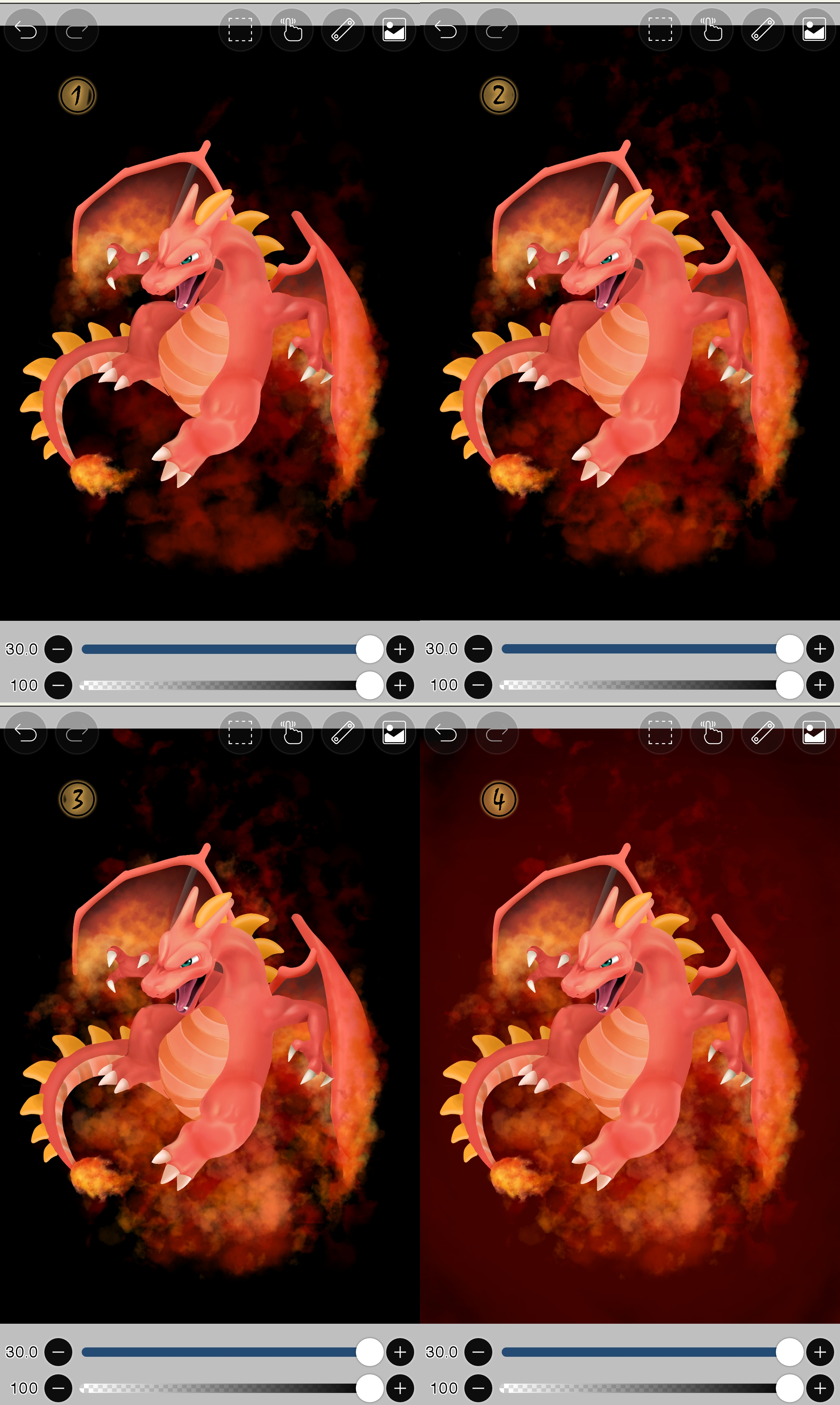 After all those processes, I have exported Fire Spitter x Charizard to Adobe Lightroom to enhance my artwork. I have Imported it back to ibisPaint X to attach my signature and the Splinterlands Logo.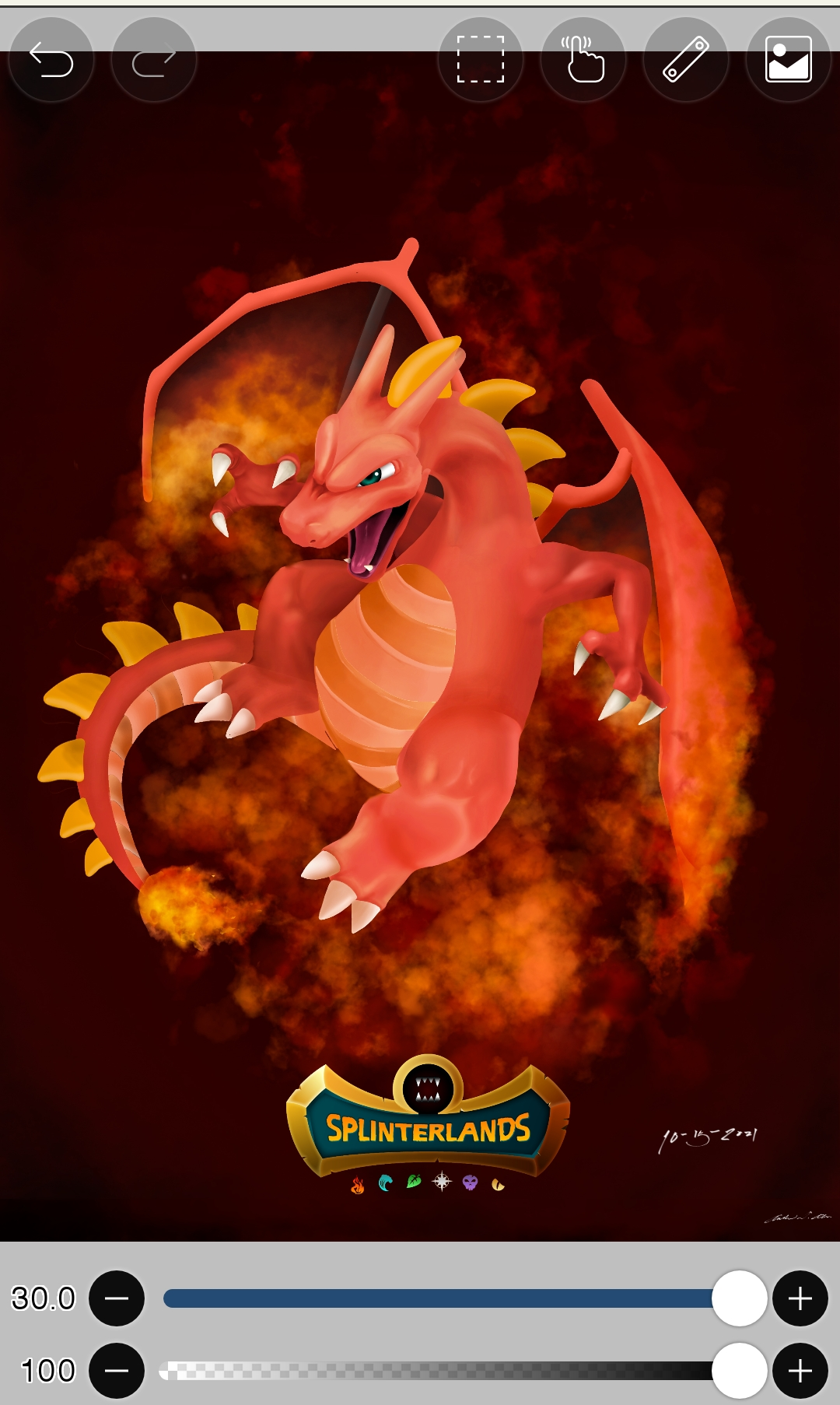 I hope you like this guys! This is by far my personal best when it comes to digital painting and I seek on improving more to provide better contents for you in the future.
Also, I want to thank you for the warm welcome on my previous post, Ice Splitter x Elsa. If you wish to view it, you can visit my account. I would also appreciate if you can comment on my works to that I will know how I can improve more. It would also be a great help if you would follow my account.
That's it guys, see you next time!
Reference Photo:
Charizard - Super Smash Bros. Unlimited Version
Fire Spitter - Splinterlands Fire Spitter Card
---
---