Splinterlands - Share Your Battle Challenge - SILENT SHA-VI
This week's Splinterland's Share Your Battle Challenge is to use the Silent Sha-Vi.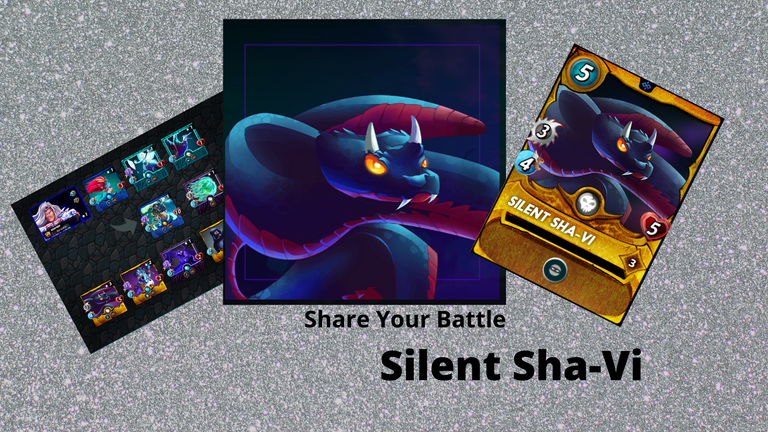 Silent Sha-Vi
When using the Death Splinter, the Silent Sha-Vi is one of my go to monsters.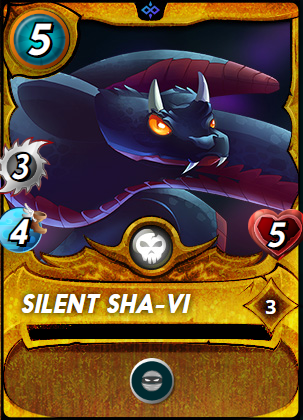 It has always worked wonders for me. Just look at the stats. It has the Sneak ability so picks away at my opponents back line with a Melee attack of 3.
I recently purchased a gold card sine it adds a 10% bonus for rewards from a ranked battle win. The Gold level 3 also provides an additional Melee and speed. And everyone knows speed is one of the most important items. Kill them before they have a chance to kill you.
Match Rules Sets
Mana Cap: 18
Rule Set: Heavy Hitters
I have yet to figure out the Heavy Hitters rule set. I do not notice anything happen differently than my other matches with different rulesets. Due to this, I treat it similar to the Standard rule set.
I noticed matches with low mana caps if I add a good tank, I do not have any mana left to add any good cards to the back of my line up. So for this match, I decided to add a few low mana cards as a buffer for the monsters I selected to do damage to my opponents back line.
Summoner: Thaddius Brood. I was expecting my opponent to use magic so wanted to reduce their magic attack and with the low mana caps using this summoner would also lower each of their monsters health by 1.
First Three Cards as Buffer: I chose to use three 1 Mana cards to provide this buffer - Cursed Slimeball, Carrion Shade and Chaos Agent. Hoping that my opponent would use their attacks on them first as I used other monsters to kill off their back line.
Fourth Position: Death Elemental. This monster has magic attach and the snipe ability. With the low mana cap, I was expecting cards on the back line to have low health.
Fifth Position: Life Sapper. This monster has the life leach ability and with the buffer should be able to add two points to its health prior to being attaked.
Final Position: Silent Sha-Vi. I placed my strongest monster in the final position. Since Silent Sha-Vi has the Sneak ability, it should be able to pick off part of the back line if my opponent has a medium to high mana Tank.
Here is the link of my battle:
https://splinterlands.com?p=battle&id=sl_ce9997a19d6fc5336d875d1faf73acf5&ref=darmstrong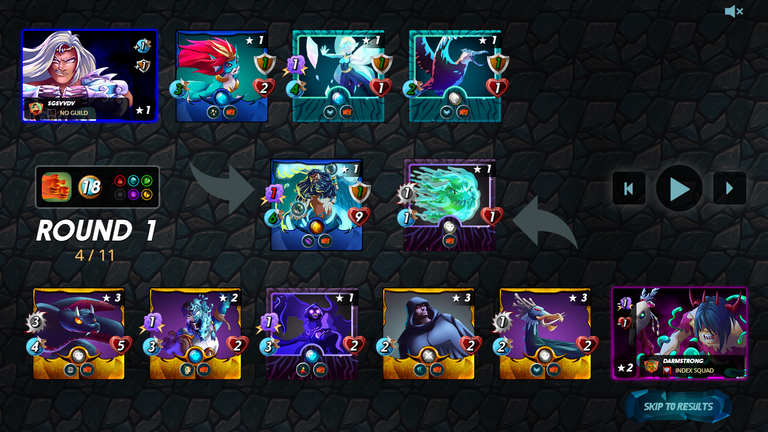 Did It Work?
Partially. The buffer did provide time for me to pick off the back line however since my opponent used Djinn Oshannus as their tank Life Sapper and then Death Elemental could not damage it. My two magic users only had 1 magic attack against it's void (reduced damage from magic attacks) ability.
Silent Sha-Vi was once again my match saver. Picking off the healer and then Djinn Oshannus. I have to admit, I was worried close to the end. If I would have missed on to many of my attacks, I would have lost but with the 3 Melee attack against the 1 magic, I triumphed in the end.
---
If you have not started playing this exciting Play2Earn game, you should start. Here is my link to sign up:
https://splinterlands.com?ref=darmstrong
Posted using Splintertalk
---
---