Splinterlands - Share Your Battle PORTAL SPINNER
A green haze appears, an object disappears.
Another green haze appears, this time above one of your opponents and the object slips through and hits the opponent. Just not the opponent you wanted to attack.
Consistently being able to hit the same opponent is not always the case when it comes to the Portal Spinner. Sometimes your intended target will get hit and other times it will be just another one of the random monsters that you are facing at the time.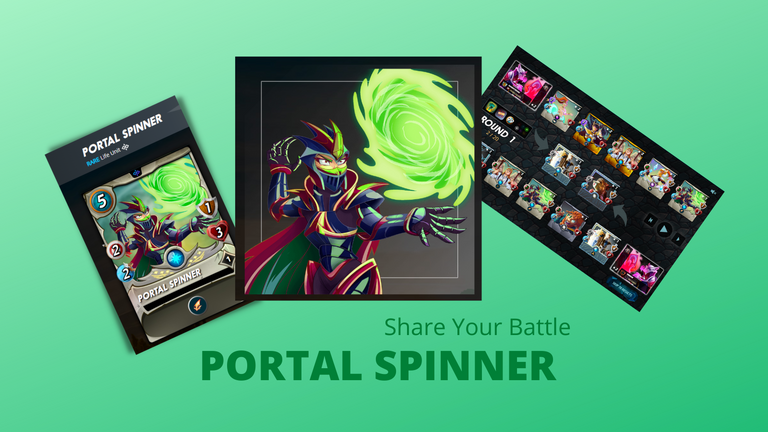 Portal Spinner
The Portal Spinner is a medium mana cost card at 5 mana. It has a ranged attack of 2 with speed of the same and 3 health. The good part is that it has armor even though it is only 1.
The portal spinner's ability is shatter shot. A random opponent will get hit which opponent you just don't know. This works good against the Taunt ability and most of the time will hit one of the other monsters.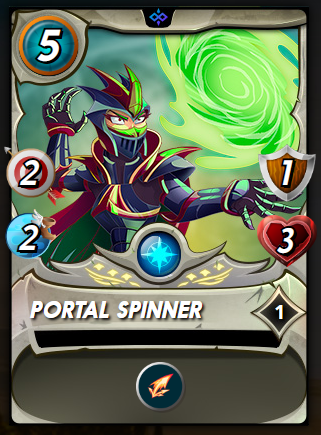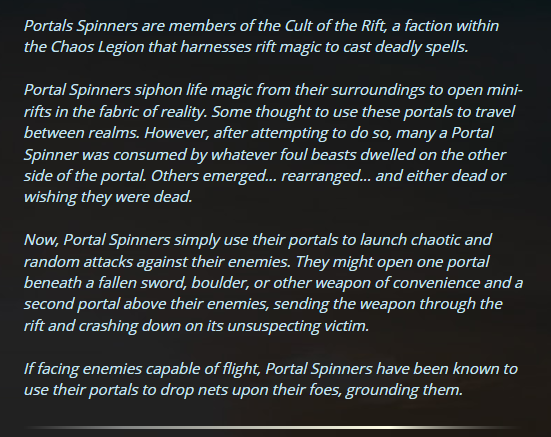 Match Rules Set
Mana Cap: 99
Rule Set: Stampede and Healed Out
Splinter: Life or Earth available - selected Life
Summoner: General Sloan. Life Summoner with one ability - +1 ranged attack.
Tank: ShieldBearer. Normally I would not put a monster with the Taunt ability in the 1st position but this time I wanted to keep all of my opponents attacks on one of my monsters.
Second Position: Djinn Renova. This card is very similar to a tank with high attack and high health. It should help the front of my line last longer. With the Strengthen ability, all of my other monsters will receive an extra health.
Third Position: Time Mage. Slowing down your opponent is always a good thing to do. This monster has the Slow ability. If I can hit my opponents first and pick a few of them off before they get to me. This will be a very good choice.
Fourth Position: Pelacor Arbalest. This monster with the double strike ability should help reduce the health quickly of my opponents allowing for my other monsters to pick them off.
Fifth Position: Prismologist. This monster with the blast ability with hit the monsters beside the one being attacked thus hitting two to three monsters at a time. With a ranged attack of 3 increased by another one from General Sloan makes this one mean attack monster.
Final Position: Portal Spinner. This monster has the shatter shot ability which comes in helpful in the event a monster with the taunt ability is in my opponents line up. This in combination with the blast ability of Prismologist should be able to take a monster out in the first round.
Here is the link to the Battle:
https://splinterlands.com?p=battle&id=sl_718e3732cd5031760bc51382063f713c&ref=darmstrong
Did It Work?
Most definitely. Since I slowed my opponent down, all of my monsters were able to attack first. My opponent did use a monster with taunt drawing all of first attacks but since I got to go first, that monster did not last long. Then Portal Spinner took care of another monster in one hit. Killing off two monsters before they even got to attack.
I would use it again hoping for a similar result.
---
If you have not started playing this exciting Play2Earn game, you should start. Here is my link to sign up:
https://splinterlands.com?ref=darmstrong
---
To help support the community, I have become a Hive Engine Witness. My HE witness name is @darmst . If you would like to support me support the community, I would appreciate your Workerbee vote. You can vote at https://primersion.com/he-witnesses I am currently around 30th on the list.
Posted using Splintertalk
---
---