(ENG/SPA) Black & White SKETCH: TIDE BITER ♥ | @DAVIDEAZUL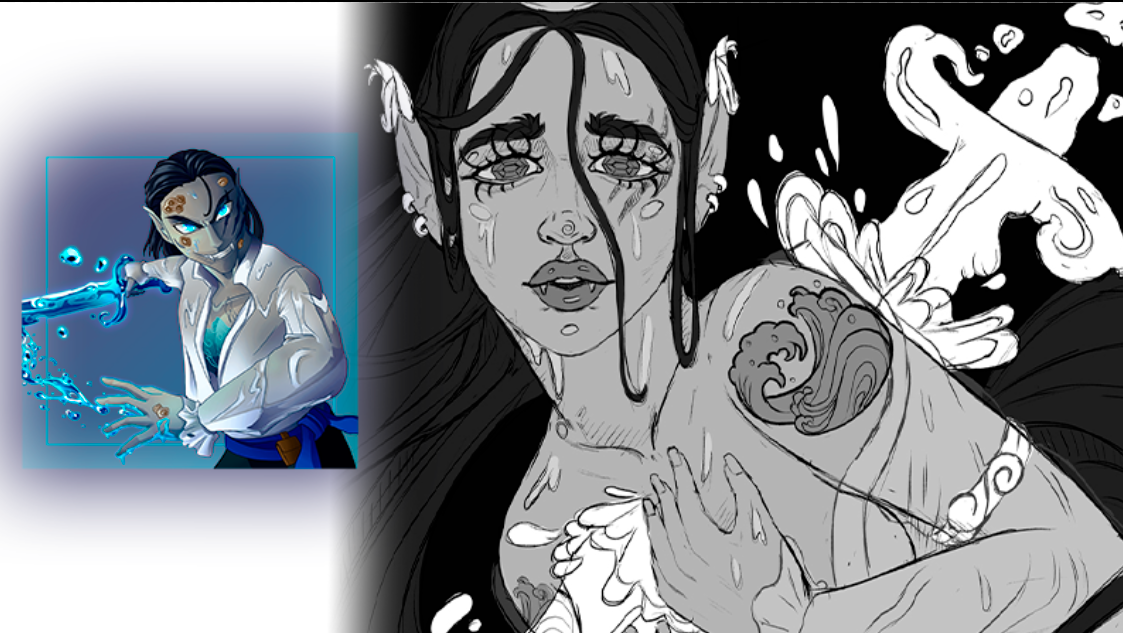 REFERENCE
ENTER SPLINTERLANDS

♥ TIDE BITER ♥



¡Hola a todos! Nuevamente participando en el concurso de arte de @splinterlands, esta vez tomé un personaje del splinter de agua y lo adapté al sexo femenino, el cual suelo dibujar el 99% de las veces ♥
Hi everyone!!! Again participating in the @splinterlands art contest, this time I took a water splinter character and adapted it to the female gender, which I usually draw 99% of the time ♥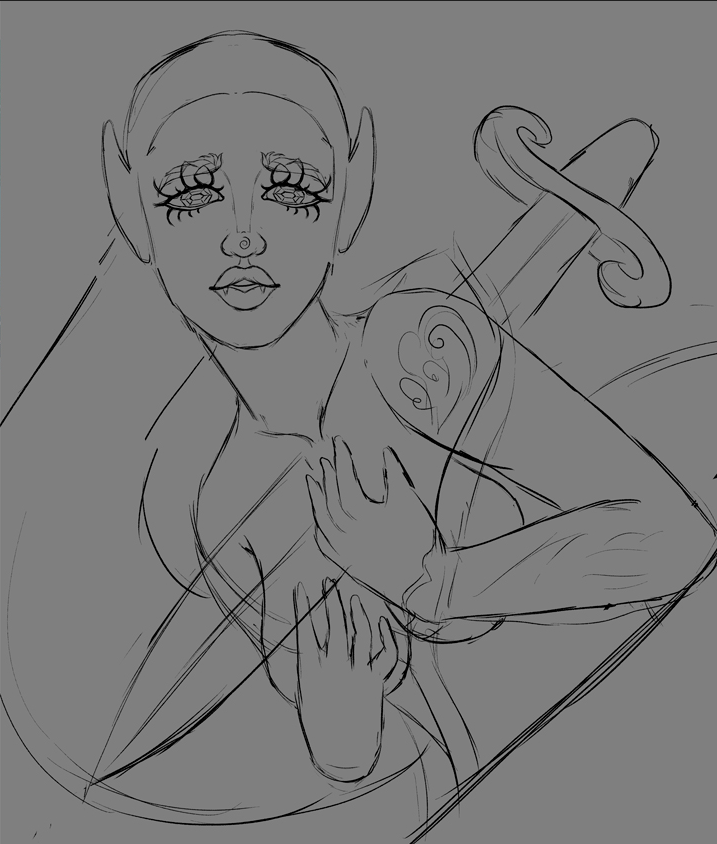 No quería dibujarla como una guerrera, quería dibujarla algo frágil, justo en el momento que fue derrotada por otro de su raza, justo unos minutos antes de fallecer. La historia detrás de esta ilustración va de una traición. Se enamoró de otro vampiro acuático, pero este al observar que la mujer tenía muchas riquezas y poseciones en el mar, decidió quedarse con todo. La avaricia lo llevó a clavarle su espada en la espalda, para ser el único dueño de sus riquezas.
I didn't want to draw her as a warrior, I wanted to draw her as something fragile, just at the moment she was defeated by another of her race, just a few minutes before she passed away. The story behind this illustration is about a betrayal: she fell in love with another aquatic vampire, but when he noticed that the woman had many riches and possessions in the sea, he decided to keep it all for himself. Greed led him to stick his sword in her back, to be the sole owner of her riches.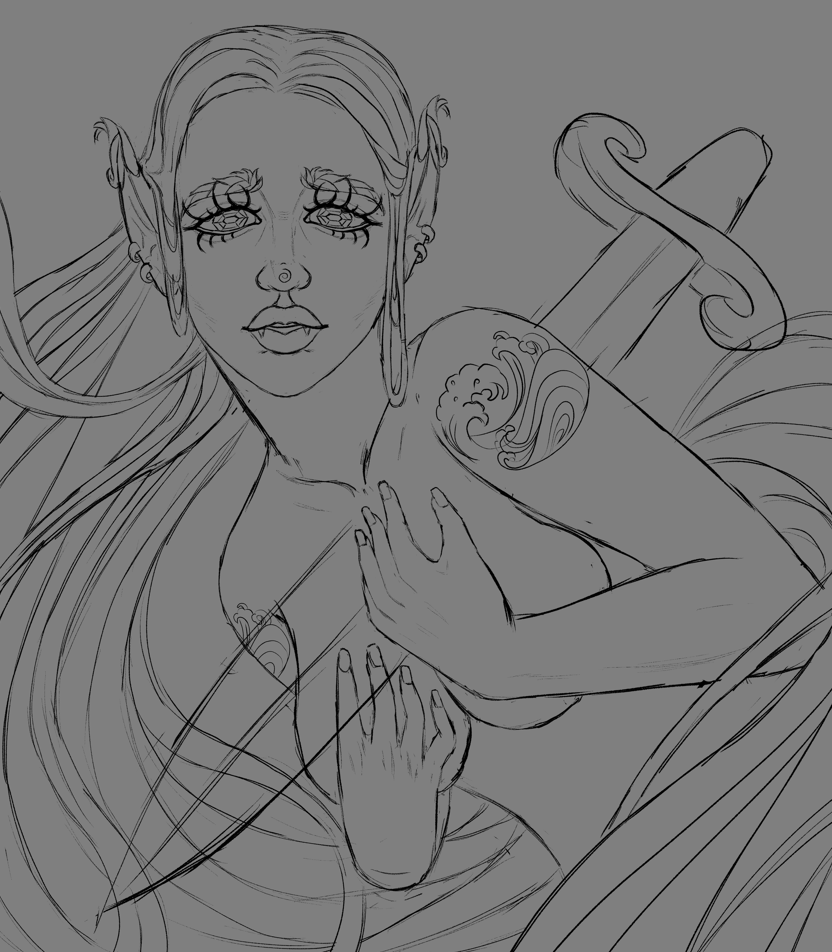 Poco a poco fui puliendo más el boceto, quería que tuviera una larga cabellera, que cubriera todo su cuerpo, que se viese esplendorosa aún cuando estaba agonizando, sorprendida y triste por la traición del hombre que se había enamorado. Quería captar esa última vista al mundo, a su entorno y su situación justo antes de caer y fallecer.
Little by little I polished the sketch, I wanted her to have long hair, to cover her whole body, to look splendorous even when she was dying, surprised and saddened by the betrayal of the man she had fallen in love with. I wanted to capture that last view of the world, her surroundings and her situation just before she fell and passed away.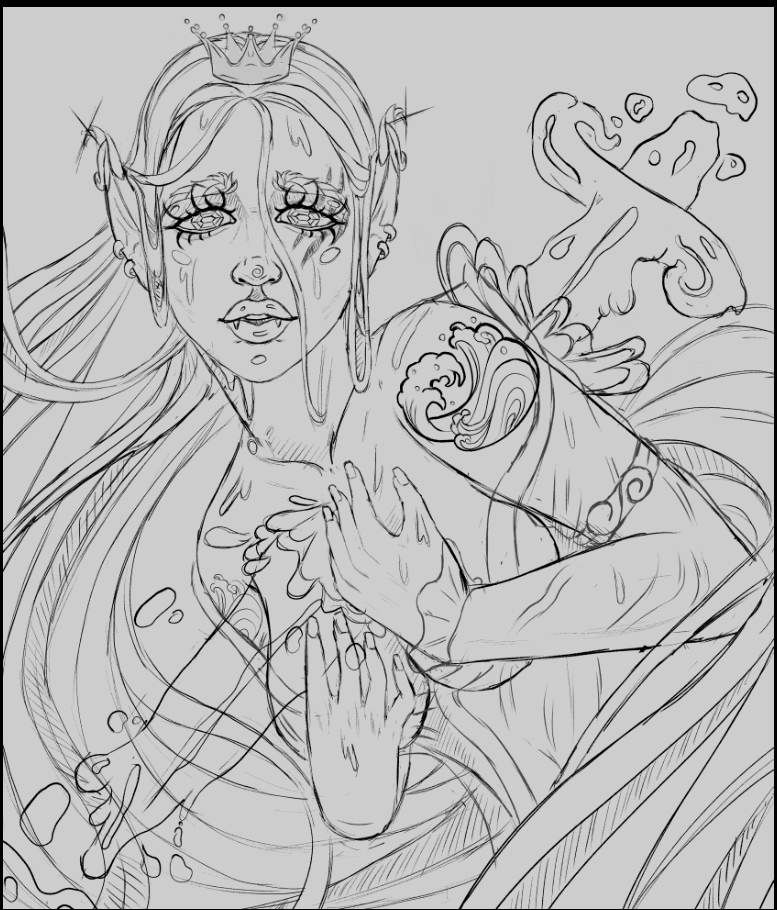 Le dibujé algunas gemas, coronas, zarcillos, accesorios de oro, que mostraban la riqueza que este personaje tenía y lo hermosa que era. También fue una excusa para dibujar una idea que había tenido entre ceja y ceja y nunca la había llevado a cabo por diferentes razones: una persona siendo atravesada por una espada. No tiene que ver nada con la historia original de la carta, pero eso son unas de las cosas que me gusta de los fanarts, que puedes descontruir y proponer algo diferente o parecido pero con tu estilo. Algo libre pero sin perder el origen.
I drew some gems, crowns, tendrils, gold accessories, which showed the wealth this character had and how beautiful she was. It was also an excuse to draw an idea that I had had between my eyebrows and I had never carried it out for different reasons: a person being pierced by a sword. It has nothing to do with the original story of the card, but that's one of the things I like about fanarts, that you can deconstruct and propose something different or similar but with your own style. Something free but without losing the origin.

SKETCH FINISHED!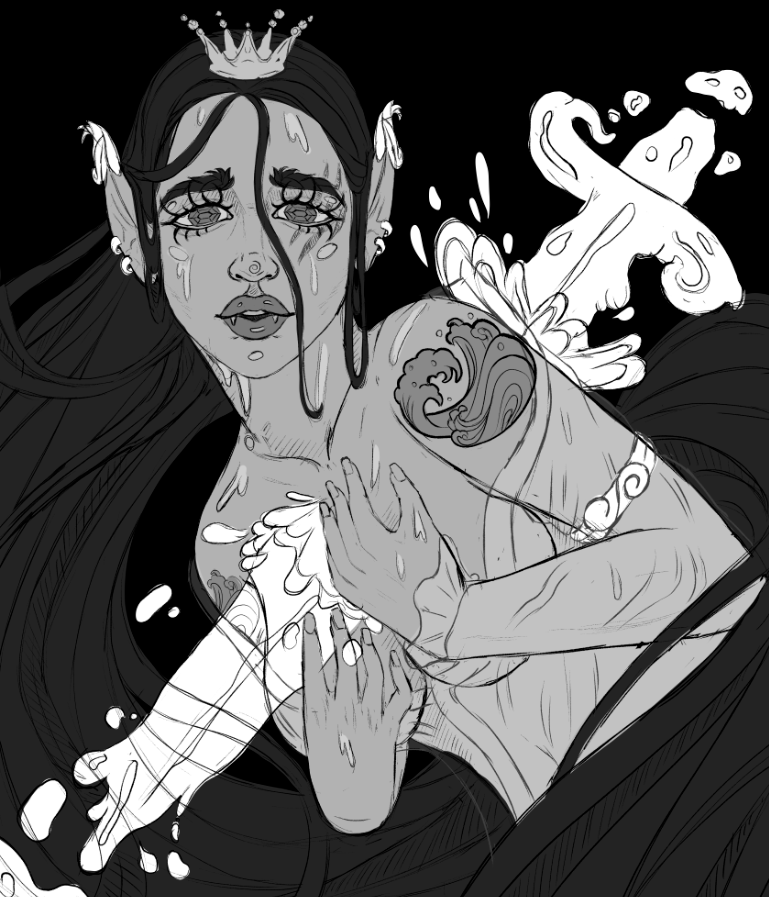 ENTER SPLINTERLANDS
DURATION: 2 hours.
PROGRAM: Adobe Photoshop.
I used a graphic tablet: Kamvas 20"
Estoy muy emocionado de comenzar a pintarla. Mañana le dedicaré todo el día a esta ilustración y dentro de poco ya empezarán a verla completada. Espero que hayan disfrutado del proceso de este boceto y que pronto puedan apreciar este trabajo listo. ¡Nos vemos en la próxima publicación!
I am very excited to start painting it. Tomorrow I will dedicate the whole day to this illustration and soon you will start to see it completed. I hope you enjoyed the process of this sketch and that soon you will be able to appreciate this ready work. See you in the next publication!
THANK YOU AGAIN FOR TAKING THE TIME TO APPRECIATE MY ART! ♥

MY ILLUSTRATIONS AVAILABLE ON FOUNDATION! 💎




Click to buy my NFT
---

My social networks:
| About Davideazul... 💎 | INSTAGRAM! |
| --- | --- |
| Roger Duran, Venezuelan. He is a digital artist, his style is based on cartoons with semi-realistic painting. He is also a 2D animator, an element present in some of his artistic works. / Roger Durán, venezolano. Es un artista digital, su estilo se basa en caricaturas con pintado semi-realista. Además es animador 2D, elemento presente en algunos de sus trabajos artísticos. | |
HAVE A GOOD DAY / AFTERNOON / NIGHT. SEE YOU IN THE NEXT ILLUSTRATION! ♥
---
---