(ENG/SPA) FANART: FIRE ELEMENTAL ♥ | Splinterlands Art Contest | @DAVIDEAZUL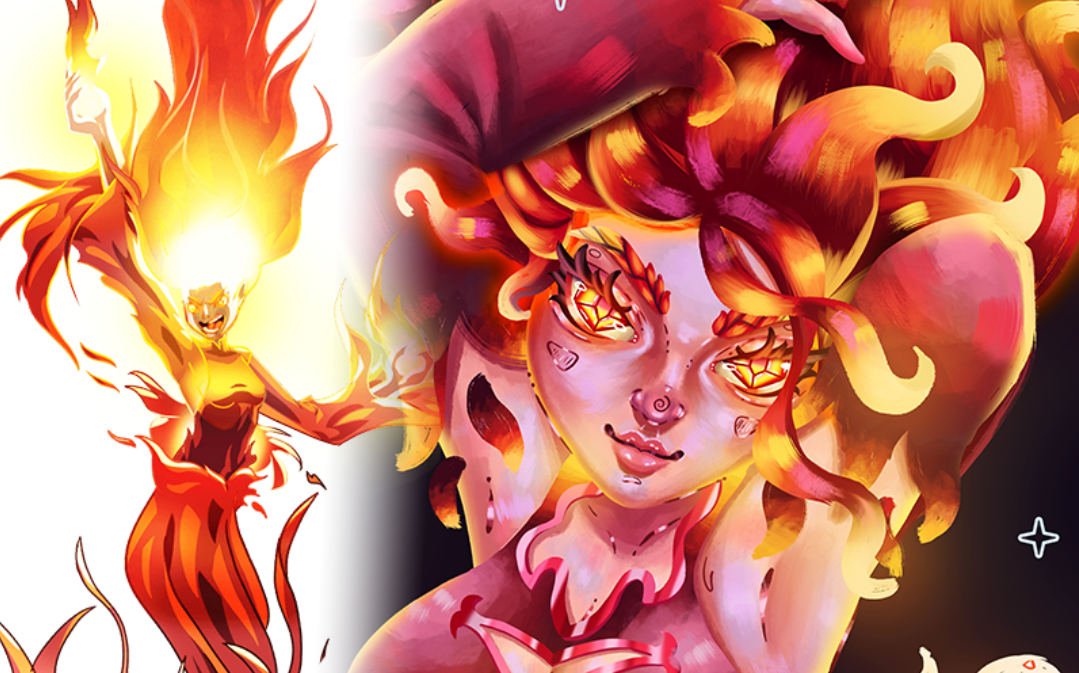 REFERENCE
ENTER SPLINTERLANDS

♥ FIRE ELEMENTAL ♥



¡Hola a todos! Estoy emocionado de volver a participar en el concurso de arte de @splinterlands, actualmente solo tengo tiempo para participar dos veces al mes, pero me divierto mucho creando ilustraciones inspiradas en estos carismáticos personajes ♥
Hello everyone! I'm excited to be entering the @splinterlands art contest again, currently I only have time to enter twice a month, but I'm having a lot of fun creating illustrations inspired by these charismatic characters ♥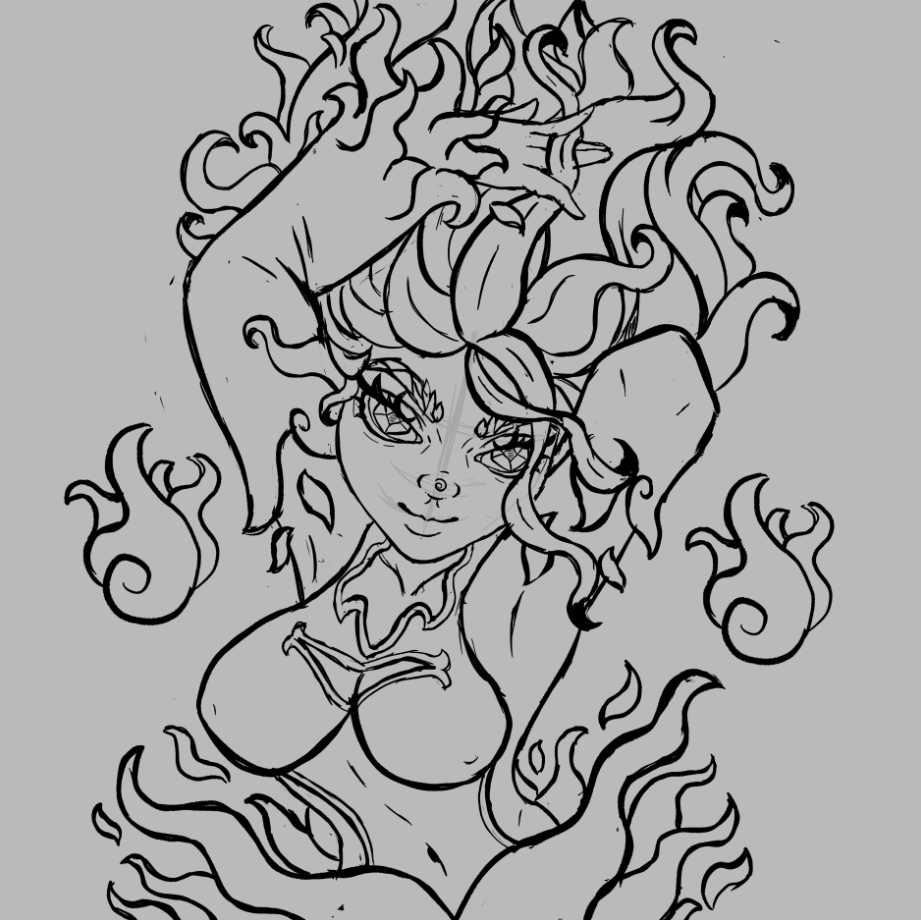 De seguro querrás saber más sobre el proceso de este boceto, así que he hecho una publicación aparte donde pues echar un vistazo. Luego puedes volver acá! :)
You will surely want to know more about the process of this sketch, so I have made a publication apart where you can take a look. Then you can come back here! :)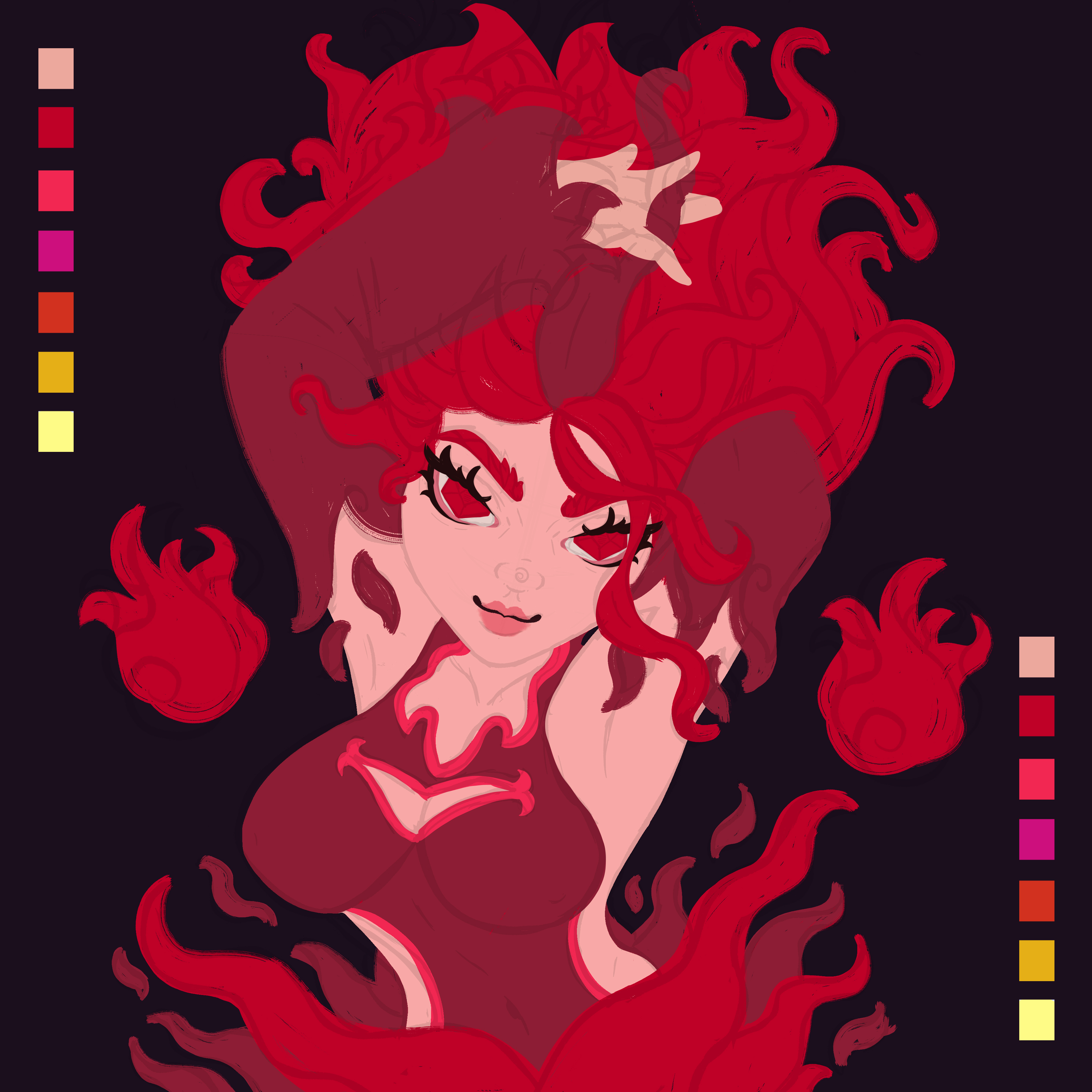 Elegí a la carta del splinter de fuego: FIRE ELEMENTAL, en un principio no quería dibujarla, pero luego de detallarla me di cuenta que tiene piel y no es hecha completamente de fuego, así que la tomé para esta participación y me ha gustado el resultado. Estos son los colores base.
I chose the fire splinter card: FIRE ELEMENTAL, at first I didn't want to draw it, but after detailing it I realized that it has skin and is not made entirely of fire, so I took it for this participation and I liked the result . These are the base colors.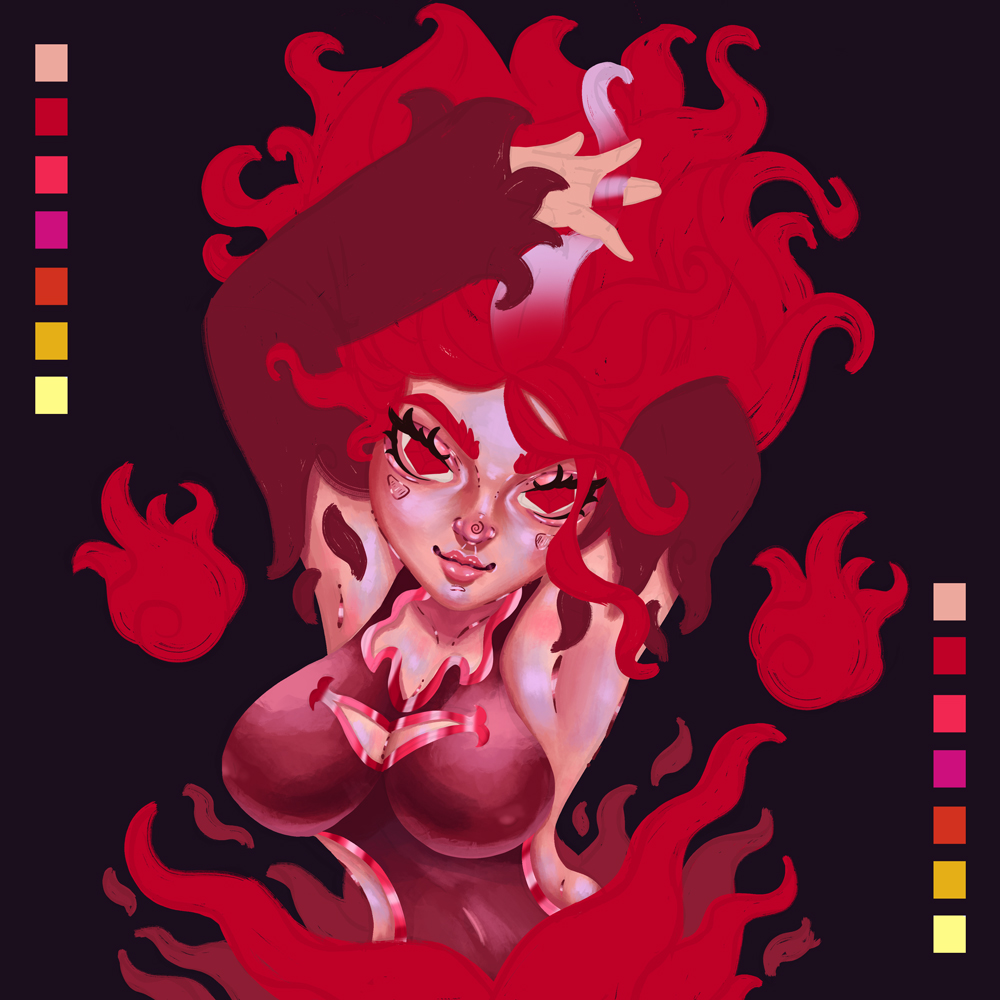 Quise darle un poco más de tonos fríos a la piel, así que le agregué un azul grisáceo para los puntos de luz de la piel. La ropa no decidí hacerla como fuego, pero sí la diseñé de modo que hiciera alusión a este elemento.
I wanted to give the skin a bit more cool tones, so I added a blue-gray for the highlights of the skin. I did not decide to make the clothes like fire, but I did design them in such a way that they allude to this element.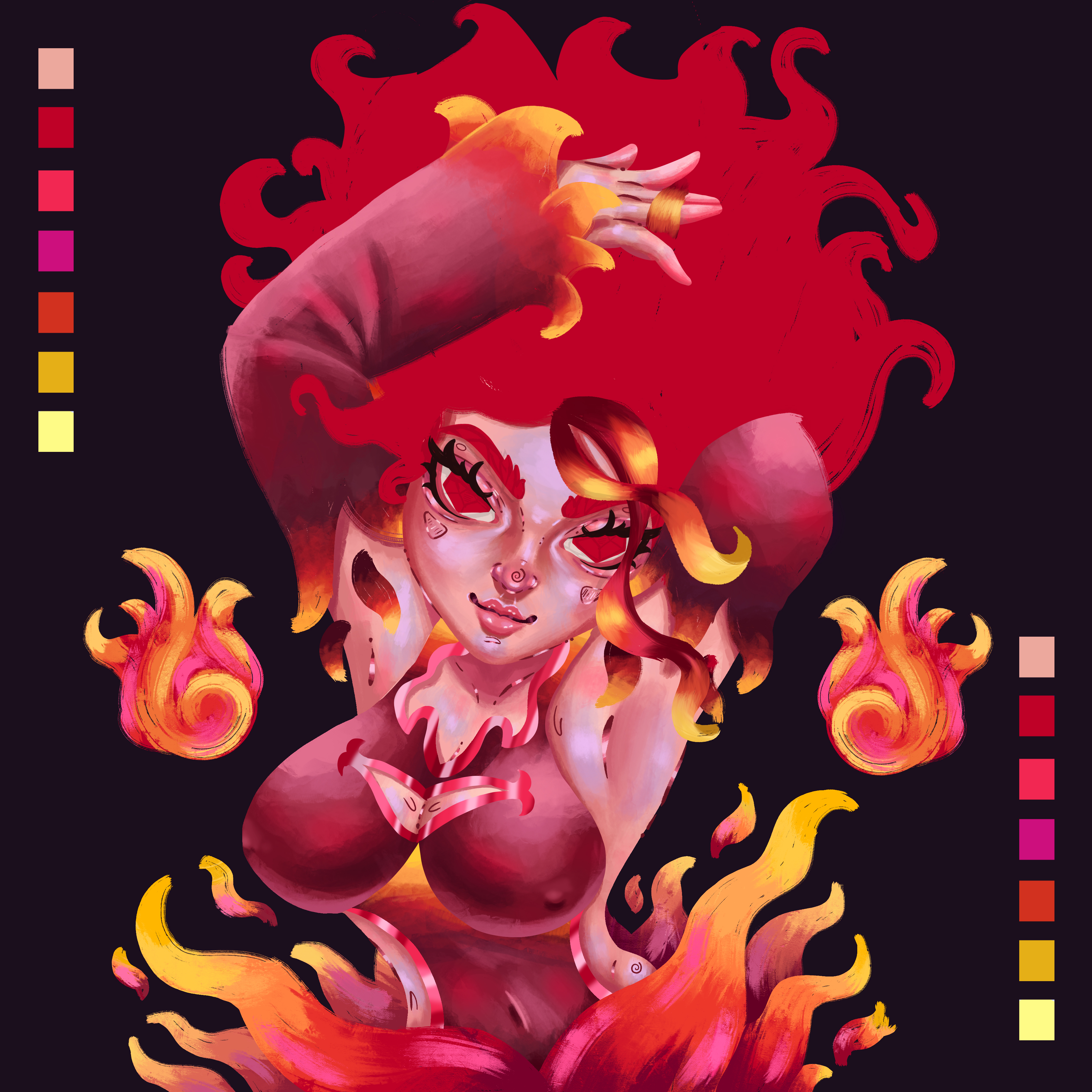 Los colores del fuego me han encantando; he utilizado un pincel con textura para el fuego y otros elementos y me ha gustado mucho la forma en que se ha pintado. Las dos bolas de fuego las quitaría más adelante puesto que el resultado final se veía un poco sobrecargado y quería simplificar algunas cosas en la ilustración.
The colors of the fire have enchanted me; I have used a textured brush for the fire and other elements and I really like the way it has been painted. The two fireballs I would remove later since the end result looked a bit crowded and I wanted to simplify some things in the illustration.

♥ FINISHED ILLUSTRATION! ♥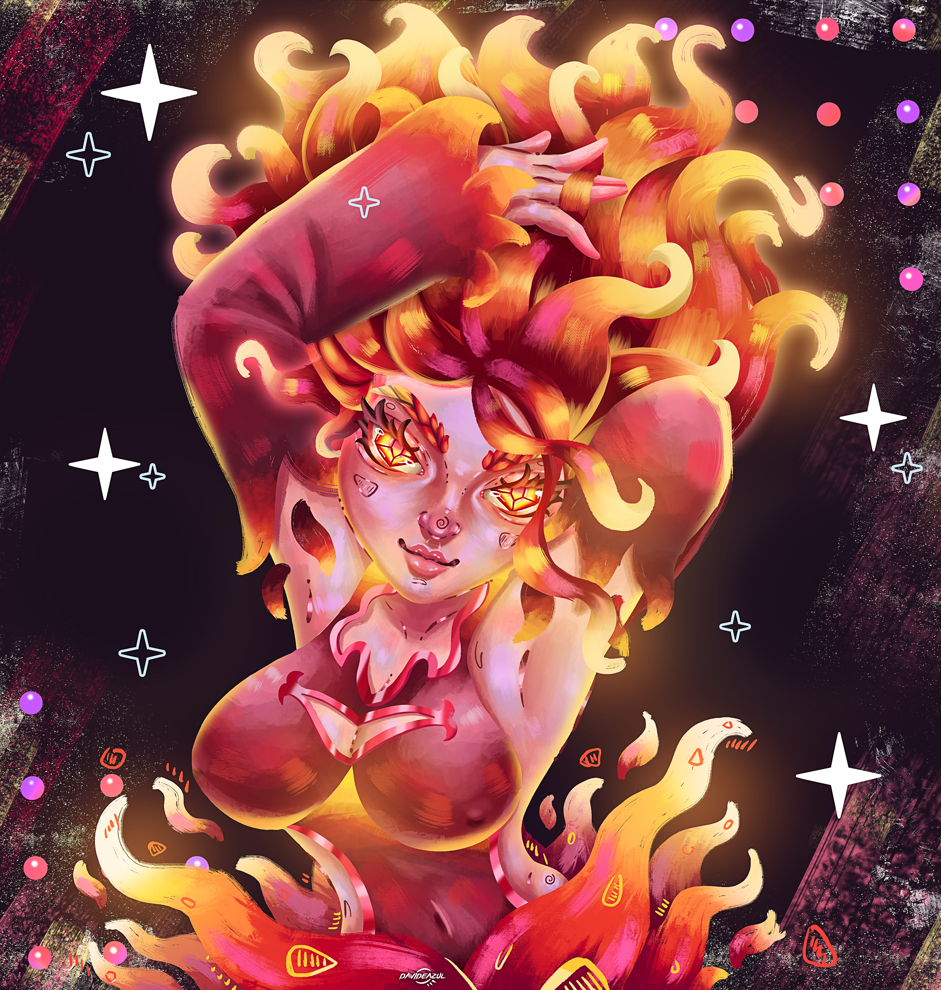 ENTER SPLINTERLANDS
DURATION: 8 hours.
PROGRAM: Adobe Photoshop.
I used a graphic tablet: Kamvas 20"
¡Al fin encontré una forma de pintar a este personaje! Si bien no es exactemente igual (pues me gusta modificar cosas), conserva el sentimiento cálido de la ilustración y esa mirada de peligro si te acercas demasiado a ella. Gracias por ver mi participación, nos vemos en una próxima entrada ♥
I finally found a way to paint this character! Although it's not exactly the same (because I like to modify things), it retains the warm feeling of the illustration and that look of danger if you get too close to it. Thanks for seeing my participation, see you in a next post ♥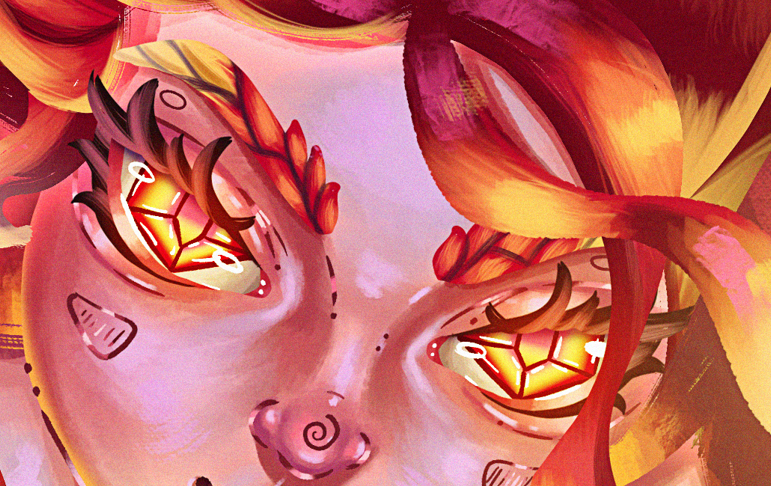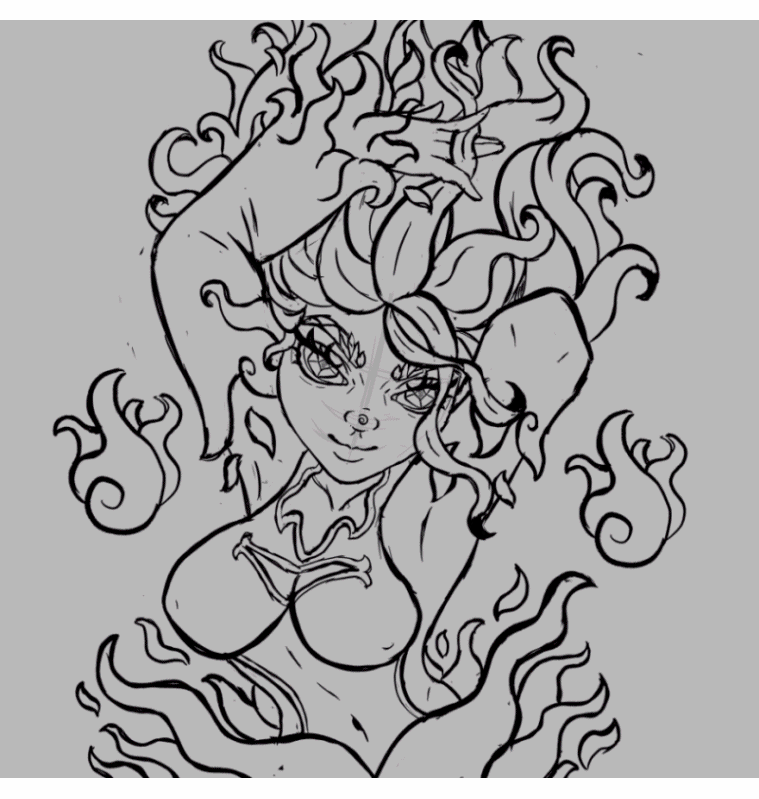 THANK YOU AGAIN FOR TAKING THE TIME TO APPRECIATE MY ART! ♥

My social networks:
| About Davideazul... 💎 | INSTAGRAM! |
| --- | --- |
| Roger Duran, Venezuelan. He is a digital artist, his style is based on cartoons with semi-realistic painting. He is also a 2D animator, an element present in some of his artistic works. / Roger Durán, venezolano. Es un artista digital, su estilo se basa en caricaturas con pintado semi-realista. Además es animador 2D, elemento presente en algunos de sus trabajos artísticos. | |
HAVE A GOOD DAY / AFTERNOON / NIGHT. SEE YOU IN THE NEXT ILLUSTRATION! ♥
---
---