(ENG/SPA) SKETCH: Queen of Crows ♥ | SPLINTERLANDS | @DAVIDEAZUL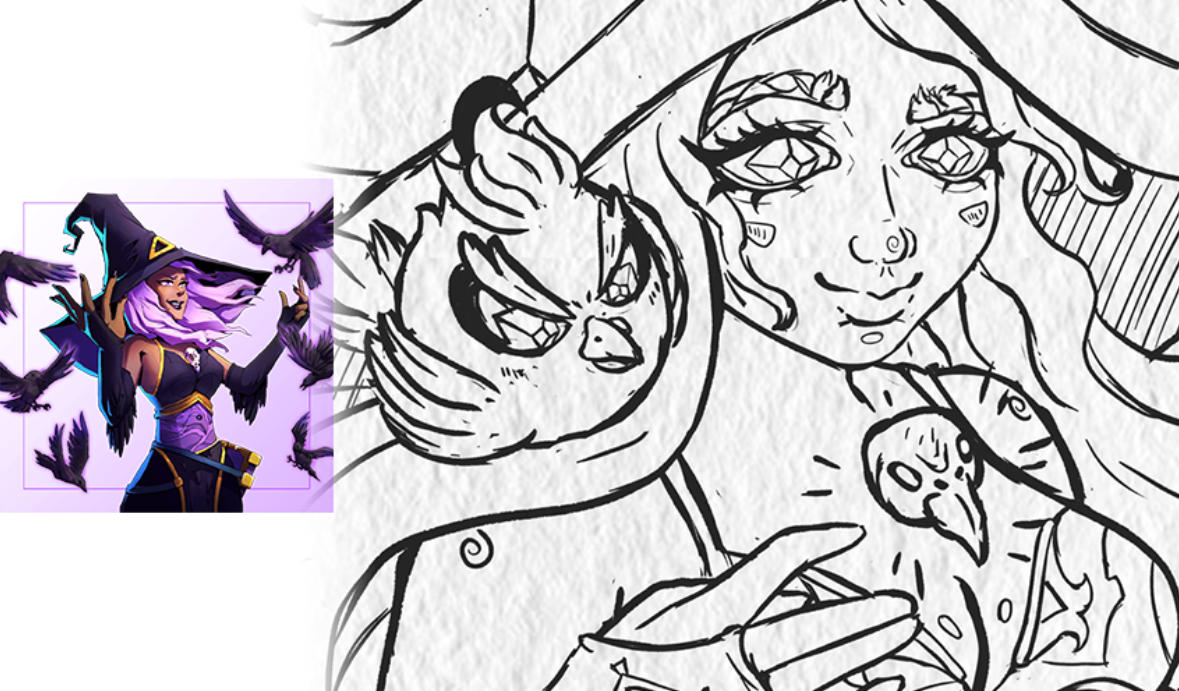 REFERENCE

♥ QUEEN OF CROWS ♥



¡Hola a todos! Nuevamente tengo el tiempo necesario para participar en el concurso de arte de @splinterlands, aunque en esta publicación solo les mostraré el proceso del boceto, pronto les podré traer la versión a color que participará en el concurso. Este fanart está inspirado en la carta: Queen of Crows, como se muestra en la portada 😁
Hello everyone! Again I have the time to participate in the art contest of @splinterlands, although in this post I will only show you the process of the sketch, soon I will be able to bring you the color version that will participate in the contest. This fanart is inspired by the card: Queen of Crows, as shown on the cover 😁.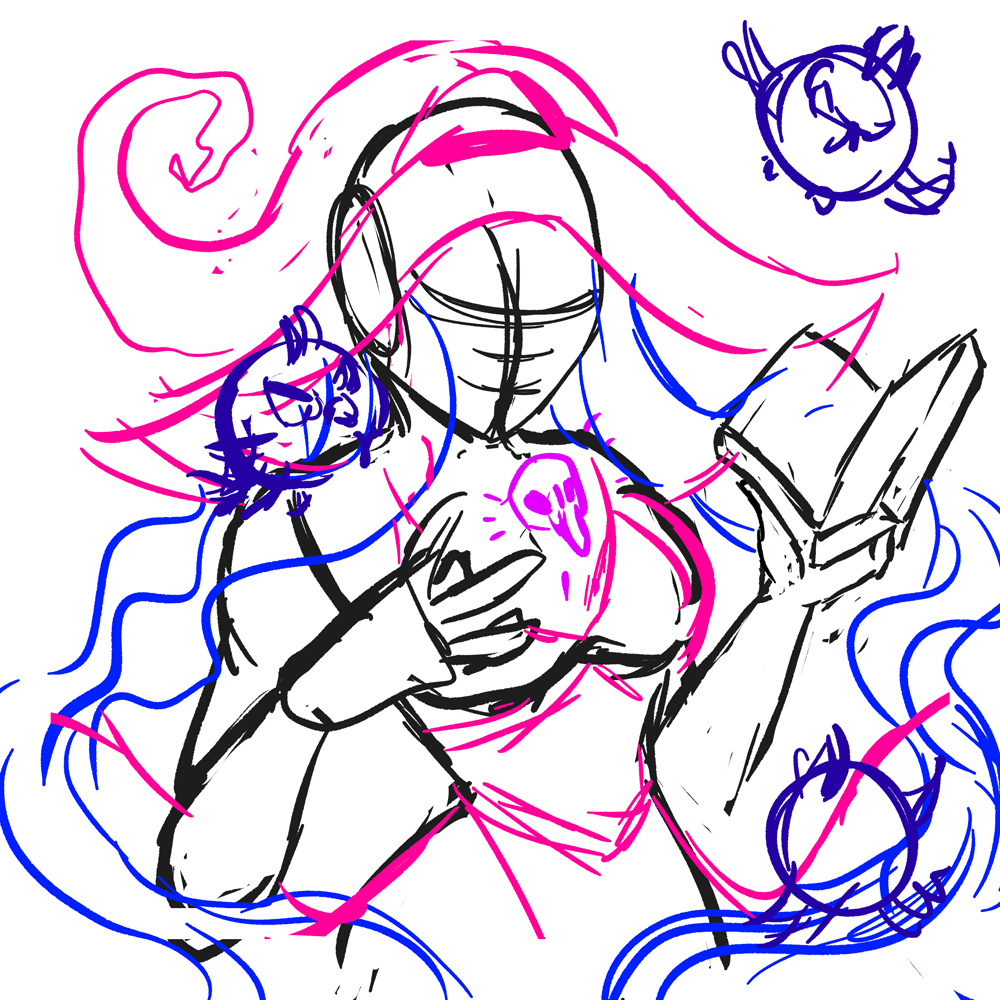 Tomé de referencia la posición original del cuerpo de la carta y solo adapté algunas cosas en mi estilo. Como siempre, comienzo a hacer algunos rayones en el lienzo digital y a dividirlos por diferentes colores dependiendo del elemento, esto es para tener una mejor comprensión de la forma.
I took as a reference the original position of the body of the letter and just adapted some things in my style. As usual, I start to make some scratches on the digital canvas and divide them by different colors depending on the element, this is to have a better understanding of the shape.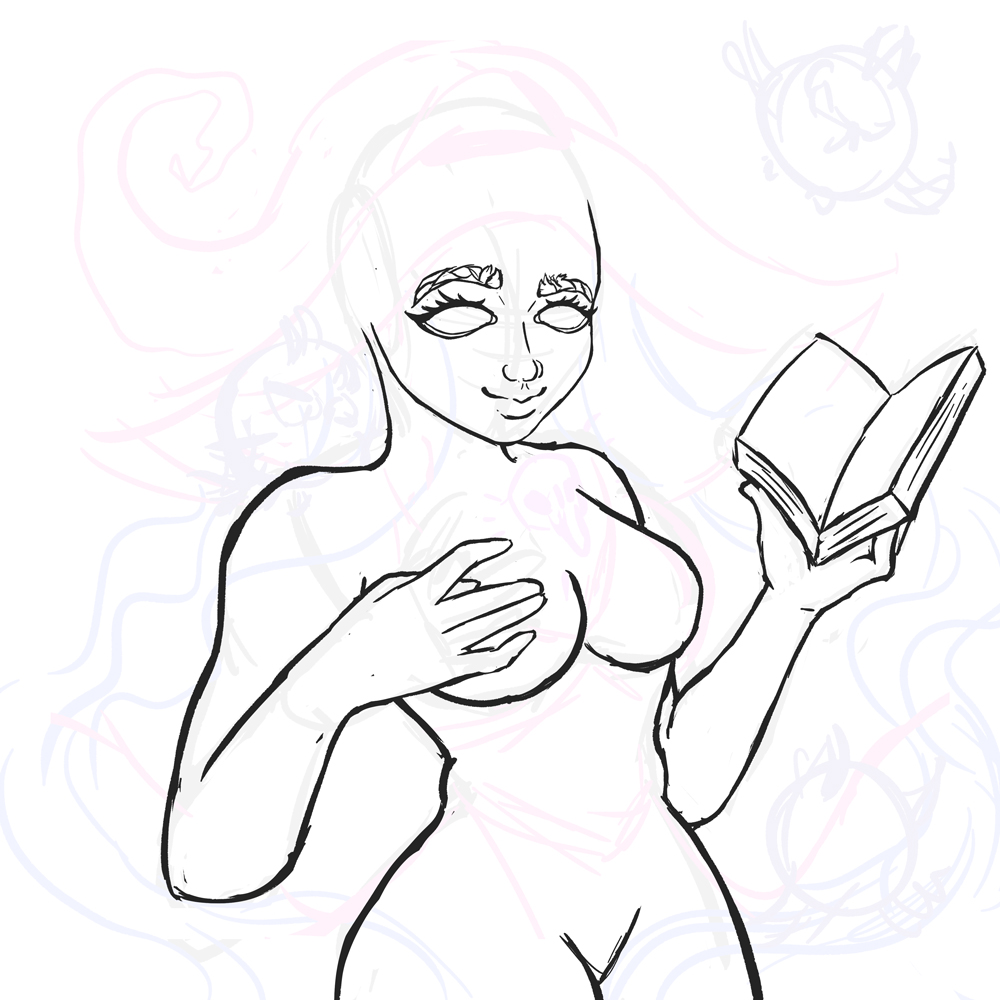 Luego de poner la capa con baja opacidad, comienzo a detallar la figura de la bruja, aquí dibujo todo a lo que el cuerpo se refiere, aunque en esta ocasión hice una excepción al dejar el libro en la misma capa del cuerpo. Aquí plasmo la dirección del rostro y la expresión que tendrá el personaje, esta vez será una bruja un poco menos agresiva.
After putting the layer with low opacity, I begin to detail the figure of the witch, here I draw everything to what the body refers, although this time I made an exception to leave the book in the same layer of the body. Here I draw the direction of the face and the expression that the character will have, this time it will be a less aggressive witch.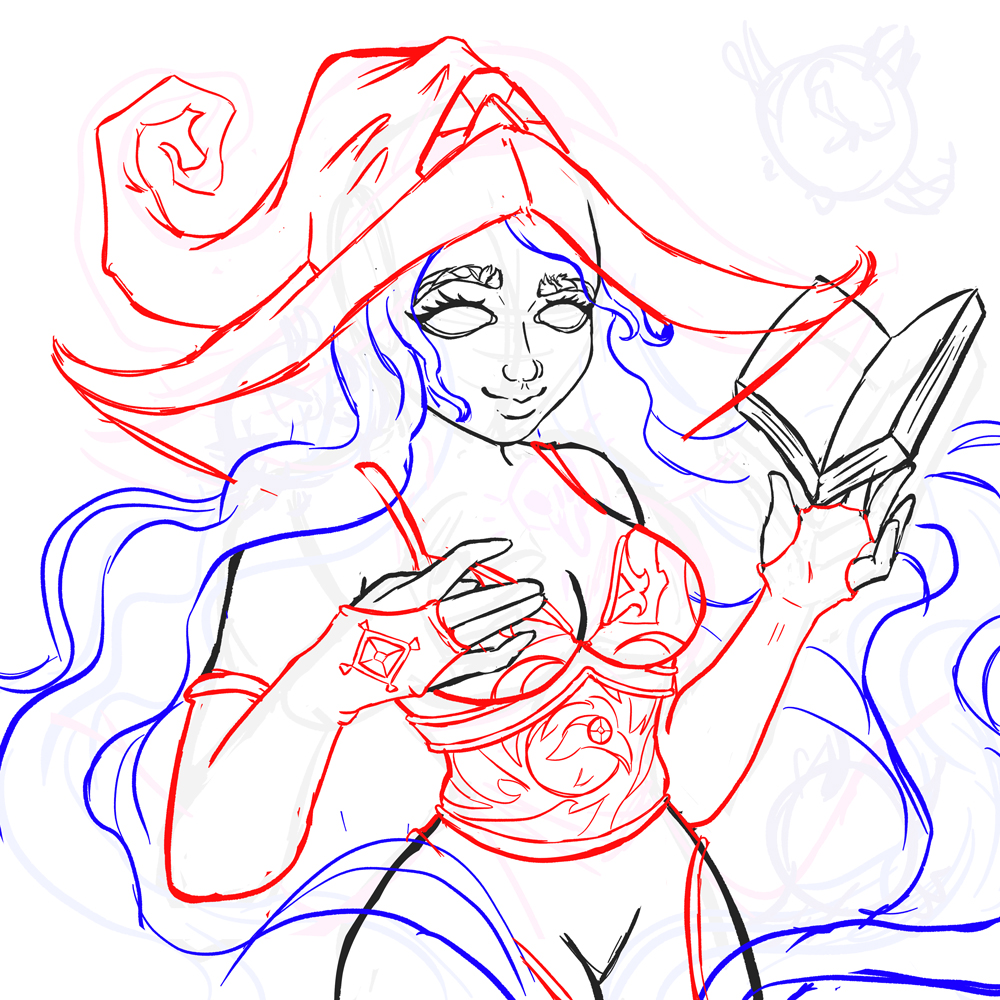 Luego comienzo a dibujar la ropa y hacer unos que otros cambios para que mi fanart se vea un poco más atractivo; decidí que sería buena idea mantener un cabello largo para este personaje, ya que se me había ocurrido una idea para cuando llegara el momento de pintarlo, pero eso lo verás en otra publicación.
Then I start to draw the clothes and make a few other changes to make my fanart look a bit more attractive; I decided that it would be a good idea to keep long hair for this character, as I had come up with an idea for when the time came to paint him, but you'll see that in another post.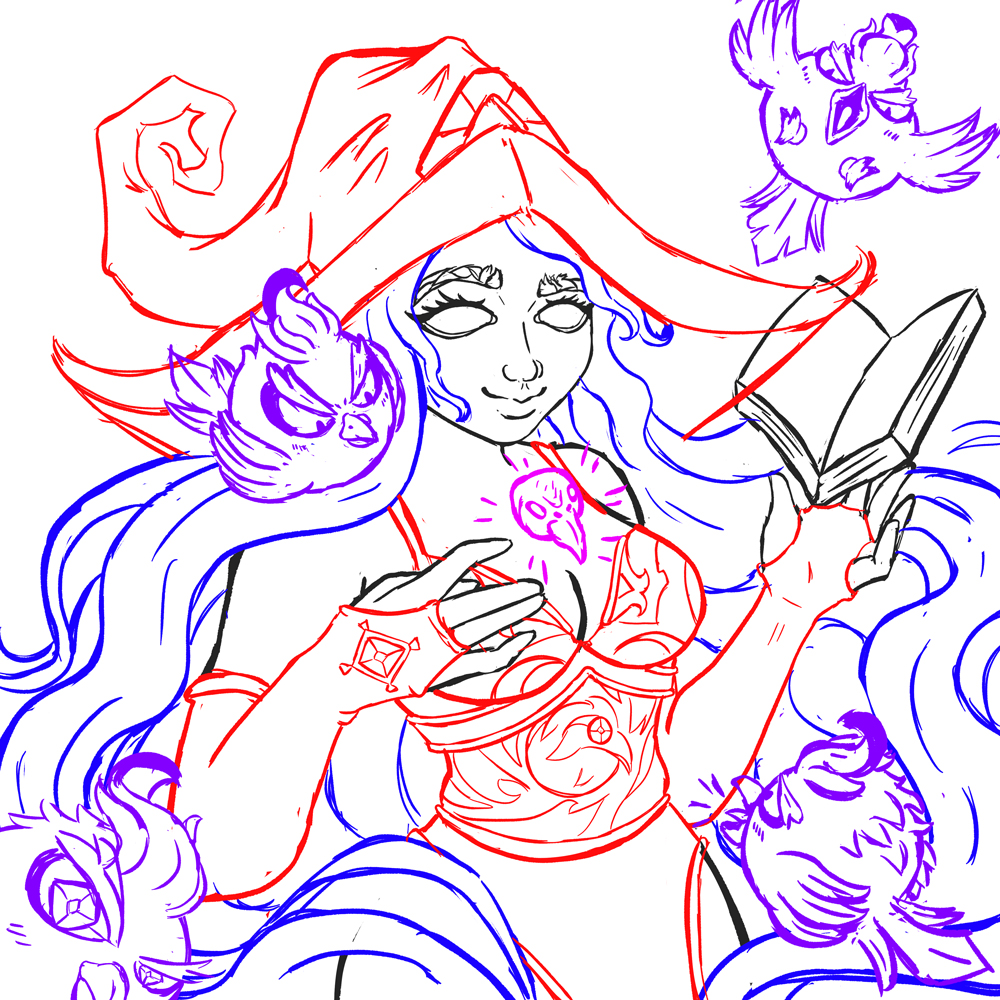 No quería terminar la publicación sin mencionar que no suelo dibujar animales en aspecto muy realista, así que los cuervos obligatoriamente iban a recibir un cambio de aspecto, en este caso, en unas bolas de plumas adorablemente malvadas. Creo que el diseño me ha gustado mucho.
I didn't want to end the post without mentioning that I don't usually draw very realistic looking animals, so the crows were bound to get a makeover, in this case, into adorably wicked balls of feathers. I think I really liked the design.

SKETCH FINISHED!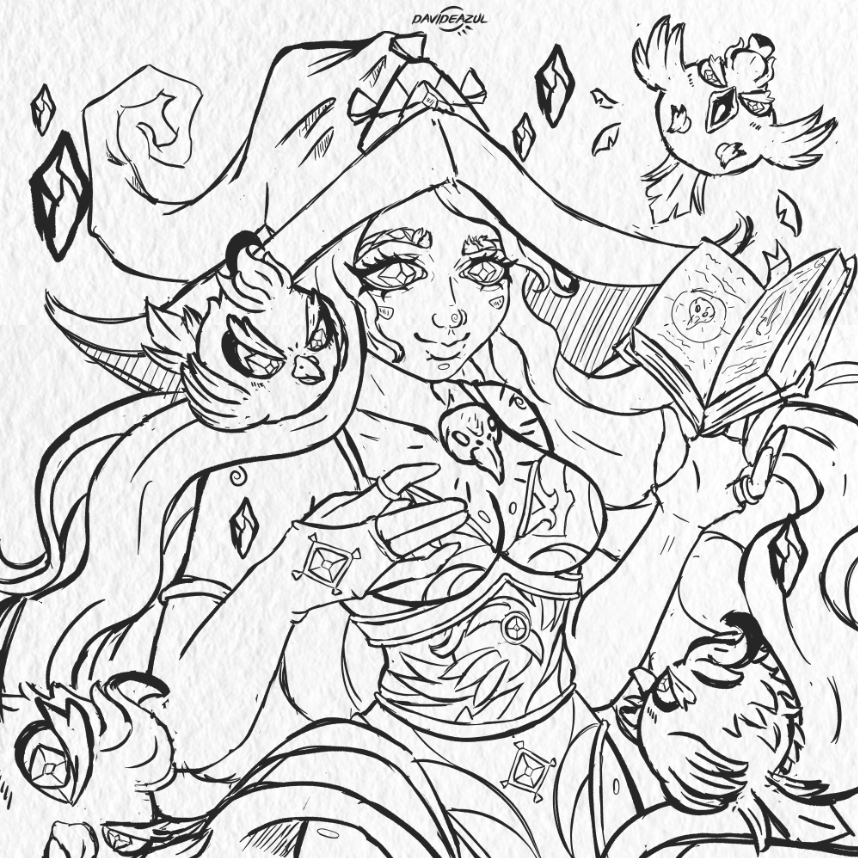 ENTER SPLINTERLANDS
DURATION: 3 hours.
PROGRAM: Adobe Photoshop.
I used a graphic tablet: Kamvas 20"
Me ha encantado el diseño del personaje, estoy ansioso por comenzarlo a pintar. Habrá mucha presencia del morado y es un color que me fascina, así que espero hacerlo bien y que me acompañes en el proceso. 😁
I loved the character design, I can't wait to start painting it. There will be a lot of purple presence and it's a color that fascinates me, so I hope to get it right and that you'll join me in the process. 😁
Translated with www.DeepL.com/Translator
THANK YOU AGAIN FOR TAKING THE TIME TO APPRECIATE MY ART! ♥

My social networks:
| About Davideazul... 💎 | INSTAGRAM! |
| --- | --- |
| Roger Duran, Venezuelan. He is a digital artist, his style is based on cartoons with semi-realistic painting. He is also a 2D animator, an element present in some of his artistic works. / Roger Durán, venezolano. Es un artista digital, su estilo se basa en caricaturas con pintado semi-realista. Además es animador 2D, elemento presente en algunos de sus trabajos artísticos. | |
HAVE A GOOD DAY / AFTERNOON / NIGHT. SEE YOU IN THE NEXT ILLUSTRATION! ♥
---
---