(ENG/SPA) SKETCH: Wood Nymph ♥ | SPLINTERLANDS | @DAVIDEAZUL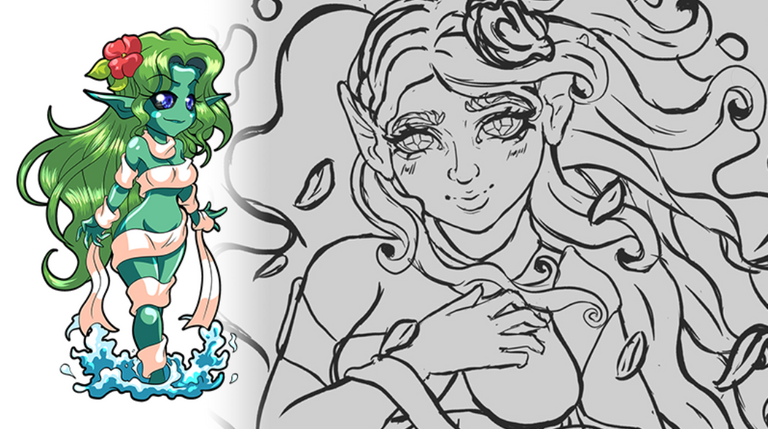 REFERENCE 1
REFERENCE 2

🍃 WOOD NYMPH 🍃



¡Hola a todos! Esta vez quise participar en social mediante creando contenido sobre un boceto de una hermosa carta de @splinterlands, todos la conocemos, no necesita presentación!
Hi everyone! This time I wanted to participate in social media, creating content about a sketch of a beautiful card by @splinterlands, we all know her, she needs no introduction!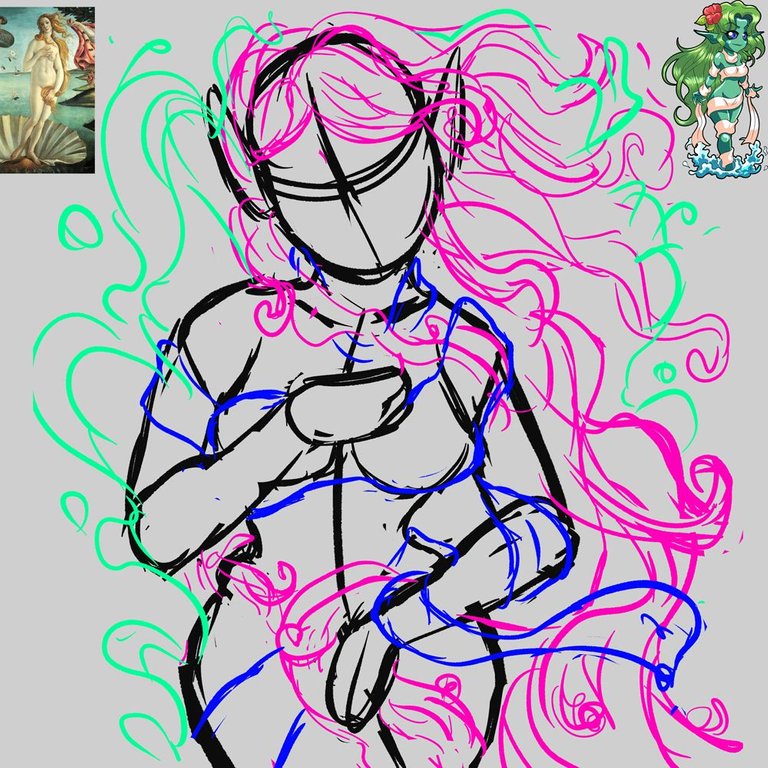 Los puntos que quiero dejar en claro es que: para mi fanart me basé en dos referencias, evidetemente a la carta: Wood Nymph y en la pintura clásica: El nacimiento de Venus, ambas puedes encontrar su enlace de referencia en la portada de esta publicación. Dicho esto, comencé con rayones locos a marcar la posición del personaje y los demás elementos que la acompañaría.
The points I want to make clear is that: for my fanart I based on two references, evidetemente to the letter: Wood Nymph and in the classic painting: The Birth of Venus, both you can find their reference link on the cover of this publication. That said, I started with crazy scratches to mark the position of the character and the other elements that would accompany her.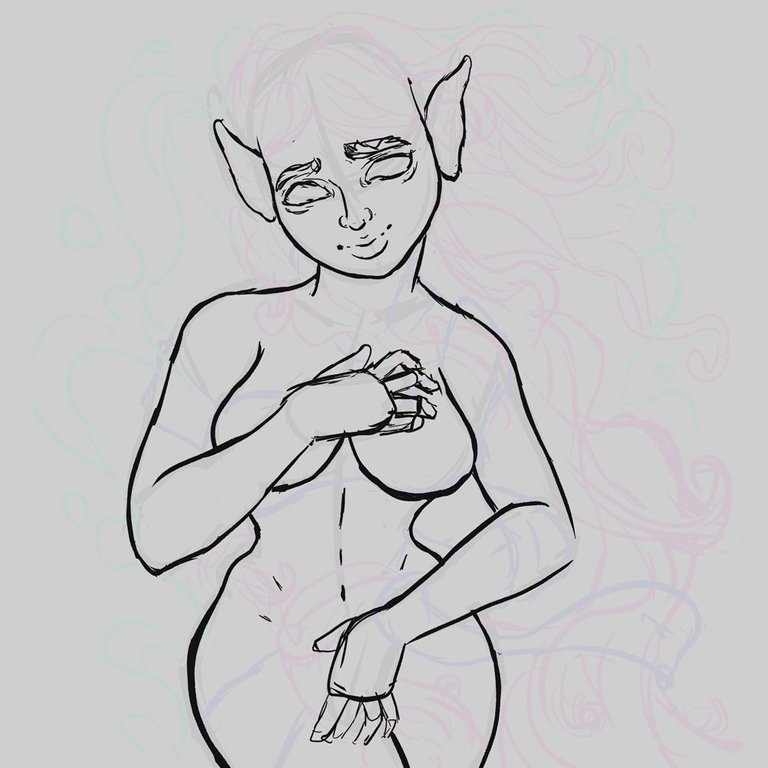 Comienzo estilizando aún más la forma del cuerpo y adaptandola a mi estilo, decidí tomar la postura de la mujer de: "El nacimiento de Venus"; quería que tuviese una mirada nostálgica, así que planteé con algunos bosquejos rápido la forma de sus cejas y esa expresión.
I start by further stylizing the body shape and adapting it to my style, I decided to take the pose of the woman from: "The Birth of Venus"; I wanted her to have a nostalgic look, so I posed with some quick sketches the shape of her eyebrows and that expression.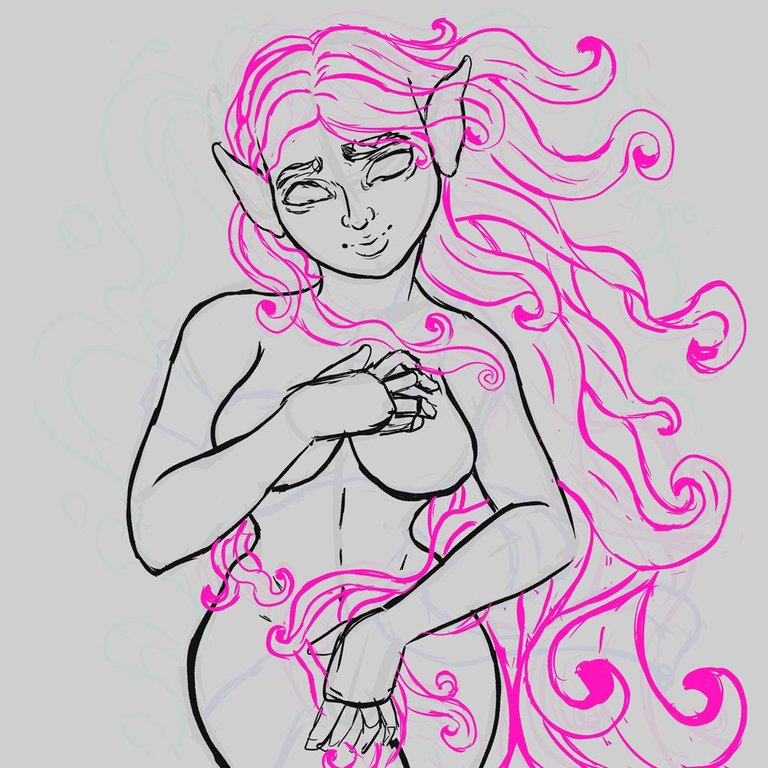 Agregué su larga cabellera con muchas ondulaciones, esta es una de las características con que quiero que resalte. Entonces solo faltaría agregar las vendas en su cuerpo. Aún estoy dudoso de si agregar muchas vendas a su piel o solo en las partes íntimas, aunque creo que habrá dos versiones, una apta para participar en el concurso de @splinterlands y otra con mi visión personal.
I added her long hair with lots of waves, this is one of the features I want her to highlight. Then it would only be necessary to add the bandages on his body. I'm still unsure whether to add a lot of bandages to her skin or just her private parts, but I think there will be two versions, one suitable for @splinterlands contest and one with my personal vision.

SKETCH FINISHED!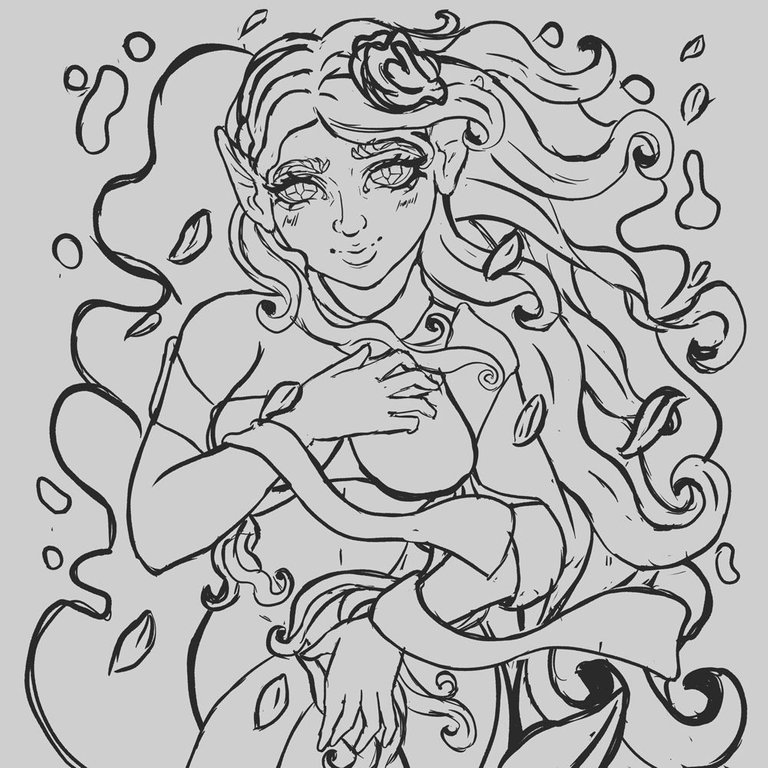 ENTER SPLINTERLANDS
DURATION: 3 hours.
PROGRAM: Adobe Photoshop.
I used a graphic tablet: Kamvas 20"
Me está gustando mucho esta versión, desde hace tiempo quería hacer un fanart sobre la pintura: el nacimiento de Venus; ahora que la uní con el arte de @splinterlands, creo que tendrá mucha más hermosura, ya he comenzado a pintarla y espero poder mostrársela a todos en los próximos días ♥
I'm really liking this version, for a long time I wanted to make a fanart about the painting: the birth of Venus; Now that I've combined it with the art of @splinterlands, I think it will be much more beautiful, I've already started painting it and I hope I can show it to everyone in the next few days ♥
Translated with www.DeepL.com/Translator
THANK YOU AGAIN FOR TAKING THE TIME TO APPRECIATE MY ART! ♥

My social networks:
| About Davideazul... 💎 | INSTAGRAM! |
| --- | --- |
| Roger Duran, Venezuelan. He is a digital artist, his style is based on cartoons with semi-realistic painting. He is also a 2D animator, an element present in some of his artistic works. / Roger Durán, venezolano. Es un artista digital, su estilo se basa en caricaturas con pintado semi-realista. Además es animador 2D, elemento presente en algunos de sus trabajos artísticos. | |
HAVE A GOOD DAY / AFTERNOON / NIGHT. SEE YOU IN THE NEXT ILLUSTRATION! ♥
---
---