Splinterlands Battle Weekly Challenge ! KULU SWIMHUNTER |ESP | ENG|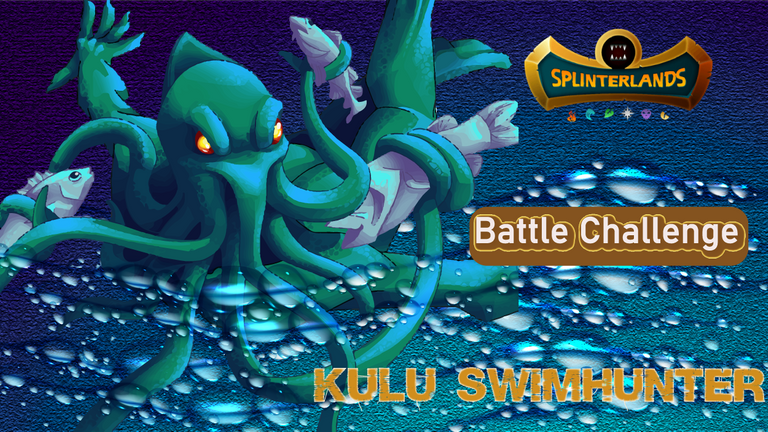 Hello friends a pleasure to be sharing with you again, last week I could not participate in the challenge of battles because I was very busy, but this week I was waiting to see when they published the post to see the selected card and well just yesterday they published the post about the challenge and the selected card is KULU SWIMHUNTER, this is a monster of the water element and its type of attack is melee also something very peculiar about this card is that it is from the CHAOS LEGION edition and you can notice that the last challenges have been with cards from this edition and it is excellent because this way we are learning from these cards since they have not been part of the card mass for so long.
Hola amigos un gusto estar de nuevo compartiendo ustedes, la semana pasada no pude participar al desafío de batallas ya que estuve muy ocupada, pero esta semana estaba pendiente de ver cuando publicaban el post para ver la carta seleccionada y bueno justamente ayer publicaron el post sobre el desafío y la carta seleccionada es KULU SWIMHUNTER, esta es un monstruo del elemento del agua y su tipo de ataque es cuerpo a cuerpo además algo muy peculiar de esta carta es que es de la edición CHAOS LEGION y pueden notar que los últimos desafíos han sido con cartas de esta edición y es excelente porque así vamos aprendiendo de estas ya que no tienen tanto tiempo siendo parte del maso de carta.
My Battle 🏆
Mi batalla

The battle that I am going to share with you today was created with magic attacks more than all and my opponent used relatively the same attacks but he went with earth element and I with water. Something very crazy that happened to me is that I did not expect my opponent to use the summoner OBSIDIAN this took me by surprise but despite everything my cards are very strong and helped me to get the victory, this can be seen in the part below where I share my battle and also below I will tell you about my alignment.
La batalla que les vengo a compartir hoy fue creada con ataques mágicos más que todos y mi oponente uso relativamente los mismos ataques pero él se fue con elemento de tierra y yo con agua. Algo muy loco que me paso es que no me esperaba que mi oponente usara el invocador OBSIDIAN esto me tomo por sorpresa pero a pesar de todo mis cartas son muy fuertes y me ayudaron a conseguir la victoria, esto lo podrán observar en la parte de abajo donde les comparto mi batalla y además más abajo les comentare sobre mi alineación.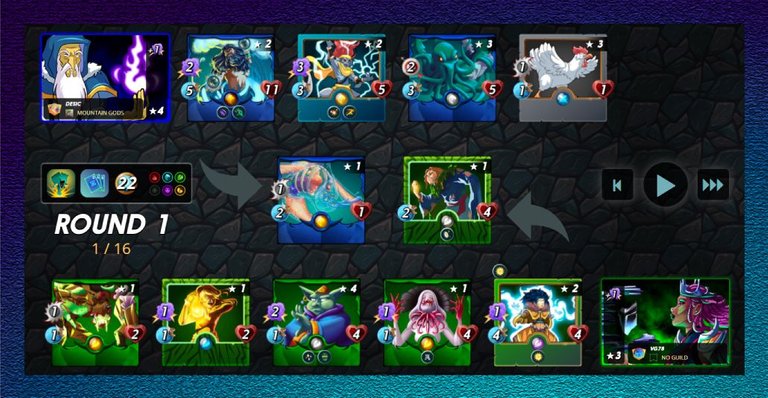 Link to my Battle🏆
Rule of my Battle
Mana: 22
Stampede: the trample ability can be activated several times per attack if the trampled monster dies.
Even Stevens: only monsters with even mana cost can be used in battle.
Mana: 22
Estampida: la habilidad pisotear puede activarse varias veces por ataque si el monstruo pisoteado Muere.
Incluso Stevens: solo los monstruos con costo de mana pares puedes usarse en la batalla.
My lineup and strategy
Mi alineación y estrategia

---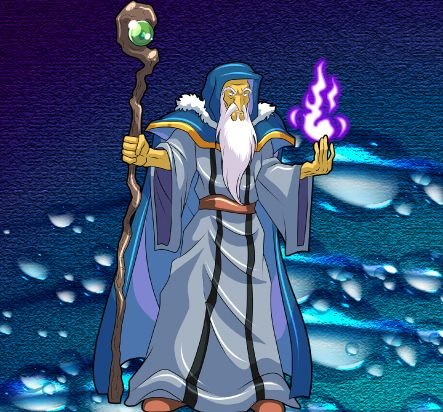 Summoner ALRIC STORMBRINGER
This summoner is one of my favorites and he has the ability to give you 1+ magic attack to the allied cards that have this type of attack and this summoner only consumes 3 mana and I have it at slight 4.
Este invocador me encanta utilizarlo es uno de mis favoritos y él tiene la habilidad de darle 1+ de ataque mágico a las carta aliadas que posean este tipo de ataque y este invocador tan solo consume 3 de mana y lo poseo en el leve 4.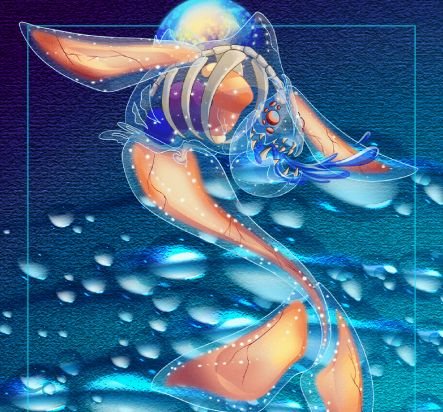 TORRENT FIEND
First position; This card is a melee card, I decided to place it in this first position as a distraction because it is a card that is worth 0 mana and the card that comes after this card is of utmost importance in my lineup so by placing it in the first line I distract my opponent. On the other hand this card has 1 health, 2 speed, 1 attack and consumes 0 mana as I mentioned before.
Primera posición; Esta carta es de cuerpo a cuerpo, decidí colocarla en esta primera posición de forma de distracción ya que es una carta que vale 0 de mana y la carta que viene luego de esta carta es de sume importancia en mi alineación así que al colocar está en la primera línea distraigo a mi oponente. Por su parte esta carta tiene 1 salud, 2 de velocidad, 1 de ataque y consume 0 de mana como ya antes mencione.
---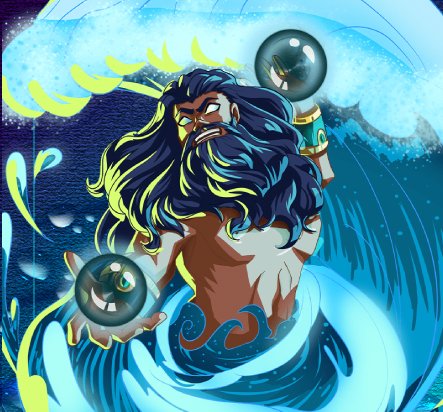 DJINN OSHANNUS
Second position;This card is ideal to place it in the second position because it is a card with magical attack and can cover the first line without any problem also I love the skills that this card has which are Void and Phase because these 2 skills are very good for attack reduction and especially the magical ones. On the other hand, this card has 2 attack, 11 health, 5 speed and consumes 8 mana which are worth this card I own it in the slight 2.
Segunda posición; Esta carta es ideal colocarla en la segunda posición porque es una carta con ataque mágico y puede cubrir la primera línea sin ningún problema además me encanta las habilidades que posee esta carta los cuales son Void y Phase porque estas 2 habilidades son muy buenas para la reducción de ataque y sobre todo los mágicos. Por otro lado, esta carta tiene 2 de ataque, 11 de salud, 5 de velocidad y consume 8 de mana los cuales lo valen esta carta la poseo en el leve 2.
---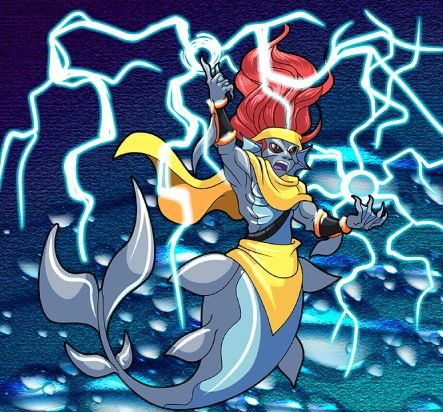 RULER OF THE SEAS
Third position; In this third position I decided to place this card with magic attack and because it is this way I can protect it because I do not want it so close to the first line but also not so far away because if it has to pass to the first line it can attack without any problem, something very important is also that this card is an important point of my lineup like the previous card because this monster has 2 skills that help strengthen my team these skills are Blast and Swiftness. This monster has 3 attack, 3 speed 5 health and consumes 6 mana I own it at slight 2.
Tercera posición;En esta tercera posición decidí colocar esta carta con ataque mágico y porque es esta forma puedo protegerla ya que no la quiero tan cerca a la primera línea pero de igual no tan lejos por si le toca pasar a la primera línea esta puede sin ningún problema atacar, algo muy importan también es qué esta carta es punto importante de mi alineación al igual que la carta anterior porque este monstruo tiene 2 habilidades que ayudan a fortalecer a mi equipo estas habilidades son Blast y Swiftness. Este monstruo tiene 3 de ataque, 3 de velocidad 5 de salud y consume 6 de mana la poseo en leve 2.
---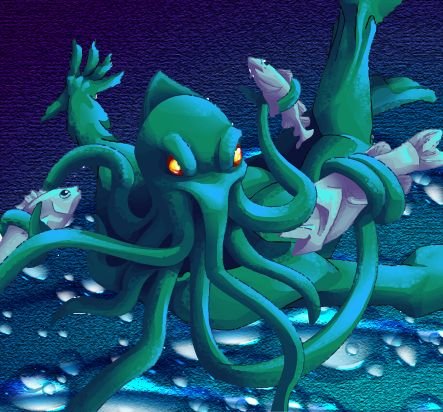 KULU SWIMHUNTER
Fourth position: This card is ideal to place in this position because it is a ranged attack monster and the farther away from the front line is better, this card has no ability but to be honest this does not matter because it has great attributes, as it consumes only 4 mana has 2 attack, 3 speed and 5 health which is very good this card to take it in this position.
Cuarta posición: Esta carta es ideal colocarla en esta posición porque es un monstruo de ataque a distancia y mientras este mas lejos de la primera línea es mejor, esta carta no posee ninguna habilidad pero siéndoles sincera esto no importa porque tiene grandes atributos, como que consume tan solo 4 de mana tiene 2 de ataque, 3 de velocidad y 5 de salud lo cual muy buena esta carta para llevarla en esta posición.
---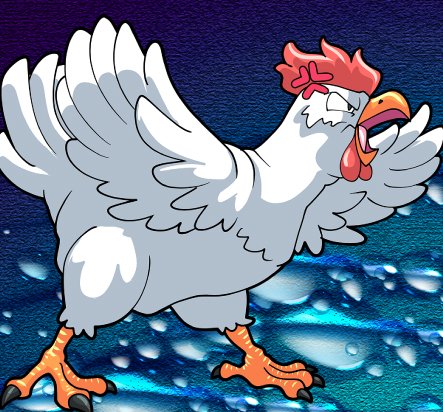 FURIOUS CHICKEN
Fifth position: This card fascinates me and especially because it is my favorite card to use as bait most of the time when I have space and I have no mana left I use this card whenever I can I take it and this time I used it to cover this last line you can imagine if I use it as bait gentlemen. For its part, this card has 1 speed, 1 melee attack, 1 health and finally consumes 0 mana as I mentioned before.
Quinta posición: Esta carta me fascina y sobre todo porque es mi carta predilecta para usarla como carnada la mayoría de las veces que tengo espacio y no me queda mana utilizo esta carta siempre que puedo me la llevo y en esta ocasión la utilice para cubrir esta última línea se lo pueden imaginar si la use de carnada señores. Por su parta, esta carta tiene 1 de velocidad, 1 de ataque de cuerpo a cuerpo, 1 de salud y por ultimo consume 0 de mana como ya antes mencione.
Did your strategy work?
¿Tu estrategia funcionó?
My strategy worked very well, because my lineup had what it took to counter my enemy and even though we both went with magical attacks in most of our lineups, but what differentiated us was that the elements were different, he went with the earth element using OBSIDIAN as his summoner and I used the water element summoner ALRIC STORMBRINGER and well my lineup was stronger than his, that's why I got the victory.
Mi estrategia funciono muy bien, ya que mi alineación tenía lo necesario para contrarrestar a mi enemigo y a pesar de que ambos nos fueras con ataque mágicos en la mayoría ambas alineaciones, pero lo que nos diferenciaba era que los elementos eran diferente él se fue con el elemento de tierra usando como invocador a OBSIDIAN y yo use al invocador ALRIC STORMBRINGER del elemento de agua y bueno mi alineación era más fuerte que la de el por eso obtuve la victoria.
Do you KULU SWIMHUNTER, why or why not?
¿Te gusta los KULU SWIMHUNTER? ¿Por qué o por qué no?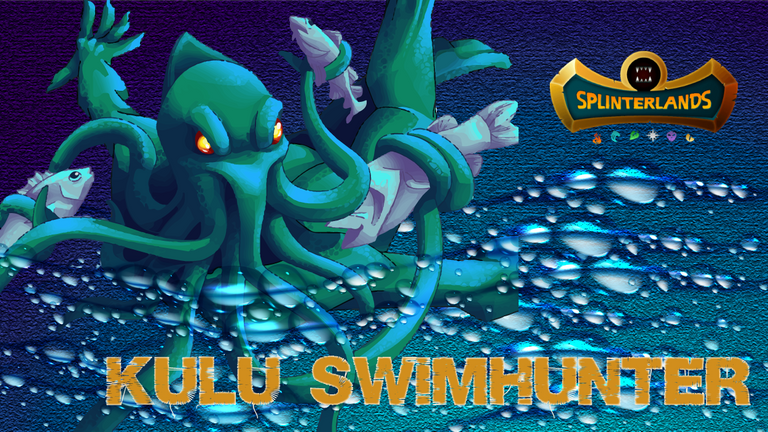 This ranged attack card I like to use it because it consumes only 4 mana and has 2 attack in its slight 1 and this is very good because when we get little mana this card is ideal to use it in the last lines because I assure you that it will fulfill a great role in the last lines giving the best of them. To culminate, I comment that this card is a common card belongs to the element of water and is a new edition CHAOS LEGION so want the opportunity to use and you will see that it is an excellent card.
Esta carta de ataque a distancia me gusta utilizarla porque consume tan solo 4 de mana y tiene 2 de ataque en su leve 1 y esto es muy bueno ya que cuando nos dan poco mana esta carta es ideal usarla en las últimas líneas porque te aseguro que cumplirá un gran papel en las últimas líneas dando lo mejor de ellas. Para culminar, les comento que esta carta es una común pertenece al elemento del agua y es de nueva edición CHAOS LEGION así que deseen la oportunidad de usar y verán que es una excelente carta.
Background elements of the images taken from freepik
Elementos de fondo de las imágenes tomadas de freepik
Thanks for your support, see you in the next post Kisses!

Sígueme para más contenido.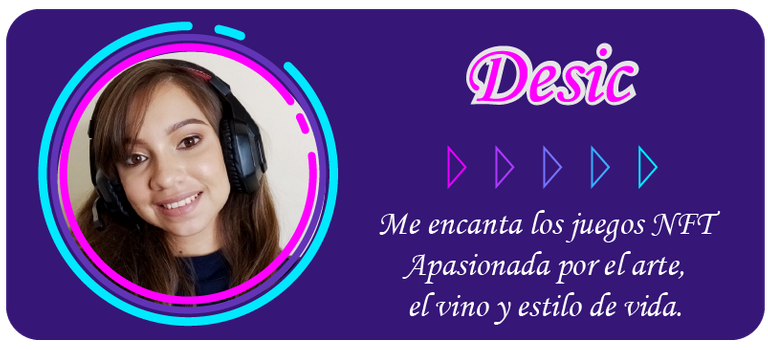 Creador de contenido Original.
Traducido con https://www.deepl.com/
---
---