HARKLAW: Last Man Standing!!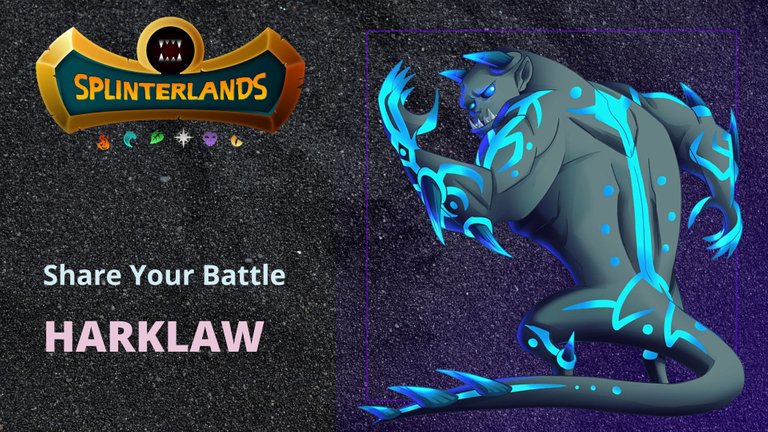 Hi everyone, welcome back to my Splinterlands weekly battle challenge. This week we should have Xenith Archer as our main theme, and I have decided to change the theme to Harklaw. Xenith Archer is a good rare card, however we have some similar cards with the same type and stats from older edition, that's why I feel a bit disheartened if I have to post anything about this one.
So here is the replacement, HARKLAW!!!!

QUICK INSIGHT ON HARKLAW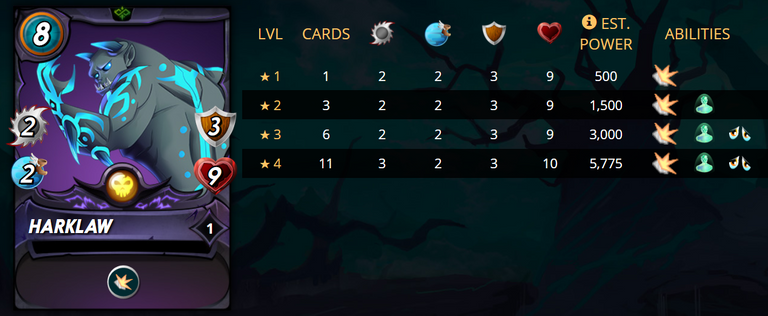 Harklaw is a Reward Edition paired with Untamed Edition. He is a Legendary Death Element Monster. Once he was a well known powerful tank, but that's before the Chaos Legion released. Nowadays people prefer to play Cursed Windeku or Djinn Muirat as the main tank. Some even prefer to get Cthulhu or Dark Haon which can be considered one of the best tank in this game.
Weakness
Harklaw main weakness is his attack power. His melee damage is not something that powerful, only 2 melee damage. He doesn't have notable speed too. Let say he is an old school tank, while the current tank mostly have high hit damage and faster speed. So it's understandable if people have chosen to leave him over some new tanks.
Strength
There are two notable strength that harklaw has. First he has immunity, this is a rare ability that not many monsters have. Monster who has Immunity will excell during certain rulesets, such as Noxious Fumes (poison), or they don't have to worry against opponent who use status ailments such as poisons.
Second one is Demoralize Ability. It's a rare thing we see tanks that buff up his team mates, or debuff opponents. Most tank is only caring about himself. Or perhaps we can call Harklaw is a stronger version of Disintegrator. On Gold League, it is very hard to defeat Harklaw in a slugfest Melee contest.
Style of Play
Based on those weakness-strength analysis, I think it's valid to say that we can not use Harklaw to charge forward doing slugfest againts opponent tanks. Harklaw is a tank that hold opponent attacks in front, so whether we win or not it depends on environment and our backline attackers

Battle Preparation
I got these rulesets and I thought they were great to show how strong HARKLAW was:

NOXIOUS FUMES ~ All Monsters start the battle Poisoned.
TAKING SIDES ~ Neutral Monsters may not be used in battles.
46 MANA
With this poison rule, Harklaw would get a great advantage due to his Immunity Ability. Let see what kind of team I could come up with:
| Position | Card | Ability | Plan and Strategy |
| --- | --- | --- | --- |
| Summoner | | -1 magic damage and -1 health | Our Favorite Chaos Legion Death Summoner |
| Main Tank | | Thorn | Our Favorite Chaos Legion Death Tank, high hit damage and high health point with only 6 mana requirement. |
| Second | | Poison, Life Leech | I picked him due to his poison ability. I wanted to re-poison opponent tanks if they would get cleansed by their support members |
| Third | | Fly, Silence | Phantom Soldier was one of my core in this battle. The damage dealer with 3 magic damage and silencing opponent magic attack. |
| Fourth | | Opportunity, Snare | I needed her speed with 3 range opportunity damage. Whether I would win or not might depend on her speed in killing or wounding opponents |
| Fifth | | Shield, Immunity | I put him behind due to his Immunity Ability. I would make this a contest who could stay alive longer in this Noxious Fumes ruleset |
| The Last | | Void Armor, Knockout, Giant Killer | Djin Muirat was my last resort, incase shit things happened. A can do everything mage |

HERE COMES THE BATTLE!!!
If you want to see the battle directly, you can see it directly here:
https://splinterlands.com?p=battle&id=sl_47af20c7f3fd5c53399d6aaa3226caef&ref=dewabrata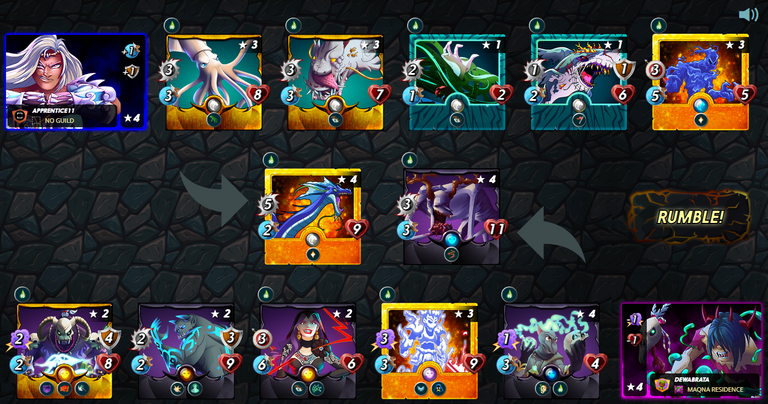 It's a Silver League Rank Battle Death vs Water. I think both my opponent and I made some mistake in our line up. I don't understand why he doesn't bring any monsters with cleanse ability, and my mistake was replacing my Twisted Jester with Venari Bonesmith. Overall my team is slower and this might be dangerous for me.
Let see how this will go
Round 1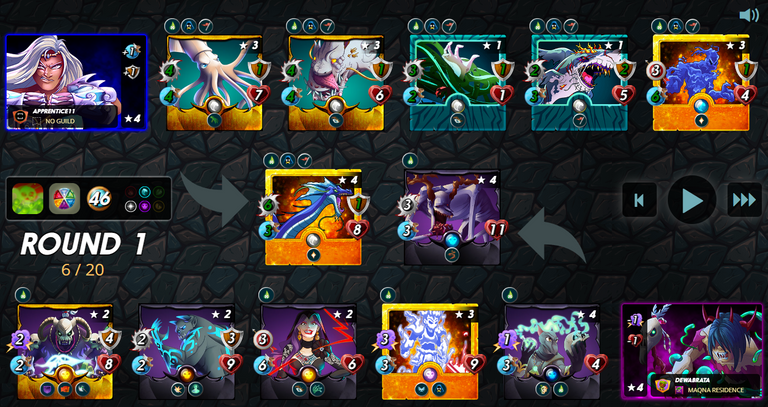 The game started as both party buffing and debuffing their monsters and opponent's monsters.
My opponent had 3 range damage, 17 melee damage. Combined all they became 20 damage per turn.
My team had 3 melee damage, 3 range damage and 6 magic damage. Combined all became 12 damage per turn.
By number, this should be a game over for me. Seriously 20 DPS vs 12 DPS?
It was a nasty round. I lost my Bonesmith and Windeku instantly and I could do any significant damage to them
Round 2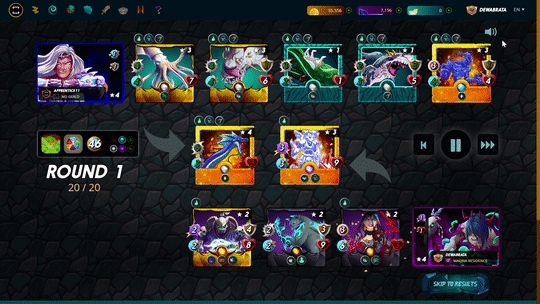 2nd round started with their seaweed died from poison
My Lira managed to kill sea monsters, later she got killed by their Deeplurker
At the end of this round, my Djinn Muirat stole a kill... finished their Squid
Round 3
I lost my Phantom Soldier in this round, and again my Djinn Muirat made a kill again, this time He killed Deep Lurker.
Round 4-5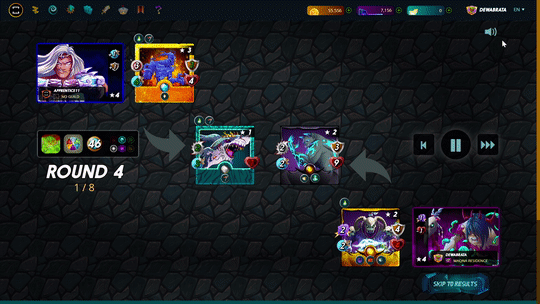 the battle somehow became one sided and I won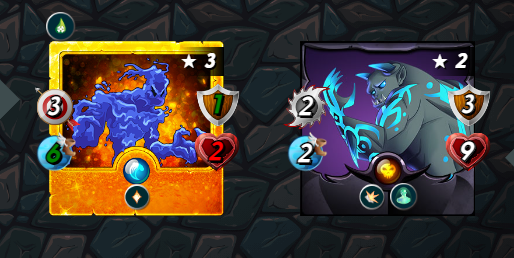 Battle Discussion
There were 2 major point why I could won this battle which from all angle, and especially by comparing the damage build up, I should have 0 chance to win.
Immunity Ability - HARKLAW.
During Noxious Fumes, any monsters with Immunity can change the tide. All he needs to do is survive the first 3 rounds, because 3 rounds means all monsters suffer 6 poison damage, most of them will already dead.

Shear Luck - Phantom Soldier
During this battle, my Phantom Soldier dodged twice, one from Deep Lurker and another from Water Element. Both are fast monsters, so these actions should be called lucky moves. However this should be a debatable because even though Phantom Soldier got killed earlier, It's not that easy to put down Harklaw. Harklaw does not have killing power, however he is a very sturdy wall who will last long rounds battle.

Thank you for visiting my weekly battle challenge, don't forget to leave your comments and feedback below. There are credits in this post for these people:
splinterlands : for holding weekly battle challenge events
carrieallen : for ultimate markdown tutorial
kyo-gaming : for wonderful divider art
---
---