Splinterlands: SPS to the MOON? Correct Predictions Dec 13, 2021 & Jan 6, 2022?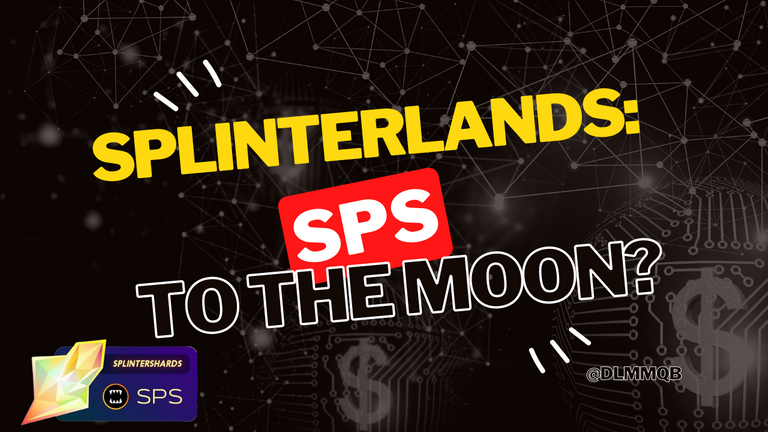 MADE WITH CANVA PRO

Hello, Hivers and Splinterlands players! It's been a long time since I talk about splinterlands in my posts. Today, I came to know about recent changes which made me excited to write about it. In my Video on Dec 13, 2021 Splinterlands Cards Price Fall, Passive Investors, and Rise of Hive Punks!, I predicted products like splex.gg for auto renting and now it's a reality.
Did you know I also predicted SPS's Delegation on Jan 6, 2022 SPS Fan Fiction Use-case!
Of course, in both my videos, my format was giving suggestions to implement changes instead of predicting the future. Now we have auto renting which I talked about before but what is the buzz about SPS Delegations?
On Jan 6, 2022 I talked about delegating SPS to a player for earning something in return. With the new year's roadmap, we can observe the change of the Collection Power requirement to the SPS-staked requirement for climbing ranks. A lot of people might not like it for panic but similar concerns before this change were also raised by other hive members NO CP, NO REWARDS. The ideas were simply to increase the value of the economy.
It might look unfair from newbies perspective cause the requirement to get more battle rewards DEC and gets harder and harder. People were unhappy cause the prices of cards were too expensive for them to climb the ranks. When the card prices drop people complained about printing too many cards dropping the price. Some even complained when tower defense or RUNI was worked on or even GLX. In short, we will always find some users who will complain or criticize and it's a good thing too as it sometimes helps us see flaws in the system.
When all this was happening I ignored investments anything more into splinterlands like tower defense game or RUNI. But I also have HODL hands not only in splinterlands but in general. I didn't sell even PIMP or POB when I knew prices will drop (but they will also recover in the long term). Some argue we should sell and buy back again but non of us are sure about when the next BUY BACK AGAIN should be. I knew about GLX and SPS prices will crash badly still I didn't sell any. I wanted to support the economy (PIMP above example) and Hive in general, also my HODL hands turn out to be a good strategy in the long run (Moderately Conservative Investor mindset). Instead of having short gains, I am focusing on enjoying the last laugh.
SPS's current state is it gives me vouchers and GLX airdrops. I am happy with my all stake which I never unstacked even a single SPS: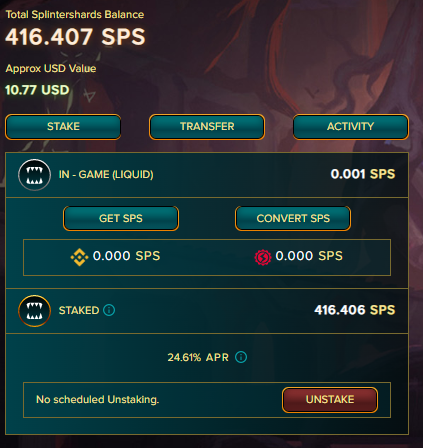 I should have booked profits when we were near 1$???? Wrong! We have seen the potential of axie infinity governance token and I believe we are far ahead of them. Also, we didn't know if we will not reach 5$ SPS (If I sold near $). I just hold just to support the economy of Splinterlands. To some 400-500 SPS is nothing but to some it would be a huge amount of money. I don't wanna be faster and faster in this race but I also don't wanna give my SPS to anyone. 1 SPS = 1 SPS!
With everything above mentioned included I am really happy to see this SPS requirement replacing the Collection Power requirement. No matter whatever the short turns the economy of splinterland take, I can't withdraw everything from splinterlands as it will not bring any significant change for me as it's not too much for me currently nor do I need funds for emergencies (also have some emergency funds ready). But what if my every effort and hustle will result in far big gains? I am ignoring all the short-term ups and downs and holding on as long as I can. I am also optimistic this splinterlands investment will be worth life changing money in the future when if that means compounding and holding for the next 10 years!
Are you selling your SPS or we are in the same boat? Do you think it will be harder for bot farms to leech our economy without caring about investing in the game? DEC reaching 1000:1 DEC;HIVE? Any other thoughts you wanna share with me about splinterlands? Feel free to share in the comments!

Wanna read more? Check out: SPLINTERLANDS: THE BATTLE SCARS!
SPS is the Governance token(When DAO will be implemented). It was never about 0.1$ SPS or 5$ SPS. Imagine you want to remove bots from Splinterlands, you don't need a dollar value of SPS but
ONE SPS WILL ALWAYS BE EQUAL TO ONE SPS (when you decide to vote on the proposal)
DEC is a complex example of HBD. It's different in many ways but there is one thing in common, It is algorithmically stable. No one can farm them infinitely. Price increases, the magical printer will go brrrr... Price decreases, the magical printer will slow down. A planned token of the economy.
SPT is the fuel of the economy. SPT rewards people who talk about splinterlands. Marketing a game you are investing in is important to keep the wheel spinning. SPT is the reason for huge scale marketing.

Wanna vote for dlmmqb's posts? Never miss a post by setting up an autovote with Hive.Vote.

Consider Supporting me by using my referral links:
Release your inner Rock Star with RisingStar! #playforfree #play2earn


A new era of card battle games, Try Splinterlands! #play2earn


Put your idle Splinterlands cards to auto-renting with Splex.GG! #automation


Become a Digital farmer with dcrops and grow your own NFTs! #play2earn


---
---