The CARTEL! Banner 650x180! #creative-sunday


Final Result

Collage Idea:
Showcase The Cartel through a 650x180 banner. The goal was to use images from The Cartel Discord with permission.
At Start, I wanted a background image. The first thing you do in discord is to read the "rules," and in that channel, an image was available: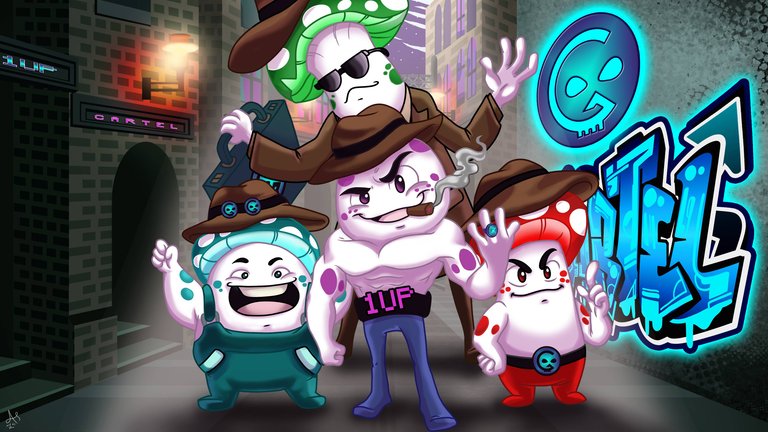 You might be wondering, it's the best background image for the banner.
I give it a thought too for use as my background. I needed 5 images for my collage. One background image and 4 images where red boxes are marked.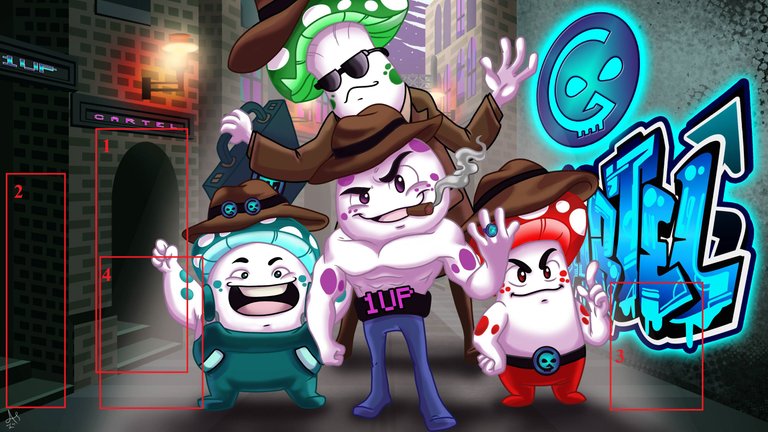 I wanted to show a half mushroom monster coming out of stairs, and we can see only half of it.

Two Twin styled Mushroom monsters chilling on that side, small but easily visible.

A Mushroom monster of smaller height than the red Mushroom monster.

A similar styled Mushroom monster on the left side too.
Perfect right? Maybe, but when it is covert to 650x180 size, it will not look like a complete image. I rejected this Idea.

My hunt started for the next idea for the banner I had in mind. I opened all The Cartel Mushroom monsters on my browser taps. My screen was looking something like this (Yes, the browser is only showing some taps, and when you close them, it shows more):


My hunt was complete. I had all the images I might need for the final banner. Of course, I could not choose all images in the banner as they might look like micro images and trying to fit in, which I didn't want. It was time to pick, choose, and reject. What are you thinking? NO, it was not like the tinder slide left and slide right. After a lot of thinking, I opened a banner size 650x180 in canva with white background and randomly placed final selections on that banner.

It looks terrible, right? I just collected(first selection) all images on the size of background I wanted. The blue boxes you see are just from canva.


Here you can see a background color. It's actually a free-to-use Unsplash(SOURCE) image of Light Blue to Dark Blue gradient. Yes, I tried a lot of backgrounds: Galaxy, stars in the sky, black sky, blue sky, clouds, and much more before finalizing this background. You might notice red marks. These are the images with completed positions by me. Yes, I like them that way. If you notice deeper, you will see red and green Mushroom monsters are unique in design, so I keep them near the left and right sides of the focus image. The king on the throne was my center-focused image. The Text "ONEUP CARTEL" had enough space and design to work as a ground for Mushrooms to stand. I use corner characters who always face my center-focused image, so right corner green Mushroom was precisely doing it.


I completed the rough design of the left side of my collage. I wanted my viewer to see "CARTEL" everywhere, dividing the vision into three types: Left, Right, and Center. The Left Mushroom monster was facing towards my center-focused monster now, just like the right side Mushroom monster. Also, A king was sitting with 2 advisors and then 2 guards. The image looked perfect. A Mushroom monster was in space too. The Text size on the left side of "CARTEL" was perfect now. Everything was excellent, but the right side was incomplete. I was seeing the final image with my power of imagination. Can you see it?


Finally, my banner was completed. A king was sitting on a Throne, and two Advisors were there to accompany him. Also, two guards were there to protect them. On the right side, another wealthy figure sat with his own guard. On the left side, There was a place for entertainment. A singer was standing there accompanied by two victorious figures from different sports. Two figures were in Space. From wherever you see the banner, It is entirely perfect. From every angle and side, you can see, sense, and feel "The Cartel" (even in the background color).

---
---