Who will be the Splinterlands Champion!?! Archmage vs. Xbot vs. Human Players! (Part 3a)

If you missed Part 1 (Intro) and Part 2 (Bronze Bot Battle), you can check them out here.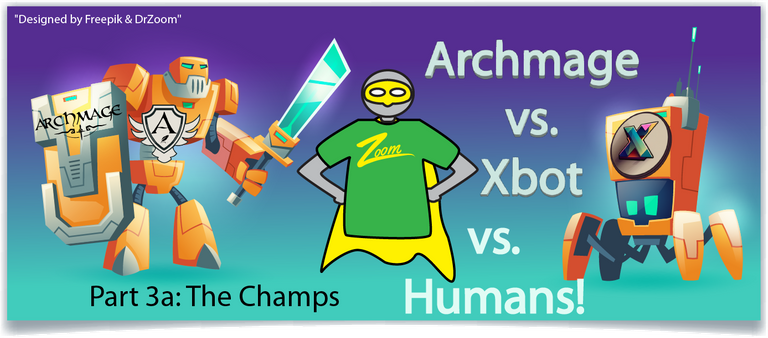 Welcome to the Main Event!
Ladies and gentlemen, welcome to the Main Event! (music, cheers, fanfare)...Tonight (and for the next 15 days), we will watch 13 players (on 3 teams) battle it out to see who will be crowned the Splinterlands Season 112 Champion (...of this fun experiment…).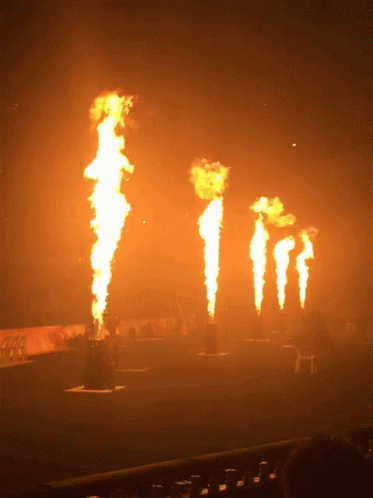 Who will reach the top of the leaderboard? Who will have the best winning percentage? Who will have the best advice… (record scratch).... The best advice? Wait, what? Well, it would be any fun unless we ask these players some fun (and maybe tough) questions along the way. You know, learn their tricks, and meet the real people behind the screen. Let's meet our players and our teams!

Awesome Archmage Associates
This team uses the automated service inspired by Almighty Melon, Imp0stor, IVIaxPow3r, and IProto; learn more at https://www.archmage.app/. It is like magic, and plays Splinterlands while you sleep. This team is also full of Splinterlands magic!
Xsuilx (Modern & Wild) - who will be using the Archmage Scholar in both Modern and Wild. Xsuilx finished the last 2 seasons on the leaderboard in Modern, and Wild, winning the Wild Leaderboard in Season 110. Xsuilx is always gunning for that top spot on the leaderboards in Champ. Xsuilx loves a few cards and uses them as frequently as possible. "Dumacke Orc has been kicking ass for me in certain rulesets. Iidri Fyre is one of the best new cards, and Iziar will be meta for a long time, especially when one uses Kralus, Jared Scar, and a couple resurrects." Even knowing a few of the goto cards does not make it easier to defeat Xsuilx.
VetteV (Modern ONLY) - VetteV is also rocking the Archmage service. VetteV has finished atop the leaderboard before, so this account will be working hard to get back there. VetteV's Wild side is played manually by - Altumns, so we will be watching Modern format for the success of the Archmage service.
Ithaka (Modern ONLY) - one of my guildmates in Immortal Phoenix, Ithaka is a strong force in both the Champ and Diamond leagues. Regularly finishing in the top 100 in Modern, this account will be using the Archmage bot to continue to bring the heat.

Heroic Humans Power Playing (no BOTS)
With big brains, powerful perseverance, and cunning courage, these players are going to dominate with raw skill and intellect.
Jacekw (Wild ONLY) - Jacekw is a legend in Splinterlands. Maybe players consider Jacekw to be one of the best manual players, and they may be because he has won numerous tournaments and continues to dominate the leaderboards. Jacekw is a strong manual player, whose favorite card is the Elemental Phoenix.
Altumns (Playing VetteV account in Wild ONLY & playing Giker in Wild ONLY) - Altumns regularly takes the scholar accounts to the top of the leaderboards. Altumns' strong manual play has earned the respect of many players. Fat Jimmy said, "I've been a big fan of Altumns since day 1!" Altumns meanwhile said he is a big fan of Naga Assassin.
Mondroid (Playing Clove71 account in Modern and Wild ONLY) - Mondroid's goal is to improve every season, which is hard to do when you are consistently making the leaderboards in Modern and Wild. Mondroid's favorite cards are Epona and Lily Shieldpaw. "Epona is the best support card in the game and Lily Shieldpaw I just like building teams that take advantage of the camo where the enemy just can't kill my Almo or a Baakjira for example, but are forced to attack them without scattershot." Mondroid went on to say, "I hate RNG and often Lily teams have 100% chance to win when used correctly in the right situation." Great advice, making Mondroid a tough player to beat.
Bulldog1205 (Modern ONLY) - Bulldog is a regular name in the top 100 in Modern Champ and a strong contributor to the Splinterlands community. Bulldog usually bots, but has volunteered to play manual for the season. When Bulldog first volunteered, he said "I'm going to get destroyed!" I think that is how most of us feel, but not everyone is willing to go for it, and that makes Bulldog a Champ in my book. Bulldog's deck is mainly maxed Chaos with some Riftwatchers and Untamed mixed in; he is going to rent everything else. Bulldog is shooting for the bottom of Champ 1, which is a noble place. His favorite card is the Desert Dragon.
FatJimmy (Wild & Modern with help from Hyde-20) - They will be focusing on Wild, but they dabble in Modern. They usually place in both, which is a feat. They like to have fun and do their best. When asked about favorite cards, he said it was a tough call. He went on to say he has, "always been a huge fan of the Alpha Legends Lord Of Darkness, Elemental Phoenix, and Spirit of the Forest." He said that he does not have a favorite splinter, but feels all Splinters have their appropriate place! "Fire was my favorite for a long time." I believe that FatJimmy is on fire when he plays both Splinterlands and his music!

Xcellent Xbotters
They will be using Sylar's automated play service; learn more at https://xbot.app/home. When I asked Sylar to speak about the xbot service, he was speechless. I think that means this app is beyond words, and so is the team!
AngryChipmunk1 (Modern ONLY) - is not an angry rodent (no matter what he posts in MAV chat), but a really good guy who I met many seasons ago. Using his crazy intellect and math skills, we broke the Splinerlands record for the longest match (before they changed the settings), and broke the game. AngryChipmunk1 plays the xbot in Modern, because he no longer has the time to manage the rentals to be competitive in Wild. He is a strong player has made the leaderboard, and is a formidable player. His favorite card is the Gold Foil Byzantine Kitty, and it is also the crown jewel of his collection. AngryChipmunk1's collection is, "Maxed CL, RW, and some UT stuff."
Bjangles (Modern ONLY) - Bjangles, a huge fan of bluegrass shares an IGN with Mr. Bojangles himself, and his xbot dances its way to Champ 1 regularly. Bjangles reaches Champ 1 and shuts down the bot reaping the rewards and starting up again in the next season. Bjangles loves to use the death squad led by astral entity, who summons nightmare, lira, raa, kain hace, ancient lich, queen of crows, windeku, arachne thug, weirding warrior, cabalist, and/or night ghoul. That is one "killer" team! Watch out, or you'll be dead.
Yuexn (Modern ONLY) - is the brains behind Splex and Golem Overlord. Yuexn plays only modern with the xbot, and has been a top 100 finisher several times. Yuexn's deck is "cl/rw/promo max cards," which does well in Modern.
Chaz777 (Modern & Wild) - Chaz777 plays in both leagues with xbot, and finishes most often just inside Champ 1. The account is stronger in modern with max Chaos and Rift cards with just a few Untamed and Beta cards. Chaz777 is a dragon lover, and favors those cards; Chaos Dragon is the best in the deck! Chaz777 is an Archmage convert, using both tokens for a time before moving exclusively to xbot.
Drzoom (Modern and Wild) - I am going to rent all the cards and then track the cards that are used, and just re-rent those, and I will post the results from the cards I use. I am going to try and make leaderboard in both formats, Modern and Wild. The rental costs are fairly steep, which is why I was putting this off, and I was not sure I wanted to pay the costs twice to test it with both Archmage and Xbot. Right now I have a maxed Chaos and Reward deck, so I will need a fair amount of cards to get leaderboard. Last season I made Champ 1 in Modern and leaderboard in Wild Diamond. My favorite Splinter is Earth, and my favorite card is Kron the Undying. I have noticed though, that xbot favors water and is my best Splinter. And my most often used card is Lux.

The Challenge
If you read Part 1 and Part 2 of this series, you will see that I was planning to match Archmage and xbot head to head in each league with all the cards. I started in Bronze logged the win percentage for each bot and the cards it used. Once I published the data, people started calling for Champ research. I checked the cost to rent all cards at a Max level and it would be pretty expensive ($13 a day to rent all the cards). If you do that for both bots, it would be North of $26 a day, and that adds up over a 16 day season. I was telling a few others, and the suggested using data on real players. That was brilliant; so here we are, pitting xbotters, Archmages and human players against one another this season. We will track win %, and final rating for each team. We are not able to track card usage for this one, but jacekw has collected some wonderful card usage data, that I linked below.
If you are looking for some additional card data, Jacekw has pulled some great card data that you might enjoy.
Wild, Season 108 (all leagues)
https://peakd.com/hive-13323/@jacekw/usage-win-rate-of-monsters-and-summoners-or-season-108-or-wild
Modern, Season 108 (all leagues)
https://peakd.com/hive-13323/@jacekw/usage-win-rate-of-monsters-and-summoners-or-season-108-or-modern
Here are a few other great ways to track win % and card usage:
So, the directions for this challenge were to just battle as you would normally do, and we will just watch your progress. At the end of the season, I will log the results. If you want to follow along, head over to Splintercards and select Tools, Account Info (https://www.splintercards.com/tool-account-info.html) and enter the player's IGN. You can see their win % in each format for the season.
I will post again at the end of the season the results.
Follow along at https://www.splintercards.com/index.html
Good luck!
DrZoom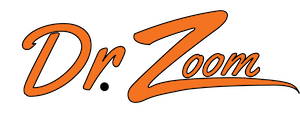 IGN: drzoom
Guild: Immortal Phoenix
Many thanks to Archmage, Splex, Splintercards, & Xbot for their great products. I also want to give shout-outs to splintercell-01, my guildmates, fellow players, and MAVs who encouraged me along the way!
My referral link to start battling: https://splinterlands.com?ref=drzoom
Photo credits to Xbot, Archmage, Splinterlands, and Freepik.
---
---