For Guild & Glory: April 26, 2022 Personal Brawl Report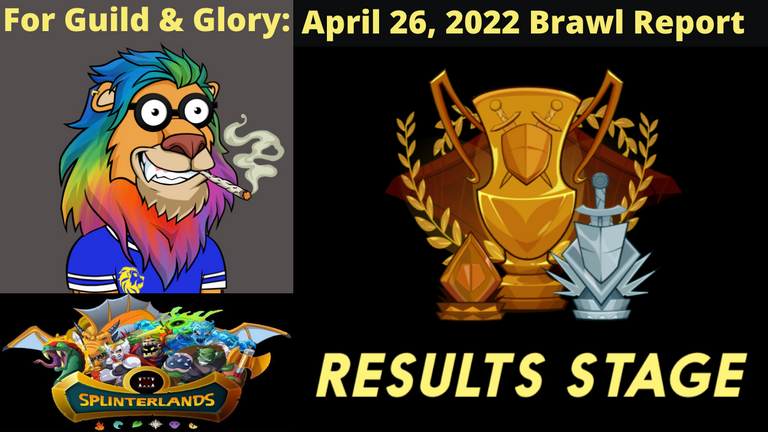 ---
Overview
I'm back again @splinterlands fans with "For Guild & Glory," my personal brawl report for my two accounts: @ducecrypto with the 3rd-ranked @shield-of-glory in Tier 2 and @shaelien with The Gold Syndicate of @the420syndicate in Tier 1.
With the new brawl reward structure recently revealed to the community, renewed talks of upgrading the Shield of Glory arena to level 5 took place. Although the DEC had already been contributed, we were 90 crowns short of being able to perform the arena upgrade. Therefore only a 1st place finish would yield the necessary crowns to perform the upgrade. I am very proud to share that we stepped up to the challenge and finished in first.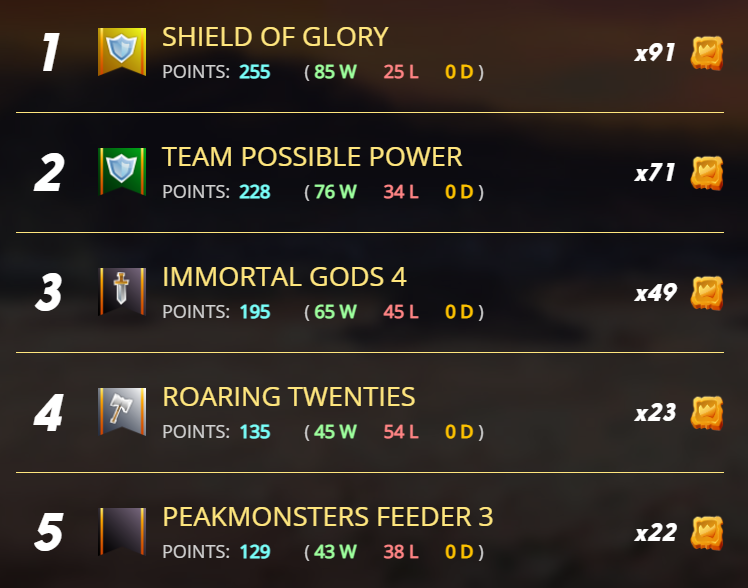 On the other hand, the brawl looked promising for The Gold Syndicate because it was the highest-rated guild in our group. But it did not play out well at all, as The God Syndicate really struggled with poor performances and lackluster attendance. With the combat stage ending over the weekend, it felt like myself and my guildmates were a bit distracted from doing our best, as we fell to fifth place.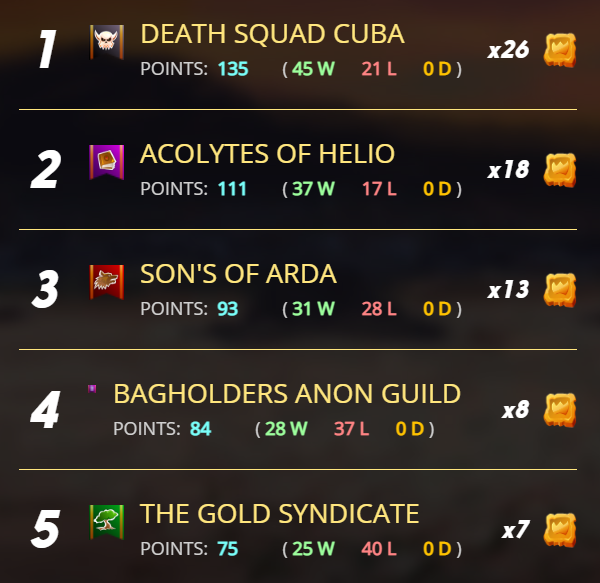 ---
Personal Record
For the fourth week running, both of my accounts were engaged in Gold Foil frays. DuceCrypto defended Fray 14, which is modern bronze league in Tier 2. Shaelien defended Fray 11, which is wild bronze league in Tier 1. For the second straight brawl in Tier 2, I battled to a strong 5-1 on my DuceCrypto account. But it was another wasted week for Shaelien in Tier 1, as I lucked into a 1-2 record without submitting a lineup.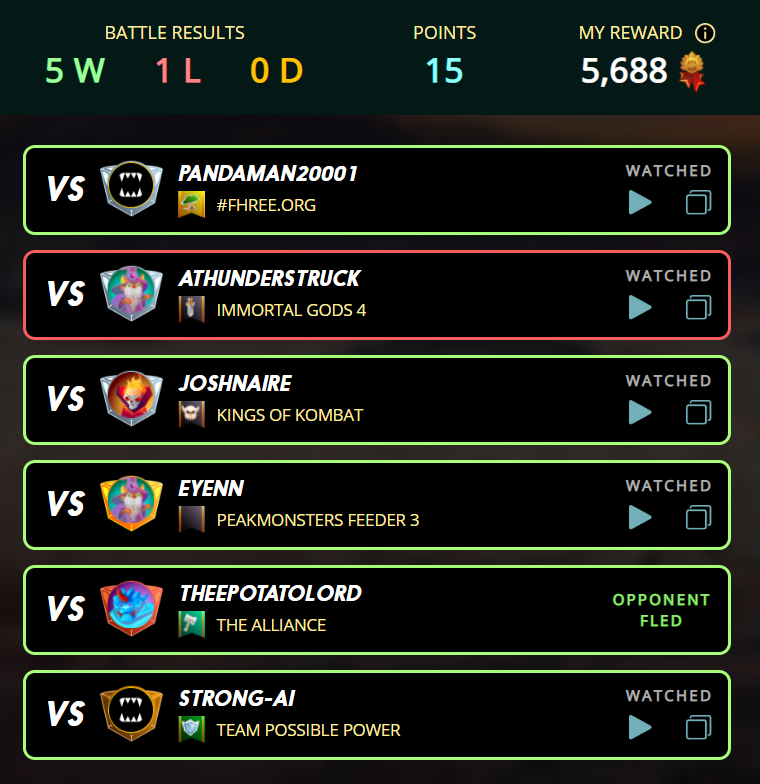 ---
DuceCrypto Battles
Because the combat stage took place the day after end of season, a few of my more experienced guildamtes were willing to delegate me the powerful legendary summoners I try to play with each week: Yodin, Kitty, and Llama. With those summoners secured, I focused most of my rental budget on monsters with many of the familiar cards I am used to renting for each brawl. Again, I was able to leverage these rentals to compete and place in a bronze league GF tournament as well.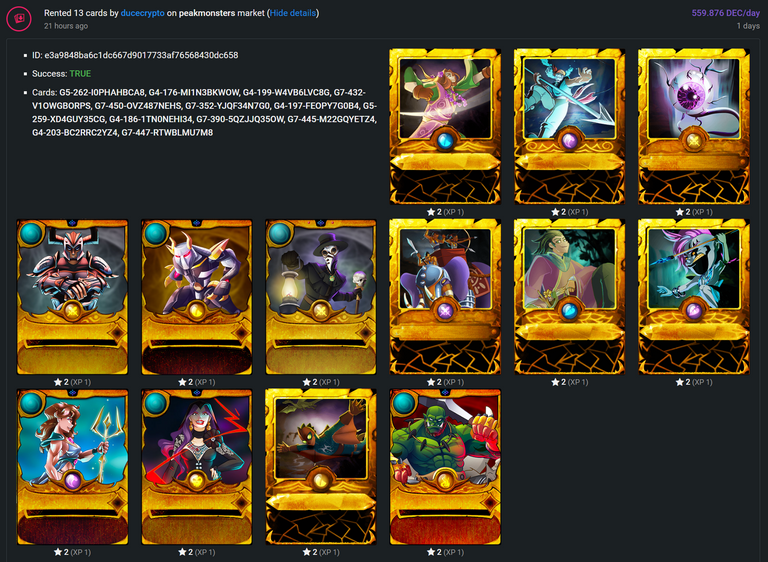 Battle 1 vs. @pandaman20001 --> Replay
Battle 2 vs. @athunderstruck --> Replay
Battle 3 vs. @joshnaire --> Replay
Battle 4 vs. @eyenn --> Replay
Battle 5 vs. @theepotatolord --> Fled
Battle 6 vs. @strong-ai --> Replay
My only loss of the brawl in Fray 14 came against a familiar foe from Immortal Gods 4, athunderstruck. I tried to use my only rare GF gladius card Ajax Lightfoot with a range-heavy Sloan lineup, but my opponent also had the same idea and the same GF gladius card. The big difference that swung the battle in their favor was their selection of Truthspeaker to add armor in our little league battle, which allowed their monsters to survive longer. The other matches were unremarkable, as the powerful legendary summoners Yodin and Kitty dominated the competition.
---
Shaelien Battles
As I said before, this was a week to forget for The Gold Syndicate, as several of us actually just forgot to submit lineups, me included. I managed to go 1-2 because my opponent in Battle 2 fled the battle due to the inability to field a lineup before I actually fled due to missing the combat stage entirely. Only my opponent in Battle 1 got a win though, because neither me or my opponent showed up for Battle 3 which resulted in a no contest loss for both of us.
---
New Brawl Preview
While Shield of Glory was in fact able to upgrade its arena to Level 5 with the big win of 91 crowns, as a guild we chose to stay in Tier 2 for now because of a lack of viable guilds ready to battle in Tier 3. We believe that once Tier 3 reaches 8-10 guilds ready to battle, it will create a large enough reward incentive to make the move. However, with only six guilds currently opting for Tier 3, we felt the expected value of rewards with a full brawl in Tier 2 would be better.
For what it's worth, this next brawl cycle in Tier 2 looks to be challenging for Shield of Glory, with four other Top25-ranked guilds in our nine-guild group: Immortal Gods 2 (17), HD Hyborian Dream (21), Phoenix IVY (22), and The Alliance (24). By contrast, in Tier 1 The Gold Syndicate is just the fifth-highest guild in the 10-guild group. Any way you slice it, I will have my hands full in Tier 2 and Tier 1 for this upcoming brawl. Thanks again for following along on this brawl report, I look forward to better brawls ahead for everyone, except of course our unlucky opponents.
---
---