The Value of Buying More Energy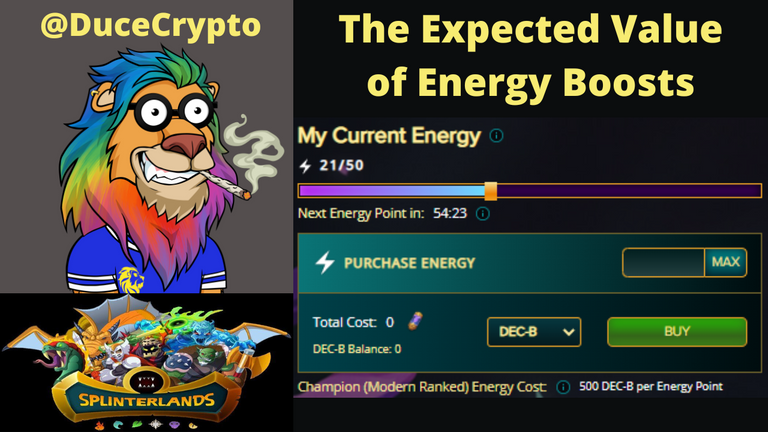 @ducecrypto back again for #Splinterlands battlemages with more financial analysis content for yall to devour. On today's menu is a brief look at the new energy system developed to replace the ECR for ranked battles and whether it is good value to spend assets on energy to play more ranked battles.
Summarizing the New Energy System
The goal of the ranked battle energy system change is to make it easier for battlemages to know exactly how many battles they are able to play at any given time, which is a nice upgrade for the oftentimes difficult-to-understand Energy Capture Rate (ECR) system that was previously in place. A full energy supply starts at 50, and each ranked battle played costs one energy. Energy recharges at one full unit per hour, and there is even a handy little timer below the energy bar that lets players know when they will receive their next recharge of energy.
In addition to the natural recharge of one energy per hour, players may also purchase up to 50 units of energy per day using credits, DEC or DEC-B. With a daily recharge rate of 24 energy per day and the ability to buy an additional 50 energy per day, one can feasibly play 74 battles per day under the assumption you start the day at 0.
Let's Take a Look At The Numbers
Because the expected value of a win is different for each league, the price for an energy refill also varies by league. Here is the cost chart from the official @splinterlands article:

If one wants to get the maximum value from purchasing energy, then the only correct choice would be using DEC-B to buy the energy, since it can be obtained at a discount to regular DEC tokens. Credits are the most expensive option since it will always cost more to obtain credits than DEC, that is until DEC is finally back at its peg of 1000 DEC per $1 USD and then they should be of equal value.
Cost Analysis of DEC-B
Further analysis shows there are two ways to purchase DEC-B: paying with DEC or paying with Vouchers. Determining which is a cheaper method depends on the spot price of each asset. As a handy reminder, 1000 DEC-B can be purchased with 800 DEC or 5 Vouchers. Therefore, we must consider the equation of 5 Vouchers = 800 DEC and reduce it to a unit rate of 1 Voucher = 160 DEC.
At the time of writing, it is cheaper to buy DEC-B with Vouchers since 1 Voucher is worth less than 160 DEC. If the price of 1 Voucher becomes greater than 160 DEC, then it would be cheaper to buy DEC-B with DEC. The accompanying google sheet calculates the EV of buying energy with inputs for the price of DEC and Voucher, and it will determine which asset is better to purchase DEC-B with based on the spot prices.
Did You Say Google Sheet?!
I sure did! Here is a read-only and readily copyable Energy EV Calculator designed to determine the EV of buying energy at the different league levels.
Let's talk about the input variables, those are highlighted in yellow at the top right of the sheet. We need the spot price of DEC and Vouchers to buy the energy, and the price of SPS to value the ranked battle wins. The table at the top left shows the token values and determines the lowest USD cost to buy a single DEC-B for one energy.
The other few variables in the calculations are a bit trickier. The Splinterlands Exchange, aka Splex, does a great job pulling data on the Win EV of SPS from ranked battles and Chest EV from the daily and season reward chests. Input those values based on your given or expected league rank. The charts are linked in the sheet as well as below:
The last two variables are up to the user - one is a little more straightforward than the other. Win Rate, well that's the easy one. Just be honest and consider the timing during the season! Rumor has it that the competition is stronger during some parts of the two-week season, so just keep it in mind when setting the win rate. When and what a player decides to rent will also have an affect on their relative win rate.
Wins per Chest is by far the hardest, murkiest variable to estimate and input for these calculations. It represents the number of ranked wins required to win a single reward chest from the sum of daily and season reward chests.
There are several factors that make Wins/Chest so hard to nail down:
Earned Chests - Since the rShares needed to earn each chest are not linear, as one earns more chests it requires more wins on average to earn another new chest. Therefore, if one has only a few earned chests, the wins/chest should be lower than if they had more earned chests from later in that day or season.
League Level - Players often move up in league as the season progresses, so the proportion of rShares needed to earn a chest is also slightly different, which in turn affects the rate of Wins/Chest.
rShare Bonuses - The amount of rShares from a win is ultimately the deciding factor for earning reward chests, and that value is also variable based on factors like Gold Foils, Daily Focus, Cards Sets. One may use a lower Win/Chest value if they have a favorable Daily Focus or rent bonus cards like GFs and Alphas.
One thing that is really helpful for finding an average win rate and Wins/Chest metric is the Season Report Card from @splinterstats. Again, these last two variables are really based on the user and how often they think they will be able to win and accrue rewards. Try plugging in different rates to get an idea of what is needed to be profitable with buying energy in different leagues!
Time For the Weekend
Well, I gotta say I'm pretty pleased with my work on #Hive this week. 2 brawl reports, some land analysis, and now a fun EV calculator function for yall! If you enjoyed what you read, don't be shy - gimme a follow, reblog the article, and have some fun in the comments. Duce Out!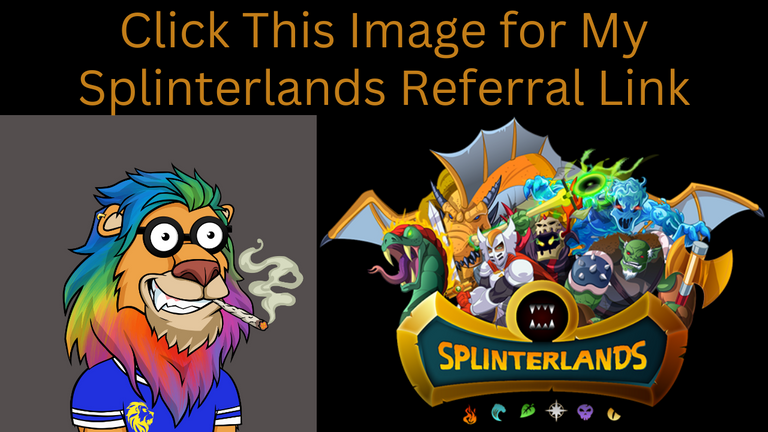 ---
---