A Dynamic Curation #1
---
---
A Dynamic Curation #1
---
---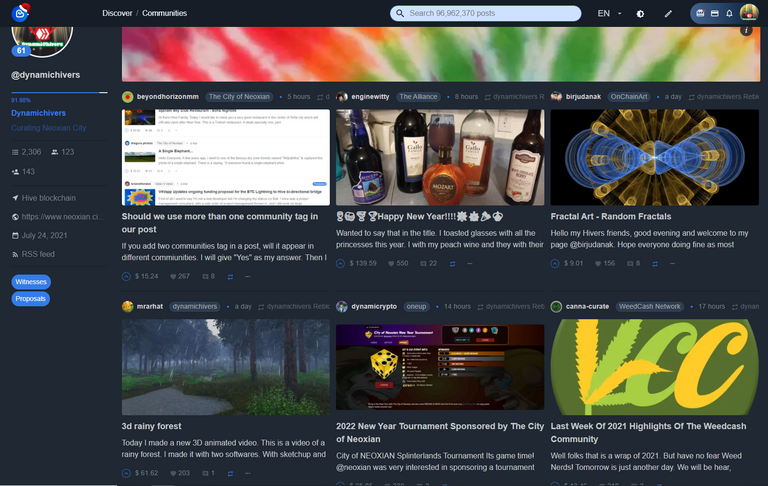 @dyanamichivers

I hope all is well HIVE family! I bring to you our first Dynamic Curation of this new and powerful year of 2022. This year will be one of Unity, Strength and LOVE, for all of us on HIVE as we keep the T.V. off and HIVE on! Together we will progress HIVE forward into new and astounding levels never imagined before! Without too much more rambling, let's get into these fresh posts on HIVE that I think are worth traveling to. Please consider at the very least leaving a comment on these posts by saying Hello to these awesome content creators and their content for HIVE! Yes, casting an upvote and rebloging said content helps encourage further content creation in almost any circumstance!

---
It's Pimp Your Post Thursday Today at 12pm EST
---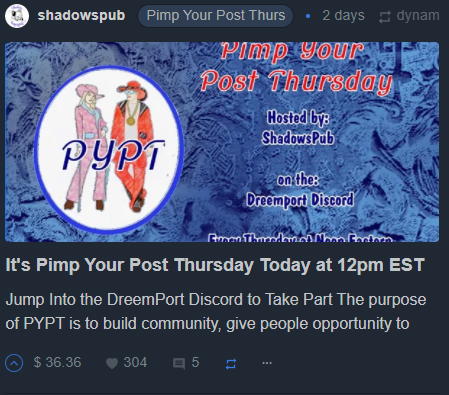 What can I say about Shadowspub other than she is the best host on HIVE with the most influence. Shadow only loves to support other people and their hard work. She does a great job hosting this show called, Pimp Your Post Thursdays. I encourage you visit us weekly there at @dreemsteem's discord and share your post or other people's ( or bots why not?) posts every Thursday at 12pm Eastern Standard Time!
The purpose of PYPT is to build community, give people opportunity to share posts with their peers and to get to know each other on voice and in text. Anyone who creates content is welcome to participate.
https://ecency.com/hive-171372/@shadowspub/its-pimp-your-post-thursday-today-at-12pm-est
---
---
---
2022 New Year Tournament Sponsored by The City of Neoxian
---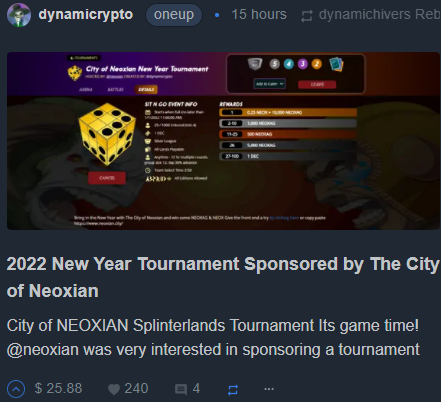 Dynamicrypto is hosting a Tourney today for the community of @neoxian! There will be lots of opportunities to win NEOX, NEOXAG and DEC by participating in this tourney for @splinterlands!
Its game time!!@neoxian was very interested in sponsoring a tournament that helps many new players out in the game and puts some NEOXAG token in their HIVE wallets when asked. If a sponsor like @neoxian donates the DEC also we can charge 1 DEC per entry as you see in this City Tournament. A reblog of this post or writing your own about the tournament and creating your own tournaments is greatly appreciated.
https://ecency.com/oneup/@dynamicrypto/2022-new-year-tournament-sponsored-by-the-city-of-neoxian
---
---
---
Last Week Of 2021 Highlights Of The Weedcash Community
---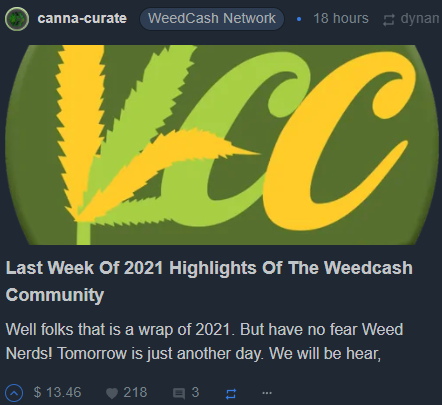 If you love Cannabis then this is a must read! The Canna community is amazing on HIVE! So please visit this post to better support their community on HIVE
Well folks that is a wrap of 2021. But have no fear Weed Nerds! Tomorrow is just another day. We will be hear, pushing our favorite BlockChain where our community resides. We have made some strides the last year, and now have a kick ass front end, along with NFT's. Which I fell will help our goal for more Volume in the Weed Market. Once we get more Volume, then we can start to lobby more companies to accept Weed as payment. Of course that is not the only way. The opportunity to take this further is here at our finger tips.
https://ecency.com/hive-195708/@canna-curate/last-week-of-2021-highlights-of-the-weedcash-community
---
---
---
🍷🍻🍹🍸Happy New Year!!!!🎆🎇🎉🎊
---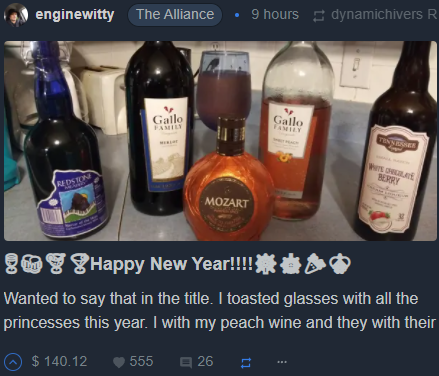 I love Pimps like Witty! He has a pimping community and we had fun last night watching movies! Explore this post to see the fun we had and how to join in on the fun next time! Hope to see you there next time PIMP!
We also had some movies showing, big shout out to @brisby for hosting them! We casually watched Free Guy and Game Time (I think, I'm pretty juiced atm). I saw @saffisara in there. @jamerussell and @dynamicgreentk. @snook popped in for a bit, @thekittygirl, @marybellrg and Peter Pan? @stayten and @wesphilbin said Happy New Year.I also saw @tattoodjay, @camiloferrua and @wwwiebe stop by with warm greetings. We saw @simgirl, @inthenow and @sacra97. Shouts also to @definethedollar, @katrina-ariel, @papacrusher and @latino.romano. Thank all of you for taking the time with well wishes and ringing in the new year. I appreciate the visits. Cheers!
https://ecency.com/hive-123585/@enginewitty/happy-new-year
---
---
---
3D rooftop restaurant.
---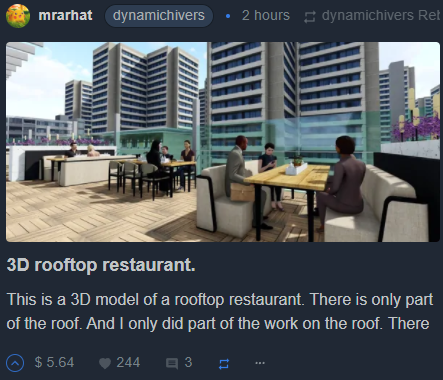 I can not put words to this person's incredible talents. Just see for yourself by visiting this post. Hive has a top notch 3d artist that is consistently sharing his work with us!
This is a 3D model of a rooftop restaurant. There is only part of the roof. And I only did part of the work on the roof. There is no other part of it. So this structure is L-shaped. And its total floor area is about (54 meters * 10 meters). It has been kept to a size approx. The size is also quite large. And this part has also been divided into two parts. This means that a row of tables has been arranged on both sides of the floor and a walkway has been laid in the middle. Moreover, for some special tables, separate small parts have been kept on one side. And four tables have been placed in it. If you look at the pictures, you will understand better. There is a place for food and a place for drinking wine. Glass is used as a parapet wall on the roof. And to enhance the beauty of the total roof, some small tree sticks have been used here. So its 3D work has been done through sketchup software and render work has been done with the help of lumion software. I hope you like it.
https://ecency.com/hive-190059/@mrarhat/3d-rooftop-restaurant
---
---
---
Which 3 Hivians Provided You The Most Value In 2021? (Challenge)
---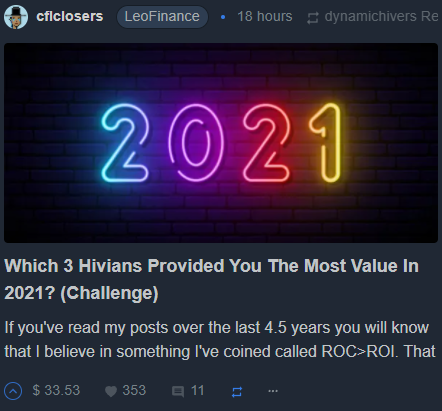 I got a discord notification about Las Vegas being mentioned in a post on HIVE yesterday. I had to look in and see what someone was saying about my hometown. It was a great post I found showing love to others! Find out more by traveling to the post featured here!
There are dozens and dozens of hard-working hivians that put community above all else but I put myself on the spot to list only 3 and I challenge you do the same.....In no particular order, my 3 nominees for providing me the most value in 2021 are @chubb149, @edicted and @nathanmars.
https://ecency.com/hive-167922/@cflclosers/which-3-hivians-provided-you-the-most-value-in-2021-challenge
---
---
---
Hello Hive family!
---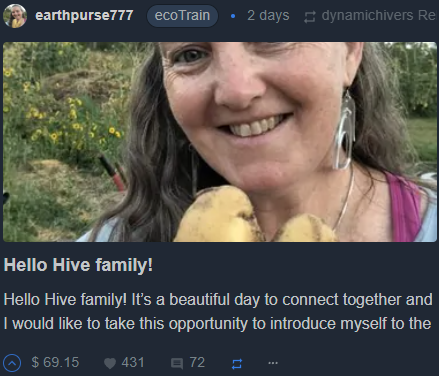 Last but not certainly not least, is my good friend Cheryl aka @earthpurse777! My friend is new to HIVE and could use as much welcoming as she can get, though the community of HIVE has done amazing so far in doing this! She loves Sustainable Organic Farming, teaching others and running communities! I encourage you to say hi to my dear friend who will surly help you learn her methods of farming that she is well qualified and certified to do!
I love gardening, building soil and communities. I garden in raised beds at home. Also, I co-manage a three acre farm at a church community garden and donate 20% of harvest to the food pantry for those in need.
https://ecency.com/hive-123046/@earthpurse777/hello-hive-family
---
---

Thank you for making it to the end of my post meant to showcase HIVE content creators. Please take time to say hi to the content creator's posts that I featured here and show some support for them!

A Fun Generalized Community on HIVE to join!
---
The Neoxian city is now located in Element chat
---
Please visit us in Element. https://element.io/
Element information:
The id of the man to talk to there is @neoxian:matrix.org
Neoxian's city chat: #cityofneoxian:matrix.org
https://app.element.io/#/room/#cityofneoxian:matrix.org

Who does not love NFTs?
---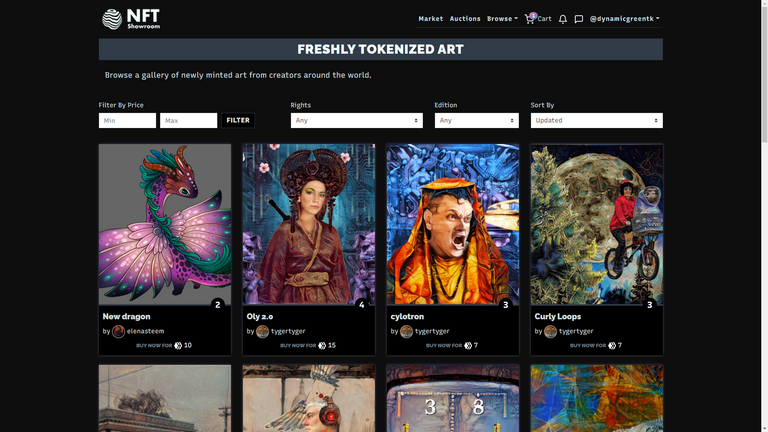 Do you love art and want to get you some NFTs or mint them? Do not be afraid to use my referral link for @nftshowroom or just travel directly to their site!
https://nftshowroom.com/?r=dynamichivers

---
---