A Dynamic Curation #8: Curating Threespeak content!

---
---
---
A Dynamic Curation #8
---
---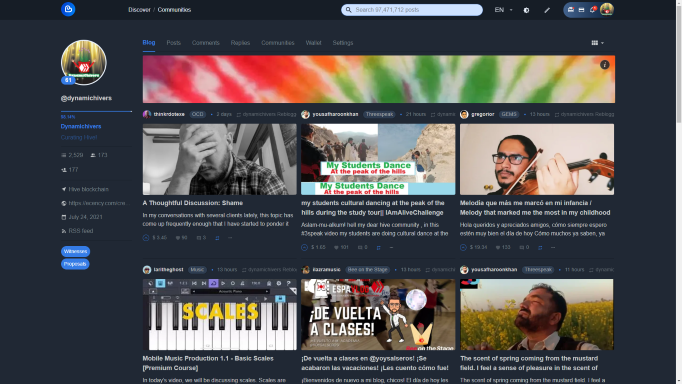 @dynamichivers

I am getting settled in Boise, Idaho and have been trying to enjoy life more. Curating has been on the bottom of my list of things to do to be honest. While I do feel these posts that I make are appreciated and do get lots of engagement here on these posts, I do wish people engaged more on my personal posts over at @dynamicgreentk. I am trying to get better at making video productions and struggling to be honest. I thought I wanted to curate new authors or be involved in this community or that one but my opinions and outlook on life is radically different than most. I do not conform easily and am finding interesting things when curating content from the introduceyourself tag.
I think that @threespeak is an amazing platform with great content with real humans. The creators of Threespeak is developing the @spknetwork which will, in my opinion, take the Hive network to new levels of success. I want to support these efforts by @theycallmedan, @starkerz, @vaultec and crew by creating video content myself as well as curating the content on Threespeak. This will allow me to learn from the people there with how to make better video content as well as better supporting people who are more likely to be real. As I casually onboard people to Hive from the Boise, Idaho area; I will be encouraging video productions from them using Threespeak.



---
3 Tournaments Finished & 66 Chaos Legion Pack Opening
---
---
Troy aka Dynamicrypto is my former partner on Steem/Hive where we worked together in creating content and supporting others on the blockchain. While we no longer live together and work on content; we are both still active on Hive. His content keeps getting better and better! He is now showing me how to make better video content! Lately, he has been hyper involved with creating tournaments for @splinterlands with various communities as well as making killer videos for Threespeak!
General Sale Day 2. 3 Tournaments Finished & 66 CL Pack Opened
Just Under 8.5 Million Packs Remain. My estimate of a sale out within minutes was very wrong to say the least. No bets were made so nothing lost and got plenty of packs to ensure I get some airdrop cards, have some fun playing and have tons of NFT to add to my Splinterlands investment.
https://peakd.com/hive-140217/@dynamicrypto/nxacusku
---
---
---
24 Hours of Chaos - Almost 1/2 Packs Sold, 2 Mil Opened, SPS Supersale, & New Liquidity Pool Reward Action
---
(Unsupported https://3speak.tv/embed?v=master.splinter/uxxcoicw)
---
In case you did not know @elamental is @master.splinter, which is his oneup/ blockchain gaming curating account! He is taking up yet another endeavor on Hive which is curating blockchain gaming content, investing into Splinterlands packs and currencies! In this video he goes over the general sale for the third phase of Chaos Legion card pack sales, how sps is on sale and even the new liquidity pool changes happening on tribal dex. I suggest following this talented young man who is a conscious rapper, community organizer, Threespeak content creator and now Blockchain gaming curator for Oneup!
After about the first 24 hours of the Chaos Legion general sale initiation there have been 6.13 million packs sold out of 15 million total, and 2 million or so have been opened. This rate technically holds true to my original prediction of these packs selling out in about 48 hours, although considering some of those were from the presale, and the bearish state of the rest of the market, I do not think all packs will be sold in this timeframe. My new prediction is these packs selling out in the first week to 8 days.
https://peakd.com/hive-167922/@master.splinter/uxxcoicw
---
---
---
Cannabis & Crypto Hosted by Skylinebuds on Green House Radio - Episode 5 - Liquid Pools, IP Losses
---
---
Skylinebuds has been around for a long time with Steem and Hive. I have been noticing this bro taking his game to a whole new level with curating and hosting live shows all week long for the @canna-curate community! He is a true gem for the canna community and is hyper involved with supporting cannabis content and their authors! I love his energy and support! This man is doing amazing things for the Cannabis community! This Threespeak video is a great example of how hard he works to support others and the cannabis community on Hive!
Here is the weekly schedule if you want to come and join us live, We will be doing curation, tokes, talking Crypto(hive), and more.
Mondays - 3:20pm - 4:20pm EST
Tuesdays - 3:20pm - 4:20pm EST
Thursdays - 3:20pm - 4:20pm EST
Fridays - 3:20pm - 4:20pm EST
Saturdays - 3:20pm - 4:20pm EST
Sundays - 3:20pm - 4:20pm EST
https://peakd.com/hive-167922/@skylinebuds/itmdtxzl
---
---
---
The scent of spring coming from the mustard field. I feel a sense of pleasure in the scent of head
---
---
What I love about this man is the raw human nature of his videos! He always shares videos from his daily life in a raw way. Sometimes he uses English, sometimes his native language or a combination of both. For me it does not matter what language he speaks as he does a great job making his videos with love and honest intent of sharing his life! I suggest watching this man's videos if you want to connect with a fellow human doing human things like enjoying nature while smelling the flowers!
aslam mu alkum
hello my dear #3speak hive friends
hope you all are fine, today i am enjoying The scent of spring coming from the mustard field. I feel a sense of pleasure in the scent of head flowers., do you all love mustard scent, i love it very much, i feeling so good, hope you all will enjoy the video, if you like it then never forget to give me comments.
https://peakd.com/hive-181335/@yousafharoonkhan/ensycozg
---
---
---
Mobile Music Production 1.1 - Basic Scales [Premium Course]
---
---
This is a cool video I thought. This video is well produced and very informative! Here Laritheghost goes over scales and how to they are important to creating music that sounds proper! The video created here is very important to any musician new to making music, especially piano players and beat makers.
In today's video, we will be discussing scales.
Scales are extremely important because this is going to be the center of every beat or song that revolves around it.
Anytime you're picking out a note in the melody you're following a specific scale, anytime you're writing chord progress you're also following a specific scale as your framework and your guideline.
https://peakd.com/hive-193816/@laritheghost/ddxqnzfd
---
---
---
Zankyou Sanka (Kimetsu No Yaiba Season 2 Op. 2) / Guitar Cover by @fernanblog
---
---
This is a great talent sharing a guitar solo from themself while playing to music from a popular anime show he enjoys. The video production is great for this video and he does an amazing job casually putting his video production skills on display while shredding one out!
Hello friends of Hive and the super Sound Music community, I'm Fernando Benedetti from @fernanblog; happy new year 2022, thank you very much for the support you gave me last year, I owe a lot to this community because they contributed to make my content visible, ¡¡¡you are all great!!!
To start the year I bring you a guitar cover of the most popular anime in Japan nowadays, I'm talking about Kimetsu No Yaiba: Demon Slayer; specifically I'm going to play the opening 2 of the 2nd season titled Zankyou Sanka "Reverberation Scattering Song", a theme that at instrumental level is a marvel, based on jazz and full of magic in the best J-Rock style.
https://peakd.com/hive-148115/@fernanblog/iyvdplqt
---
---
---
"Small Gray" against the world // "Grisecito" contra el mundo [ENG-ESP]
---
---
This was how I started my day curating, was with this delightful well produced video. The video production was amazing and so were the cute kittens featured here! This person even put end credits at the end of the video for the music used. I am not sure if the music shared here was copyrighted or was able to be used in this fashion but I enjoyed it nonetheless and curated anyway.
Greetings to all! One of the things I find most amusing is watching cats play when they are small. They have a lot of energy, are fast and seem tireless. Of course, their personalities make certain differences between one and the other.
https://peakd.com/hive-196708/@aaalviarez/gqpskqxg

The Terminal Discord

The primary goal of The Terminal is to answer questions about Hive/Steem, blockchain, cryptocurrency, and Discord. We aim to help folks learn, grow, and find communities where they can thrive. We are like a travel terminal for destinations on the blockchain!
https://discord.gg/qsy9XCHy

Hive SBI: Social Experiment to provide every Hiver with Stake Based Income help us change the world
---
@josephsavage has an amazing program called HSBI aka @steembasicincome. Please check it out! I highly recommend! I have around 5000 shares as a member with his Amazing program that will add support to my curation posts on HIVE! He is my most trusted friend on HIVE!
---
HSBI discord
---
https://discord.gg/gsaDGnKXrC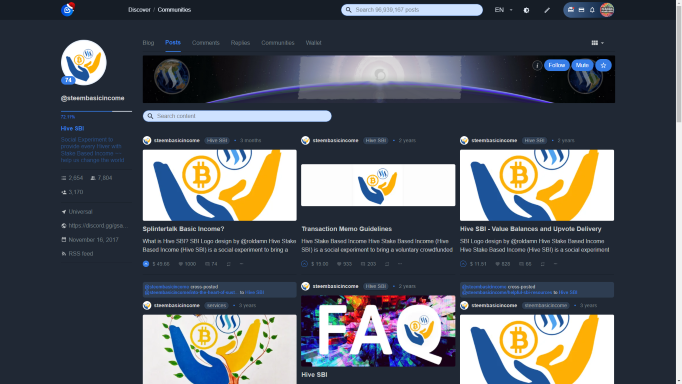 https://ecency.com/@steembasicincome/blog

Who does not love NFTs?
---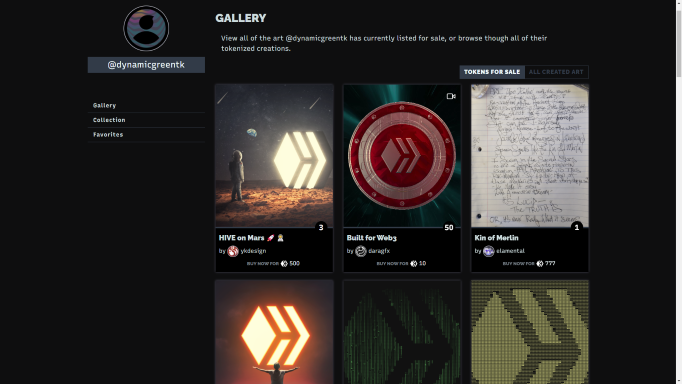 Do you love art and want to get you some NFTs or mint them? Do not be afraid to use my referral link for @nftshowroom or just travel directly to their site!
https://nftshowroom.com/?r=dynamichivers

Sure, I will take your token donations. Why not?
https://hivelive.me/donate/dynamichivers
---
---
▶️ 3Speak
---
---