Splinterlands Movie & Animated Series Proposal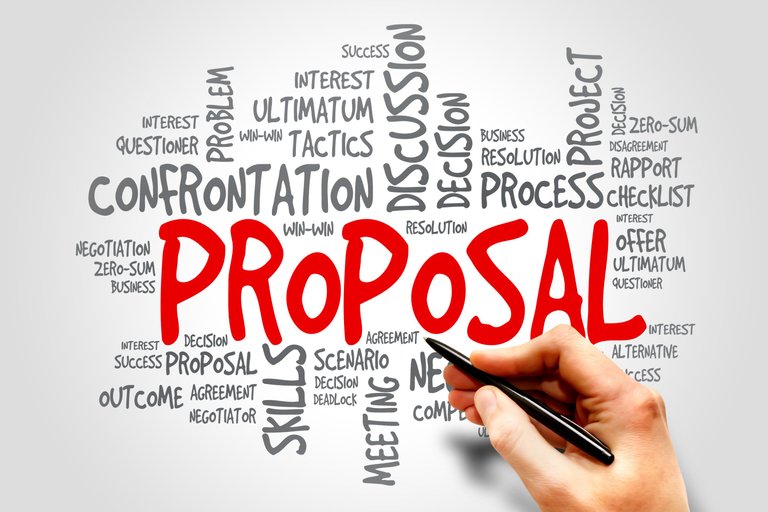 image source
Splinterlands Proposal
This is a big project and I do not want you to trust me with it (notice the SPT paid per day is 1 as 0 was not allowed), when we select our team this will be voted on when the time comes. I want this to be community driven as many have a stake and should have a say. Our community can provide much more than we are aware as we set a task bounty program for staffing the key positions with reputable industry professionals. You all will nominate and vote on who you want to oversee this project. This will enable professionals within in our community to get involved and others to help find more resources that are pooled together to form an operational timeline. I have sent a couple emails to studios so far and will update as information becomes available.
Since proposals are nerfed we will need every single person with SPT to power up some more then vote on this and remind new SPT holders to visit the proposal section and vote if they like something.
Film Proposal
Film Synopsis- To introduce Splinterlands as a compelling project with a passionate filmmaker will be said thousands of times by the community blogging about Splinterlands daily. The story line will be written by hundreds of community members and voted on for both movie and animated series productions.
The Logline
This is where in 1 concise sentence we describe the script in a compelling way, again our community will write and vote on scripts for this project.
Screenplay Structure
This is where we pitch our film by briefly summarizing each scene with pictures in a 3-act structure.
Act 1- Set Up: in 30 minutes describe where the conflict is introduced to the characters.
Act 2- Conflict: in 60 minutes describe the conflict and expand to become a crisis.
Act 3- Resolution: the conflict rises to another crisis and is then resolved.
Characters / Actors
This is where the characters and voice actors are described in detail and how their experience brings value to the film.
Film Treatment
Write this like a short story in present tense while presenting the whole story with some key scenes and dialogue. This is more detailed than the synopsis and includes details of directorial style not included in the outline.
Production Crew
Brief biographies of your key crew to include the Producer, Director, Writer, Director of Photography, Sound Editor, etc. Add their experience in your film type and why they are beneficial.
Mood Board
Also called a Look Book, Here we will create a visual representation of the ambiance of our film giving the reader a feeling of what your film will look like. It tells the story of your film in pictures.
Storyboard Template
Storyboard for planning the shot list.
Target Audience
young children to adults
Abbreviated Budget
Proposed expenses and salaries in a brief description.
This film proposal is a rough edit to be finalized by the community
---
---
Animated Series Pitch
How to pitch an animated series
Creating the stories for the series as well as pitching it will create many contests for @splinterlands to hold that will get our community producing much of our needed content and direction. The guide above is just one example of how we can pitch this amazing gem we have. I for one would like to see it all produced in house within the community and outsourcing any needed additional assistance while maintaining more control in direction and distribution. We will produce commercials with the community again competing to write amazing content simultaneously while the movie is in development since by this time we should have several series ready for distribution.
Click the link to view and vote on the proposal
---
Competition is a joke
Axie Infinity?
I do not understand how this Ponzi scheme has not been shut down yet. To play you must buy 3 NFT pets to breed to make more NFT pets, you now average about $1,000+ buy in just to play. There are scholarships available yet if you ask there will be a long wait list and plenty of hoops to jump through, well good luck you will likely be ignored with the droves of players ignored begging for scholarships after following some twitter accounts and watching some live videos helping them out. This is totally and unsustainable project as described very well by the writer shared below. Click image source to read the rest as he clearly labels Axie as a Ponzi scheme.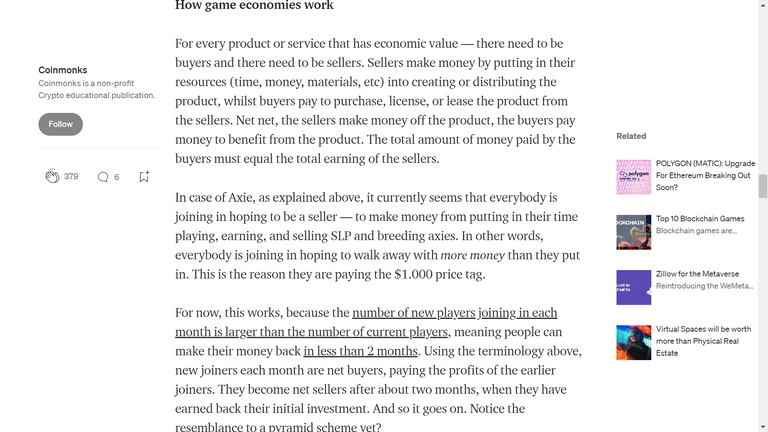 image source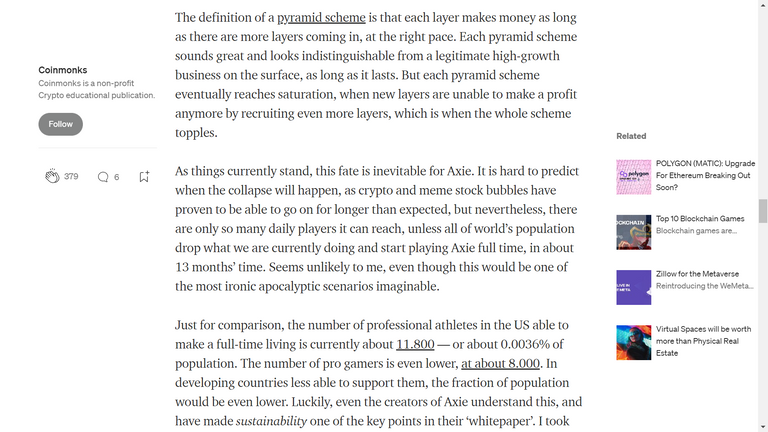 image source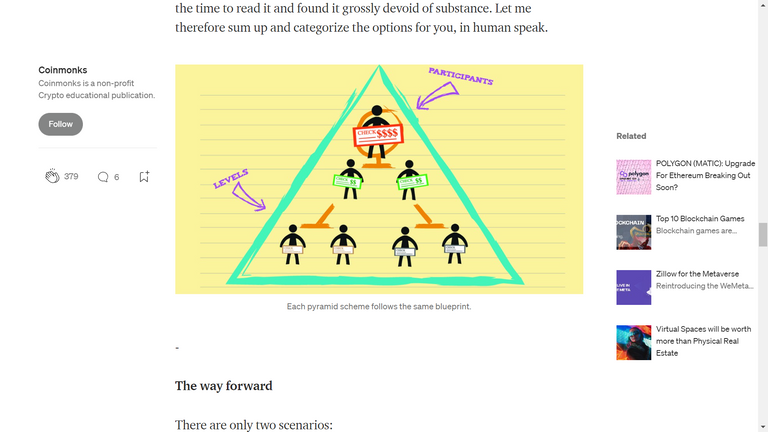 image source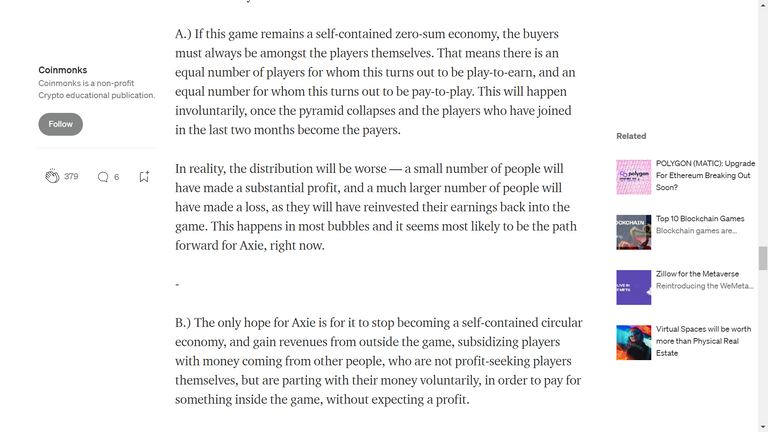 image source
---
---
This next article is also very well written yet comes to the same conclusion. It seems anyone who does any due diligence will stay away from Axie as they would a Pyramid Scheme.
image source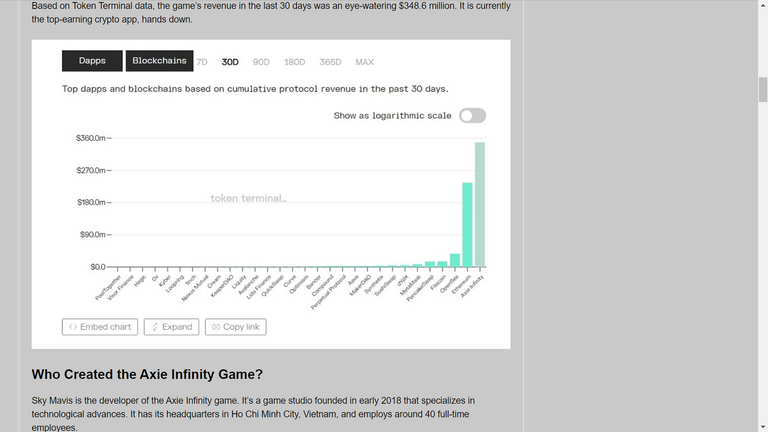 image source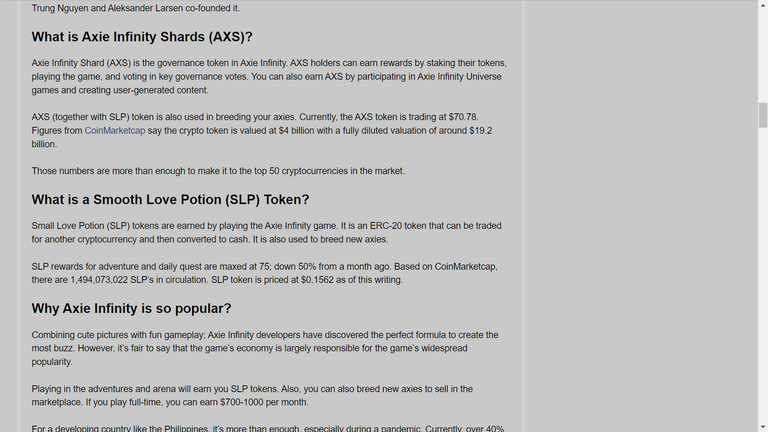 image source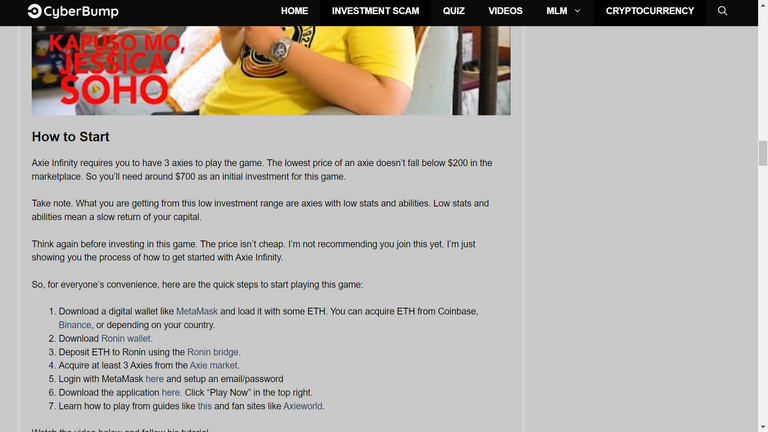 image source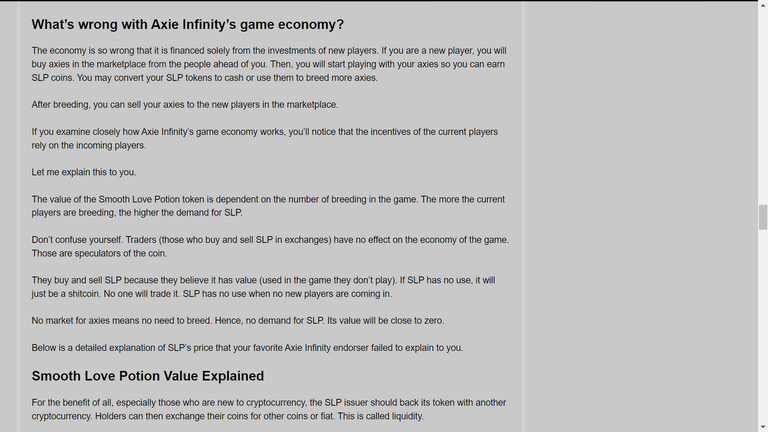 image source
image source
---
---
This next article shows us the importance of our NFTs. If a shitty game with ugly characters that depends on new players buying in like a Ponzi scheme can do this we will do much much more with the correct marketing in place it will be very soon.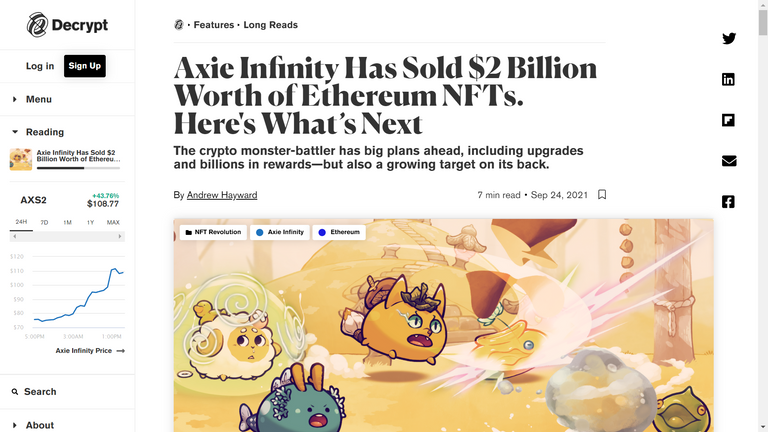 image source
Thank You & please vote on this Splinterlands Proposal
---
---