Splinterlands - My Tournament Experience (EN/PT-BR)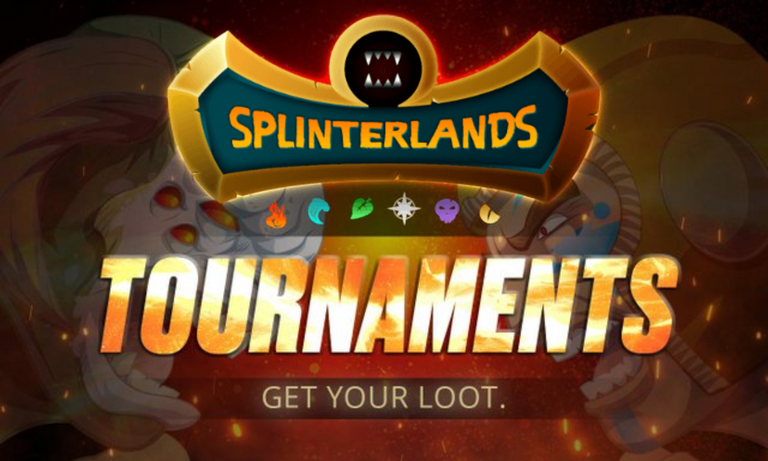 Hello, everyone! 😄
I started my journey in Splinterlands in November/21, since then I never focused on tournaments because I knew my deck wasn't strong enough to compete with and it would be too expensive to rent so many cards. Even in the Novice/Bronze level I didn't feel like I was ready considering my knowledge of the game. After 6 months building my deck (still a work in progress) and developing my skills I feel more confident to give it a try in tournaments up to silver level, especially Chaos Legion only. Altough I'm aware that it was unlikely to be the winner (1st place), iniatially I'm aiming for the top 10. For this reason I joined a tournament created by sps.tournaments (Entry: 2 SPS) on May, 9th called Scarred Hand Silver Beginner Cup. This tournament had 11 battles in round 1 , for this reason I was able to do a report even if I didn't qualify and you can check below how far did I go.


PREPARATION
I rented just a few cards to be more competitive: Grund (Level 3), **Dr. Blight **(Level 3), Queen Mycelia (Level 2) and Carnage Titan (Level 2). I think all of them are essential to finish in a good place.
---
THE BATTLES
BATTLE #1

---
In back to basics most players go for magic damage, for this reason I picked Thaddius Brood for the -1 Magic Attack he provides.
Since it was a close range battle I also focused on Ranged Damage in the backline with Soul Strangler and Weirding Warrior. Lastly I put Windeku as the main tank and Insidious Warlock as the secondary for having 6 HP.
---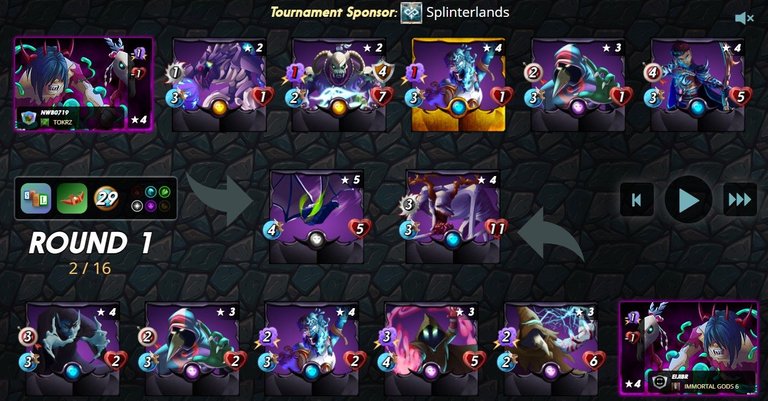 ---
BATTLE #2



In "Explosive Weaponry" rule set I usually like to use monsters with Double Strike, it was a risky strategy, but in the end worked just fine. I put a Fungus Fiend in the back just to absorb one hit, so Grund would lose only 1 HP. It was a very close battle, if Xenith Archer switched places with Chaos Agent I probably would have lost.
I felt like Thanos fighting against the whole Avengers. 😅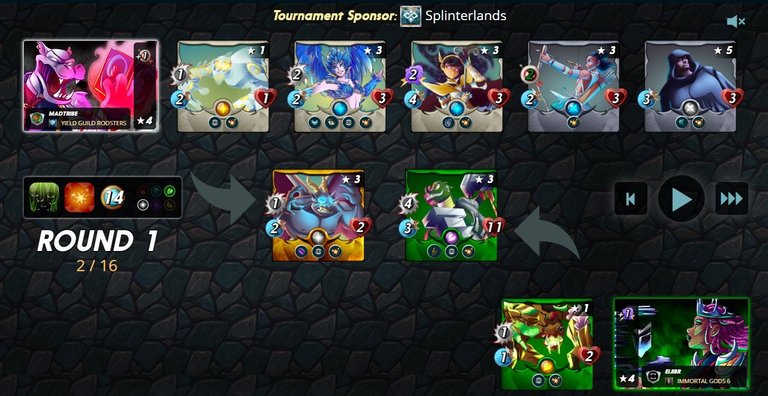 ---
BATTLE #3

In Spreading Fury Rule Set It is important to focus on three things: debuff melee damage (such as Demoralize or monsters with Shield), Speed (slow the opponent or speed your own units) and Melee Monsters since they gain extra damage. Therefore I chose Quix The Devious (-1 Speed) instead of Thaddius Brood. My main tank was Crypt Beetle due to his Shield ability in case my opponent also focused on melee Damage.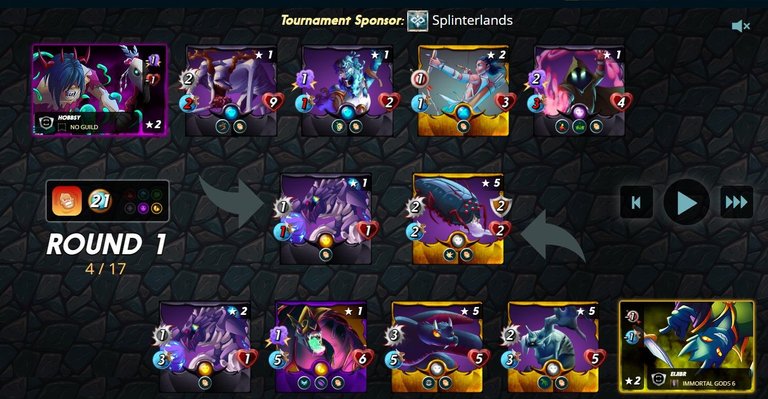 ---
BATTLE #4

I was satisfied with the strategy I chose for this battle putting Forgotten One in the 6th position to retaliate possible sneak attackers. Moreover, in noxious fumes it is always important to have monsters with high HP, I think my opponent made picking Djinn Inferni and Antoid Platoon, both with 4 HP. That means they would die in 2 rounds unless they got cleansed.
I also gave priority to speed instead of +1 damage/HP of Tarsa. Because I knew that dodge and hit first would be crucial!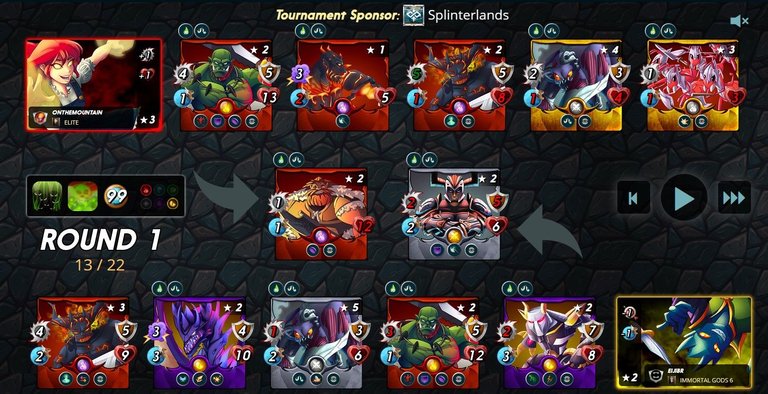 END OF ROUND 1
In round 1 I did much better than I expected, I won 11 out of 11. So I was very happy with my performance, altough I had luck in one of battles that my opponent picked exactly the same cards and I ended up winning by random factor.

In round 2 I could see that the opponents were stronger and I didn't do well, winning only 45% of my battles. However I had some valuable insights about strategies to do it better next time.
---
ROUND 2
BATTLE #5

In this battle my opponent had a similar logic as mine, but his wave brood position didn't help much and my Baakjira made a big difference to tank. I picked Baakjira just to counter a possible Earth magic team.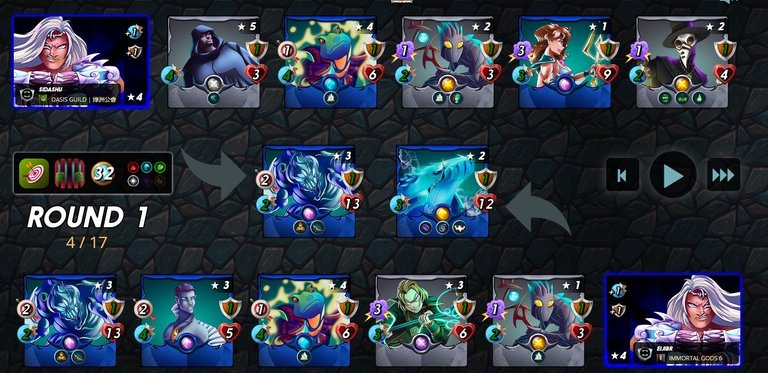 ---
BATTLE #6

This battle was incredibly tight. I think water + melee team was the best pick considering it was Spreading Fury rule set. Merdaali Guardian with heal and Chaos Agent luring Deeplurker were the key points for the victory!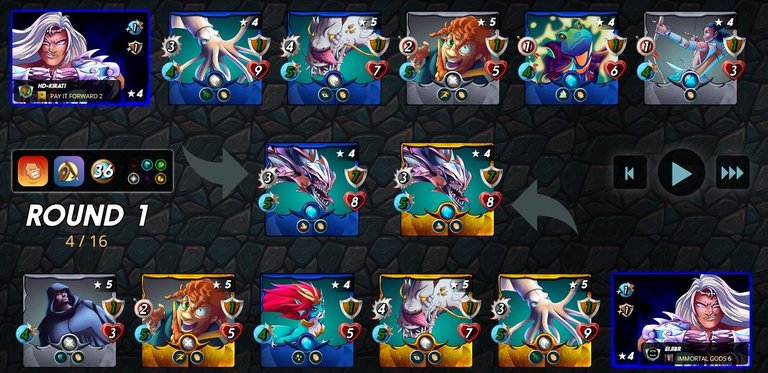 ---
FINAL RESULTS

I didn't make it to the top 10, but it was close! 😅
Well, that's it for today!
If you want to start playing Splinterlands, please use my referral link by clicking here!
Thanks for reading!


Olá, pessoal! 😄
Comecei minha jornada em Splinterlands em novembro/21, desde então nunca me concentrei em torneios, porque sabia que meu deck não era forte o suficiente para competir e seria muito caro alugar tantas cartas. Mesmo no nível Iniciante/Bronze, não me sentia pronto, considerando também meu conhecimento do jogo.
Após 6 meses construindo meu deck (ainda um trabalho em progresso) e desenvolvendo minhas habilidades, me sinto mais confiante para tentar competir em torneios até o nível prata, especialmente apenas Chaos Legion. Apesar de estar ciente de que era improvável que fosse o vencedor (1º lugar), inicialmente estou mirando no top 10. Por isso participei de um torneio criado por sps.tournaments (Entrada: 2 SPS) em 9 de maio chamado Scarred Hand Silver Beginner Cup. Este torneio teve 11 batalhas no round 1, por isso consegui fazer um relatório mesmo não me classificando e você pode conferir abaixo até onde eu fui.


PREPARAÇÃO
Aluguei apenas alguns cartões para ser mais competitivo: Grund (Nível 3), Dr. Praga (Nível 3), Rainha Mycelia (Nível 2) e Titã da Carnificina (Nível 2). Acho que todos eles são essenciais para terminar em um bom lugar.
---
AS BATALHAS
BATALHA #1

---
De volta ao básico, a maioria dos jogadores escolhe dano mágico, por esta razão eu escolhi Thaddius Brood pelo -1 Magic Attack que ele fornece.
Como era uma batalha de curta distância, também me concentrei em Dano à Distância na retaguarda com Soul Strangler e Weirding Warrior. Por último coloquei Windeku como tanque principal e Insidious Warlock como secundário por ter 6 HP.
---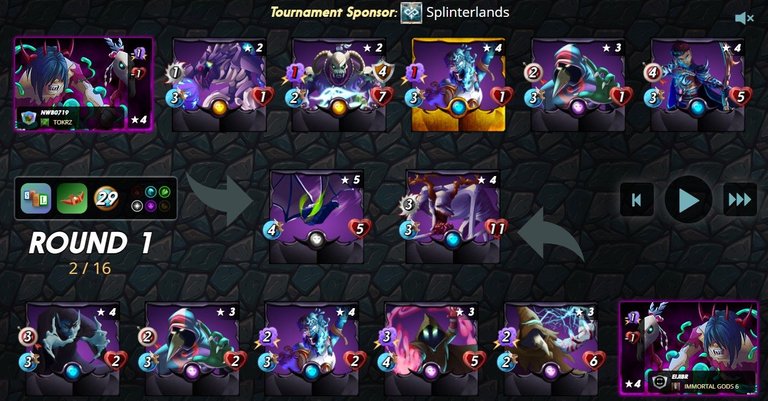 ---
BATALHA #2



No conjunto de regras "Armas Explosivas" geralmente gosto de usar monstros com Golpe Duplo, era uma estratégia arriscada, mas no final funcionou bem. Eu coloquei um Fungus Fiend nas costas apenas para absorver um golpe, então Grund perderia apenas 1 HP. Foi uma batalha muito acirrada, se Xenith Archer trocasse de lugar com o Agente do Caos eu provavelmente teria perdido.
Eu me senti como o Thanos lutando contra todos os Vingadores. 😅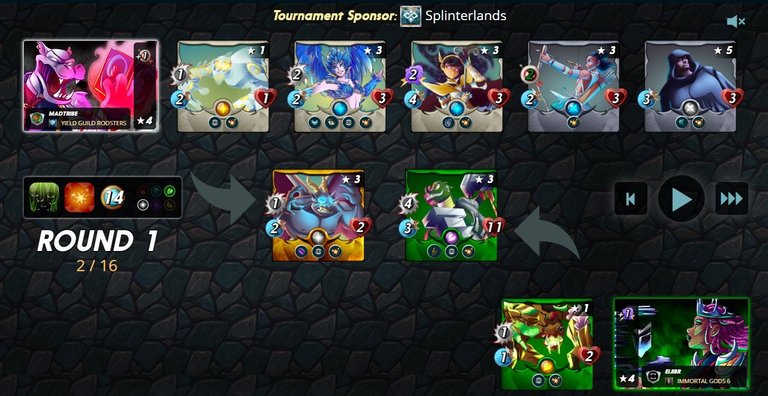 ---
BATTLE #3

Na regra Espalhando a Fúria é importante focar em três coisas: debuff de dano corpo a corpo (como Desmoralizar ou monstros com Escudo), Velocidade (desacelerar o oponente ou acelerar suas próprias unidades) e Monstros Corpo a Corpo, pois eles ganham dano extra. Por isso escolhi Quix The Devious (-1 Speed) em vez de Thaddius Brood. Meu tanque principal era Crypt Beetle devido à sua habilidade Shield caso meu oponente também se concentrasse em dano corpo a corpo.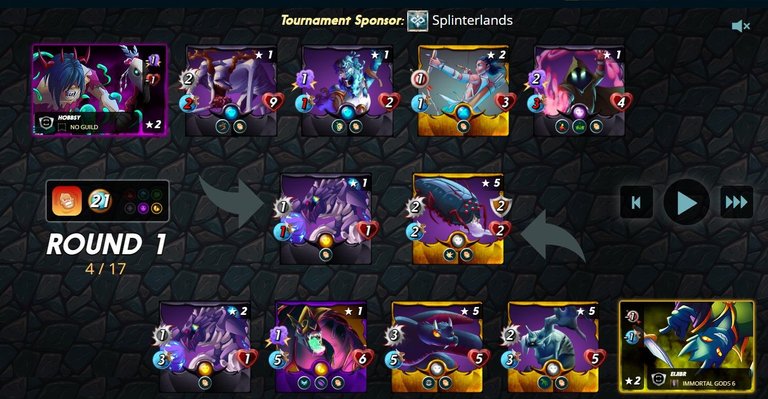 ---
BATALHA #4

Fiquei satisfeito com a estratégia que escolhi para esta batalha colocando Forgotten One na 6ª posição para retaliar possíveis atacantes furtivos. Além disso, em fumos nocivos é sempre importante ter monstros com HP alto, acho que meu oponente fez escolhendo Djinn Inferni e Antoid Platoon, ambos com 4 HP. Isso significa que eles morreriam em 2 rodadas, a menos que fossem limpos.
Também dei prioridade à velocidade em vez de +1 de dano/HP de Tarsa. Porque eu sabia que esquivar e acertar primeiro seria crucial!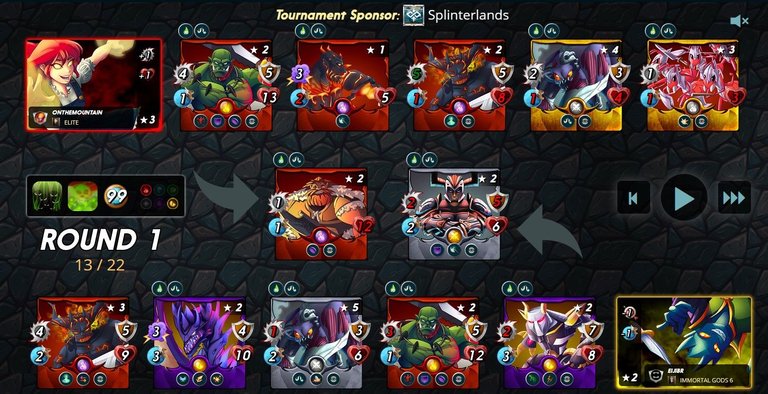 FINAL DO ROUND 1
No round 1 fui muito melhor do que esperava, ganhei 11 de 11. Então fiquei muito feliz com meu desempenho, embora tenha tido sorte em uma das batalhas que meu oponente escolheu exatamente as mesmas cartas e acabei ganhando por acaso fator.

No round 2 pude ver que os adversários eram mais fortes e eu não fui bem, vencendo apenas 45% das minhas batalhas. No entanto, tive alguns insights valiosos sobre estratégias para fazer melhor da próxima vez.
---
ROUND 2
BATALHA #5

Nessa batalha meu oponente tinha uma lógica parecida com a minha, mas sua posição de ninhada de onda não ajudou muito e meu Baakjira fez uma grande diferença no tanque. Eu escolhi Baakjira apenas para combater uma possível equipe mágica da Terra.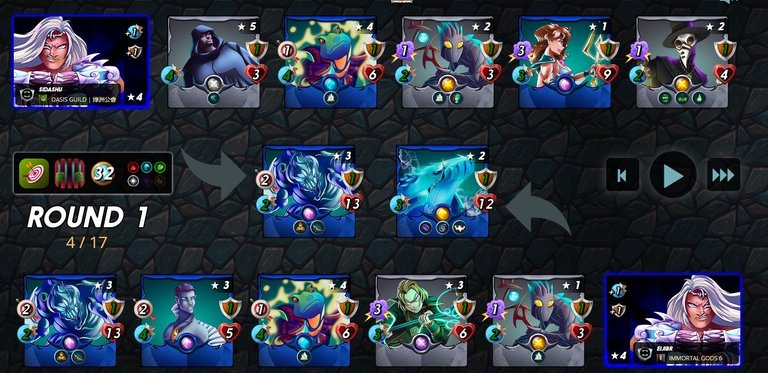 ---
BATALHA #6

Esta batalha foi incrivelmente apertada. Eu acho que a equipe de água + corpo a corpo foi a melhor escolha, considerando que era o conjunto de regras do Spreading Fury. Merdaali Guardian com heal e Chaos Agent atraindo Deeplurker foram os pontos chave para a vitória!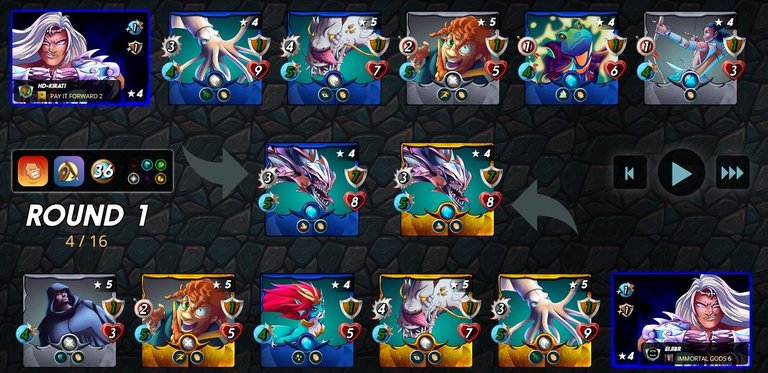 ---
RESULTADOS FINAIS

Não cheguei ao top 10, mas foi perto! 😅
Bom, por hoje é só!
Se quiser começar a jogar Splinterlands, por favor use meu link de referência clicando aqui!!
Obrigado pela leitura!

| | | |
| --- | --- | --- |
| SPLINTERLANDS | SPT | RISING STAR |
---
---