Guide To Splinterland's Speed And Turn Order Mechanics!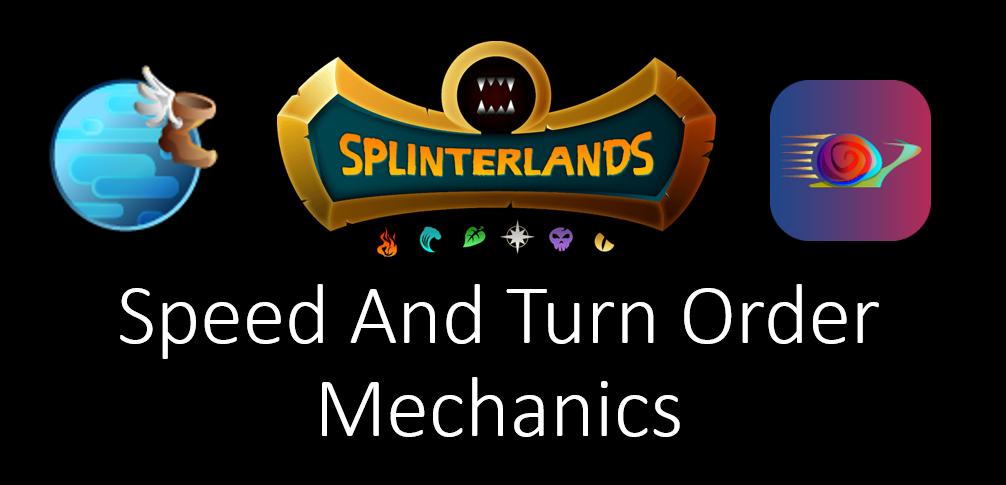 G'day Class, welcome to today's lesson on Splinterland's speed and turn order mechanics. Sit down and take out your notebooks, this will be abit of a long one. There'll be example battles, so hopefully this won't get too confusing.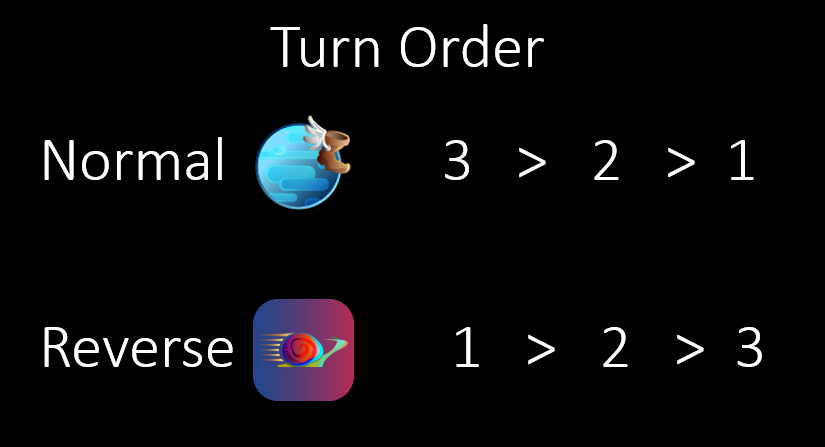 So let's start off with a quick recap. Normally, faster units go first, and slower units will go last. The reverse is true in reverse speed where 1 speed units go first, and the fastest will be last.
However, this also affects their chance to dodge attacks Without any abilities like flight or dodge, a unit being attacked by a range or melee unit gains a 10% chance to dodge for each point of speed faster they are than the attacker.
This also applies to reverse speed. a 1 speed unit has a 50% chance to dodge a unit with 6 speed.
This does not affect magic as they cannot miss unless the enemy has phase. Here'a a link to a battle showing this off. Notice how my air elemental is able to dodge his assassin without flight or dodge.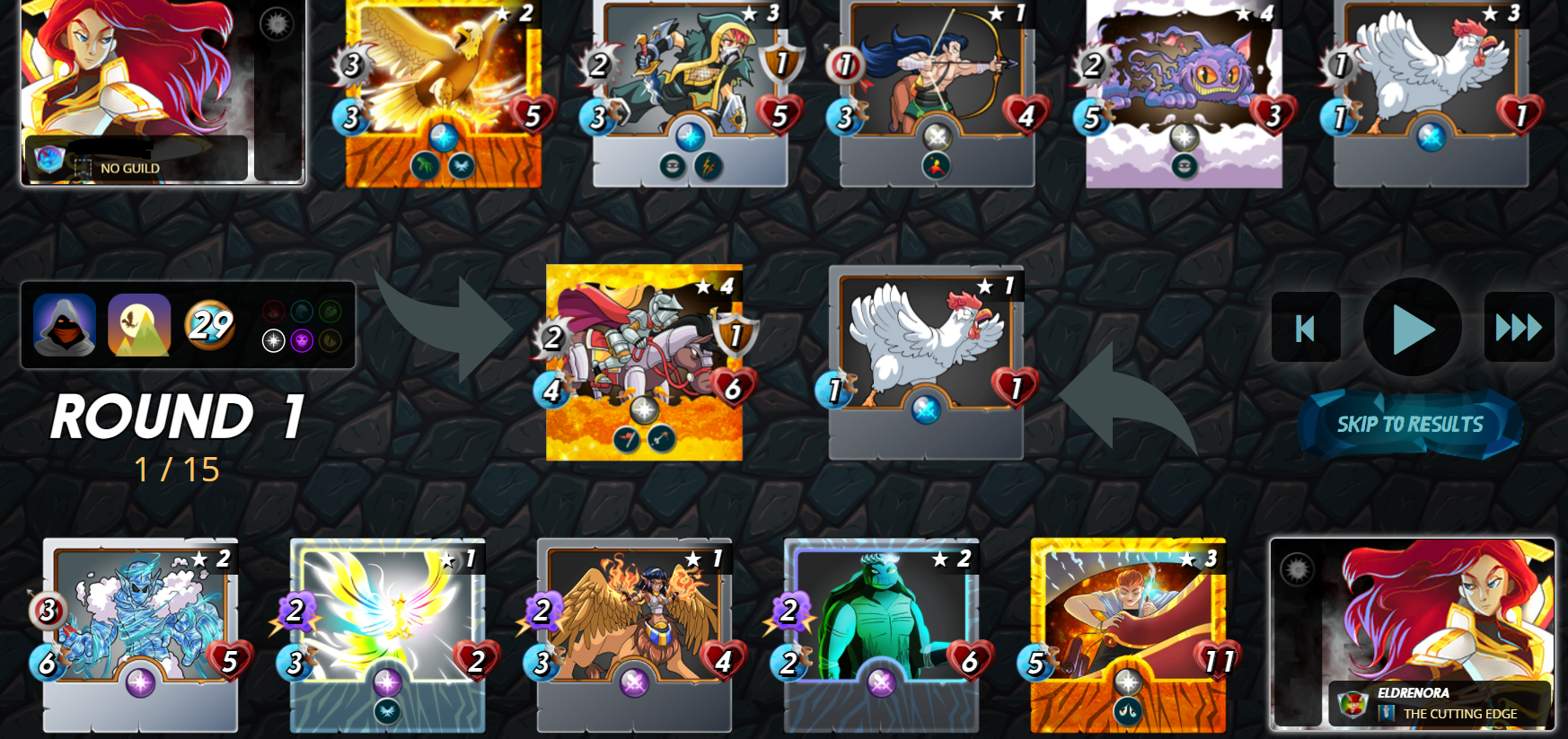 But What If They Have The Same Speed?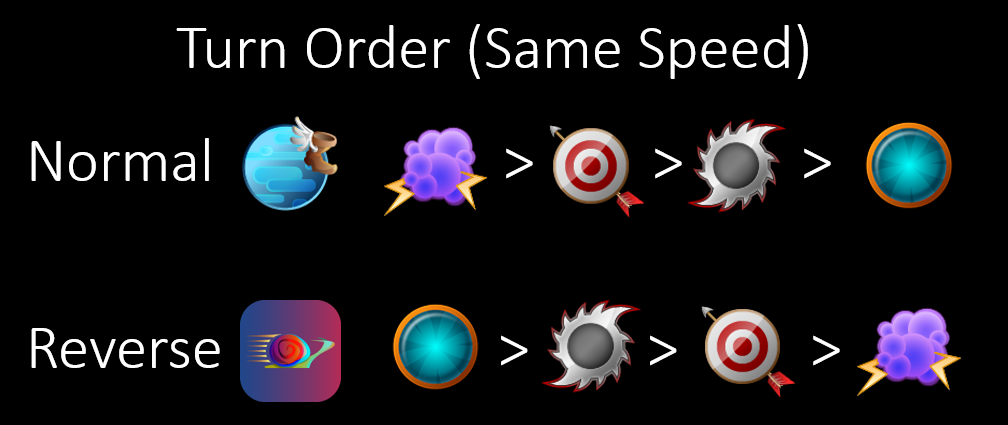 The empty orb means no attack
When units have the same speed, the game's attack priority is magic > ranged > melee > no attack.
Contrary to its name however, reverse speed quite literally reverses everything, not just speed. As such, no attack units like healers go first in reverse speed while magic units attack last.
The normal attack order is alot easier to wrap your head around compared to the reverse speed version, so here's a battle that shows it off from a reverse speed ruleset. My units have 1 speed and different attack types so take note which units are attacking each turn.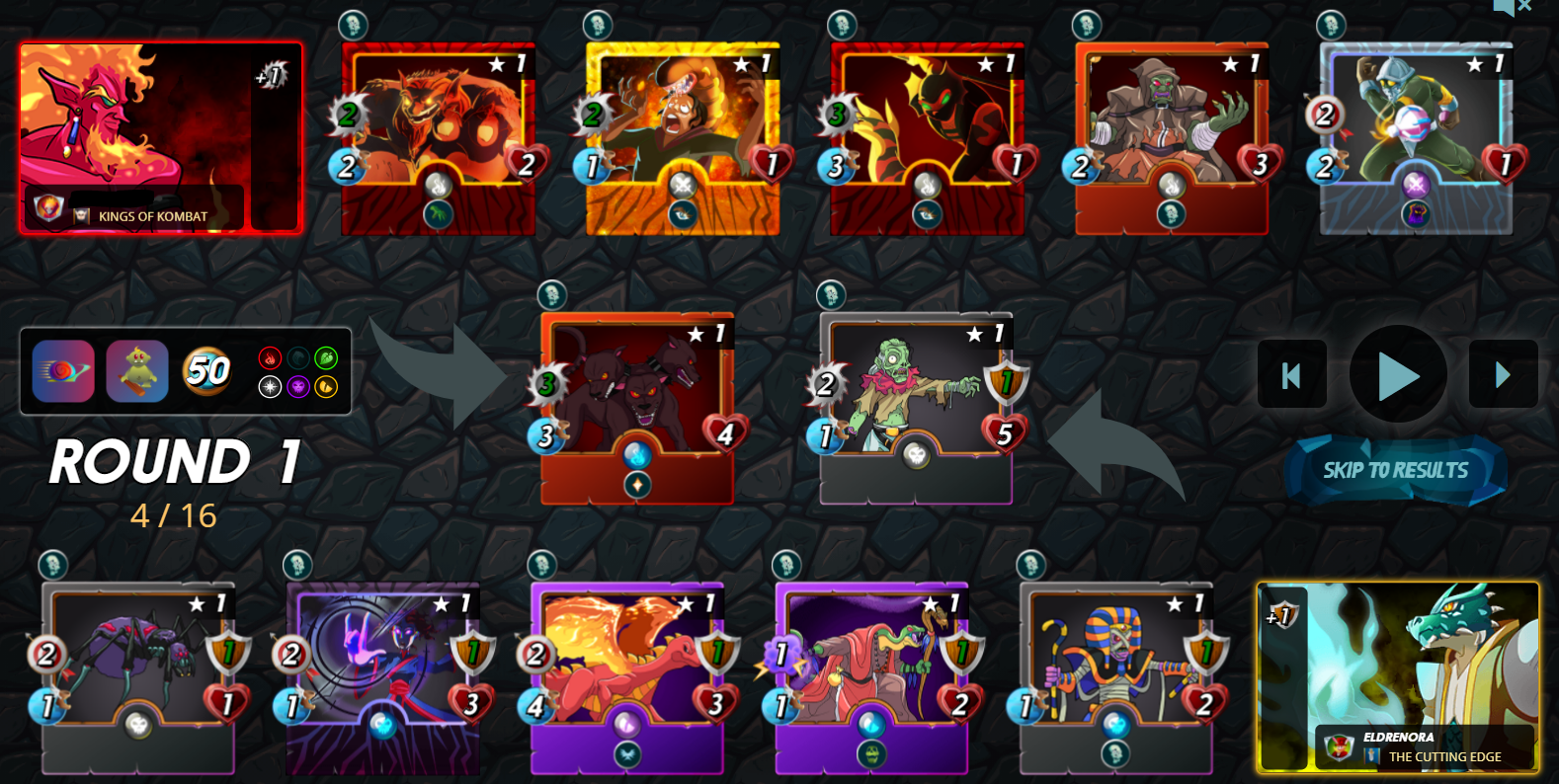 What About Same Speed And Attack Type?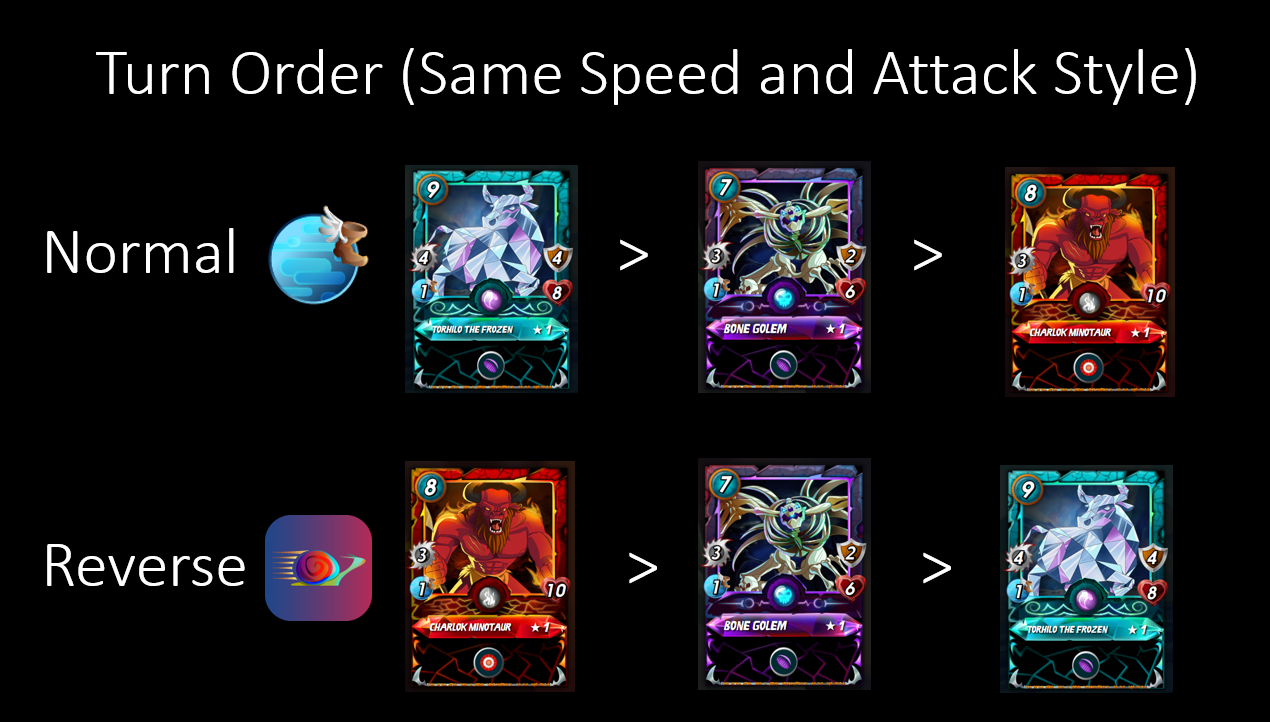 When both speed and attack type are the same, the next thing the game considers is rarity. Legendaries go first, commons attack last.
Once again, reverse speed decides to reverse this too. Legendaries will now attack last will commons will attack first.
I'm aware this might be confusing so I prepared an example for this too. Here's the link to a battle on reverse speed. Take note of how Nage Fire Wizard will always attack befoe Caladuum.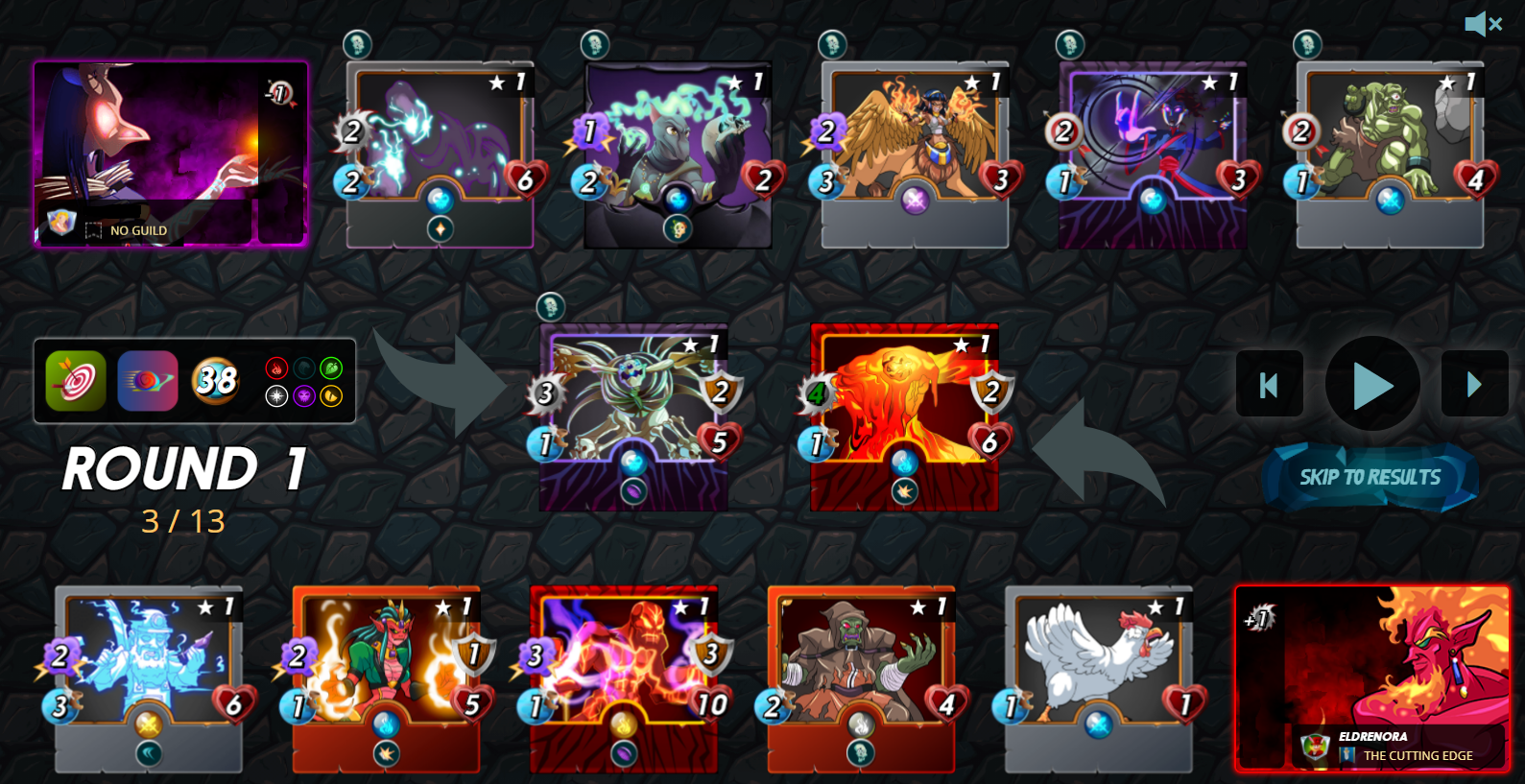 What If Everything Was Also The Same?
Good question! When that happens, RNG will decide who goes first. That's really just it. I don't have an example for this, but if you're still curious, once you go up against a water magic comp, just run your own water magic comp and let RNG take the wheel.

Recap

As you can see, the game will always check the speed, attack style, rarity, and finally just goes by RNG.
Thanks For Reading!
Thank you for attending my class on Speed and Turn Order Mechanics and I hope you learnt something! If you did, leave an upvote and maybe a comment! If you want to try the game for yourself, you can do so via my referral link. I also stream non-splinterlands stuff on Twitch if you're interested!
Special thanks to @flauwy for designing such awesome dividers!
---
---