Splinterlands Battle Mage Secrets! (Aim-True)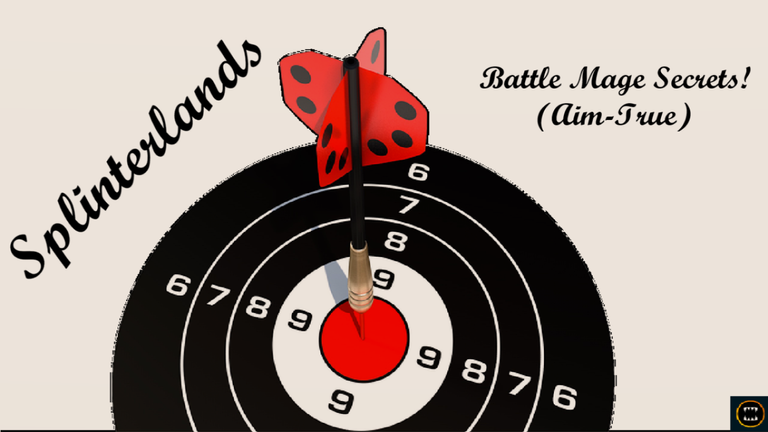 Battle Mage Secrets Weekly Challenge! (Aim-True Ruleset)

Thank-you for your time and attention - I hope you are having an amazing day! This post will showcase a great battle including the Aim-True ruleset, granting all attacks 100% precision in the Diamond-Ranked-League. This will be the first "Battle Mage Secrets" Splinterlands Challenge; I hope you enjoy!

The Matchup

Dragon Vs. Death

Rulesets:

(Left-to-Right) 1) Broken Arrows: Ranged attack monsters may not be used in battle 2) Aim-True: attacks always hit their target 3) Rise of the Commons: Only common and rare monsters may be used in battle

Our Team

1st (Tank) Position : ARKEMIS THE BEAR

---

2nd Position : Shadow Snitch

---

3rd Position : Venari Bonesmith

---

4th Position : SILENT SHA-VI

---

5th Position : DHAMPIR INFILTRATOR

---

6th Position : LIFE SAPPER

---

From the available Splinters in the match, I believed my best bet without Epic/Legendary monsters would be within the Death category, however I chose the Dragon Summoner, Byzantine Kitty, for the Tank-Heal and (+2 Speed) abilities to let my monsters attack quickly and to increase longevity.

Round 1 Complete

---

Although my opponent is sporting an under-leveled Summoner for the Diamond Ranked League, their team is strategically chosen and placed, providing a valiant effort towards victory nonetheless.

---

Both the Cursed Windeku and the Disintegrator are melee monsters placed in more rear positions inhibiting them from attacking until they reach the front, however their utility is recognized regardless. Only 3 Splinters available made a Sneak-Attack play likely, and so the Cursed Windeku with Thorns placed in the rear of their line-up was a great counter, ensuring my Sneakers destroy themselves over time.

---

Round 2 Complete

---

By the end of Round 2 both teams have lost just 2 monster each, but it looks like the scale is beginning to tip. Even now they do not appear to have enough damage to take out the Arkemis Bear supported by the Byzantine Kitty's heal every round. Victory seems inevitable.

---

Round 3 Complete

Each team has lost another monster leaving each with 4 remaining, but it only takes one more round for the dominating Bear-Kitty team to deliver the final blow leaving us with victory Looking back, I should have paid more attention to the limiting effects of the Splinters available on the opponents choices. I could likely have done a better job at predicting my opponent and counter-playing with that in mind.

Thank-you again for your time and attention I hope you enjoyed the Match-Up! Here's to another glorious week of Splinterlands! Until next time! Cheers!
---
---