🤳HiveFest VI Selfie Insanity + Quick Witness Update😜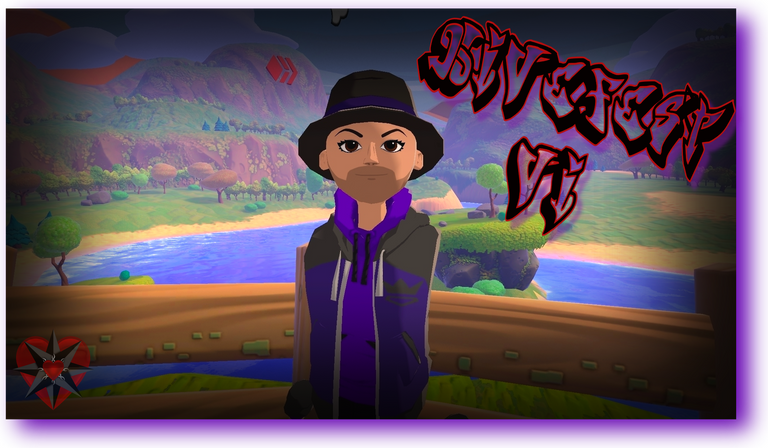 One thing I absolutely love to do is take pictures. Especially - with other faces in awesome places! Some of you may be aware that Hive Fest 6 was this past weekend and it was a fairly interesting return to AltSpace VR. I dropped the ball in getting my badge as this time of year is far more hectic in my personal life than most. From Halloween through until the middle of January, I cater to a dozen birthdays, 3 nationally recognized federal holidays, 6 other holidays, 2 anniversaries and on top of all that - it's hunting season! So, I tend to stay pretty busy.
I did however, manage to make it over to Hive Fest for a few hours, chitty chatty with some peoples and listen to a few presentations. I checked out the landscapes and played 'throw the funny #splinterlands promo sausage logs at random people'. But above all, I got to take some pictures! The first person I ran into was:
| @thekittygirl in a lovely flowered dress and pink hair! | If you look close, her signature pink nails shine😝 |
| --- | --- |
| Then I bumped into my guildmate - @blueeyes8960! | We tried to give hugs, but settled for texting😁 |
| --- | --- |
| Who in the world is that cute blonde, I wonder🤔 | Why, it's my sweet CyberMama - @ninahaskin! |
| --- | --- |
| I knew I'd see fellow mad (beer) scientist - @detlev! | Old school chain gang homeboy - @steevc 😎 |
| --- | --- |
| Slim w/da tilted brim caught a shot with Joaquín (@themarkymark) sportin' his stache. | The indomitable and sweet @katerinaramm on the prowl with pigtails🐷 |
| --- | --- |
| @silversaver888, is that really you? Love the hair, wow! | She was totally grabbing my ass, think I liked it. |
| --- | --- |
| I honestly have no clue who that is on the other log by the campfire. If you read this, you had a cool hat man! | What Hive Fest would be complete without getting a shot with my selfie partner in crime - @arcange! |
| --- | --- |
Was pretty fun seeing so many familiar 'faces' enjoying whatever it is they were at the time. There was some Pizza talk, web 3.0, and a new game! I wasn't able to mint any @punksonhive, but you can go buy some of the pixelated punks on their market. There was #splinterlands talk with @yabapmatt and even #risingstar made an appearance. @blocktrades and @howo got a standing ovation for core development updates and all kinds of other games showed up. @jarvie spun us a tale on @peakd itself and growth of Hive. Well done @roelandp, another success.
Switch Gears
Bit of a witness update here for you as I will be upgrading the server's memory at the request of @privex, there may be a slight downtime. Also, to let you know what I've been doing in, on and around Hive itself. Honestly, I've been playing a lot of #splinterlands, HA! Also am a supporter of any gaming that wants to be here. Most notably, the up and coming @psyberx game. Do you all remember how long it took for Splinterlands to become what it is? And how much potential it still has? That's how I'm looking at #psyberx. They are new to Hive so still are learning how it works but I want you to keep this in mind - the Action and FPS (first person shooter) games have a massive following, almost 5 times that of the card players and RPG (role playing games) genre.
Recently, I have gotten into #wine. @roger.remix has resurfaced and @theguruasia is revamping all kinds of good things over there. You can expect to see some kind of coordination with them in the coming months. One of those things being resituated is my #PIMP token, and what it will be used for. I hope everyone has been hodling those ;)
I still run @thealliance and our little family is still growing together. We've had several new dolphins, a few orca and whales come up through our ranks lately. But, moreover, we are still honing new Hive users into focused dreamers.
I support all kinds of communities and really all anyone has to do is ask if they need help. I may not be the biggest whale, but I can blow some good sized bubbles these days. Most of my efforts seem to be centered around the #spanish community, which is odd because - I don't even speak Spanish. But, with people like @latino.romano, @marybellrg and @elizabeths14 that take the time to translate things for me - I am able to help many others see success here on Hive.
Aside from that, my favorite curation project has returned! Yes, #PYPT - Pimp Your Post Thursdays - is back with @shadowspub! I met several of you because of that show and imagine I will continue to meet more like newbies @lauralauze and gamer @lord-elric. Most of all, I'm out here being me and I hope you - REMEMBER TO BE YOU! I always am, even if I don't have any punks on my team.


Is Voting #WITNESSES difficult?
Let me do it for you!
Set Witty as your --->PROXY VOTER!<---


---
---