[Eng – Esp] Splinterlands Art Contest! // Week 179 // Two Gun Pete, the pirate with two guns. – Two Gun Pete, el pirata de dos pistolas.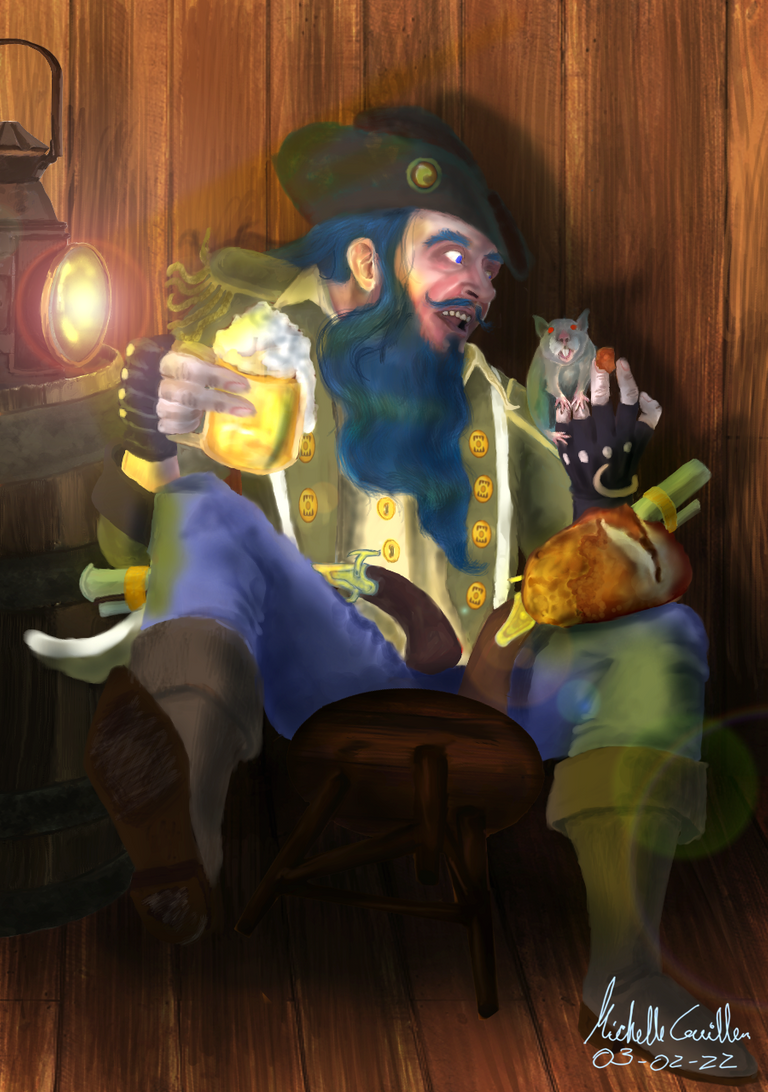 Good morning, afternoon or evening, welcome to my post. I was saving this story, during my exploration in search of "THE GORLODON". I had the opportunity to run into one of the pirates with the most outstanding life in Splinterlands. This pirate was the one who took me on his ship to see the damage already recorded. I took some time to do a job worthy of one of the most famous pirates of The Pirates of ΛZMΛRÉ, who carries two weapons with him, this time I'm talking about: Two Gun Pete.
Then, join me in this illustration inspired by the lore of Two Gun Pet, a very useful water splinter.
Buenos días, tardes o noches, bienvenidos a mi post. Estuve guardando esta historia, durante mi exploración en búsqueda de "THE GORLODON". Tuve la oportunidad de toparme con uno de los piratas con la vida más resaltante de Splinterlands. Este pirata fue quien me llevó, en su barco a ver los destrozos ya registrados. Tomé un tiempo en realizar un trabajo digno de uno de los piratas más famosos de Los piratas de ΛZMΛRÉ, quien carga consigo dos armas, les hablo en esta ocasión de: Two Gun Pete.
Acompáñame entonces en esta ilustración inspirado en el lore de Two Gun Pet, un splinter de agua muy útil.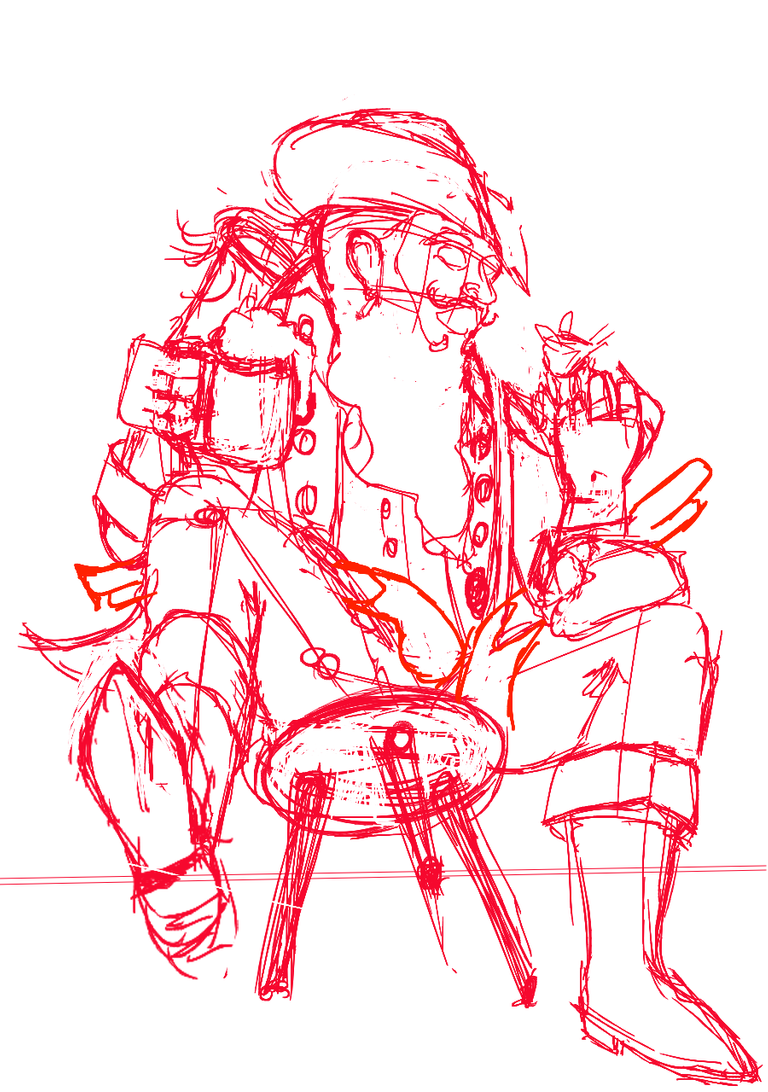 When I started to make the sketch I realized the obvious, the Pirate Two Guns Pete, carries two weapons, when it is common for ΛZMΛRÉ pirates to carry only one musket or carabiner. This weapon must be earned. Musket magic is heavily guarded, weapons are only passed from captain to trusted companion.
Al comenzar a realizar el boceto me di cuenta de lo obvio, el Pirata Two Guns Pete, carga dos armas, cuando lo común es, que los piratas de ΛZMΛRÉ carguen sólo un mosquete o mosquetón. Esta arma debe ganarse. La magia del mosquete está fuertemente protegida, las armas sólo se transmiten del capitán al compañero de confianza.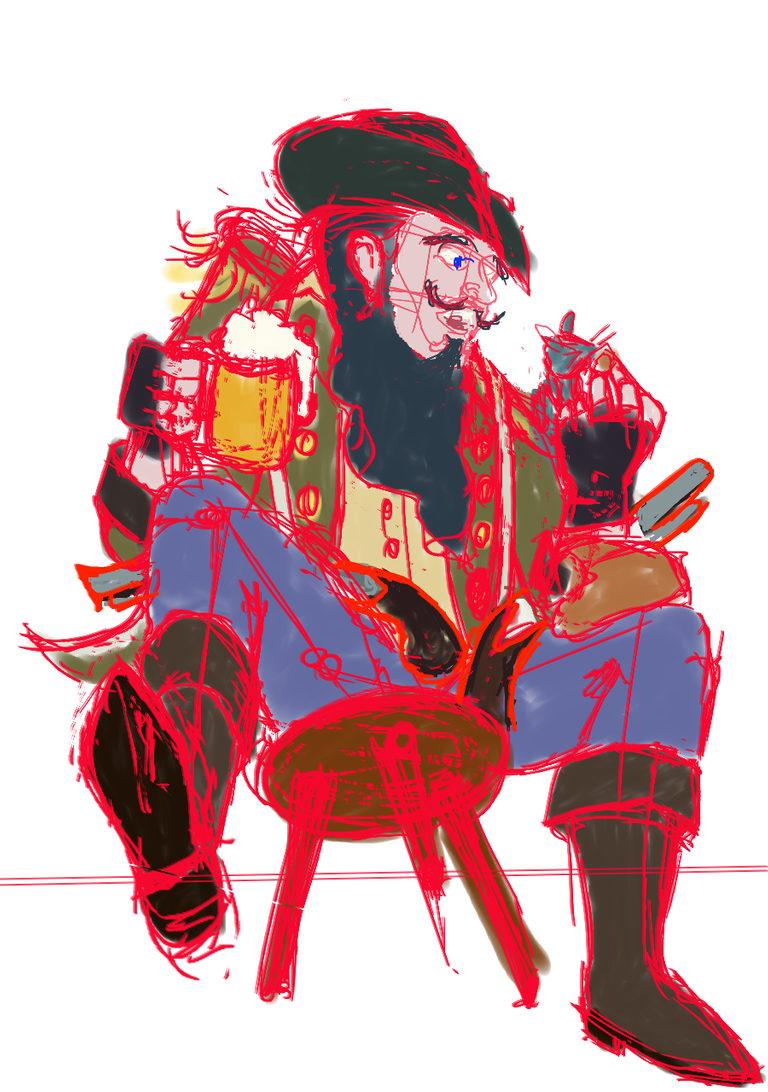 The stains for the general painting were easy to do, the complicated one, the movement of the ship in stormy waters. I was told on good authority that these muskets are even loaded with enchantments. If someone who is not the owner takes them, they self-destruct, so they cannot fall into unworthy hands.
Las manchas para la pintura general fueron sencillas de realizar, lo complicado, el movimiento del barco en aguas tormentosas. Pude saber de buena fuente que, estos mosquetes incluso están cargados de encantamientos. Si alguien que no es el dueño los toma, se autodestruyen, así no pueden caer en manos indignas.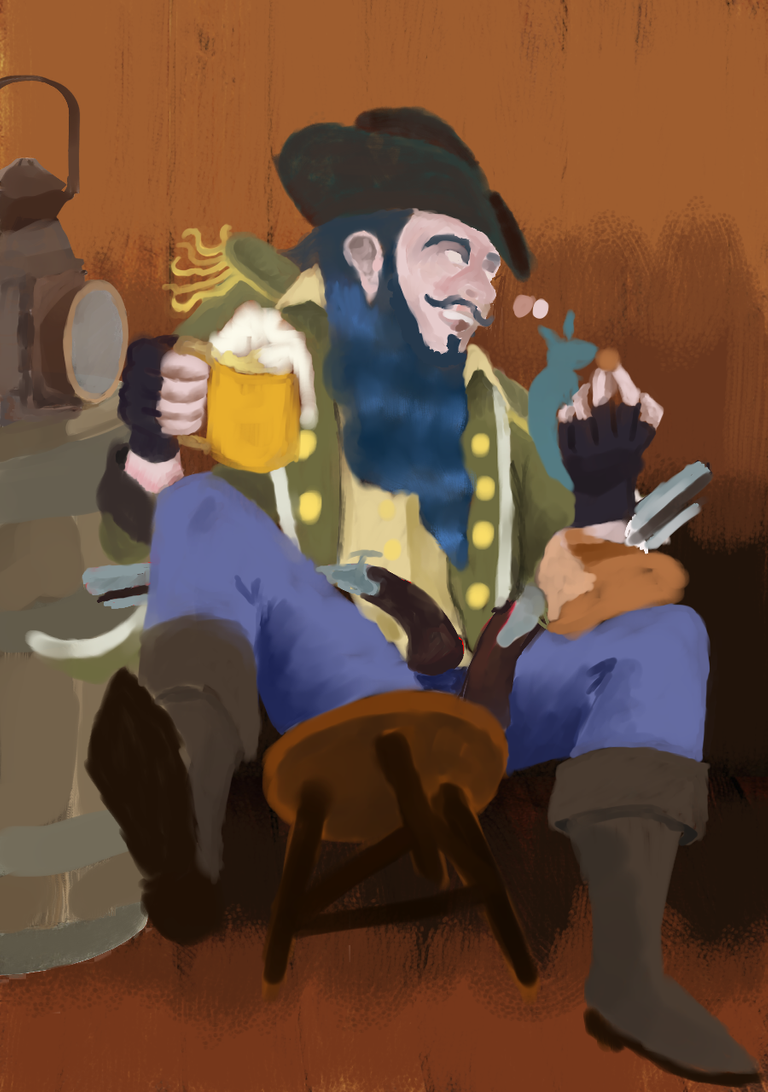 As I was doing the wall stains. The items that went with this little room on Tow Guns Pete's boat. After few beers, I went out to breathe and I found the pirate sorceress Atribula who, according to what she tells to another passenger who requested her services; that she can expertly remove the protective enchantments from Pete's weapons. She told me that pirates never carry two weapons.
Mientras realizaba las manchas de la pared. Los elementos que acompañaban esta pequeña habitación en el barco de Tow Guns Pete. Donde luego de unas cervezas, salí a respirar y me topé con la hechicera pirata Atribula que, según le comentó a otro pasajero quien solicitaba de sus servicios; que ella puede eliminar con pericia los encantamientos protectores del armamento de Pete. Me comentó que, los piratas nunca llevan dos armas.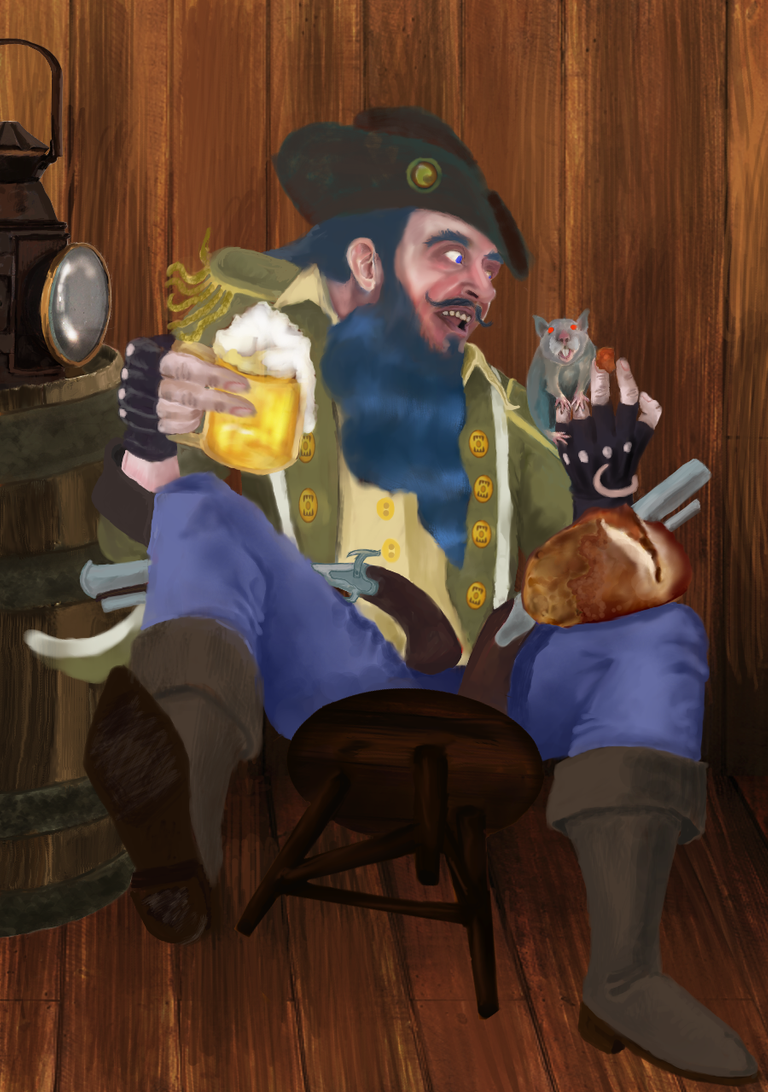 I rushed my hands and dedicated myself to detailing the inseparable friend of the pirate captain. I didn't want to upset the captain as I assumed Two-Gun Pete, he acquired the second gun (and maybe the first one too) through betrayal and murder.
Apuré las manos y me dediqué a detallar a la inseparable amiga del capitán pirata. No quería molestar al capitán ya que asumí que Two-Gun Pete, adquirió su segunda arma (y quizás también la primera) a través de la traición y el asesinato.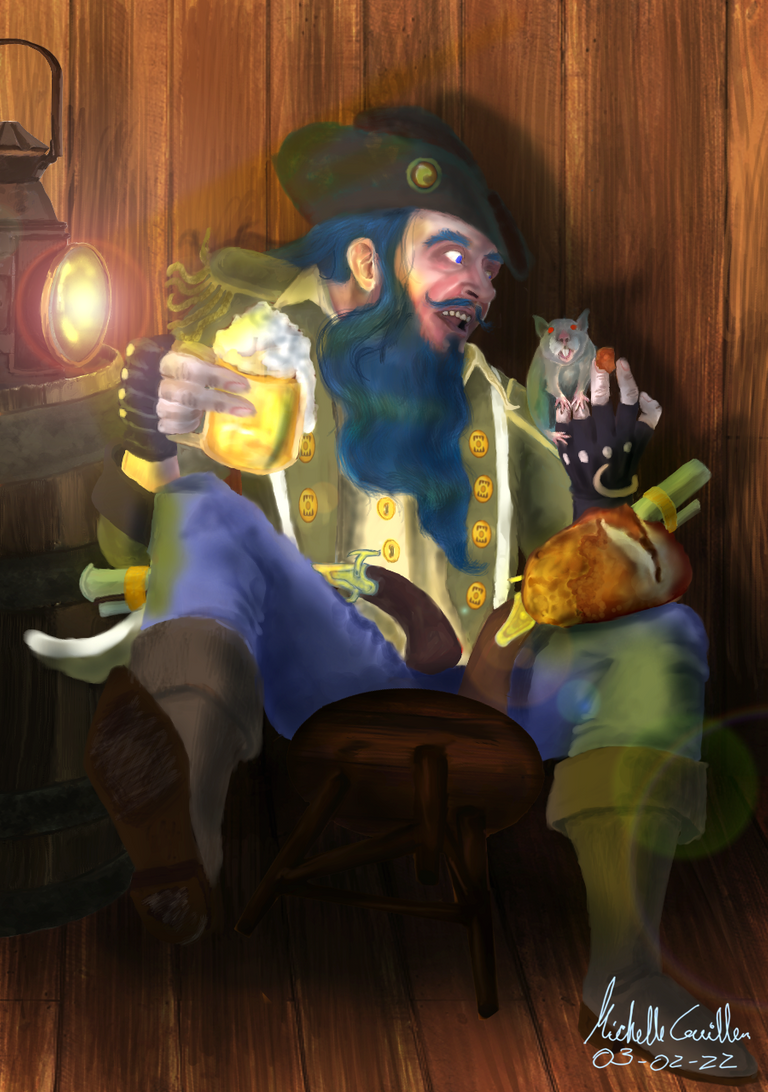 I spent a good deal of time on the drama of the light cast by the ship's lantern on the scene that captivated me. The normal thing is that the captain's companion lives in her beard and I mean her inseparable rat that, if she lives in the captain's beard, was only for a moment while the captain gave a piece of bread. In an instant where a shake of the waters or perhaps the intake of beer rocked the bench where Tow Guns Pete was sitting.
Le dediqué un buen tiempo al dramatismo de la luz que arroja la linterna del barco sobre la escena que me cautivó. Lo normal es que la compañera del capitán vive en su barba y me refiero a su inseparable rata que, si vive en la barba del capitán, fue solo un instante mientras el capitán daba un trozo de pan. En un instante donde un sacudón de las aguas o quizás la ingesta de cerveza tambaleó el banco donde estaba sentado Tow Guns Pete.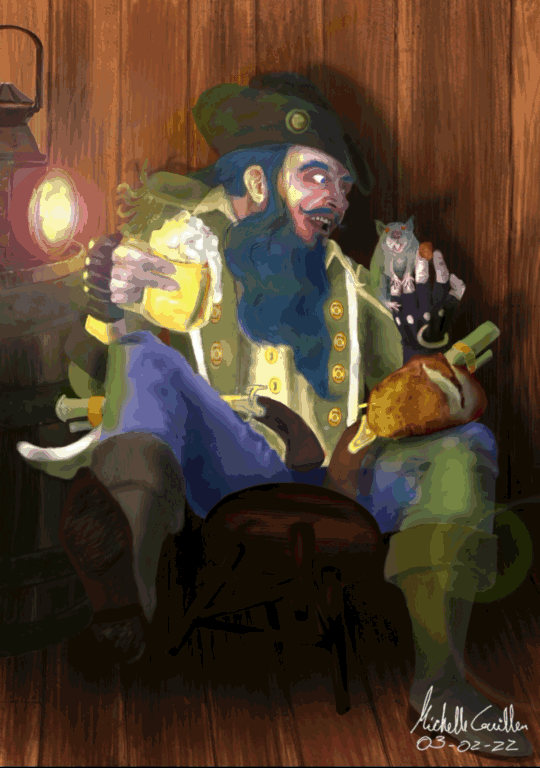 The captain is enjoying his beer while he feeds his friend. A scene that I never get tired of seeing and I am proud to have had the opportunity to record it.
El capitán está disfrutando de su cerveza mientras alimenta a su amiga. Una escena que no me canso de ver y estoy orgulloso de haber tenido la oportunidad de registrarla.
![barra.jpg]
(

)
Thanks for reading my post, I would like to know some things about you reader. Did you know the secret of Captain Two Gun Peter's pistols? What is your opinion of this illustration of the Lore of the water splinter Two Gun Peter? And finally, what card from Splinterlands would you like me to illustrate according to the lore? I would love to read it in the comments, if you think any of your followers can enjoy this post as you did, share it, if you don't want to miss publications of this style , follow me, thanks.
Gracias por leer mi post, me gustaría saber algunas cosas de ti lector ¿Conocías el secreto de las pistolas del capitan Two Gun Peter?, ¿Cuál es tu opinión de esta ilustración del Lore del splinter de agua Two Gun Peter? Y por último ¿Qué carta de Splinterlands te gustaría que ilustre según el lore?, Me encantaría leerlo en los comentarios, si crees que alguno de tus seguidores puede disfrutar este post como tú lo disfrutaste comparte, si no te quieres perder publicaciones de este estilo, sígueme, gracias.
Autor: Michelle Alexander Guillen
Año: 2022
(Thanks to @mikalonny for review and style)
(Agradecimientos a @mikalonny por la revisión y estilo)

---
---