My Brawl Report #5 - #HivePizza #BrawlReport - /21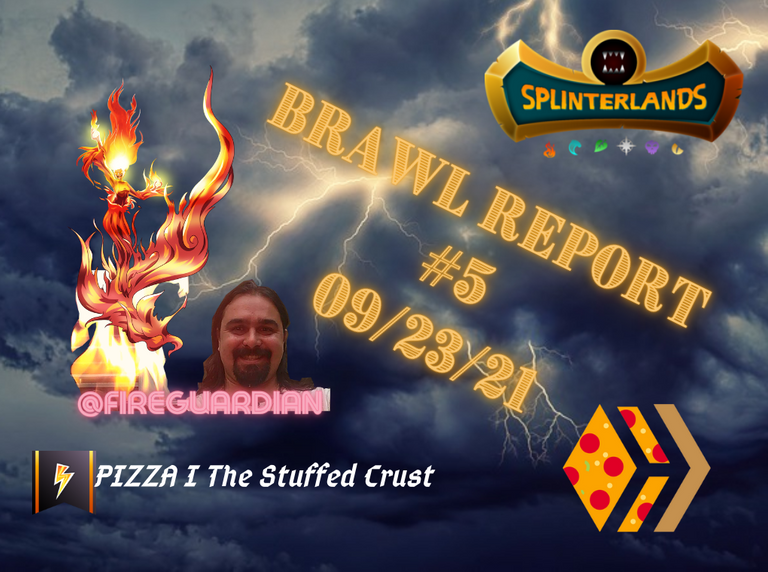 Hello everybody! Another brawl is over, and we have a new Brawl Report from the PIZZA I Guild for you all! This is an initiative by @kennysgaminglife for us to talk about the last brawl, share some insights (or dumb ideias) about our battles and make all of this a great fun learning experience!
Unlike the past weeks, this time I got a Silver Untamed Fray, that gave me a lot of fights! I think I did ok, since I didn't rent any card this time as an experiment!

In terms of the guild, we had 10 frays, so I got second last again.

But was it because I did bad? Oh no mister, it was because everybody in the guild just SMASHED IT!! Just check the difference in our wins and the second place!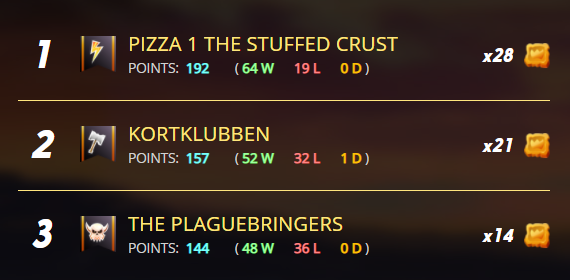 I'm really happy to be together with the awesome people from PIZZA, everybody's always doing their best to get it done!
So, let's check out my battles!

Battle 1 - Win
Click on the image to see the battle
Oh my... Even though I had my good old friend Yodin, when I saw that beautiful cat I already thought "Damn, this will go bad...". The speed buff from the summoner was my biggest concern, but in the end my Spark started the round, giving me the edge I needed. nd of course Bloodlust played a big role here too!

Battle 2 - Lost
Click on the image to see the battle
This battle was a great life lesson for me... If you are going to use Yodin, pray that you don't encounter a Lir Deepswimmer! The return fire ability just makes all the blast damage that you make come back to you!
I had no chance in this battle, it was a true bloodbath on my side...

Battle 3 - Opponent Fled

Battle 4 - Win
Click on the image to see the battle
The powers of Death Clash!!! But only my opponent had a ranged monster, so only my summoner had effect. And the equalizer rule set gave me the edge I needed to win this battle, and the opportunity from my monsters also had a big part on this win!

Battle 5 - Lost
Click on the image to see the battle
Did I ever tell you all that I hate low mana battles? Yes, I hate low mana battles!!! In this situation I wanted to use my healer, but the healed out rule set didn't let me. I thought that armor would be a good idea, but I think my opponent thought the same thing...

Battle 6 - Win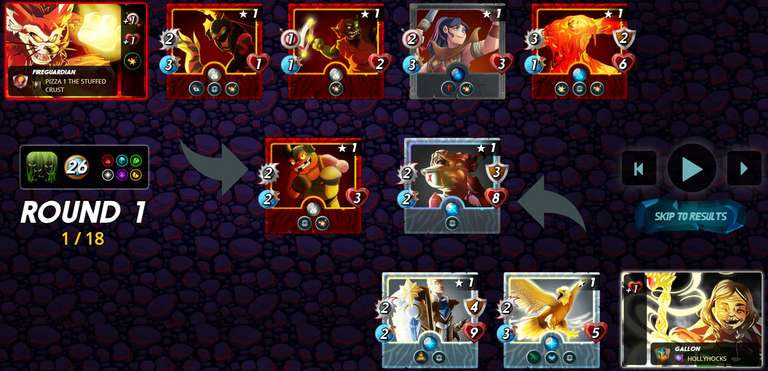 Click on the image to see the battle
I just love a good old super sneak rule set. You always have to put your strongest monster at the end, and my opponent tried to do that, but Shieldbearer has taunt, so I would attack him anyway. And it was in more disadvantage because it made all my ranged also attack the last monster. This was a good and clean win in my opinion.


Battle 7 - Win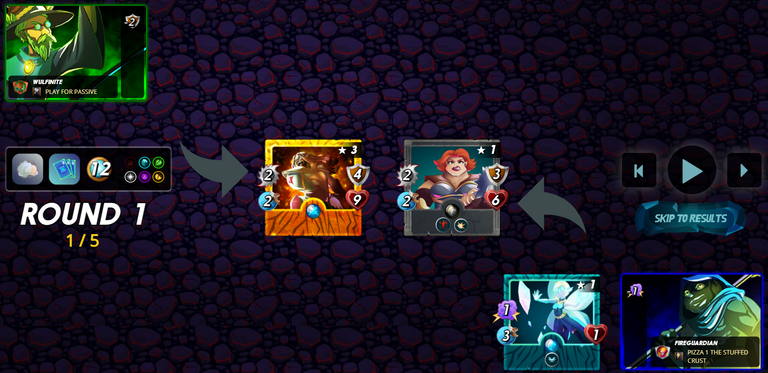 Click on the image to see the battle
Did you all see this beautiful lady called Alva? She is the most awesome gladiator card I have, she is just awesome and lovely! Can't wait to have her against a chicken... Gonna give me bloodlust to start with! I don't think my opponent in this one had a good choice of cards...

Battle 8 - Win
Click on the image to see the battle
Yodin vs Yodin. Fire vs Fire. Good mana count, interesting rules, a damn Magnor... I had no chance after it got enraged. I was crushed in this battle, let's just leave it at that...

Final thoughts
It was good to have a lot of battles again, and overall my score was ok. Again I have to thank to @hivetrending for delegating Yodin to me, without it I would have a lot of trouble!
As for me, it was really cool to do this brawl with only the cards I have (and delegated to me), so I'm getting used to play with what I have, and I feel that this will help me improve a lot in terms of strategy. Let's keep going with these brawls!!!

This is the ideia of the awesome @kennysgaminglife, so I pass the mic to him:
Starting last month, I invited/asked members of the #HivePizza guild to publish a #BrawlReport, breaking down their highs & lows, where they need help, questions they have, strategies they love, and so on. The idea is to help us all reflect a bit, learn a bit, share a bit, earn a bit, and connect a bit.
Any other guilds interested in publishing a #BrawlReport, either as individuals, or one for the whole guild, I'm happy to send some curation love your way!
You can check his Brawl Report by clicking here! And check some other awesome reports!
---
---

So cool to see more guild doing the Brawl Report!!! Maybe one day we will have a Brawlgazine with only Brawl Reports!

PIZZA POOL PARTY!!!

Do you love DEC? Do you love Pizza? So you shouldn't miss the DEC:HIVE.PIZZA diesel pool on @tribaldex!!! There are many days until the contract ends, so you just gather your pizza, put some DEC toppings and throw it at the pool!!!






To get more info, you should read awesome post on Pizza Pools by @adamanda!

And if you read all of this and have no clue what Splinterlands is, it's an awesome game with a lot of strategy, beautiful art and tons of fun! They are developing many new features (the Brawl, for exemple, just got an upgrade of barracks and new cards!) You should really join now and don't miss the fun!!!

Thanks for reading until here!
Keep posting and keep shining!



---
---