CORNELAUS - Splinterlands Art Contest SPT W-243 [ENG-ESP]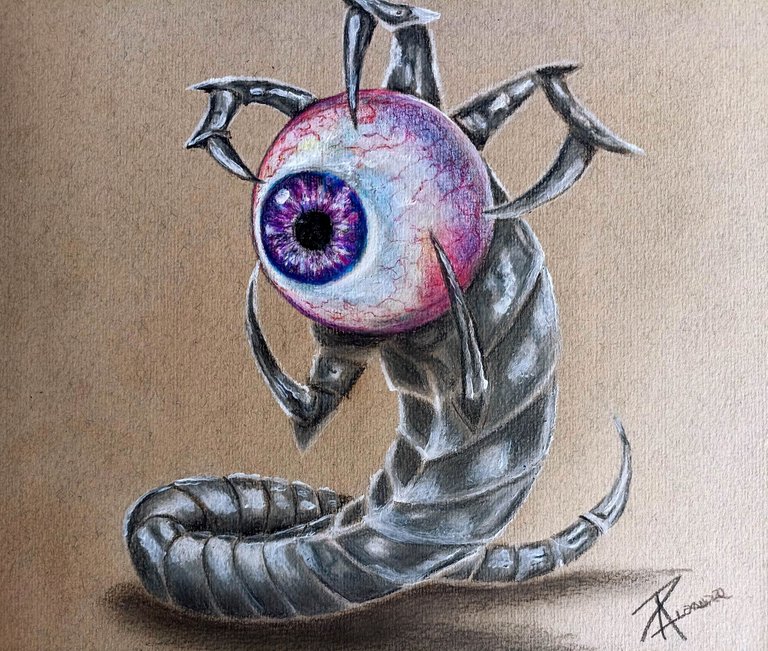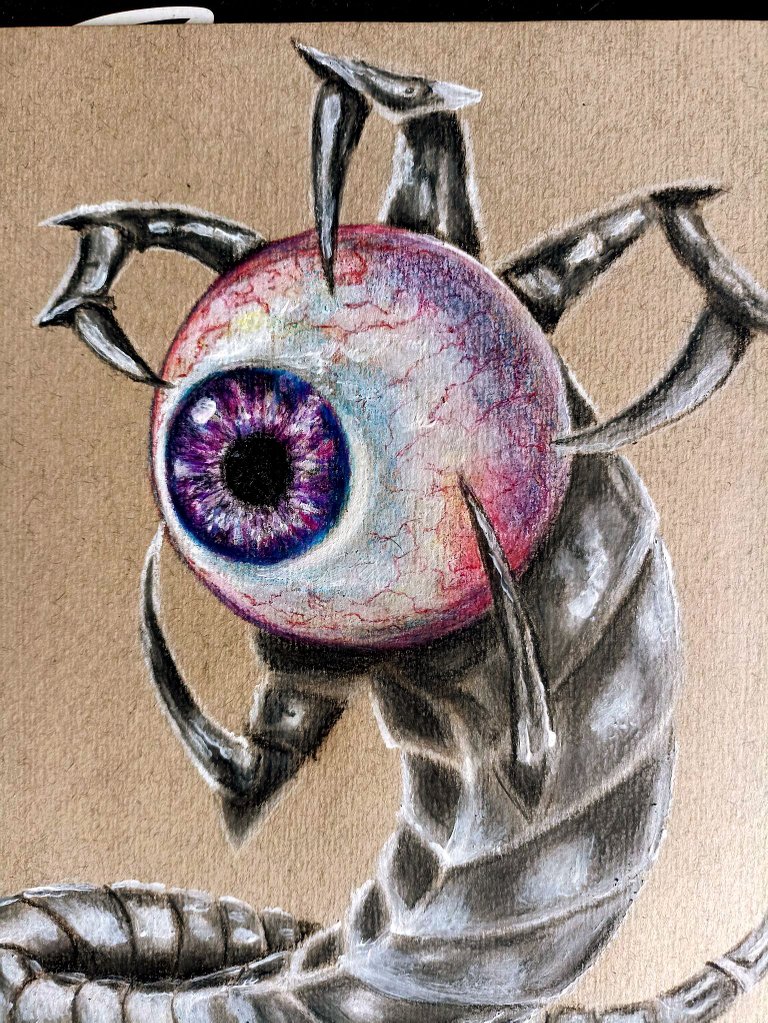 Hello friends, I hope you are very well, this week for the Splinterlands contest number 243 I have chosen a card known as Cornelaus, a card with very good powers and with a great design that I really liked. I made this Fan-Art in a traditional way, using prismacolor premier colored pencils and also a gray Fabriano cardboard, since I wanted to find a way to give the eye a realistic appearance, in the same way I did it as a robotic eye when equipping it of a metal body in the shape of a snake. I also added some metal claws to hold the mighty eye, I hope you like it.
Hola amigos, espero que se encuentren muy bien, esta semana para el concurso número 243 de Splinterlands he escogido una carta conocida como Cornelaus, una carta con poderes muy buenos y con un gran diseño que me gustó mucho. Hice este Fan-Art de manera tradicional, utilizando lápices de colores prismacolor premier y también una cartulina fabriano de color gris, ya que quise buscar la forma de darle un aspecto realista al ojo, de la misma forma lo hice como un ojo robótica al dotarlo de un cuerpo de metal en forma de serpiente. También agregué unas garras de metal para sostener al poderoso ojo, espero que les guste.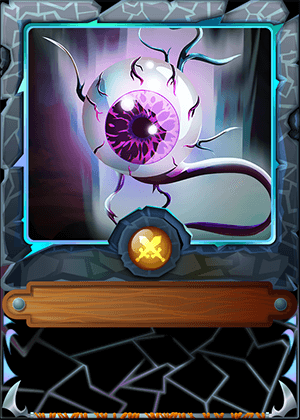 Reference

PROCESS
I made the sketch of a circle of 6 centimeters in diameter with a white pencil, then I made the iris and the retina, inside I began to paint the cornea with white color and then I added tones, the objective is to make the eye very realistic , so I took a picture of my own eye to try to give it that effect, hahaha so it's partly a self-portrait.
Hice el boceto de un círculo de 6 centímetros de diámetro con lápiz de color blanco, despues hice el iris y la retina, en el interior comencé a pintar la córnea con color blanco y luego fui agregando tonos, el objetivo es hacer el ojo bien realista, así que tomé una fotografía de mi propio ojo para buscar darle ese efecto, jejeje así que en parte en es un autoretrato.

The second step was to give volume to the eye and I did this by combining different shades, since an eye is not totally white, but depending on where you look, one of the sides will get a little darker. So using some tones like blues and grays I'm adding those shadows. In the same way I begin to paint the iris, although my eye is not purple I tried to give it the same appearance, only I changed color. Another important detail is the blood vessels, these cannot be missing and must be well marked.
El segundo paso fue darle volumen al ojo y esto lo logré combinando diferentes tonos, ya que un ojo no es totalmente blanco, sino que dependiendo de a donde mire uno de los lados se pondrá un poco más oscuro. Así que usando algunos tonos como azules y grises voy añadiendo esas sombras. De igual forma comienzo a pintar el iris, si bien mi ojo no es púrpura traté de darle la misma apariencia, solo que cambié de color. Otro detalle importante son los vasos sanguíneos, estos no pueden faltar y deben estar bien marcados.

To finish with the eye, I tried even harder to give those shadows to all the wait, it's like a world map, and the iris is our American continent. I used lilac, purple and some blue colors, I wanted to play a lot with those tones to give it a lot of personality, although it is only one eye, it is a card that shows a presence. With acrylic paint I made the effect of moisture in the eye, I distributed the brushstrokes where I thought most appropriate.
Para finalizar con el ojo me esforcé aún más para darle esas sombras a toda la espera, es como un mapa mundi, y el iris es nuestro continente americano. Utilicé colores lila, purpura y algunos azules, quise jugar mucho con esos tonos para darle mucha personalidad, aunque es un solo ojo, es una carta que demuestra una presencia. Con pintura acrílica hice el efecto de humedad en el ojo, distribuí las pinceladas por donde creí más pertinente.

The second part of the drawing consists of making claws, as if a robotic hand were holding the eye, one by one I made the claws and drew them in grayscale and for contrast I used black and white for the shadows. With acrylic paint I reinforced that illumination that metal always has due to the reflection of light.
La segunda parte del dibujo consiste en hacer unas garras, como si una mano robótica sostuviera al ojo, una a una fui haciendo las garras y la dibujé en escala de grises y para el contraste usé blanco y negro para las sombras. Con pintura acrílica reforcé esa iluminación que siempre tiene el metal por reflejo de la luz.

To finish with this Fan-Art I added a metal body in the shape of a snake to Cornelaus's powerful eye, I wanted to give it a terrifying appearance, on the one hand of a supernatural creature but at the same time with a technological aspect, I really like those concepts in the illustrations, so this opportunity I did my part. The painting technique was the same used for the claws, thus it was finished.
Para finalizar con este Fan-Art agregué un cuerpo de metal en forma de serpiente al poderoso ojo de Cornelaus, quise darle una apariencia terrorífica, por un lado de criatura sobrenatural pero al mismo tiempo con un aspecto tecnológico, me agradan mucho esos conceptos en las ilustraciones, así que esta oportunidad hice mi parte. La técnica para pintar fue la misma utilizada para las garras, de esta manera quedó finalizado.

FINAL WORK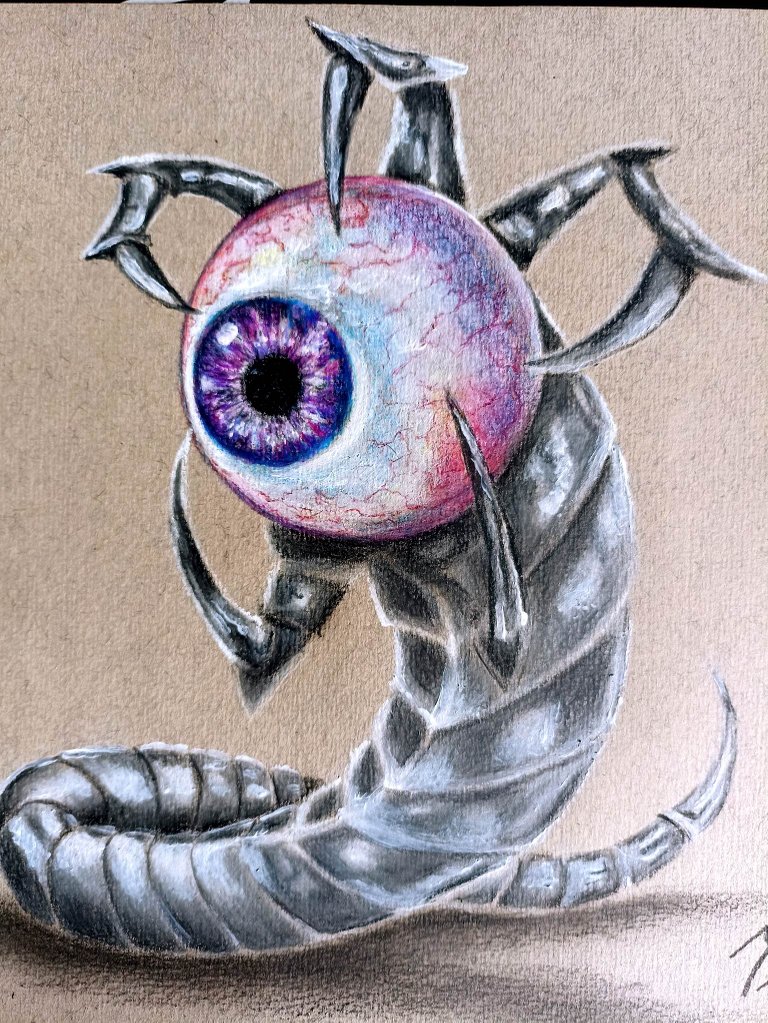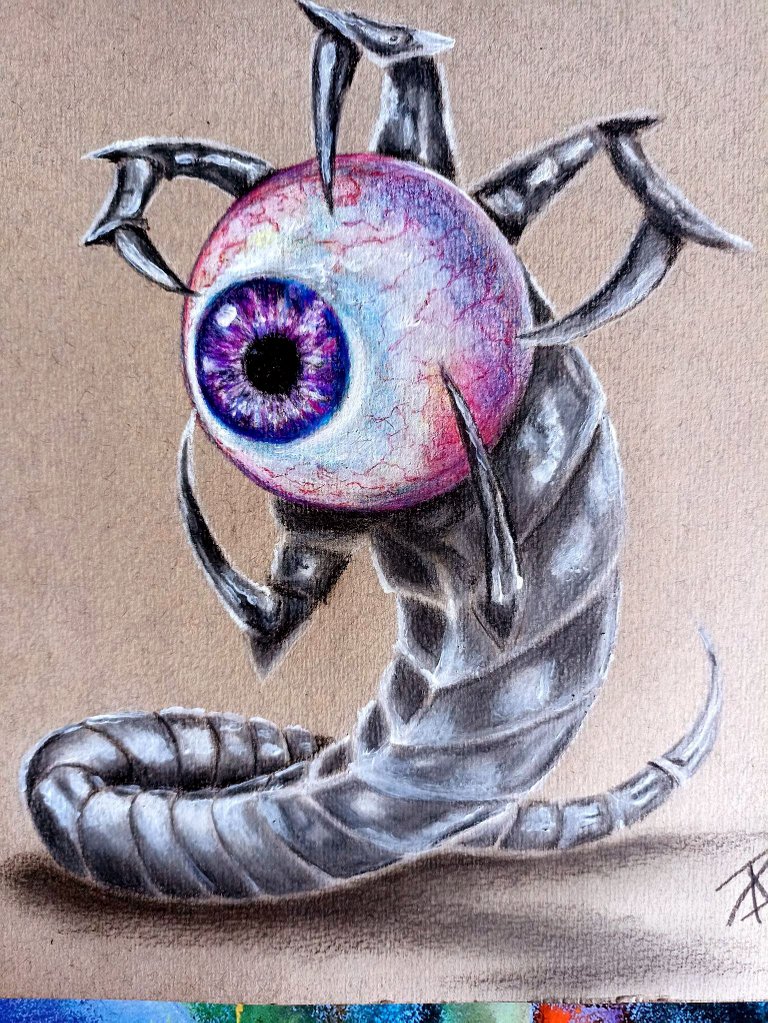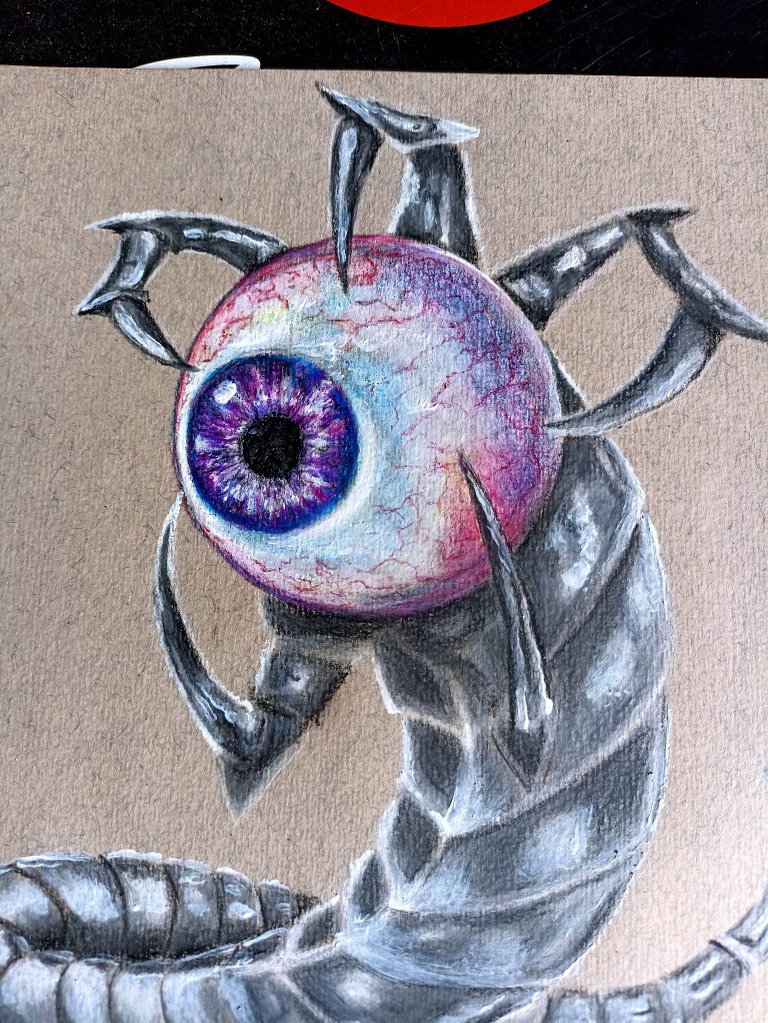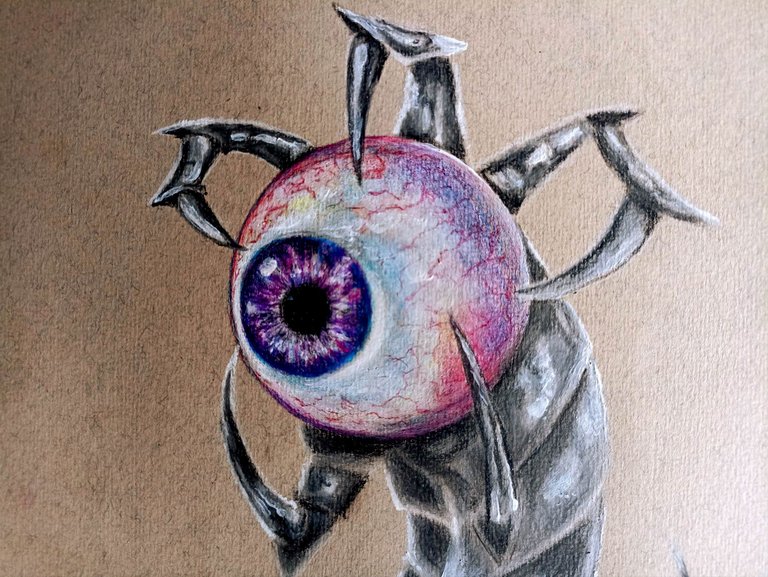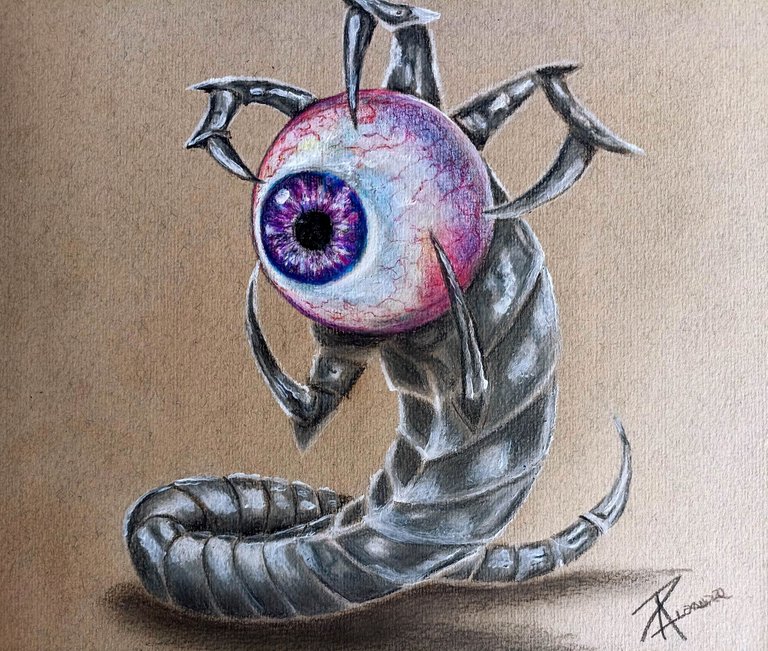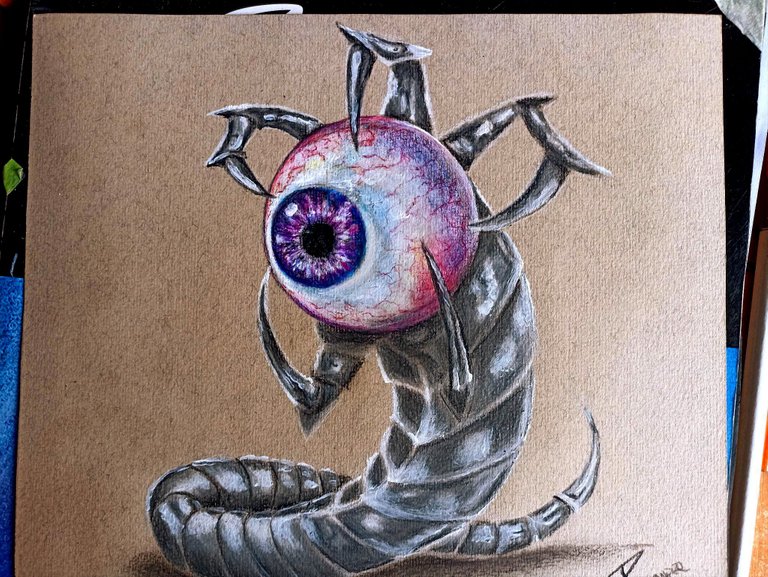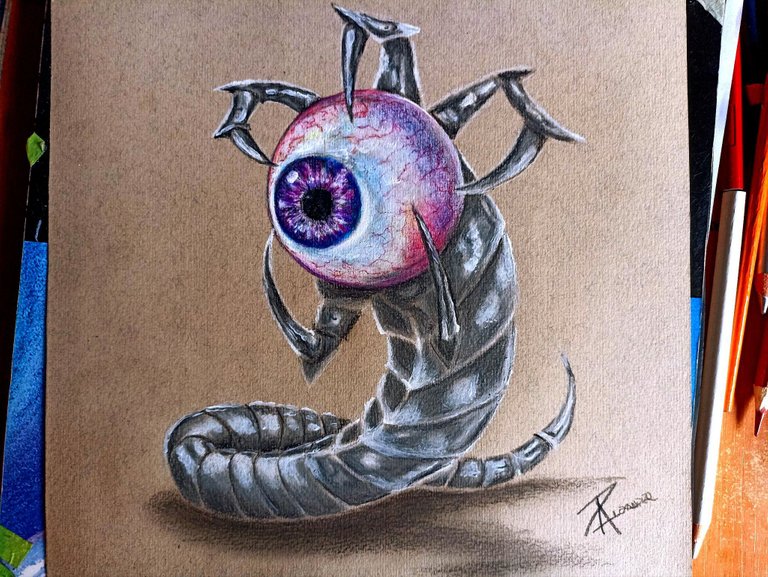 This is how my Fan-Art of the Cornelaus card was finished, I really like being able to participate in this contest because we can explore our creativity using the Splinterlands cards as a model, so the possibilities are endless, I congratulate all those who also participate with their creations so garandious, the truth makes this place unique and incredible. For now I say goodbye until a new opportunity.
Así quedó finalizado mi Fan-Art de la carta Cornelaus, me gusta mucho poder participar en este concurso porque podemos explorar nuestra creatividad usando las cartas de Splinterlands como modelo, así que las posibilidades son infinitas, felicito a todos aquellos que tambien participan con sus creaciones tan garandiosas, la verdad hacen que este lugar sea único e increíble. Por ahora me despido hasta una nueva oportunidad.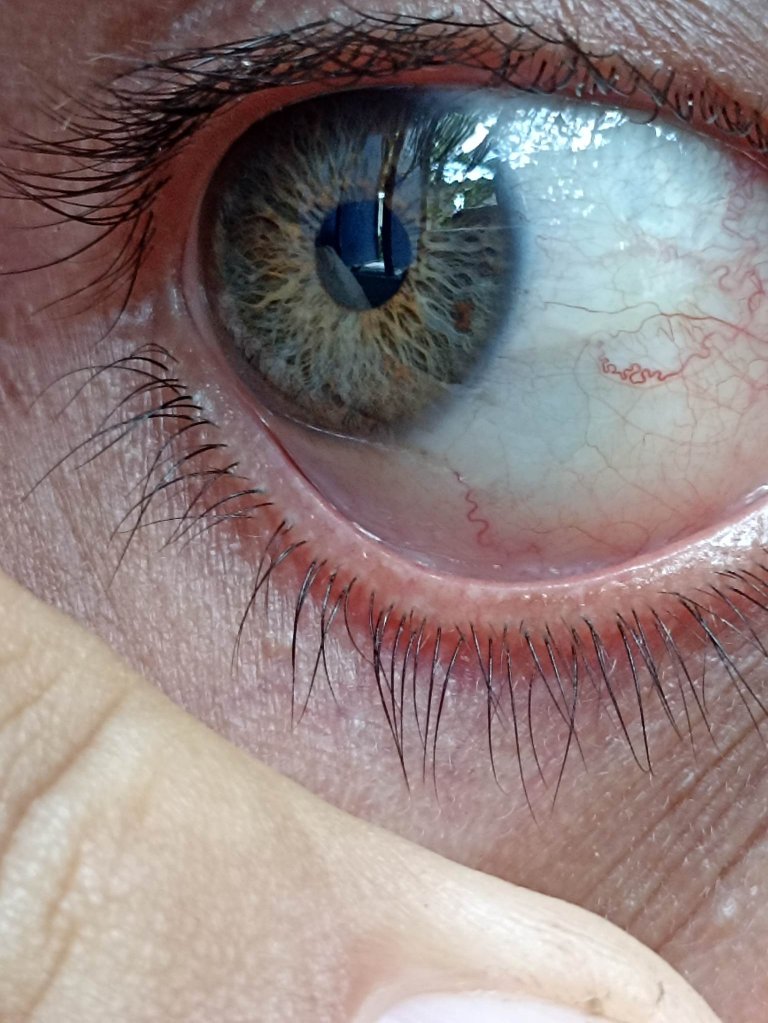 My eye sends greetings hehehe
Mi ojo les envía saludos jejeje
---
---