DEATH ELEMENTAL - Splinterlands Art Contest SPT W-242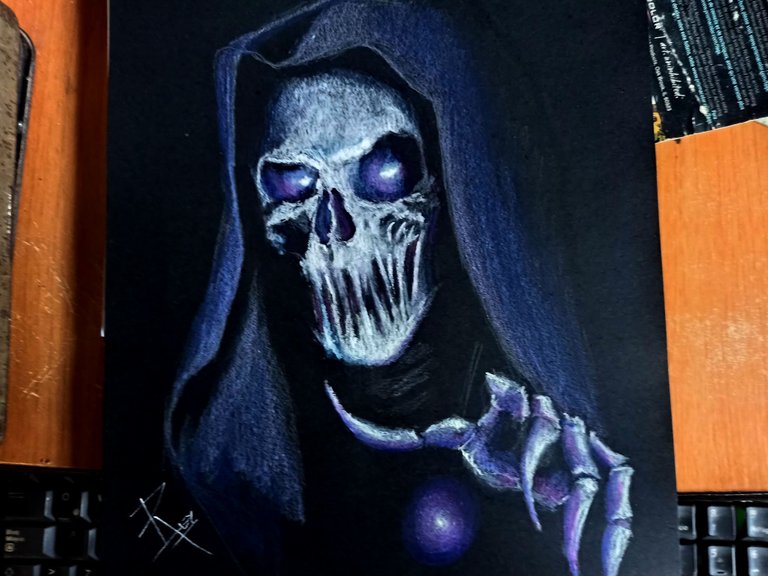 Hello friends, I hope you are very well, this is my entry to the Splinterlands contest number 242, as a figure I have chosen a card called Death Elemental, the darkness of its nature and its tint of being a very strong force caught my attention. powerful, I liked the design of the card so for my part I tried to represent death. This representation is made with colored pencils using a black cardboard, I think that since it is the element of death, there is nothing better than the color black to better represent it. Then I leave you with the step by step of my drawing.
Hola amigos, espero que se encuentren muy bien, esta es mi entrada al concurso de Splinterlands número 242, como figura he elegido una carta que se llama Death Elemental, me llamó la atención la oscuridad de su naturaleza y su tinte de ser una fuerza muy poderosa, me gustó el diseño de la carta así que por mi parte traté de representar a la muerte. Esta representación está realizada con lápices de colores utilizando una cartulina negra, creo que al tratarse del elemento de la muerte nada mejor que el color negro para representarla mejor. A continuación los dejo con el paso a paso de mi dibujo.
Reference Card

PROCESS
As I told you before, I used a black cardboard, specifically a block for drawing with cardboard of this color that I usually use in most of my illustrations, I prefer to use this color tone because for me it is more versatile and has many possibilities to achieve different results. . I make the initial lines with a white wax pencil to make the sketch and shape Death.
Como les dije anteriormente, utilicé una cartulina negra, específicamente un block para dibujo con cartulinas de este color que suelo utilizar en la mayoría de mis ilustraciones, prefiero utilizar este tono de color porque para mi es más versátil y tiene muchas posibilidades para conseguir resultados diferentes. Los trazos iniciales los hago con lápiz de color blanco de cera para hacer el boceto y darle forma a la Muerte.

I began to paint with a first layer of color using the same color as the sketch, the white wax, thus giving the skull more shape. If you look closely at the mouth I did not make the usual teeth that every caravel has, instead I made a seal, and this seal I made in the shape of large and sharp crossed teeth, if you look at the original letter you can see that it has fangs, so I personalized this part more trying to make it look like a scarecrow mask, my intention is to make the figure with a very macabre tone.
Comencé a pintar con una primera capa de color utilizando el mismo color del boceto, el blanco de cera, así fue dándole más forma a la calavera. Si se fijan bien en la boca no hice los dientes habituales que tiene toda calavera, en su lugar hice como un sello, y este sello lo hice en forma de grandes y afilados dientes cruzados, si observan la carta original puede verse que tiene colmillos, así que yo personalicé más esta parte tratando de hacer que se pareciera a la máscara de un espanta pájaros, mi intención es hacer la figura con un tono bien macabro.

The next step is to apply a different shade of white, to give the skull more lighting and realism. Luckily the white charcoal always mixes very well with the wax colors despite being very different, you can see how it gradually overlaps the previous color layer. At this point you can better see what I mentioned before about the mouth of the skull, since with this color I was able to better highlight these parts and achieve the purpose that I wanted.
El siguiente paso es aplicar un tono diferente de blanco, para darle más iluminación y realismo a la calavera. Por suerte el carboncillo blanco siempre se mezcla muy bien con los colores de cera a pesar de ser muy diferentes, pueden ver como se va superponiendo poco a poco a la capa de color anterior. En este punto se puede observar mejor lo que mencioné anteriormente sobre la boca de la calavera, ya que con este color pude resaltar mejor estas partes y lograr el próposito que yo quería.

Later I began to draw one of his hands in an extended way, either to throw a power or to catch a soul, I made the fingers in the shape of bones and painted them in the same way as the skull, although later I gave them a more shape pointed to make it look more macabre. So I also began to paint the hood of death and that covers part of his face where you can barely see any part, up to this point I think I managed to do something very scary in terms of appearance.
Después comencé a dibujar una de sus manos de forma extendida ya sea como para lanzar un poder o para atrapar un alma, los dedos los hice en forma de huesos y pintandolos de la misma forma que la calavera, aunque luego les fui dando una forma mas puntiaguda para que se viera mas macabro. Así tambien comencé a pintar la capucha de la muerte y que cubre parte de su rostro donde apenas se ve alguna parte, hasta este punto creo que logreé hacer algo bien aterrador en cuanto a la apariencia.

To finish I gave it the purple tone that the original letter has, this color is always associated with death, so I started by drawing purple energy that will simulate the eyes, degrading the color to blue, thus also giving it I gave color to the hood and, as you can see, to the bones of the hands, which ultimately gave it more edge. As an additional detail I drew a small ball of energy that can mean the breath of death, contrary to life. In this way I have finished with my Fan-Art of the Death Elemental card.
Para finalizar le di el tono púrpura que tiene la carta original, este color siempre esta asociado a la muerte, así que comencé por la cuenca de los ojos dibujando energía púrpura que simularán ser los ojos, degrandando el color hasta el azul, así tambien le di color a la capucha y como pueden observar a los huesos de las manos, que en última instancia le puse más filo. Como un detalle adicional dibujé una pequeña bola de energía que puede significar el aliento de la muerte, contrario a la vida. De esta manera he finalizado con mi Fan-Art de la carta Death Elemental.

FINAL WORK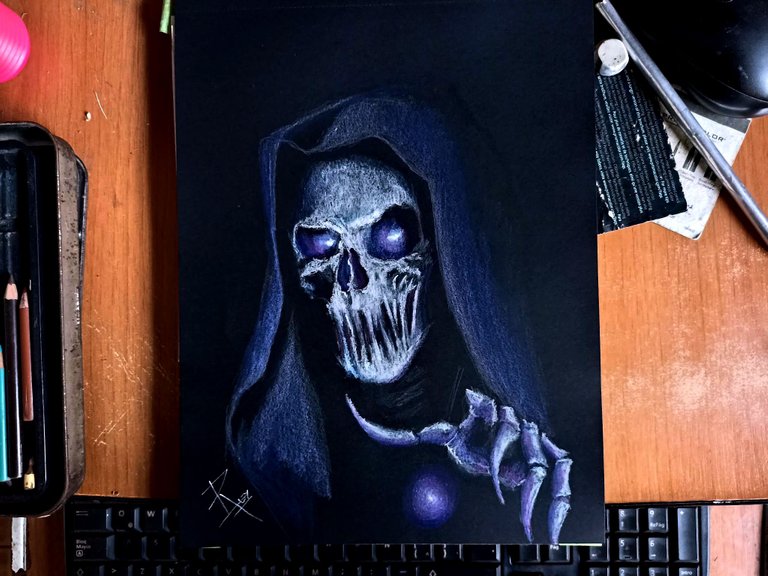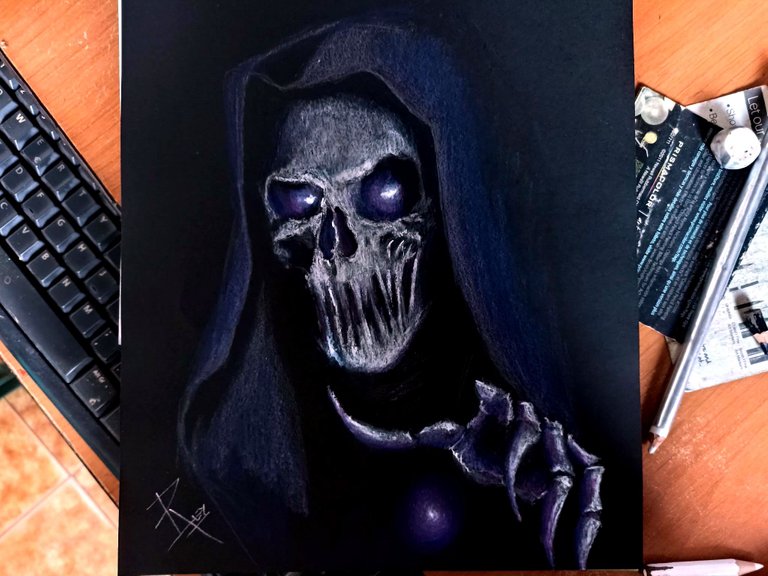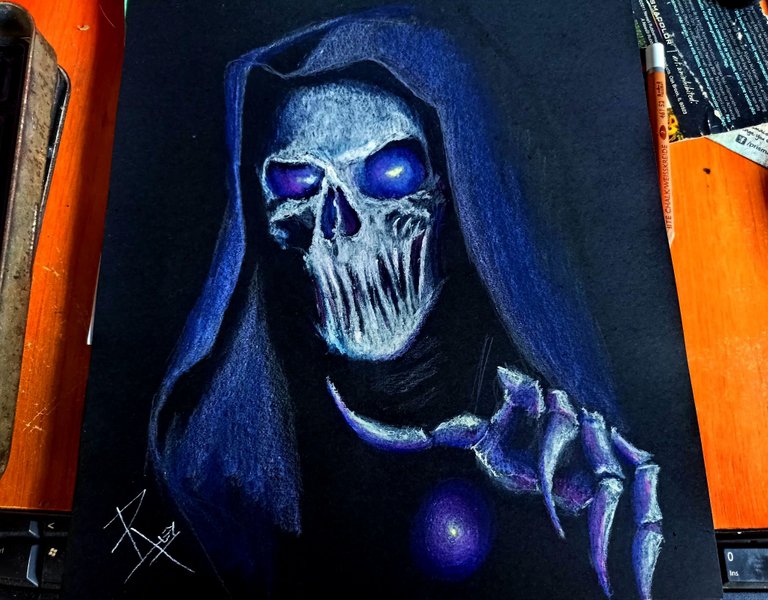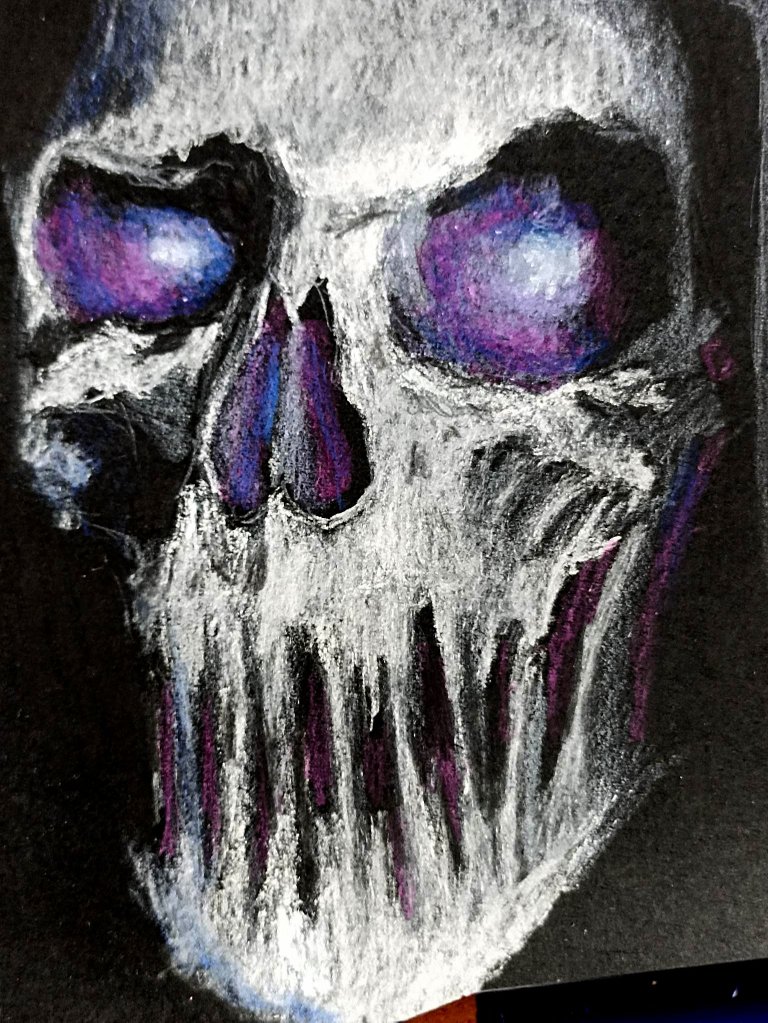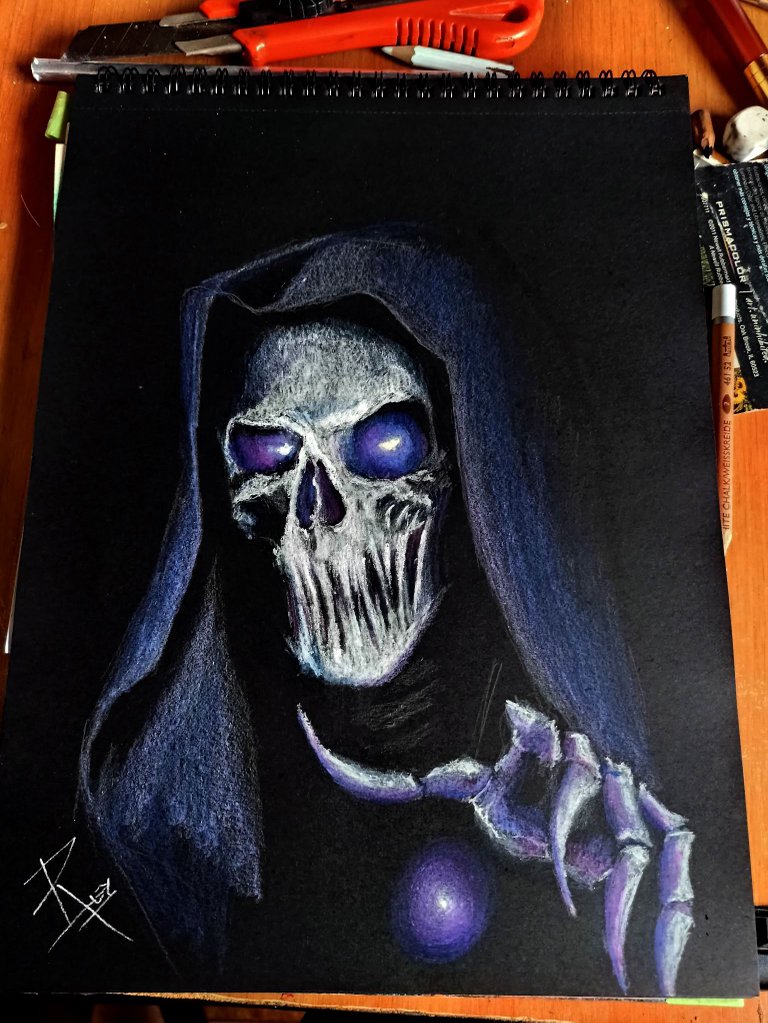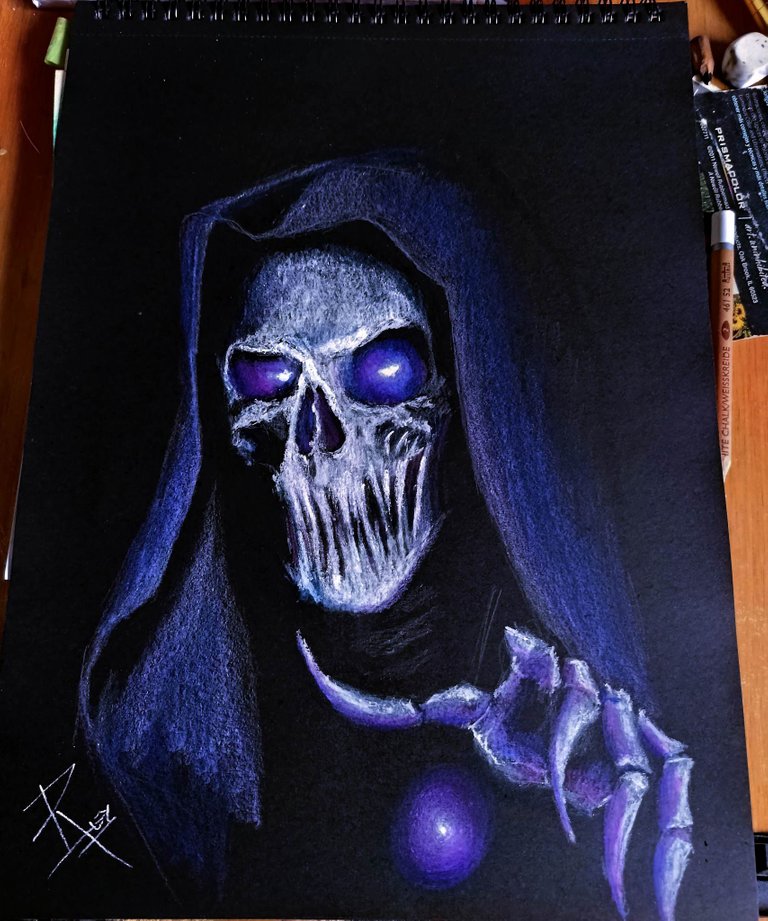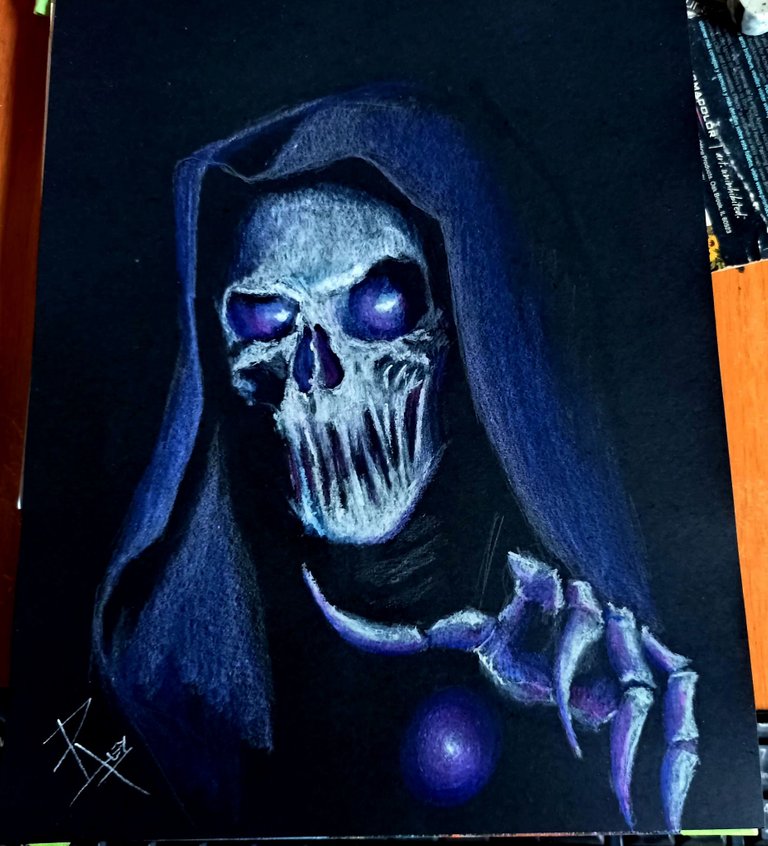 This has been my participation in the contest, I had not participated in a long time, I think the last time was two years ago, and at that time it was something different from how it is now. I hope you liked how it turned out, I think I will continue doing future work on the cards, I have seen that there are too many and when I saw them my imagination flew through outer space. For now I say goodbye and it will be until a new opportunity. See you soon!
Esta ha sido mi participación en el concurso, tenía mucho tiempo que no participaba, creo que la última vez fue hace dos años, y en esa época era algo diferente a como es ahora. Espero que les haya gustado como quedó, creo que seguiré haciendo próximos trabajos sobre las cartas, he visto que hay demasiadas y al verlas mi imaginación voló por el espacio exterior. Por ahora me despido y será hasta una nueva oportunidad. Hasta pronto!
---
---