Splinterlands: How Much Can You Earn?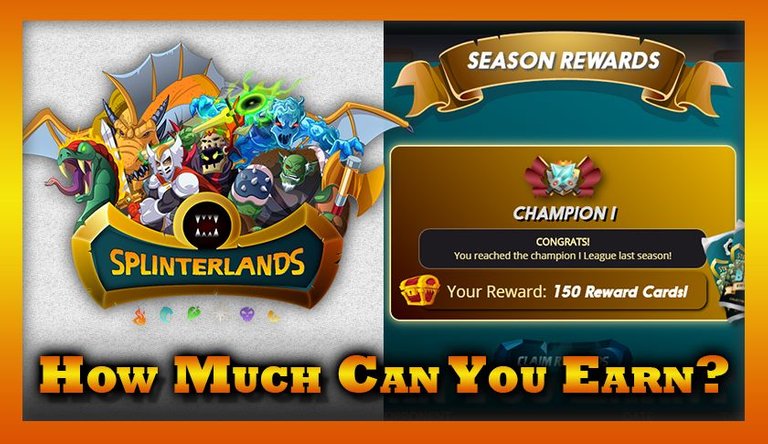 Read Part 2: "Splinterlands: How Much Can You Earn (Q4 2021)?"
---
Splinterlands has become a stream of income for everyone who is playing the game. This includes people who rent the cards very successfully, to battle for the daily quest and the bi-weekly season rewards. I wanted to show you what I have been able to make in the last season with my mostly maxed out deck for Diamond and Champion, and my Gold League level deck on an alt-account.

Daily Earnings
In Splinterlands you can earn Dark Energy Crystals (DEC), an ingame currency, that is a tradable Steem Engine token. The value has been around $1 for 1000 DEC in the past month. On my main account I was able to earn between 200-500 DEC per won ranked match. I wasn't playing that much and concentrated mostly on the daily quests. So my earning were usually about 3,000-5,000 DEC per day. I could have make over 10k per day but that requires more time. On my second account I was additionally able to earn about one third of that DEC per match and day.
That put my earnings at about 4k-7k DEC per day.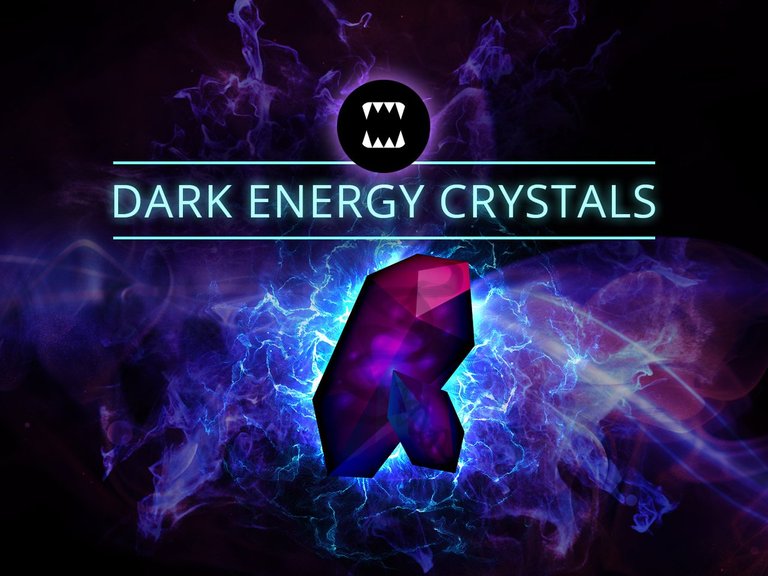 On top of that, I earned over 20 cards every single day with both accounts via the daily quests. Among them were many valuable cards, worth multiple US Dollars each. I kept most of them to build out my decks further.

Season Rewards
Every two weeks, the season ends and another one begins. This event is rewarding the top players of the rankings with free booster packs. These can be sold as Steem Engine tokens on the market or opened for a chance of some really valuable cards. The official price of one booster pack is two Dollars and the top 50 players receive 10 packs or more.
Additionally, all players will receive the season rewards in form of a card shower. Depending on the highest league you have reached at least once during the past season, you will get between 5 and 150 reward cards.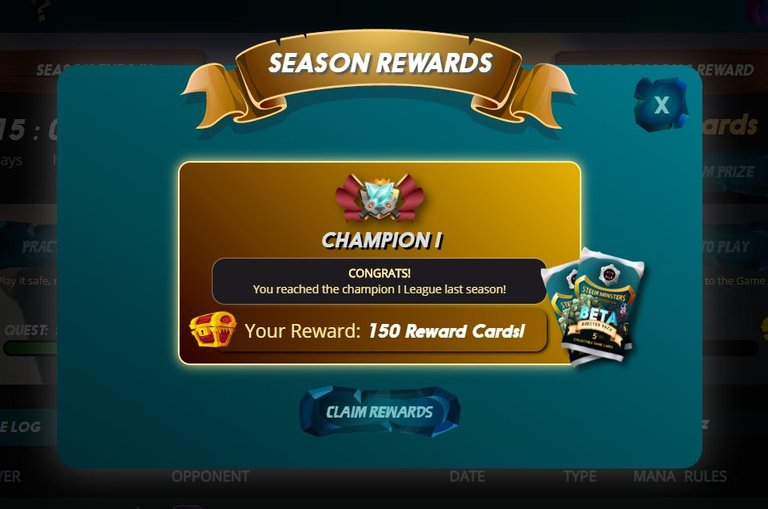 I was able to reach Champion I, the highest league, merely three minutes before the seasons end and placed 67th in the final ranking. That wasn't enough for the free booster packs but earned me the maximum 150 reward cards. On my alt-account I scored another 60 season reward cards, for a total of 210.
Total Reward: 210 Cards
Minimum DEC: 3150 Dark Energy Carystals (~$3.1). Several cards were higher than common rarity and hence worth notably more. I haven't counted them up, though.
Most Notable Cards
| | | | |
| --- | --- | --- | --- |
| LORD ARIANTHUS | RULER OF THE SEAS | FLAME IMP | NAGA FIRE WIZARD |
| $3,79 | $4,90 | $3,59 | $3,44 |
| 1500 DEC | 1500 DEC | 3000 DEC | 3000 DEC |
I haven't included the tournament wins in this. This will add another substantial amount, depending on your skill and luck.

Splinterlands Is Growing
This is all really amazing to experience first hand. I was able to make over one hundred Dollars in two weeks just in rewards and could have gotten so much more with more time and focus. Many people see now both the fun game as well as the financial potential by just playing it. On the Peakmonsters market you can rent cards for reasonable prices and earn that multiple times in return, with some time and skill.
You can even get a free pro-deck to play for free, by sharing the rewards automatically via a bot service from @tcpolymath, called @herons-unlimited. This allows card holders to securely delegate their cards to an account managed by Herons Unlimited and earn a passive income in DEC, while players get their hand at expensive decks to play in high leagues and earn DEC without up-front investment. Over time, the players can then use the DEC to get their own cards on the market. I see a huge potential in that and a great win-win for both parties, which additionally creates demand for cards on the market, to create a passive income like this.
The future of Splinterlands looks brilliant.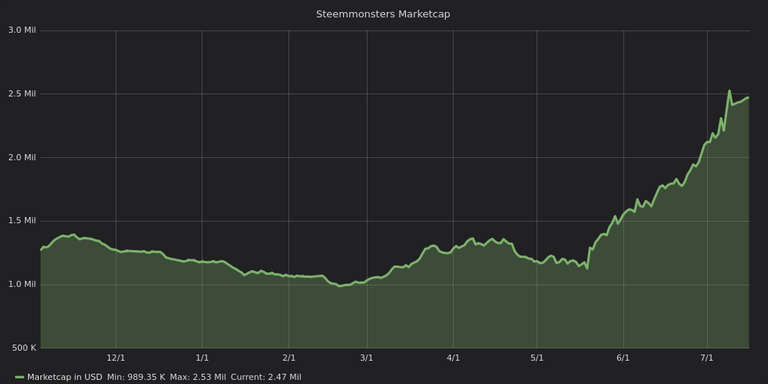 Splinterlands card market cap from today.

This post and all your comments are eligible for the following upvotes:
---
---