Overview delegations given in the season so far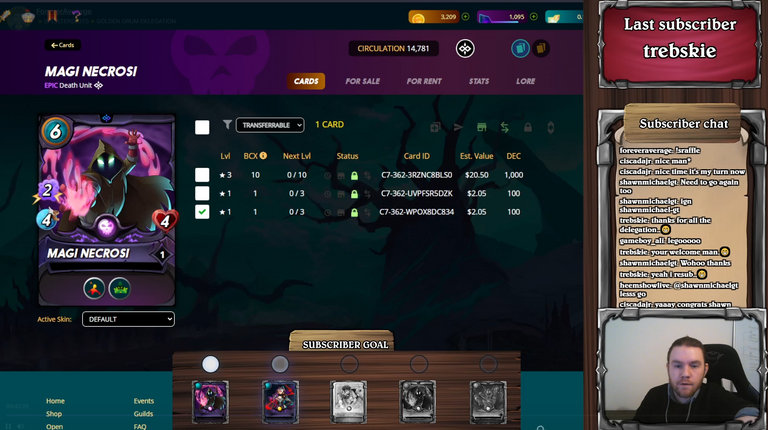 Hey everyone,
For those of you that don't know me I'm foreveraverage, a Splinterlands streamer that streams mostly content revolving around Splinterlands card delegations. If you want to get your hand on some "juicy delegations" or you want to support me, please do check out my stream: https://www.twitch.tv/foreveraverage. Give me that follow and join us in chat when I'm live :)
The delegations always last until the next season has started so they count for your EOS rewards.
For this season we're almost halfway and I wanted to give you guys a bit of an overview about the delegations I'm done. Do note that not all delegations are from the stream as this list also includes delegations I've done to my mods as well as delegations I've done on some my fellow streamer's streams
| Card | Level | BCX | CP | Delegated to |
| --- | --- | --- | --- | --- |
| Lava LauncherC3-333-ZV28QNJ3A8 | Level 1 (XP 1) | 1 | 100 | @ajeshc11 |
| Djinn OshannusC3-339-QYJ5B7IYTS | Level 1 (XP 1) | 1 | 500 | @ajeshc11 |
| ArmorsmithG2-118-Q73QK98MWG | Level 4 (XP 200) | 1 | 1500 | @ankiller |
| Lava LauncherC3-333-ZJNBOZYI1S | Level 1 (XP 1) | 1 | 100 | @ankiller |
| Djinn RenovaC3-345-VX0GBIMOZK | Level 1 (XP 1) | 1 | 100 | @ankiller |
| ArmorsmithG2-118-U410OAI5AO | Level 4 (XP 200) | 1 | 1500 | @aya-gwyneth |
| Lava LauncherC3-333-OSO00Y46TS | Level 1 (XP 1) | 1 | 100 | @aya-gwyneth |
| ArmorsmithG2-118-YSD9UHGK74 | Level 4 (XP 200) | 1 | 1500 | @b3npurple |
| ArmorsmithG2-118-IS58FVMCSG | Level 4 (XP 200) | 1 | 1500 | @bluepenguin |
| Djinn BiljkaC3-336-VQ0S898UF4 | Level 1 (XP 1) | 1 | 500 | @bluepenguin |
| ArmorsmithG2-118-YO0PA0M7WW | Level 4 (XP 200) | 1 | 1500 | @caminomechilles |
| Lava LauncherC3-333-6BLQA8LC4G | Level 1 (XP 1) | 1 | 100 | @caminomechilles |
| Uriel the PurifierC7-444-QY1XBFFZF4 | Level 1 (XP 1) | 1 | 500 | @cmmndrbawang |
| Djinn OshannusC3-339-Z3Y1I0S19S | Level 1 (XP 1) | 1 | 500 | @davethegreat |
| Djinn RenovaC3-345-HM8QAOB1I8 | Level 1 (XP 1) | 1 | 100 | @davethegreat |
| Ruler of the SeasC3-98-K42WS2WLPS | Level 1 (XP 0) | 1 | 1500 | @dedman19 |
| Lava LauncherC3-333-B4SEVEMTFK | Level 1 (XP 1) | 1 | 100 | @dedman19 |
| Djinn RenovaC3-345-CCIMU402EO | Level 1 (XP 1) | 1 | 100 | @dedman19 |
| Lava LauncherC3-333-UYZAXAG68G | Level 1 (XP 1) | 1 | 100 | @desertjoe |
| Ruler of the SeasC3-98-DINWV1MZCG | Level 2 (XP 1500) | 3 | 4500 | @domicle |
| ArmorsmithG2-118-ZPOWFE8OCG | Level 4 (XP 200) | 1 | 1500 | @domicle |
| Lava LauncherC3-333-1H3LFS5WI8 | Level 1 (XP 1) | 1 | 100 | @domicle |
| Djinn RenovaC3-345-T6SE5PPDZ4 | Level 1 (XP 1) | 1 | 100 | @domicle |
| Djinn RenovaC3-345-09O15YDSGW | Level 1 (XP 1) | 1 | 100 | @domicle |
| Djinn RenovaC3-345-ZWDQK7ZD4G | Level 1 (XP 1) | 1 | 100 | @dstampede |
| Djinn BiljkaC3-336-Y5D1E4W0LC | Level 1 (XP 1) | 1 | 500 | @flamescorpion |
| Ruler of the SeasC3-98-MTR9SSTXU8 | Level 1 (XP 0) | 1 | 1500 | @gameboyali |
| Phantom of the AbyssC4-177-BCHBXGPASW | Level 1 (XP 1) | 1 | 1000 | @gameboyali |
| Scarred Llama MageC4-278-KDV026P1TS | Level 1 (XP 1) | 1 | 1000 | @gameboyali |
| ArmorsmithG2-118-B1V7R3G6PC | Level 4 (XP 200) | 1 | 1500 | @ghettomozart |
| ArmorsmithG2-118-MW6NDO02AO | Level 4 (XP 200) | 1 | 1500 | @godly-rich |
| Djinn RenovaC3-345-6O3T0WB2C0 | Level 1 (XP 1) | 1 | 100 | @godly-rich |
| Fungus FiendC7-380-XQDN67CKMO | Level 1 (XP 1) | 1 | 500 | @godly-rich |
| Ruler of the SeasC3-98-KCBS9QZYR4 | Level 1 (XP 0) | 1 | 1500 | @heemshowlive |
| Kron the UndyingG4-188-R2KRM8MZN4 | Level 2 (XP 1) | 1 | 50000 | @heemshowlive |
| ArmorsmithG2-118-ZVTXJO3IY8 | Level 4 (XP 200) | 1 | 1500 | @jdike |
| Djinn RenovaC3-345-8ZFOR6O980 | Level 1 (XP 1) | 1 | 100 | @ketchup177 |
| ArmorsmithG2-118-3NNKGE08OW | Level 4 (XP 200) | 1 | 1500 | @liz026 |
| Djinn RenovaC3-345-SUUTHASYPS | Level 1 (XP 1) | 1 | 100 | @liz026 |
| Djinn RenovaC3-345-TKIBVC7EQO | Level 1 (XP 1) | 1 | 100 | @liz026 |
| Djinn OshannusC3-339-QUBSV4B6F4 | Level 1 (XP 1) | 1 | 500 | @lukilux |
| Djinn RenovaC3-345-7FT4UGNF28 | Level 1 (XP 1) | 1 | 100 | @lukilux |
| Djinn RenovaC3-345-RT5C44D2TC | Level 1 (XP 1) | 1 | 100 | @lukilux |
| Ruler of the SeasC3-98-RQ8HJBTE4W | Level 1 (XP 0) | 1 | 1500 | @magooz |
| Ruler of the SeasC3-98-QGHW9G3RXC | Level 1 (XP 0) | 1 | 1500 | @middle-earthling |
| ArmorsmithG2-118-Y0HLXUU6A8 | Level 4 (XP 200) | 1 | 1500 | @myeong |
| Lava LauncherC3-333-7FC7CLMA34 | Level 1 (XP 1) | 1 | 100 | @myeong |
| Djinn RenovaC3-345-7M02RMNIMO | Level 1 (XP 1) | 1 | 100 | @myeong |
| Lira the DarkC7-445-WSY934RTHC | Level 1 (XP 1) | 1 | 500 | @myeong |
| ArmorsmithG2-118-3HIXO8ICV4 | Level 4 (XP 200) | 1 | 1500 | @nicotronik |
| Lava LauncherC3-333-U0G7B1L1JK | Level 1 (XP 1) | 1 | 100 | @nicotronik |
| Djinn RenovaC3-345-0OIER8GR4G | Level 1 (XP 1) | 1 | 100 | @nicotronik |
| Ruler of the SeasC3-98-QBB0QEP6DC | Level 1 (XP 0) | 1 | 1500 | @olaf.gui |
| ArmorsmithG2-118-5IYI4REU8G | Level 4 (XP 200) | 1 | 1500 | @olaf.gui |
| Phantom of the AbyssC4-177-CBAUVVAIB4 | Level 1 (XP 1) | 1 | 1000 | @olaf.gui |
| Lava LauncherC3-333-90XG9AEMDS | Level 1 (XP 1) | 1 | 100 | @olaf.gui |
| Djinn RenovaC3-345-07IP3BDF7K | Level 1 (XP 1) | 1 | 100 | @olaf.gui |
| Djinn RenovaC3-345-C6JE7Z81MO | Level 1 (XP 1) | 1 | 100 | @olaf.gui |
| ArmorsmithG2-118-P7BKRF8SHS | Level 4 (XP 200) | 1 | 1500 | @pat1x |
| Magi NecrosiC7-362-WPOX8DC834 | Level 1 (XP 1) | 1 | 100 | @pat1x |
| Lira the DarkC7-445-WKLA5GQGF4 | Level 1 (XP 1) | 1 | 500 | @pat1x |
| Grum FlamebladeG7-447-8TMJ42UULC | Level 2 (XP 1) | 1 | 12500 | @rakhmen |
| Ruler of the SeasC3-98-AT4ERQCJC0 | Level 2 (XP 1500) | 3 | 4500 | @shawnmichael-gt |
| Djinn RenovaC3-345-7OTVE83HGW | Level 1 (XP 1) | 1 | 100 | @shawnmichael-gt |
| BaakjiraC7-443-VIBBTKGO74 | Level 1 (XP 1) | 1 | 500 | @shawnmichael-gt |
| Ruler of the SeasC3-98-M7P5HEFM9S | Level 1 (XP 0) | 1 | 1500 | @sideswipe81 |
| Ruler of the SeasC3-98-IMJ45ZG5KW | Level 1 (XP 0) | 1 | 1500 | @sideswipe81 |
| Lava LauncherC3-333-YMZMM1NWC0 | Level 1 (XP 1) | 1 | 100 | @sideswipe81 |
| Djinn OshannusC3-339-S8QSZ06YC0 | Level 1 (XP 1) | 1 | 500 | @sideswipe81 |
| Ruler of the SeasC3-98-V505UZIRZK | Level 1 (XP 0) | 1 | 1500 | @smurf3r |
| Phantom of the AbyssC4-177-Z4IW6XKRUO | Level 1 (XP 1) | 1 | 1000 | @smurf3r |
| Ruler of the SeasC3-98-RZP0END1N4 | Level 1 (XP 0) | 1 | 1500 | @usamaro |
| Phantom of the AbyssC4-177-YH8ICMYEWG | Level 1 (XP 1) | 1 | 1000 | @usamaro |
| Ruler of the SeasC3-98-RSJWMQ4PGG | Level 1 (XP 0) | 1 | 1500 | @virimenv |
| ArmorsmithG2-118-ZGLKC0HSHS | Level 4 (XP 200) | 1 | 1500 | @virimenv |
| Ruler of the SeasC3-98-RXH0AH8UQO | Level 1 (XP 0) | 1 | 1500 | @zitron |
| Phantom of the AbyssC4-177-P2NJXSAL5C | Level 1 (XP 1) | 1 | 1000 | @zitron |
This gives us a total of 125400 CP delegated to 34 different players. With @heemshowlive grabbing the golden Kron delegation (50000CP) and @darthwolfgaming taking the golden Grum delegation (12500CP)
I'm going to take a moment here to thank everyone tuning into the stream. A big shoutout to my subs and all of you supporting the stream one way or the other. It's thanks to you that I'm able to help out the other players <3
---
---