Splinterlands Social Media Challenge! ĐƗVƗĐɆ & ȻØNꝖᵾɆɌ

Hello Splinterfam and everyone in the Hive Community...
Hope this entry finds you in great condition.
It's been a while since I last joined the Splinterlands Social Media Challenge and as far as I can remember this is actually the second entry I've made with regards to this challenge.
For this challenge I will use one of the battle that transpired using my alt account...


ɌᵾŁɆSɆŦ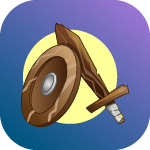 RISE OF THE COMMONS
Only Common and Rare Monsters may be used in battles.
Make a balanced team. Focus your attacks on a specific opponent's monster.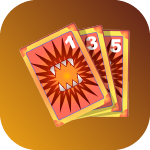 ODD ONES OUT
Only Monsters with odd Mana costs may be used in battles.
There are no special tricks for this ruleset, but having an idea of mana points of a few monsters helps in predicting what your opponent can and cannot use.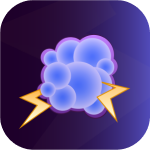 WANDS OUT
Only Monster with Magic attacks may be used in battles


ŁƗNɆ ᵾⱣ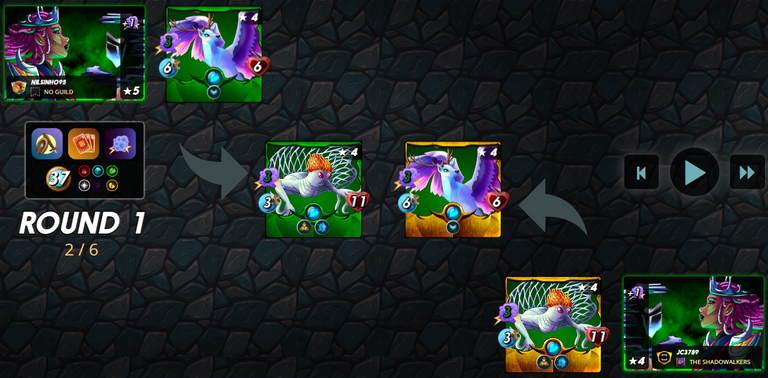 Kindly click the link to see the battle.
SᵾMMØNɆɌ: ØɃSƗĐƗȺN
I picked this summoner since it can buff my chosen monsters with an additional magic attack power. I should have chosen Immortalis if its available...unfortunately, it isn't...I do not have it in my arsenal at the moment of the battle nor at the time of writing. Also, the given ruleset didn't gave me much room to choose which summoner I can use since if I picked the other, the monsters that will be available to battle will be kind of underpowered and wouldn't stand much of a chance. So there it goes, I present to you, Obsidian, the one tasked to summon my magical monsters.
ɃȺŦŦŁƗNǤ MØNSŦɆɌS
In this battle, I didn't have much to choose from in my arsenals. I only have two monsters available: Regal Peryton and Mycelic Slipspawn. I only needed to maximize the my team by putting them in their rightful place so as to give me an advantage. In that sense, I picked Regal Peryton as my Tank while Mycelic Slipspawn gets the 2nd Slot.
ɌɆǤȺŁ ⱣɆɌɎŦØN
I picked this monster as my Tank because I planned the enemy monsters to focus their attacks on Mycelic Slipspawn. This way the attacks of the enemy monsters wouldn't be focused on my Tank alone. My Tank will be able to survive much longer.
MɎȻɆŁƗȻ SŁƗⱣSⱣȺWN
This monster has high health points making it able to withstand the brunt of attacks from the enemy monsters while dealing damage to the enemy in return.
Click the highlighted word above to be redirected to the battle.
Upon seeing the monsters when they took the battlefield I felt a little at ease since I thought that I will have a hard time in this match due to the availability of monsters in my arsenals. It seems me and my opponent is in the same boat...not having much options to choose from. We picked the same summoner and monsters. The only noticeable difference is in our placement of monsters.
The battle started with an attack from my Regal Peryton since my Tank is much faster than the opponent's Tank. The exchange of powerful blows was too damaging that it left my Tank with half the health points of when the battle started. Both of my monsters took severe damage while the enemy monsters has only its Tank received fatal blows and its secondary monster's health point still intact or undamaged.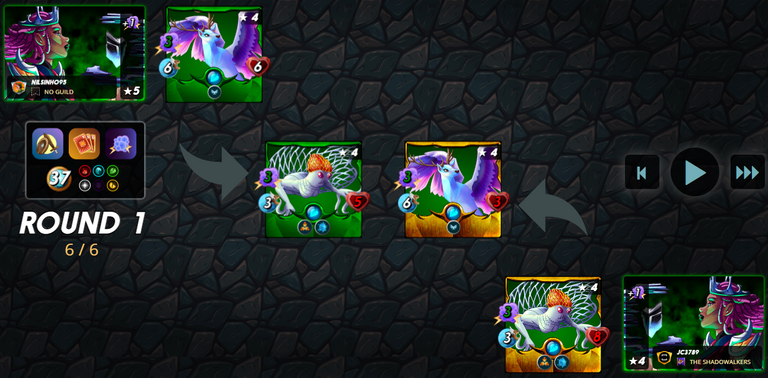 At this point, I can say my plan is working well. The focus of attacks is shifted away from my Tank while my monsters attacks focuses only the enemy's forwardmost monster.
In the 2nd Round, the opponent's Tank was finally killed with a combined attack from my monsters while my Tank was killed in the early stage of the 3rd Round...Watch the clip and see how both Tanks were killed and removed from the battlefield.


There is now one monster left on each side...Well, that should be obvious, right, since there were only two monsters on each team and the both Tanks were killed earlier as you all have witnessed in the short clip.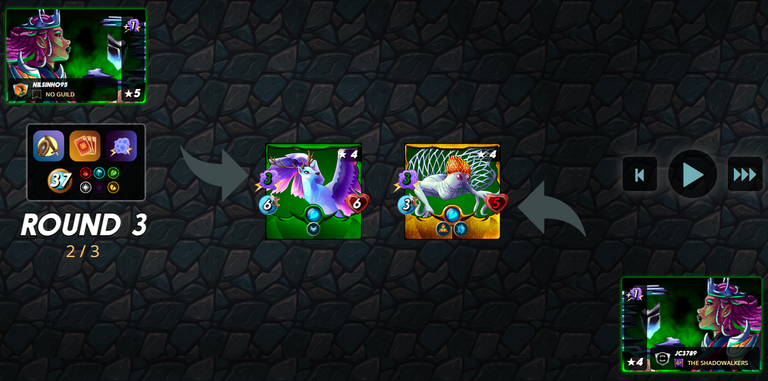 Looking at the still image it seems that I am on the losing end...but...wait there is a but...🤣🤣🤣...
Did you all notice what stage of the round it is? Yeah, right. The enemy's current Tank is the faster one and I seem to be on the losing end. If the current round will start from what you can see on the image, I will surely be the one suffering from defeat.
I ask you to watch the clip again...You can clearly see at the end that the enemy's Tank hit my Tank when the current round started. That action gave me the advantage I needed. The first strike of the faster monster before the round starts had been used killing my Tank as a result. The remaining monsters is about to face each other on the deadly duel and my side have the advantage to strike next. It is a magic battle. All attacks is sure to hit its target and deal life-threatening blows...
I present you the last two rounds of the battle below.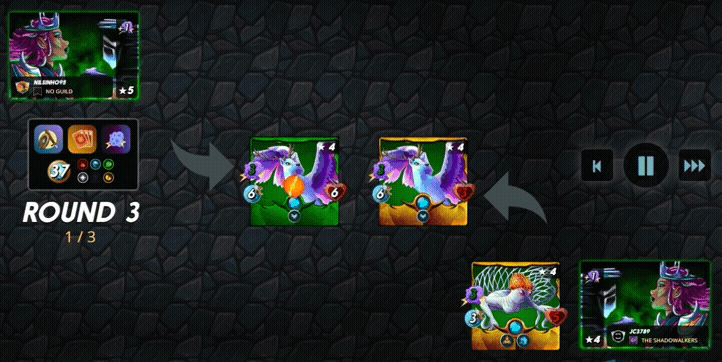 Divide and Conquer is a tactic employed in most battles since time immemorial. It weakens an enemy's attack and divide their focus and attention. I have once again witnessed its power and the advantage it brings.
That's it for my entry.
Hope you liked it as much as I did.
Thank you.
Should you decide to try and play Splinterlands, kindly click this link and register an account. Hoping to see you on the battlefield.
Be a part of an amazing Discord Community here. Everyone is nice there...You'll surely feel at home.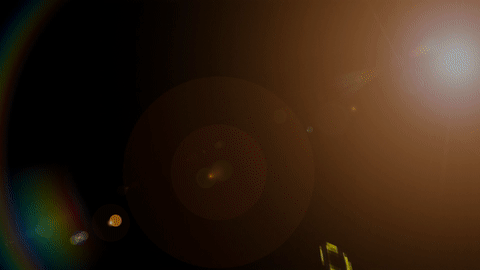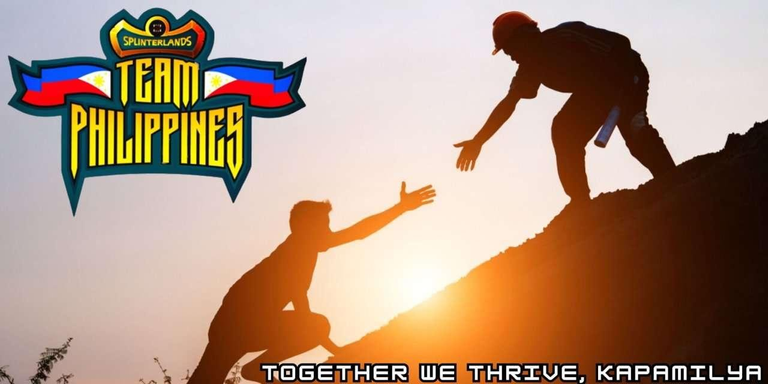 ---
---