BATTLE MAGE SECRETS Weekly Challenge: AIMLESS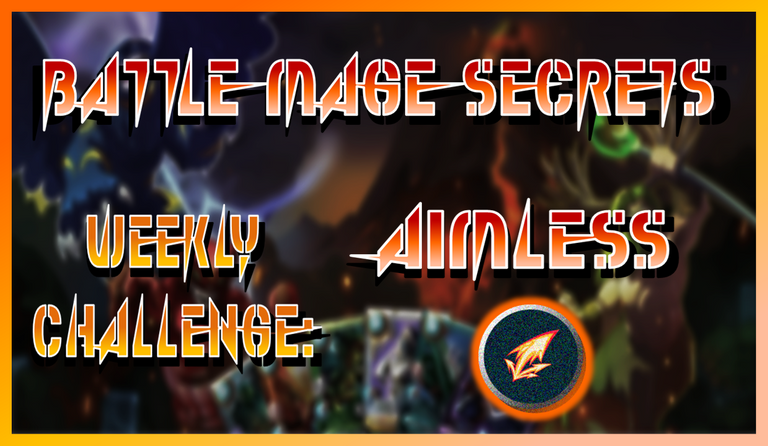 Another week and another Splinterlands challenge, being this time the chosen "Battle Rule": AIMLESS, which consists of granting the "Scattershot" ability to all the cards that are on the battlefield and this ability ("Scattershot") forces the "Range Attack" and "Magic Attack" cards to attack enemies randomly, as simple as that. I still consider this new challenge is not very well thought out, as it can take quite a while to be assigned the specific Battle Rule of the challenge, since the randomness of the selection of the "Battle Rules" is very high, I think they should consider that, but anyway. This is the battle of the day with the challenge rule: BATTLE MAGE SECRETS Weekly Challenge: AIMLESS.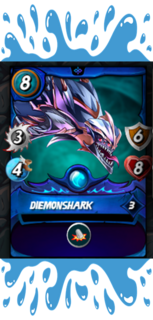 In first position I placed DIEMONSHARK, a very powerful Melee card capable of resisting a considerable amount of enemy damage. Being in LVL 3, it has excellent defensive stats such as: Six (6) shield points and eight (8) health points, making this card an excellent choice to be placed in this first position.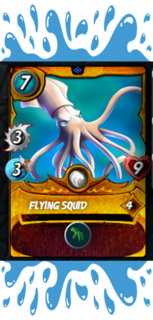 Meanwhile in second position and having one of my favorite abilities: "Reach", is: FLYING SQUID. A card that I always like to use in combination with DIEMONSHARK, as I think these two cards offensively complement each other very well. They are in LVL 4, FLYING SQUID has both offensive and defensive skills very good, capable of resisting considerable damage, although it does not have defensive stats such as shields, being this an aspect that could further increase its resistance in battle.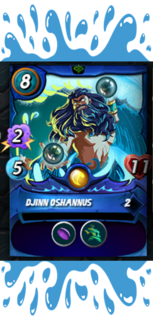 Occupying the third position is the Magic Attack type card: DJINN OSHANNUS, which I consider to be one of the best cards in the WATER deck, since it is capable not only of resisting a good amount of physical damage, but it is also capable of resisting even more Magic damage, and it is also a very fast card with five (5) points of speed.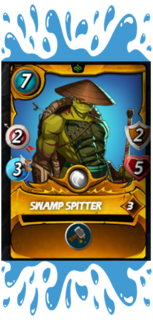 In fourth position is one of my most recent favorite cards and being one of the new rewards cards: SWAMP SPITTER is a Rank Attack type card which has the ability "Repair", being this an ability that in various situations is very useful, in addition, its design inspired by the TEENAGE MUTANT NINJA TURTLES, makes it in terms of design one of my favorite cards of this new set of cards.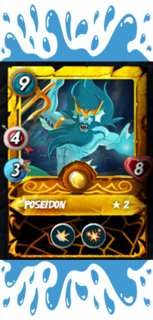 Occupying the penultimate position is my second Golden Legendary card I got: POSEIDON, a card that I keep with much sentimental value for being what it is and besides that, it is a card whose value in battle is very high, being a Rank Attack type card has very good stats, it is also a card that can resist some enemy attacks and can also cause much damage, not only for its basic attacks, but also has the ability "Blast", which makes this card doubly offensive.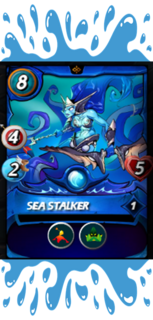 And to close this formation, occupying the last position is the card: SEA STALKER, which I have been using a lot in my battles, I have always liked the cards that have the ability "Snipe"; but also this card has the ability "Camouflage", so it can go unnoticed almost throughout the battle and thus cause great damage to the cards of my opponent.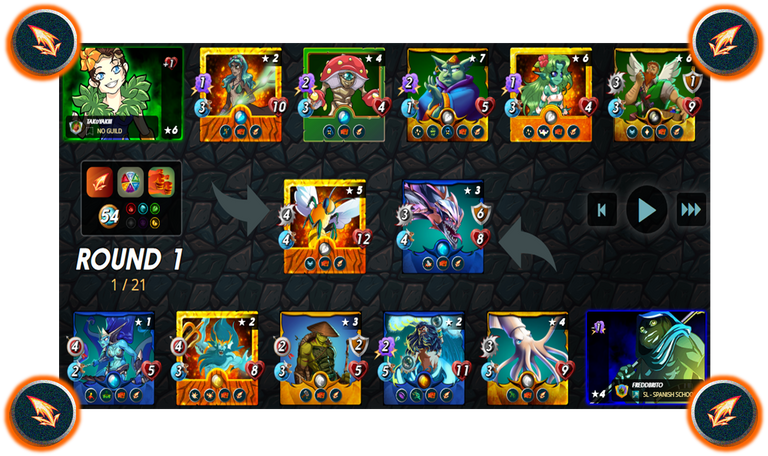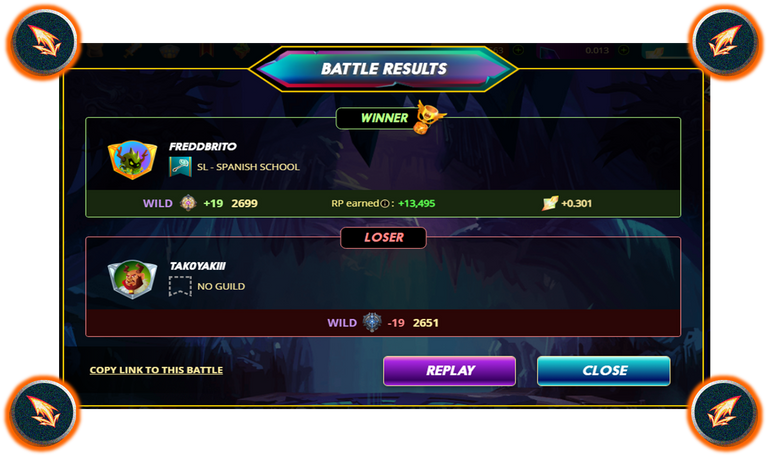 BATTLE

Otra semana y otro reto de Splinterlands, siendo esta vez la "Regla de Batalla" elegida: AIMLESS, la cual consiste en que otorgar la habilidad "Scattershot" a todas las cartas que se encuentren en el campo de batalla y esta habilidad ("Scattershot") obliga a las cartas de tipo "Ataque de Rango" y "Ataque Mágico" a atacar enemigos aleatoriamente, así de simple. Aun considero este nuevo reto que no está muy bien pensando, ya que para que se te sea asignada la Regla de Batalla especifica del reto pueden tardar un buen rato, ya que la aleatoriedad de la selección de las "Reglas de Batalla" es muy elevada, creo que deberían considerar eso, pero en fin. Esta es la batalla del día con la regla del reto: BATTLE MAGE SECRETS Weekly Challenge: AIMLESS.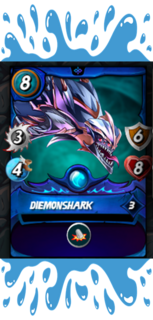 En primera posición coloque a DIEMONSHARK, una carta del tipo Melee bastante poderosa y capaz de resistir una considerable cantidad de daño enemigo. Estando en LVL 3, cuenta con excelentes stats defensivos como: Seis (6) puntos de escudo y ocho (8) puntos de vida, convirtiendo esta carta es una excelente opción para ser colocaba en esta primera posición.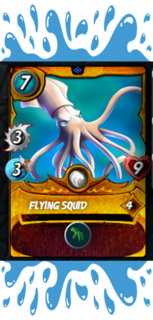 Mientras tanto en segunda posición y teniendo unas de mis habilidades favoritas: "Reach", se encuentra: FLYING SQUID. Una carta que siempre me gusta utilizar en combinación con DIEMONSHARK, ya que creo que estas dos cartas ofensivamente se complementan muy bien. Están ando en LVL 4, FLYING SQUID cuenta tanto con habilidades ofensivas y defensivas muy buenas, capaz de resistir un daño considerable, aunque no cuenta con stats defensivos como escudos, siendo este un aspecto que pudiera aumentar más su resistencia en batalla.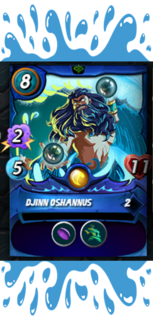 Ocupando la tercera posición se encuentra la carta de tipo Ataque Mágico: DJINN OSHANNUS, la cual considero que es una de las mejores cartas del mazo WATER, ya que es capaz no solo de resistir una buen cantidad de daño físico, sino que también es capaz de resistir aún más el daño del tipo Mágico, además es un carta bastante rápida contando con cinco (5) puntos de velocidad.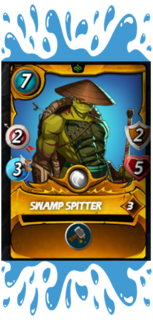 En cuarta posición se encuentra una de mis más recientes cartas favoritas y siendo una de las nuevas cartas rewards: SWAMP SPITTER es una carta del tipo Ataque de Rango la cual cuenta con la habilidad "Repair", siendo esta una habilidad que en diversas situaciones es de gran utilidad, además, su diseño inspirado en las TEENAGE MUTANT NINJA TURTLES, la hace en cuanto a diseño una de mis cartas favoritas de este nuevo set de cartas.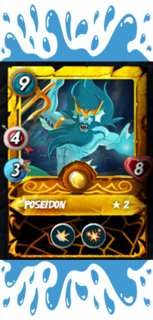 Ocupando la penúltima posición se encuentra mi segunda carta Legendaria Dorada que obtuve: POSEIDON, una carta que guardo con mucho valor sentimental por ser lo que es y además de eso, es una carta cuyo valor en batalla es muy elevado, siendo una carta del tipo Ataque de Rango cuenta con stats muy buenos, igualmente es una carta que puede resistir algunos ataques enemigos y también puede causar mucho daño, no solo por sus ataques básicos, sino que también cuenta con la habilidad "Blast", lo que hace esta carta doblemente ofensiva.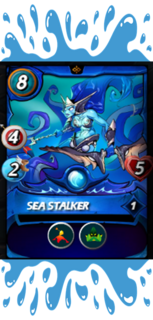 Y para cerrar esta formación, ocupando la última posición se encuentra la carta: SEA STALKER, la cual he estado utilizando bastante en mis batallas, siempre me han gustado las cartas que tengan la habilidad "Snipe"; pero también esta carta posee la habilidad "Camouflage", por lo que puede pasar desapercibida casi durante toda la batalla y de esta manera causar un gran daño a las cartas de mi contrincante.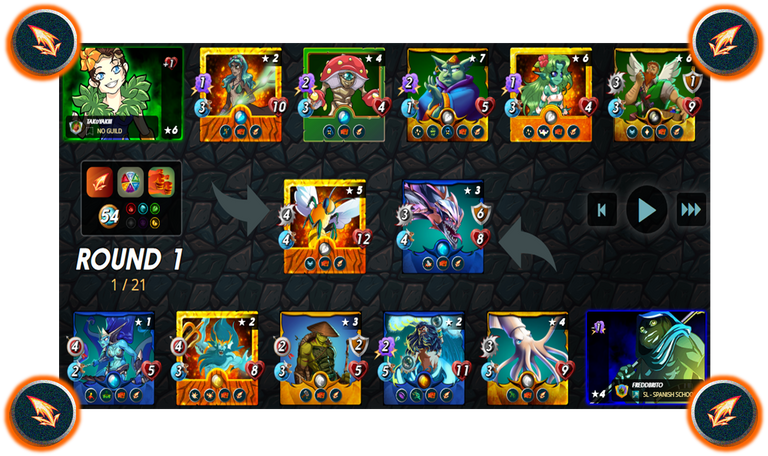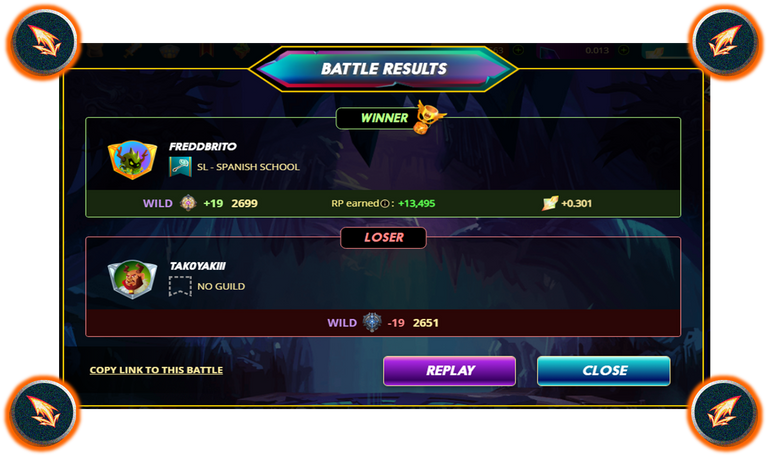 BATTLE
---
---