Battles of The Day: Coastal Nymph [ENG - ESP]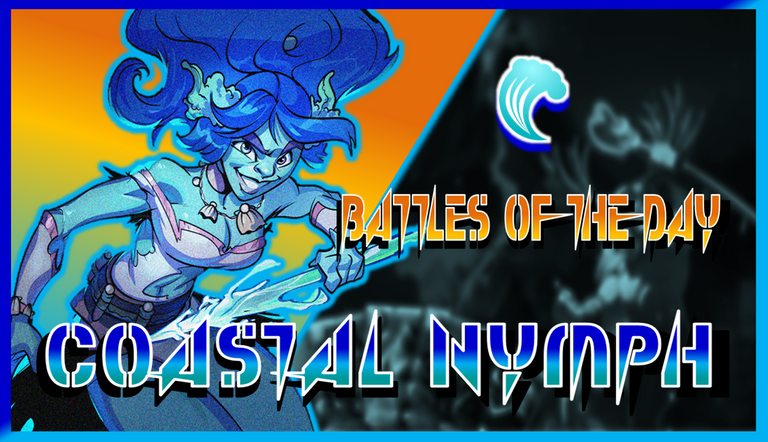 This is undoubtedly the worst season I've had in years, I had never been down to the SILVER league and not being able to climb to gold for several years and this is the fault of a lot of bots that thrive throughout Splinterlands and no one does anything about it. But anyway, I'm just a simple player who has no voting power in this game and I just wanted to vent a little about the lousy situation in the game. So leaving that aside, today's featured card belongs to the Riftwatchers expansion, an expansion which I have few cards in my collection, although there are some I would like to have in my collection. Coastal Nymph is the protagonist card of today's post, a card of the WATER deck and of the Rank Attack type, which has a set of both defensive and offensive stats really good, which makes this card relatively powerful, although as this type of cards are characterized is that they have a fairly high mana value cost. So, today's battles with Coastal Nymph are the following: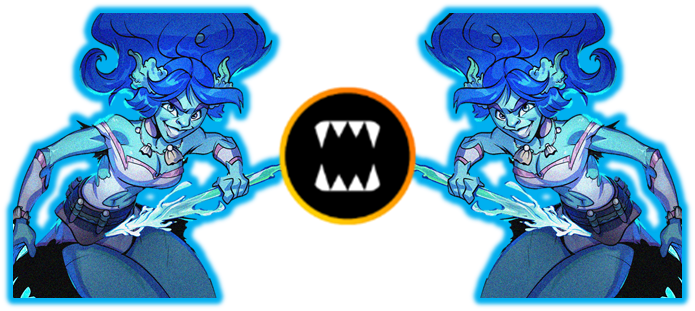 In today's two battles I focused mostly on Rank Attack type cards, especially in this first battle, with a total of four (4) Rank Attack type cards on the battlefield. The strategy for this first battle was as follows: In first position I placed the Melee type card DIEMONSHARK, which is a really powerful card both offensively and defensively, counting with a large amount of life points and shield, so it is quite resistant, in addition, in its offensive level is a very dangerous card. In second position is: FLYING SQUID, which with his ability "Reach" I consider that along with DIEMONSHARK are a duo that I consider quite good, besides also having pretty good general stats. The next positions are composed by cards of the Rank Attack type, being the first of them and occupying the third position is one of my new favorite rewards cards: SWAMP SPITTER, whose ability "Repair" is what makes me like to use this card a lot, besides, in general, it is a very useful card in battle because of its stats.

The next card in formation and occupying the fourth position is: SEA STALKER, which is a card that I really do not use much in my battles and although it has a pretty good ability, which is "Camouflage" are very few times I have used this card since I have it in my collection, perhaps if I were to improve it and raise the LVL I could use it more often, however, in this battle it was very useful. In the penultimate position is the protagonist card of today: COASTAL NYMPH, I like this card both in terms of design and in terms of playability and usefulness in battle, it is a very complete card in general in terms of offensive and defensive stats. And to close this formation in last position is: NAGA WINDMASTER, whose ability to counter the attack of the cards of the Rank Attack type is quite good, although in this particular battle was not very useful.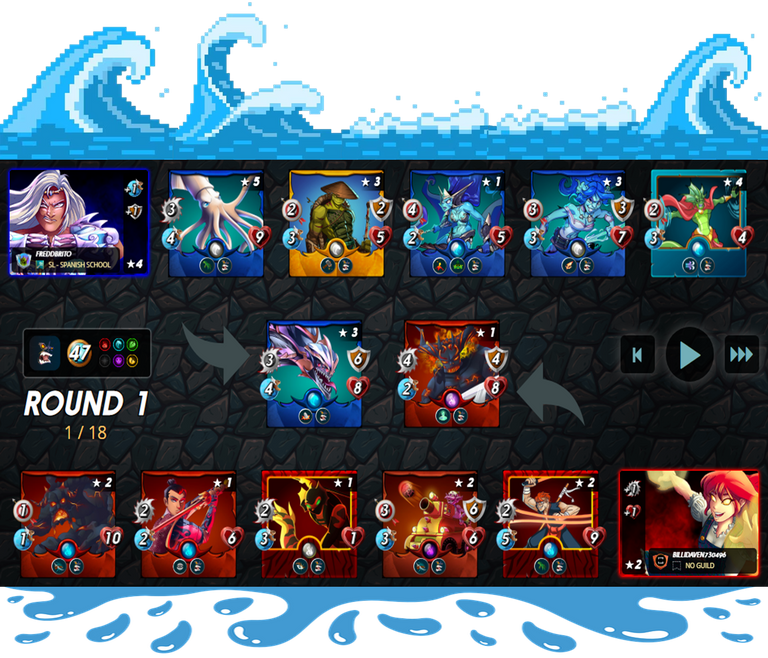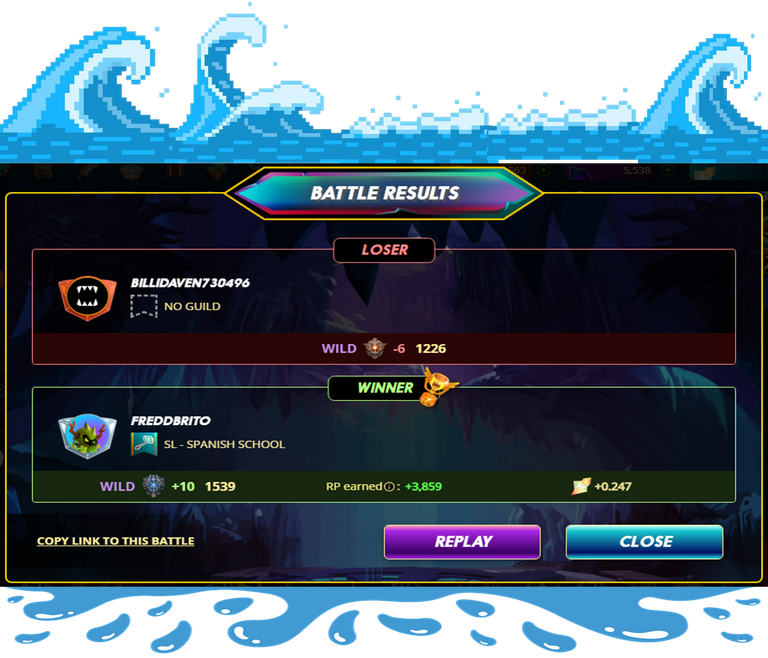 BATTLE 1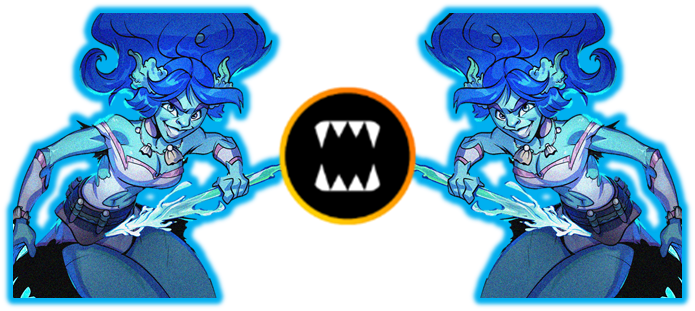 In this second battle the strategy is different, only repeating two cards that were in the previous formation. Although as in the first battle, in this second battle is also composed mostly by cards of the Rank Attack type, being the formation for this second battle the following: In first position is the oldest card of this formation: SEA MONSTER, a pretty good card that has the ability "Heal" and with a very high level of life points, but in addition, this card has a fairly high attack level, so taking damage from this card is almost a death sentence. In second position is the only card of the Magic Attack type, which is: VENARI WAVESMITH and its ability "Protect" is one of the reasons why I like to use this card, because the ability of VENARI WAVESMITH together with the ability of the card that is in third position, which is: SWAMP SPITTER, make a pretty good combination.

In fourth position is the protagonist card of today: COASTAL NYMPH, the only negative aspect I have about this card is its high mana cost, costing nine (9) mana points, so you have to manage well the amount of mana if you want to use this card. In penultimate position is: SUPPLY RUNNER, whose ability "Swiftness" is very useful for SEA MONSTER, since its speed is quite low. And to close the formation in the last position is the classic card: FURIOUS CHICKEN.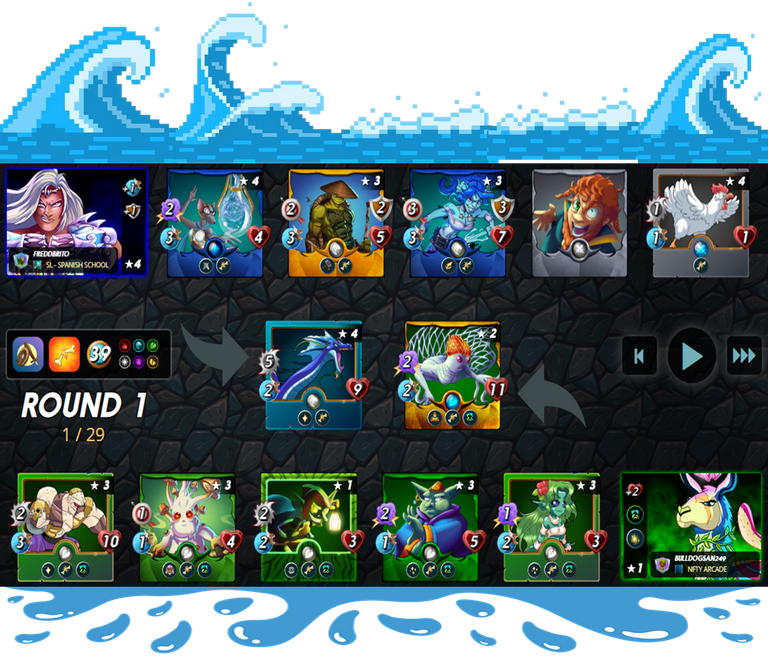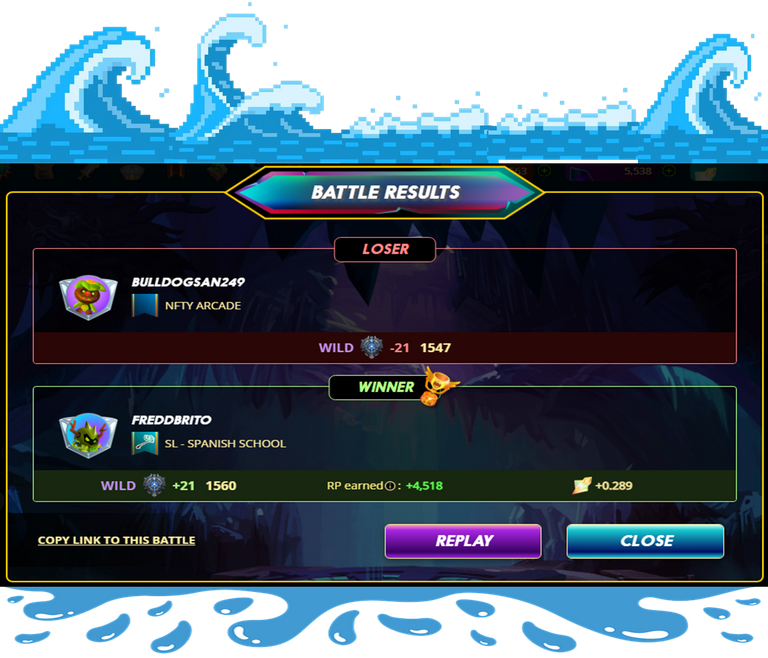 BATTLE 2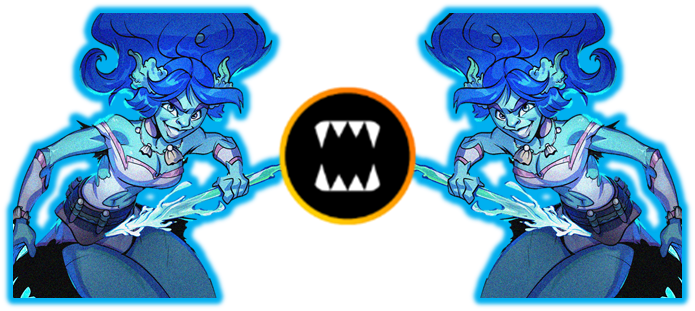 Esta es sin dudas la peor temporada que he tenido en años, nunca había bajado a la liga PLATA y no poder subir a oro desde hace varios años y esto es culpa del montón de bots que prosperan en todo Splinterlands y nadie hace nada al respecto contra eso. Pero en fin, yo soy solo un simple jugador que no tiene poder de voto en este juego y tan solo me quería descargar un poco sobre la pésima situación que hay en el juego. Así que dejando eso a un lado, la carta protagonista de hoy pertenece a la expansión de Riftwatchers, una expansión la cual tengo pocas cartas en mi colección, aunque hay algunas que me gustaría tener en m colección. Coastal Nymph es la carta protagonista de post de hoy, una carta del mazo WATER y del tipo Ataque de Rango, la cual cuenta con un conjunto de stats tanto defensivos y ofensivos realmente buenos, que hace que esta carta sea relativamente poderosa, aunque como se caracterizan este tipo de cartas es que tienen un coste de valor en mana bastante elevado. Por lo que, las batallas del día de hoy con Coastal Nymph son las siguientes: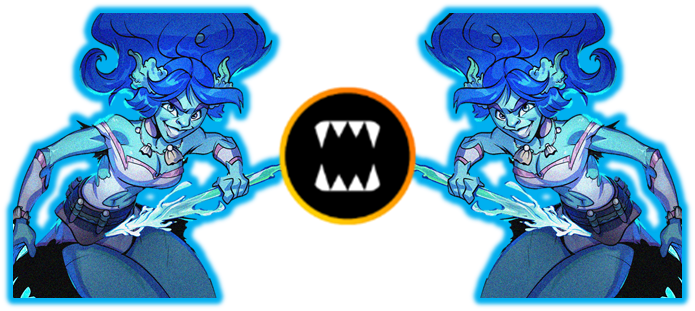 En las dos batallas del día de hoy me enfoqué en su mayoría en cartas del tipo Ataque de Rango, especialmente en esta primera batalla, siendo en total unas cuatro (4) cartas del tipo Ataque de Rango en el campo de batalla. Siendo la estrategia para esta primera batalla la siguiente: En primera posición coloqué a la carta del tipo Melee DIEMONSHARK, la cual es una carta realmente poderosa tanto a nivel ofensivo y a nivel defensivo, contando con una gran cantidad de puntos de vida y escudo, por lo que es bastante resistente, además, en su nivel ofensivo es una carta muy peligrosa. En segunda posición se encuentra: FLYING SQUID, la cual con su habilidad "Reach" considero que junto con DIEMONSHARK son una dupla que considero bastante buena, además de también contar con stats generales bastante buenos. Ya en las siguientes posiciones están compuestas por cartas del tipo Ataque de Rango, siendo la primera de ellas y ocupando la tercera posición se encuentra una de mis nuevas cartas rewards favoritas: SWAMP SPITTER, cuya habilidad "Repair" es lo que hace que esta carta me guste mucho utilizar, además, a nivel general, es una carta muy útil en batalla por sus stats.

La siguiente carta en formación y ocupando la cuarta posición se encuentra: SEA STALKER, la cual es una carta que realmente no utilizo mucho en mis batallas y aunque tiene una habilidad bastante buena, la cual es "Camouflage" son muy pocas veces las que he usado esta carta desde que la tengo en mi colección, quizás si llegase a mejorarla y subirla de LVL la podría utilizar más seguido, sin embargo, en esta batalla fue muy útil. En la penúltima posición se encuentra la carta protagonista del día de hoy: COASTAL NYMPH, esta carta me gusta bastante tanto a nivel de diseño como a nivel de jugabilidad y utilidad en batalla, es una carta muy completa a nivel general en lo que respecta a stats ofensivos y defensivos se refiere. Y para cerrar esta formación en ultima posición se encuentra: NAGA WINDMASTER, cuya habilidad para contrarrestar el ataque de las cartas del tipo Ataque de Rango es bastante buena, aunque en esta batalla en particular no fue de gran utilidad.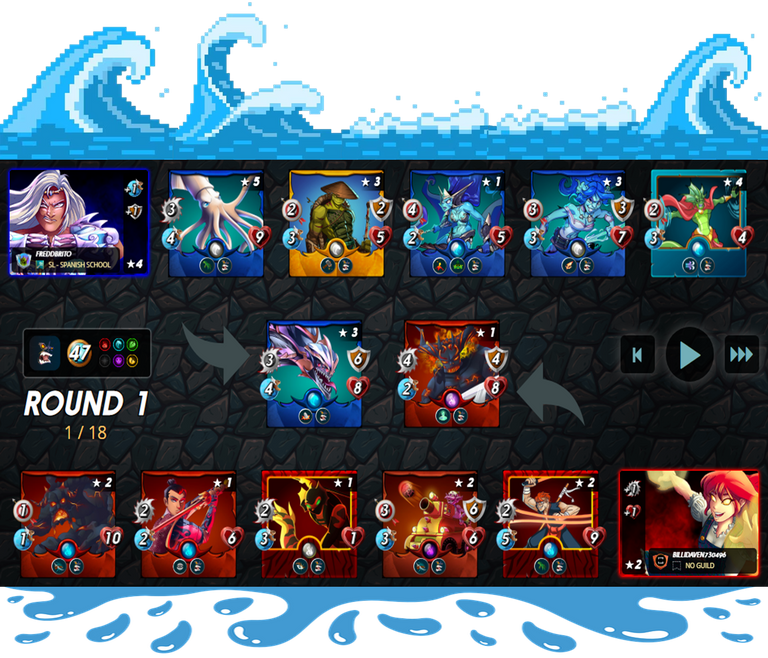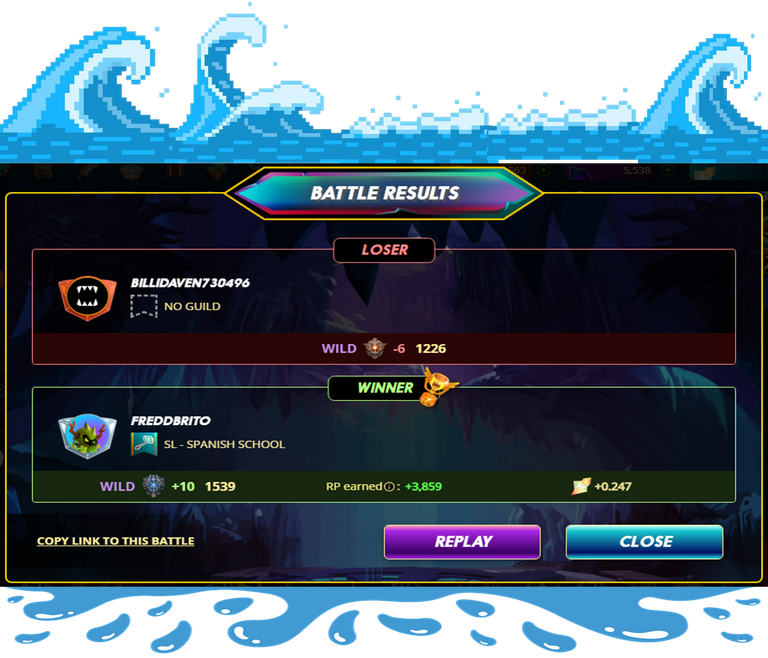 BATTLE 1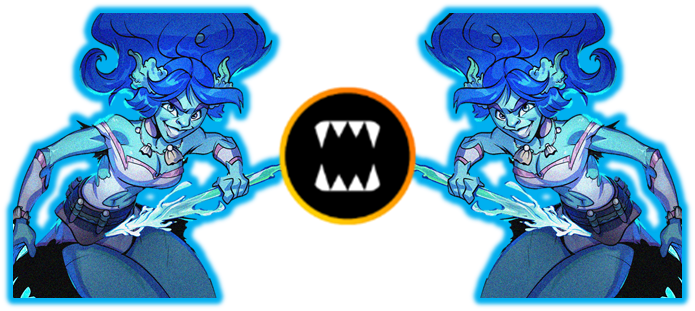 En esta segunda batalla la estrategia es diferente, tan sola repitiendo dos cartas que estuvieron en la anterior formación. Aunque al igual que en la primera batalla, en esta segunda también está compuesta en su mayoría por cartas del tipo Ataque de Rango, siendo la formación para esta segunda batalla la siguiente: En primera posición se encuentra la carta más antigua de esta formación: SEA MONSTER, una carta bastante buena que cuenta con la habilidad "Heal" y con un nivel de puntos de vida muy elevados, pero además, esta carta posee un nivel de ataque bastante elevado, por lo que recibir daño de esta carta es casi una sentencia de muerte. En segunda posición se encuentra la única carta del tipo Ataque Mágico, la cual es: VENARI WAVESMITH y es que su habilidad "Protect" es uno de los motivos por lo que me gusta usar esta carta, ya que la habilidad de VENARI WAVESMITH en conjunto con la habilidad de la carta que se encuentra en tercera posición, la cual es: SWAMP SPITTER, hacen una combinación bastante buena.

En cuarta posición se encuentra la carta protagonista del día de hoy: COASTAL NYMPH, el único aspecto negativo que tengo sobre esta carta es su elevado coste de mana, costando nueve (9) puntos de mana, por lo que hay que administrar bien la cantidad de mana si se desea utilizar esta carta. En penúltima posición se encuentra: SUPPLY RUNNER, cuya habilidad "Swiftness" es de gran utilidad para SEA MONSTER, ya que su velocidad es bastante baja. Y para cerrar la formación en última posición se encuentra la carta clásica: FURIOUS CHICKEN.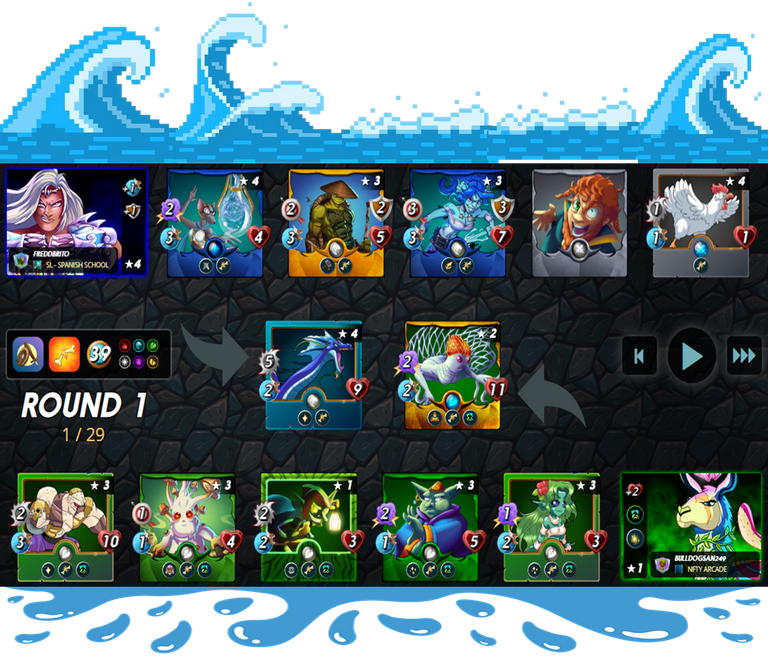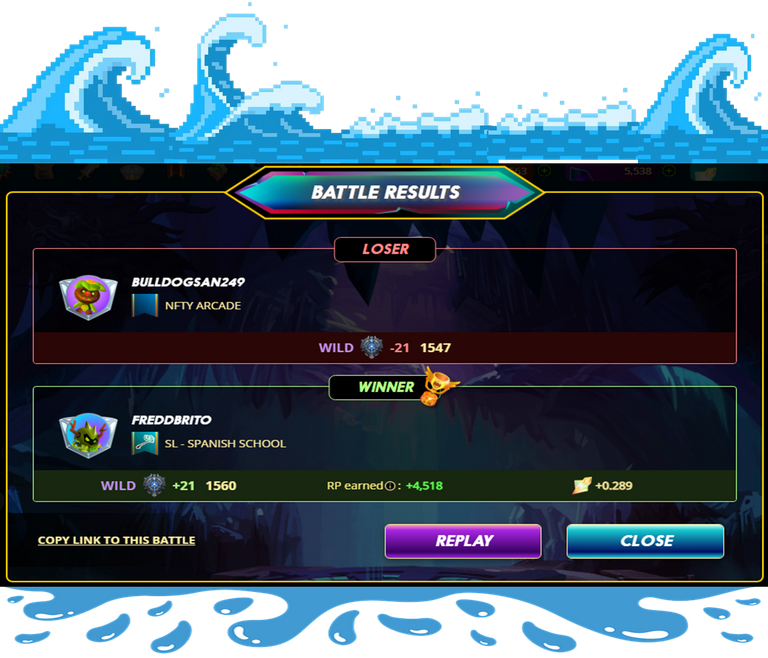 BATTLE 2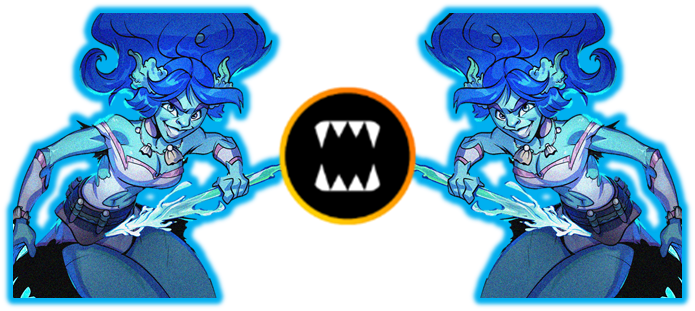 ---
---