Draconian legends clash - Weekly Challenge
Greetings! Here I bring another participation for the weekly battles challenge, today's combo had a very interesting result.
---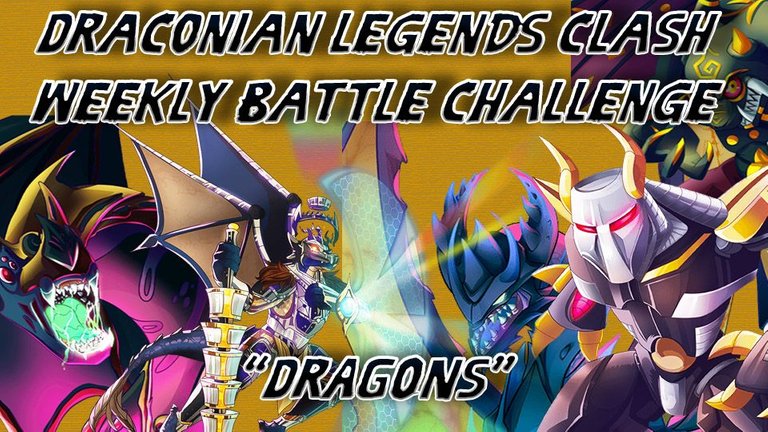 En la vanguardia chocan dos tanques bastante fuertes. En la esquina enemiga el unicornio antimágico más popular en la liga de plata y bronce (al menos según mi experiencia) y en mi esquina el Robo-Dragon Knight, también dedicado a repeler estrategias mágicas, aunque también con un "Divine shield" que muchas veces hace la diferencia.
In the vanguard clash two quite strong tanks. In the enemy corner the most popular antimagic unicorn in the silver and bronze league (at least in my experience) and in my corner the Robo-Dragon Knight, also dedicated to repel magic strategies, but also with a "Divine shield" that often makes the difference.

En segundo lugar el "Titan Carnage" enemigo se mostró firme y poderoso, asestando muchos golpes gracias a su habilidad "reach" y "double strike", fue todo un reto derribarlo pues también fue apoyado por un healer cuando quedó en la primera posición.
Por otro lado, en mi línea de ataque, en la segunda posición "Myselic SlipSpawn" hace presencia, dirigiendo la atención enemiga hacia si mismo para reducir el castigo recibido por el equipo, sin embargo no duró mucho en el campo de batalla. La ofensiva fue brutal, la cantidad de daño fue demasiada, pero el tiempo que aportó ayudó a reducir la resistencia enemiga.
In second place the enemy "Titan Carnage" was firm and powerful, delivering many blows thanks to his "reach" and "double strike" ability, it was a challenge to take him down because he was also supported by a healer when he was in the first position.
On the other hand, in my line of attack, in the second position "Myselic SlipSpawn" makes presence, directing the enemy attention to himself to reduce the punishment received by the team, however it did not last long on the battlefield. The offensive was brutal, the amount of damage was too much, but the time it contributed helped to reduce the enemy resistance.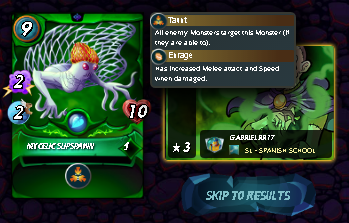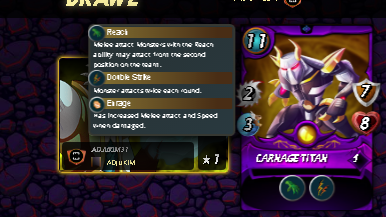 Para la tercera posición se manifiesta una carta que hace poco logré compre pero que en esta batalla me había sido delegada por un compañero de guild, el "void dragon". Su velocidad y habilidad aseguraron que se mantuviera en pie de guerra e hiciera estragos por el buff de invocador. Para el maná que exige lo que aporta es excelente, "flying + void + 5 de velocidad", definitivamente un escurridizo dragón.
Por otro lado en la formación enemiga el "Goblin psychic" se presenta como el healer del equipo, manteniendo en pie a varias legendas por tiempo suficiente para provocar problemas a mi equipo, a pesar de su lentitud.
For the third position, a card that I recently managed to buy but that in this battle had been delegated to me by a guildmate, the "void dragon", manifested itself. Its speed and ability ensured that it stayed on the warpath and wreaked havoc with the summoner buff. For the mana it demands what it brings is excellent, "flying + void + 5 speed", definitely an elusive dragon.
On the other hand in the enemy formation the "Goblin psychic" is presented as the healer of the team, keeping several legends on their feet for long enough to cause problems to my team, despite its slowness.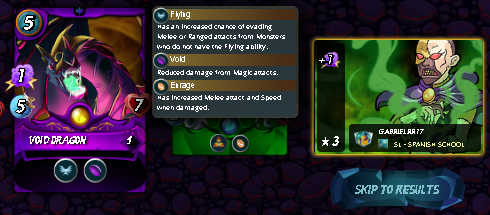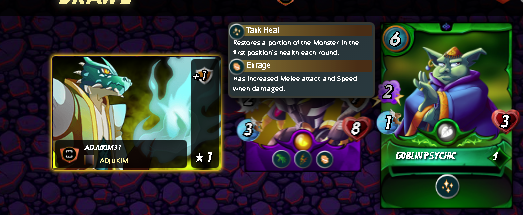 En la cuarta posición "Wood nymph" se mantiene como la sanadora de los aliados, una enfermera que no solo se limita a curar sino también a proteger, pues el buff de invocador le otorgó más ataque mágico para afectar al enemigo.
En el equipo enemigo el imponente Chaos Dragon hace acto de presencia, siendo afectado por el debuff de mi "Mushroom seer" fue limitado y así no nos destruyó junto al resto de legendas en el equipo enemigo.
In the fourth position "Wood nymph" remains as the healer of the allies, a nurse that not only heals but also protects, because the summoner buff gave her more magic attack to affect the enemy.
In the enemy team the imposing Chaos Dragon makes an appearance, being affected by the debuff of my "Mushroom seer" was limited and thus did not destroy us along with the rest of legends in the enemy team.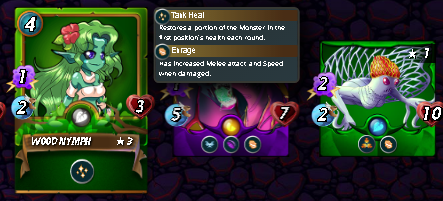 En los dos últimos puestos enemigos dos arqueros asechan, uno del splinter dragon, con una habilidad que aumenta al doble su ataque (2+2=4) pero cada reduce la frecuencia del mismo y también "Child of the forest" con poco daño pero mucha velocidad y la habilidad "snipe".
Por otro lado, en las filas aliadas el "Mushroom Seer" redujo el daño mágico enemigo, dando bastante tiempo de lucha al resto de monstruos aliados y convirtiéndose en una pieza crucial, además de potenciarse por el buff (2+1=3 de daño mágico). En la última posición "Centauri Mage" llegó a retornar parte del daño a rango que recibió y también a dañar bastante por sus puntos de daño propios, también potenciados por el invocador.
In the last two enemy positions, two archers are lurking, one of the splinter dragon, with an ability that doubles its attack (2+2=4) but reduces the attack frequency and also "Child of the forest" with little damage but a lot of speed and the ability "snipe".
On the other hand, in the allied ranks the "Mushroom Seer" reduced the enemy magic damage, giving enough fighting time to the rest of the allied monsters and becoming a crucial piece, besides being boosted by the buff (2+1=3 magic damage). In the last position, "Centauri Mage" returned part of the ranged damage it received and also did a lot of damage with its own damage points, also boosted by the summoner.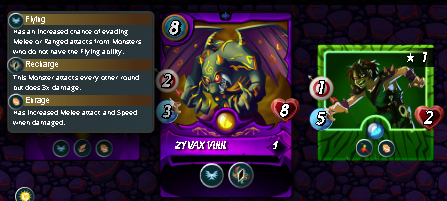 The complete alineation was: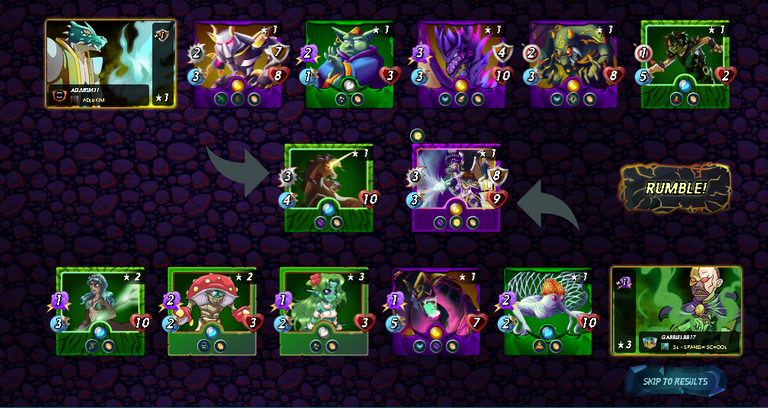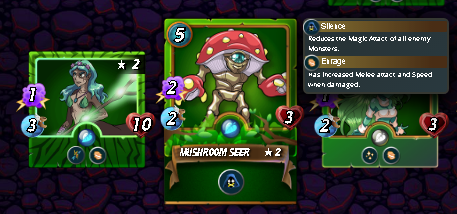 If you want to see the replay click here. For information to join in this challenge click here.
---
Curious fact:
Fue bastante interesante que la combinación de Splinter Dragon - Tierra se repitió como base de los equipos. Además en un momento de la batalla todo parecía perdido pero la combinación de habilidades y buff de invocador fue determinante para asegurar la victoria. El Chaos Dragon que me delegaron fue vital y me gustó tanto que lo terminé comprando y ahora está en mi arsenal de dragones.
It was quite interesting that the Splinter Dragon - Earth combination was repeated as the basis for the teams. Also at one point in the battle everything seemed lost but the combination of skills and summoner buff was decisive to secure the victory. The Chaos Dragon that was delegated to me was vital and I liked it so much that I ended up buying it and now it is in my dragon arsenal.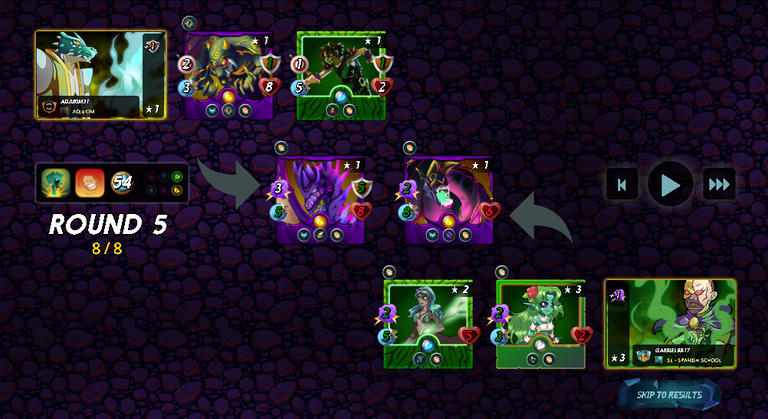 ---
My opinion:
El Splinter Dragon es definitivamente excelente para muchas ocasiones, tiene legendarios muy poderosos y ofrece la posibilidad de optar por combinarse con otros Splinters y poder usar sus cartas lo que da lugar a muchas estrategias poderosas y casi imbatibles. Sin embargo, esto tiene un costo por lo general bastante elevado, incluso entre las Chaos Legion encontraremos cartas no tan baratas como la mayoría de este set. Por ello es importante analizar bien cuáles vamos a comprar, recordando la posibilidad de rentarlas antes y así verlas en acción.
The Splinter Dragon is definitely excellent for many occasions, it has very powerful legendaries and offers the possibility to choose to combine with other Splinters and use their cards which results in many powerful and almost unbeatable strategies. However, this has a cost usually quite high, even among the Chaos Legion we will find cards not as cheap as most of this set. It is therefore important to analyze well which ones we are going to buy, remembering the possibility of renting them beforehand and thus see them in action.
---
If you want to join in the wonderful world of Splinterlands be my referal clicking here
---

---
---