September - One of the Last Accumulation Months? * My Hive Goals (Week 35, 2023)
This is a short sum-up table with the state of my goals in easier TLDR form. The table has only a general overview, with details expanded in the post.
| Current State/Other Selection Criterion | Goals Matching the Criterion |
| --- | --- |
| Ongoing | 5 (HP + HBD Savings, LEO Staked, Comments Made, DEC Saved 2 - Stage 2, Cards for Staking on Land - Stage 2) |
| Completed Main Goals | 0 |
| Completed Goals | 3 (DEC-B Saved, DEC Saving 2 - Stage 1, Cards for Staking on Land - Stage 1) |
| Main goals | 3 (HP + HBD Savings, LEO Staked, Comments Made) |
| Goals | 2 (Cards for Staking on Land, DEC Saved 2) |
| New Goals | 2 (Cards for Staking on Land, DEC Saved 2) |
| Increased Goals | 3 (HBD target for HP+HBD Main Goal - twice, DEC-B Saved) |
| Decreased Goals | 2 (Comments Made, Cards for Staking on Land - Stage 1) |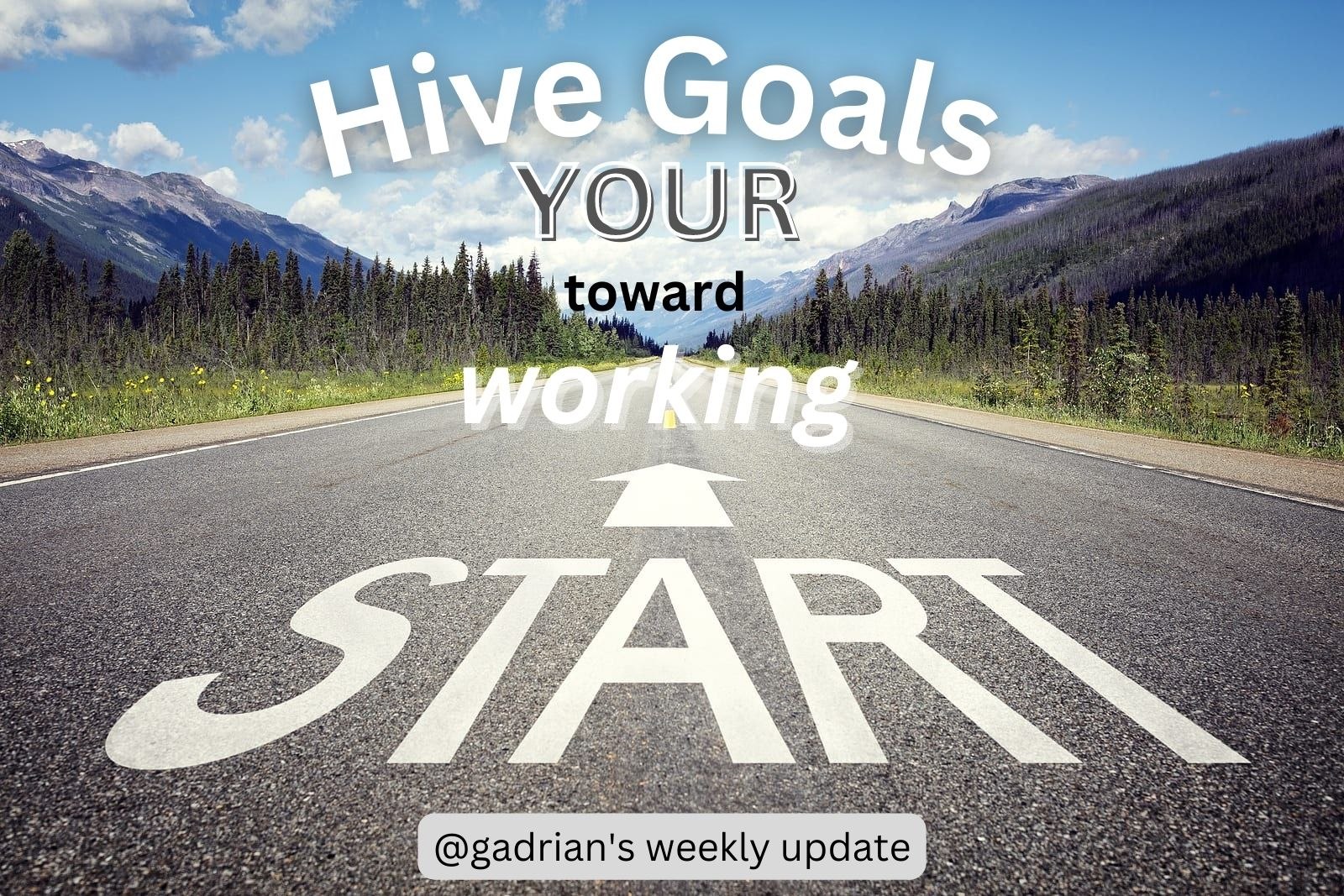 I include a link to the initial goal-setting post for 2023, for reference, if needed.
So... the most predictable of the outcomes happened and the SEC delayed the decision for all bitcoin ETFs. At the same time, the SEC keeps receiving direct and indirect signals they need to revise their attitude toward crypto. And we are talking about signals received in lawsuits, either theirs (with Grayscale) or of third parties (class action against Uniswap).
In my opinion, it will be quite difficult for them to keep dragging the decisions on the spot bitcoin ETFs until 2024, which may have been the initial plan. It becomes a real probability, again, in my opinion, that they will approve one or more spot bitcoin ETFs in mid-October, at their next term (or before that, but unlikely).
That makes sense in more than one way. We can speculate the SEC timed decisions in the past in order to influence the market. Let's assume they would do it one more time. A positive decision in mid-October would give plenty of time for the overlapping bitcoin ETF approvals + halving event bull run to form and grow, and at the same time, for it to deflate before the halving, and catch most newbies on the wrong side of the trades, as usually. And then start the real hype part of the bull market a little time after the halving is over.
This is all speculation, of course, but it happened before and seems to make sense from the market psychology point of view, and that's what markets are about, mostly: taking advantage of human emotions.
We still have September though, and we can't be sure if it will be rather flat and monotone or bloodier. Either way, it seems like a great month to accumulate if you still have any dry powder. Possibly one of the last months with huge discounts.
Let's see what has changed since last week regarding my Hive goals.
After HPUD, my staked HIVE jumped significantly again and reached 34,448 HP this week. I am on course with my daily powerups for the PUM badge this month. I increased my HBD savings a bit to 160 HBD (basically I sent back to savings a portion of the HBD I withdrew previously to buy HIVE on occasion).
Here's what the evolution of the HP+HBD goal looks like (unless we have some price recovery by the end of the year, chances are to miss this goal):

Here's where I'd add some information regarding the amount of HBD/HIVE per week I'd need until the end of the year, but given the recent evolution listing this makes absolutely no sense.
I staked 250 LEO this week - around 64 LEO purchased - and reached 18,900 LP. My powerup from this week is more than the average needed per week, but I wouldn't mind if I cleared this goal a little quicker.

I currently need to stake 212 LEO weekly (down from 214 last week) to reach the target by the year-end.
Splinterlands Land Expansion Main Focus
Land expansion's main focus extends throughout 2023. Unless I change the strategy, it will be the only main focus / main goal for Splinterlands in 2023. But there will be several 1-3 months goals.
First Land-Related Goal: DEC/DEC-B Saved - Completed
This goal is COMPLETED.

Deadline (passed): When DEC-B offer runs out, either because all were sold out or because the time limit was reached (April 9th).

Target to consider the goal completed: 1.5 mil. DEC-B saved. Done!
DEC Saved 2 Goal - Stage 1 Completed
[COMPLETED] Deadline stage 1: June
Deadline stage 2: August/whenever Land 1.5 is launched
Deadline stage 3: End of 2023?
Target to consider the goal completed:
stage 1: 1.2m DEC (COMPLETED)
stage 2: 2.2 DEC (1m additional DEC)
stage 3: 5 DEC (2.8m additional DEC)
Current situation: 1.2m DEC (liquid) and 100k DEC x 2 = 200k DEC in SPS:DEC diesel pool.
New Land-Related Goal: Cards for Staking on Land Stage 1 Completed
The purpose of this goal is to build the amount of high PP cards I need for staking on my tract.
We will need to fill 5 slots per plot with staked cards, without requiring summoners (that doesn't mean they can't be used as regular cards).
So, what are the details of this goal?
Deadline:
[COMPLETED] Stage 1: June 2023
stage 1.5: August/whenever Land 1.5 is launched
stage 2: End of 2023? (this will be a new goal)
The total number of maxed-level* cards needed for staking on land: 500 (5 x 100).
stage 1: need 120 cards for land by the deadline (decreased from 220) COMPLETED

stretch goal: have optimized cards for 24 plots COMPLETED

stage 1.5: need 220 cards for land by the deadline
stage 2: have 500 cards for land

stretch goal: have optimized cards for 44 plots
(*) any card with at least 1000 PP suitable for the terrain types I own will do (better for better plots); doesn't have to be maxed
Current situation total: 140 / 500 (28%)
Current situation stage 2: 22 / 100
Time remaining until Stage 2 deadline: max 2 weeks?
Note: Taking my time. Practically, if I'm a little bit behind my DEC saving goal, I'm ok with this goal. For max-level cards, my DEC could currently support 140 cards at full production capacity, so I'm quite ok with this goal progress, even if it doesn't respect the original deadlines.
Note 2: I still need to take my land cards that are not from my playing deck off the rental market, but that's the last thing I'll do, a few days before Land drops publicly.
Original goal: 18k, REDUCED to 17k, by the end of 2023.
I started this week with a total of 16332 comments made.
Ended the week with 16466 comments made, which brings the number of my comments during this week to 134, which is above my needed weekly average.
I now need an average of 91 comments weekly to reach the goal of 17k.

Weekly Buy - LEO
I continued with my weekly 10 HIVE worth of LEO purchases (64 LEO purchased compared to 74 the week before). I'll keep doing that until I believe I am out of the woods with my LEO Power yearly main goal or until the price of LEO pumps and it doesn't make sense to buy anymore.
---
---