Splinterlands Grinding Experiment - Update After Chaos Legion Launched
Hey there Splinterlands fans!
Chaos Legion launched a few days ago and that's a big event for Splinterlands and the community. Unfortunately, my grinding account - with all its rules - isn't yet at the level where it can fully benefit of all the perks Splinterlands has to offer. But that'll come, step by step...
For gaming-for-fun, the launch of Chaos Legion meant the switch of free-to-play cards from beta and untamed to untamed and chaos.
That was a pretty sudden change, and most previous strategies needed to be updated to account for the new reality. It also offered me the chance to get accounted with Level 1 Chaos Legion cards in battles. At the same time it was funny to watch some bot accounts not being able to handle the switch yet and offer us humans some easy wins.
Even if I mostly use the free-to-play cards offered by the spell book, gaming-for-fun account started to collect a few reward cards of its own, including the epic Djinn Chvala.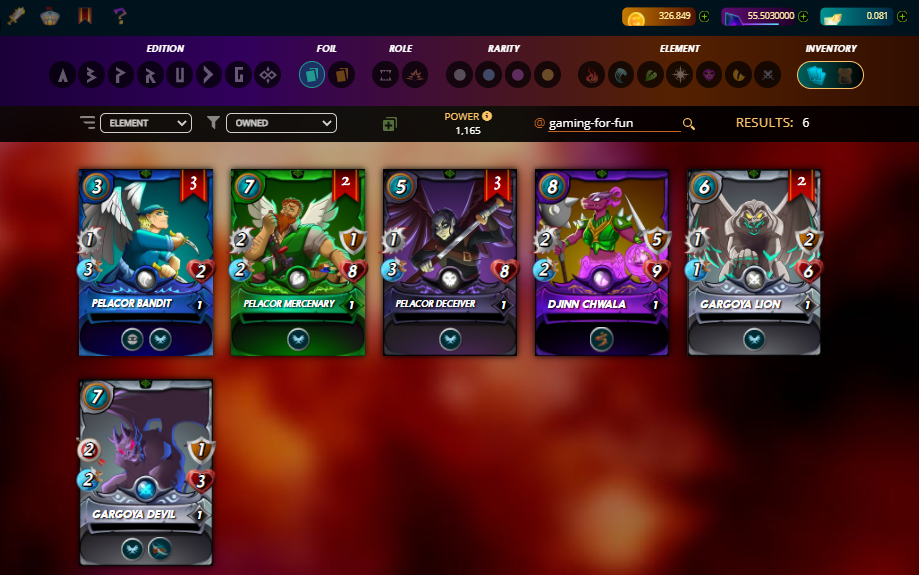 In all, 165 collection power of my own on this account. Plus 1000 rented to be able to access Bronze II.
I actually have enough rating (750) to be in Bronze I, but I don't want to rent cards cumulating 4k CP to get there for a few days, then drop back to Bronze III at season end. I don't believe it's worth it. I've done that the week before and the cost was much higher than the difference in rewards.
In other news, gaming-for-fun also got accepted in a guild since my last post. So far no obligations, which is great considering the state of my account (and of the guild). But a symbiotic relationship. I contribute with completed DQs (although not so necessary at low levels apparently) and receive the 1% bonus on battle rewards.
Before I began writing this post I was curious to see how long has it been since I started this experiment.
It's actually a round number: 50 days.

Maybe I could have accomplished more in 50 days. In retrospective, I would have avoided some of the mistakes I've done, like not renting the necessary cards to move to Bronze II as soon as it became a condition for being rewarded in something other than credits (including reward cards). I certainly would have done better if this would be my main account and my focus would be on it. More content, curation, that could have been extras I haven't done much.
The grind continues! :)
---
---