SPS Proposal - Reserve Enough Chaos Legion Packs to Provide Rewards until Rebellion
db0a3a4ed64cbfb5ff980a17dfd5343938e838de
Proposal Payment
https://hiveblocks.com/tx/db0a3a4ed64cbfb5ff980a17dfd5343938e838de
---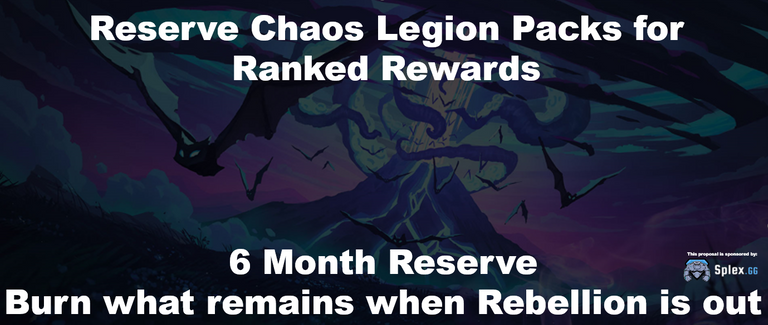 ---
Proposal
The SPS DAO requests the Splinterlands company reserve enough Chaos Legion Packs to provide rewards for 6 months after Chaos Legion packs have all been sold or burned. Once Rebellion Packs are available in chest rewards, any Chaos Legion packs set aside for this purpose that have not yet been distributed shall be burned.
---
Purpose
The company has stated there will be 3 to 6 months between Chaos Legion no longer being available in the Shop (no later than March 31st, 2023) and the availability of Rebellion packs in the store. With all SPS being staked and reward cards being Soulbound, Chaos Legion packs are the main source of "liquid" rewards.
Card ownership and the ability to freely sell or trade those cards is an important part of the Splinterlands experience. As such, these packs are some of the rewards most looked forward to by newer players and we believe they should continue to be available until such time as they can be replaced by packs from the next set.
---
Execution
If this proposal succeeds, the Splinterlands company will review data on the average number of Chaos Legion packs rewarded per season and remove enough packs from the store to satisfy 6 months (12 seasons) at that level of distribution.
These packs will be held in reserve and distributed to players in Ranked Rewards chests at their current rate of distribution.
The timing of removing these packs is at the company's discretion but must be done with enough time to set aside a sufficient number of packs to cover the requested time period.
Once Rebellion packs are available in Ranked Rewards chests, any Chaos Legion packs reserved for this purpose and not yet distributed will be burned.
---
Background
This proposal was most recently suggested to me by @warrentrx and has been mentioned a few times in the main Splinterlands Discord. The urgency for this proposal was increased with the Splinterlands company recently announcing the decision to take 500,000 Chaos Legion packs off the market.
While the Chaos Legion packs belong to Splinterlands and as such are not in the purview of the DAO, @genepoolchlrn8r has had discussions with the Splinterlands company leadership that confirms they would honor this proposal should it pass.
---
Conclusion
We believe earning NFTs in chests is an important part of the Splinterlands experience. These proposal seeks to preserve that by maintaining Chaos Legion packs in Ranked Rewards chests until such time as Rebellion packs are available.
---
Sponsorship
The 100,000 DEC fee for this proposal was paid by https://Splex.GG.
If you are interested in having your proposals paid for, please visit SPLEX on their discord at https://discord.gg/Splex to make suggestions and work with their team on formatting and promotion of your proposals.
---
---