BATTLE MAGE SECRETS Weekly Challenge! - Heavy Hitters Ruleset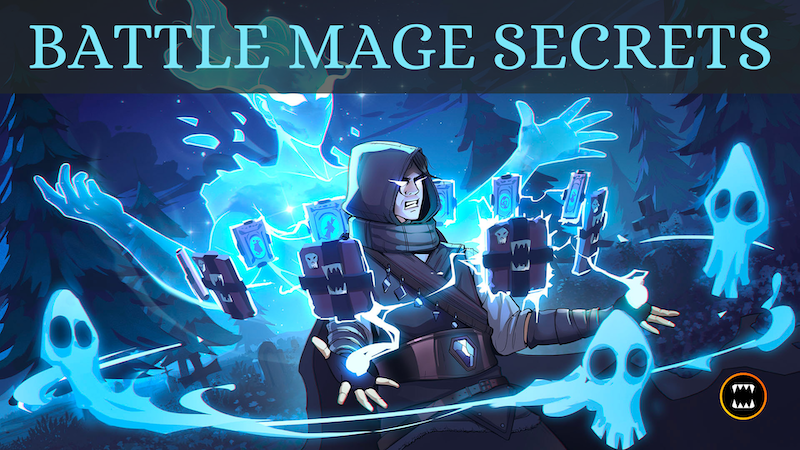 Hi Guys! In this post we are exploring on another Splinterlands ruleset. The ruleset we are focusing on is Heavy Hitters.
In a Heavy Hitters ruleset, all units will gain the Knock Out ability. Units with Knock Out ability will deal double damage to opposing units that are stunned.
For this to work though, you will also need to deploy a unit that can stunned opposing units.
---
To see how this work, lets look at one of my Modern Silver ranked match with Heavy Hitters as one of the ruleset. The battle restrictions are:
Heavy Hitters and Silenced Summoners with a mana cap of 33. Only Fire and Death splinters are allowed in this battle. The Video for the Full Battle can be seen here:
https://splinterlands.com?p=battle&id=sl_0a20f346f1050ed7f8ae5777a154ae2a&ref=genming
TEAM SETUP: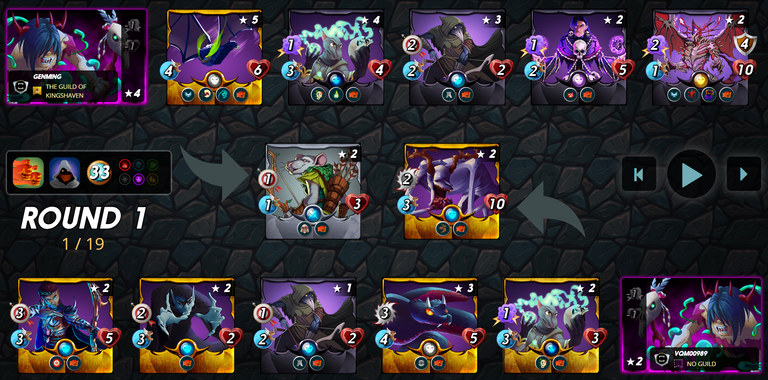 | Splinter | Mana Cost | Position | Reason |
| --- | --- | --- | --- |
| Thaddius Brood | 4 | Summoner | I went for Death splinter as I do not have any Fire unit that can stun opposing units. So Thaddius is my choice summoner in this match. Note that Thaddius ability wouldn't be useful in this match as Silenced Summoners is also one of the ruleset here. However the level of the summoner is still important. |
| Venari Marksrat | 3 | 1st | This is my cannon fodder and is supposed to die fast. I wanted to use its Martyr ability to boost my 2nd unit which is my true tank. |
| Riftwing | 4 | 2nd | My primary tank which I wanted to rely on Speed and Flying to dodge incoming attacks. It also has Backfire ability which means it will damage opposing unit that misses their attack on it. |
| Venari Bonesmith | 4 | 3rd | I like to use Bonesmith as it has Poison ability. This is the start of my backline. |
| Ravenhood Warden | 4 | 4th | Ravenhood Warden's Protect ability would give 2 armor to all my units. This will aid my Riftwing to survive longer and also give additional protection to my other units. |
| Revealer | 4 | 5th | This is my unit with Stun ability. Any opposing unit that is stun by my Revealer will suffer double damage when hit by any of my other units. |
| Usut | 10 | 6th | Usut is a powerful unit once it starts getting some kills. This is because it has Bloodlust and could grow into a monster. I positioned it at the last position to serve as my back tank. I am expecting it to be my last unit standing if the battle went to that extent. |
| Total Mana: | 33 | | |
---
Opponent Lineup:
My opponent went with a Death splinter lineup as well but the summoner was only level 2. This means the summoned units would mostly be of lower level than mine. Cursed Windeku is a good tank with Thorn but in this case would not be very useful as I didn't go for any melee units.
There is also no unit with Stun ability in my opponent lineup.
End of Round 1: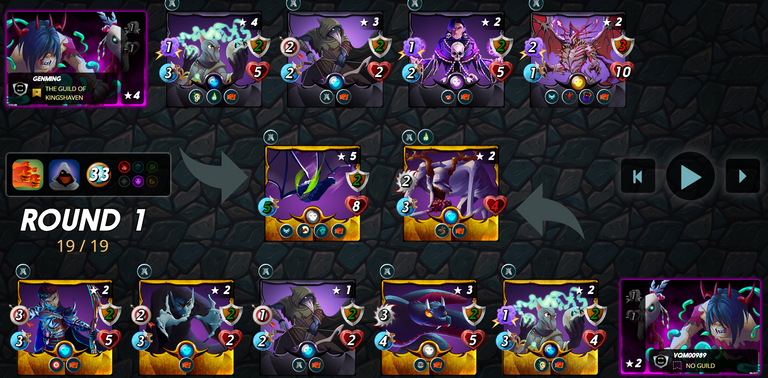 My Venari Marksrat died pretty quickly and boosted my Riftwing which dodge an attack from the opposing Cursed Windeku. This caused the Cursed Windeku to suffer 2 damage. Unfortunately my Revealer didn't manage to stun the opposing unit, I am not too worry as the Cursed Windeku has been poisoned.
End of Round 2: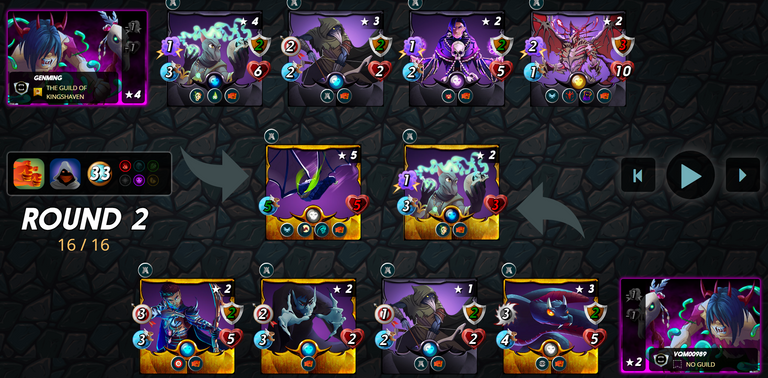 The opposing Cursed Windeku is dead and my Riftwing dodged another attack, this time from the opposing Soul Strangler. The Backfire damage took out the Soul Strangler's armor.
End of Round 3: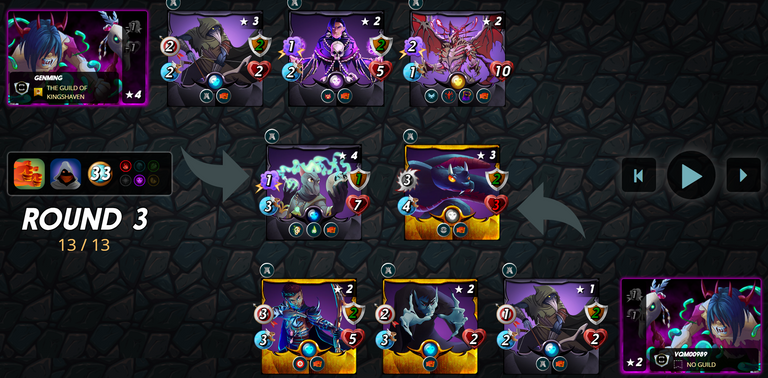 In this round we saw the effect of how Stun and Heavy Hitters works. The enemy Bonesmith was stunned by my Revealer and my Ravenhood Warden follow up with a hit that caused 4 damage. It was supposed to be just 2 but due to Knock Out and being stunned, it suffered 4 damage.
End of Round 4: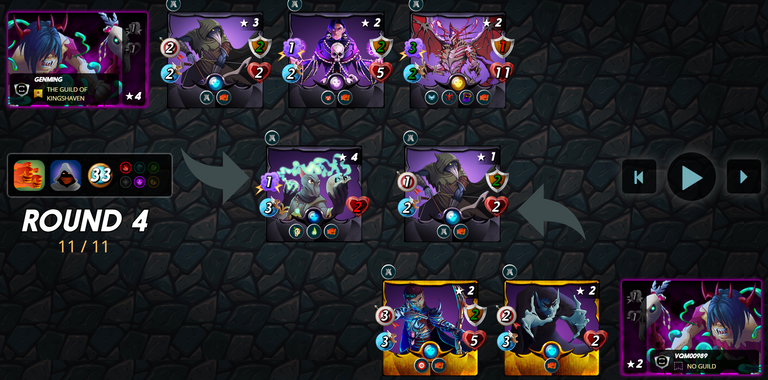 Once again you can see the effect of a stunned unit getting doubled damage from hit in this round. This time it is from my Usut on the opposing stunned Silent Sha-Vi.
End of Round 5: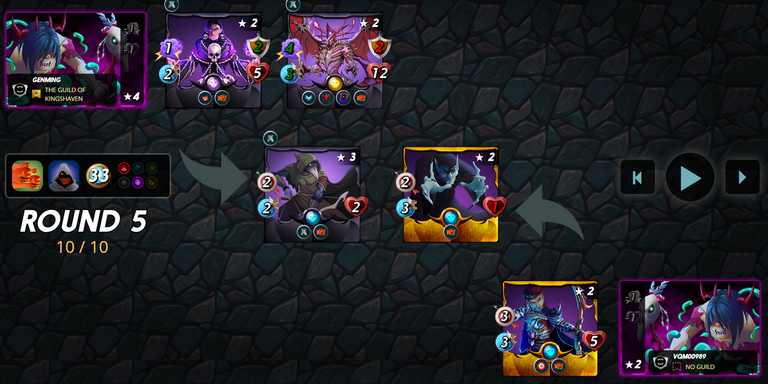 At this point my Usut is just steamrolling the opponent units.
End of Round 7: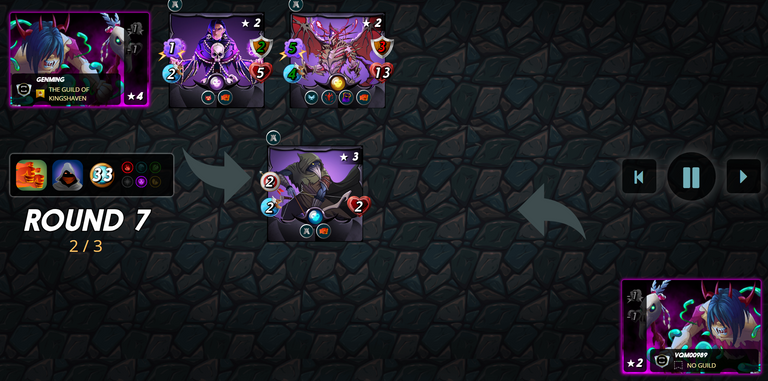 The last round saw my Usut hitting the last opposing stunned unit for 10 damage!
KEY STRATEGY
My strategy for this battle was simply to use Stun to take advantage of the Heavy Hitters ruleset.
SUMMARY
For a Heavy Hitters ruleset, you have to deploy a unit that can stun. Without a unit that can stun, you cannot take any advantage of the Knock Out ability given to all your units.

To any new players who wish to explore the world of Splinterlands, do feel free to sign up with my REFERRAL LINK 😊.
My guild, The Guild of Kingshaven, is also looking for new members. For added incentive to joining us, our guild leader will also be assigning Runi to any new member that can actively participate in brawl battles and give donation to our guild buildings. Runi is extremely powerful and is the only unit that has the Rebirth ability.
Our guild link is https://splinterlands.com/?p=guild&id=07ab9325eea386c3570db41f53fd991e78806485&tab=
---
---