BATTLE MAGE SECRETS Weekly Challenge! - Lost Legendaries Ruleset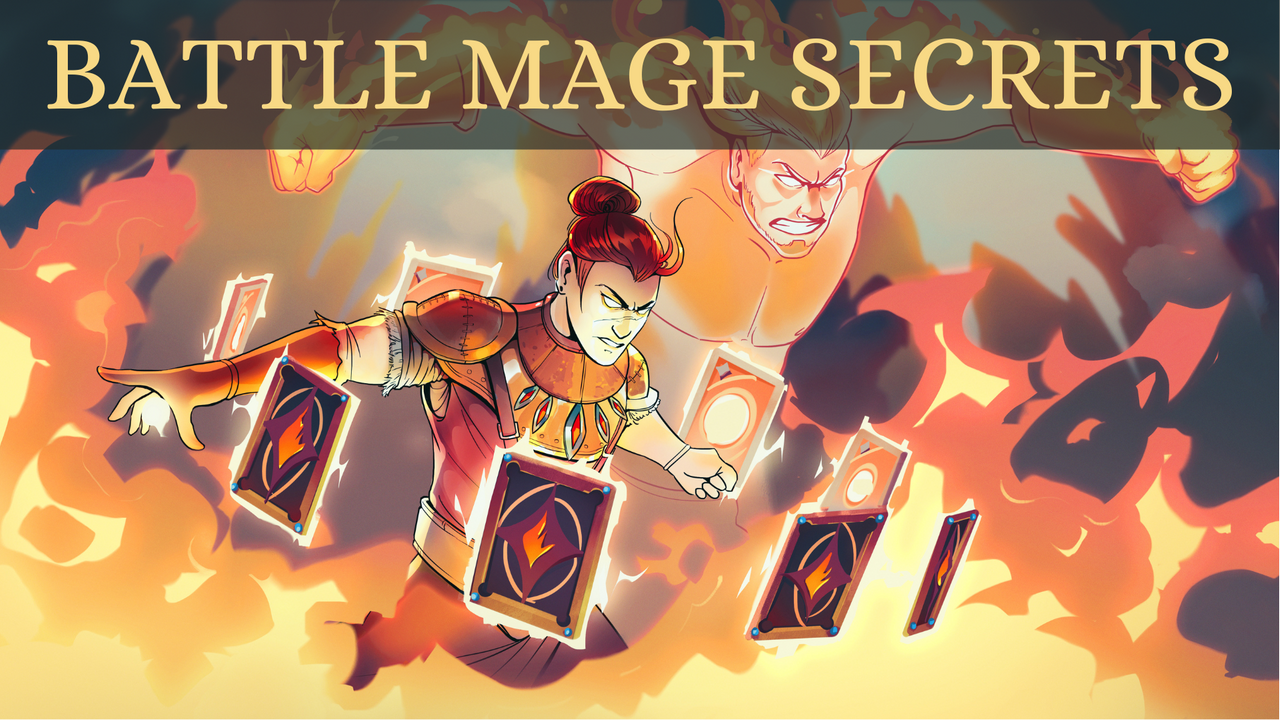 Hi Guys! In this post we are exploring on another Splinterlands ruleset. The ruleset we are focusing on is Lost Legendaries.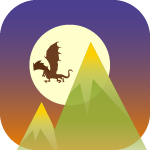 In an Lost Legendaries ruleset, all legendary units cannot be used with the exception of legendary summoners.
---
Lets take a look at a Modern Silver ranked match with Lost Legendaries as one of the ruleset. The battle restrictions are:
Odd Ones Out and Lost Legendaries with a max mana of 24. Only Fire, Water, Life and Dragon splinters are allowed in this battle. The Video for the Full Battle can be seen here:
https://splinterlands.com?p=battle&id=sl_2970e5b0910cbac0a52b77d176e89f46&ref=genming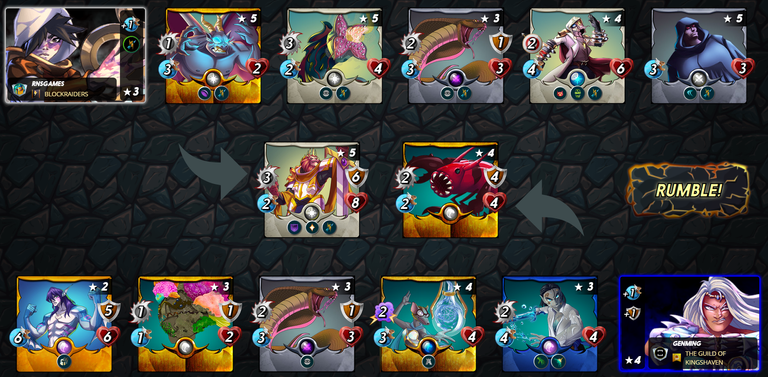 | Splinter | Mana Cost | Position | Reason |
| --- | --- | --- | --- |
| Kelya Frendal | 4 | Summoner | I decided to go with Kelya for this match because Kelya gave +1 Armor and Speed to all my units. This is especially important in a low mana match. I am also not expecting a magic lineup from my opponent as Earth and Death are not allowed in this Modern match. I actually expected to face Sneak units from the Odd Ones Out ruleset because there are plenty of 3 mana Sneak units out there. 3 mana units are just nice to use in a 24 mana match. |
| Cruel Sethropod | 3 | 1st | Good low cost tank with adequate armor and health. With Kelya, I can add more armor to its already high armor. |
| Tide Biter | 3 | 2nd | A good 2nd unit with Reach ability meaning it can also hit from behind the Cruel Sethropod. It doesn't have the high armor of the Cruel Sethropod but it did has Reflection Shield which is helpful in case the opponent has units with Blast damage. |
| Venari Wavesmith | 5 | 3rd | Very important unit in this setup, Venari Wavesmith not only deal magic attack but also add 2 armor to all my units with its Protect ability. This unit would make my entire lineup more resilient. |
| Uraeus | 3 | 4th | My only Sneak unit to attack the opponent backline in case I faced hard hitting units like Pelacor Arbalest hiding at the back. |
| Hardy Stonefish | 1 | 5th | Just a cannon fodder to protect my backline. I don't have enough mana to place another 3 mana unit here else I would had added another Sneak unit. |
| Noa the Just | 5 | 6th | I was torn between putting Noa or another attacking unit but decide to go with Noa instead as I am really worried that I could be facing a lot of Sneak units. Noa would not only help me tank these Sneak units for a while but also removed -2 armor from the opposing units. |
| Total Mana: | 24 | | |
---
Opponent Lineup:
My opponent went with a Life splinter lineup with Ilthain as the summoner. Ilthain is a pretty good summoner and I would have been in trouble if I used a ranged attacking lineup. Thankfully I didn't. The opponent also had 2 Sneak units and a very tough tank, Imperial Knight. Imperial Knight has high armor, good health and Heal ability. I might not be able to break through the unit with my lineup.

End of Round 1: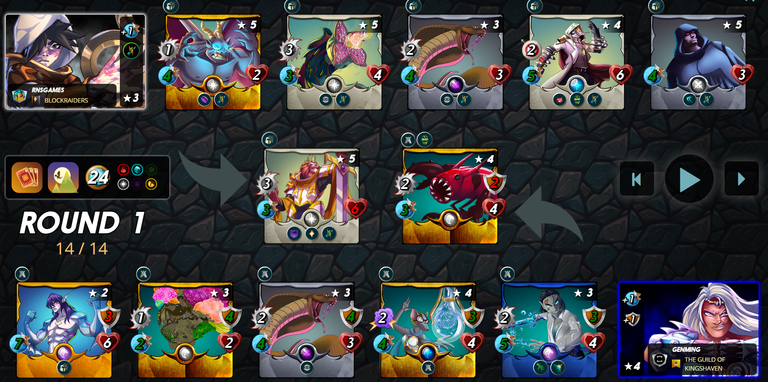 The starting round didn't go well for me. My opponent back unit dodge my Sneak unit attack. My Noa did come in handle as it removed my opponent units' armor making it easier to break through my opponent's tough tank in front. Thankfully my opponent didn't have any magic units as well so my low mana tank held up quite well in the first round.
End of Round 2: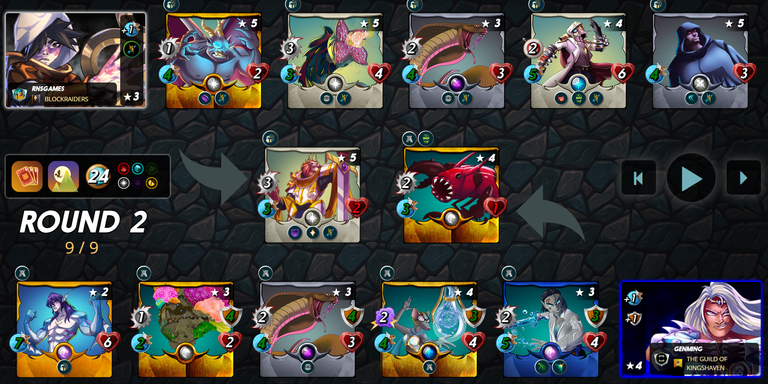 Once again my Sneak unit missed. I had a 75% chance of hitting each time and I missed twice in a row. I noticed I also made a mistake putting my Noa at the last position. I should have placed my Hardy Stonefish in the last position instead. Meanwhile both my opponent and my tank were dying. It is a good trade there as my tank needed way less mana to deploy.
End of Round 3: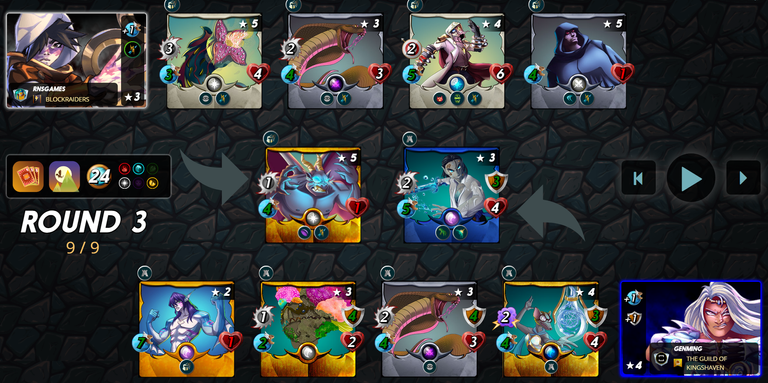 Still looked like a close fight as both tanks were destroyed at the start of round 3. My Noa the Just was also dying at this point. Oh my Sneak unit finally hit.
End of Round 4: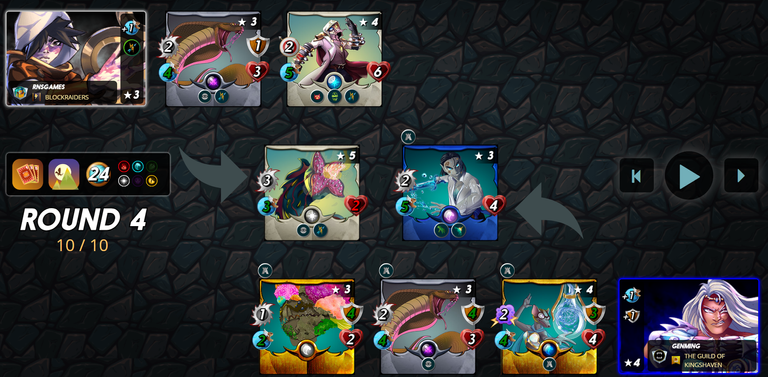 I lost my Noa which cause the opponent to gain back some armor at the back. But the lack of magic attack from my opponent begin to show as every attack needs to get through my units' armor before they can hurt my units' health. My Venari Wavesmith was the MVP so far in this battle.
End of Round 5: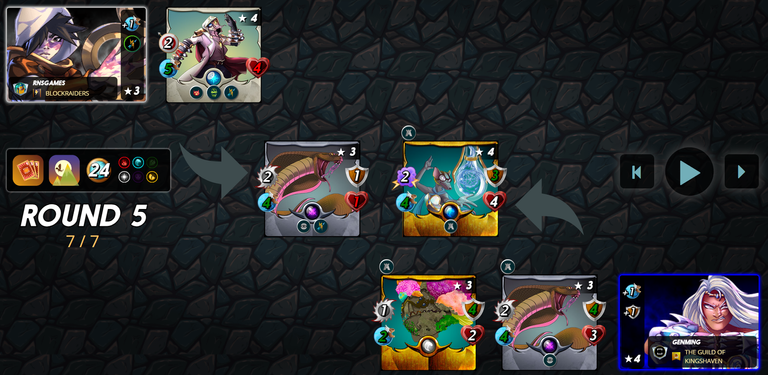 While I was complaining about my Sneak unit missing its first 2 attack, I must also be glad that my opponent Runeslinger had been unable to activate its Stun ability for the past 5 attacks. Not being able to stun my tanking unit was a big factor as well in this fight.
End of Round 6: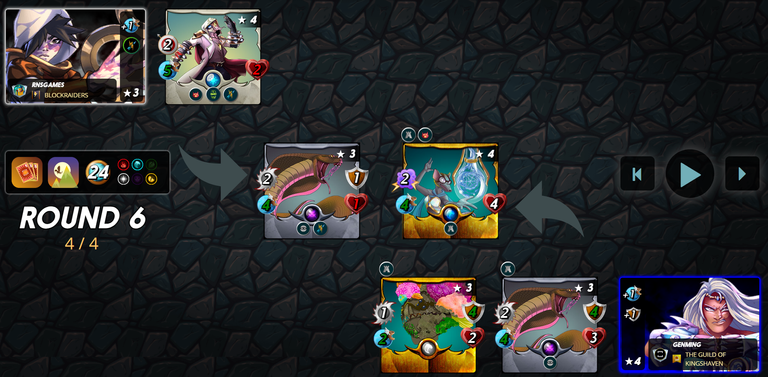 My opponent Runeslinger finally activated its Stun ability so there was still a chance I might lost this fight if my Sneak unit missed its next attack.
End of Round 7: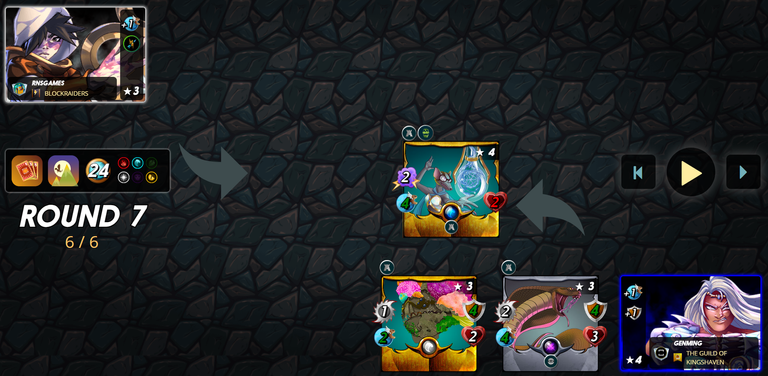 I won this with 3 units standing. It was actually way closer than it looked.
KEY STRATEGY
My strategy was to use armor to outlast my opponent as I was hoping I am not facing a magic unit lineup. Meanwhile I also used Noa the Just's Rust ability to remove off opponent armor.
SUMMARY
If there is any tips I can give for Lost Legendaries ruleset, I tend to avoid using units with certain ability like Forcefield or Giant Killer. Forcefield because usually the one that can deal such high damage are the legendary units (there are definitely some non-legendary units that can deal massive damage as well). Giant Killer because usually non-legendary units do not cost more than 10 mana to deploy.

To any new players who wish to explore the world of Splinterlands, do feel free to sign up with my REFERRAL LINK 😊.
My guild, The Guild of Kingshaven, is also looking for new members. For added incentive to joining us, our guild leader will also be assigning Runi to any new member that can actively participate in brawl battles and give donation to our guild buildings. Runi is extremely powerful and is the only unit that has the Rebirth ability.
Our guild link is https://splinterlands.com/?p=guild&id=07ab9325eea386c3570db41f53fd991e78806485&tab=
---
---