Weekly Challenge: Share your Battle. Water, low mana - Cruel Sethropod?

This @splinterlands weekly share your battle challenge was: reports on a game involving Cruel Sethropod.
I really tried. With full attention I played my Ranked Battles today, always looking for a way to get Cruel Sethropod into play. I did not succeed. Cruel Sethropod as should be suitable as a low mana tank. It actually only requires three mana. However, I believe there are much better tanks in low mana games. The Cruel Sethropod lacks special abilities like Magic Reflect, Void Armor or great speed. It doesn't have any of those, so I haven't seen a game in higher levels where Cruel Sethropod was on the winning side.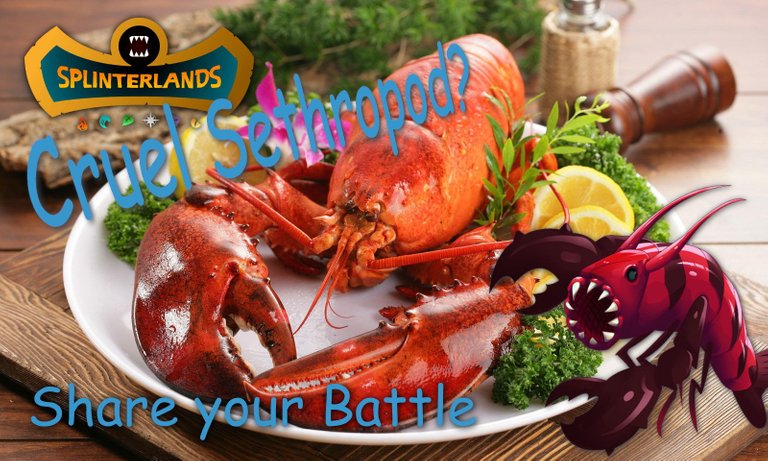 My Battle
I had a constellation today where I was almost tempted to use Cruel Sethropod. But I didn't, and instead put two other cards into play for the three mana cost: Chaos Agent (1 Mana) and Kelp Initiate (2 Mana).
The Ruleset

"Noxious Fumes" + "Spreading Fury", Mana Cap 13. The ideal constellation for the Llama (7) + Flesh Golem (6). But unfortunately Earth was not allowed.
So I decided to go with the Water element, with Kelya Frendul as Summoner. Because of the shields. Thirteen mana. That's not much if you want to occupy all slots. My Summoner needs already four mana. 9 mana are left for 6 playing cards.
My lineup

| Card Name | Abilities and reason I chose this unit. | Mana |
| --- | --- | --- |
| Kelya Frendul | Summoner, +1 speed, +1 armor | 4 |
| Chaos Agent | Dodge, Phase, Backfire. My ideal very low mana tank. | 1 |
| Creeping Ooze | Slow. Giving my units a speed advantage. Even in death, he will only prove useful. | 1 |
| Kelp Initiate | Cleanse, Triage. It will rid my tank of the effects of the poison and heal one damaged unit per turn (himself or Dr. Blight). | 2 |
| Two Gun Pete | I hope he lands at least one hit before he dies. And then he serves my Doctor Blight as a boost. | 1 |
| Furious Chicken | Sacrifice card for enemy sneakers and opportunists. Also food for Doctor Blight. | 0 |
| Doctor Blight | Affliction, Camouflage, Poison, Scavenger. My opponent will also clean. Doctor Blight will undo this. Also, he gets stronger with every unit that leaves the stage. I hope he remains the winner in the end. This expectation is worth four mana for this fight. | 4 |
| Total | Mana | 13 |
The special thing about this rule set is, every injured card becomes angry and speed, so is therefore more difficult to kill as a result.
The Battle
My opponent chose the Splinter Life, with General Sloan as the summoner. The following list shows the battle after the skills have been distributed, before the first turn.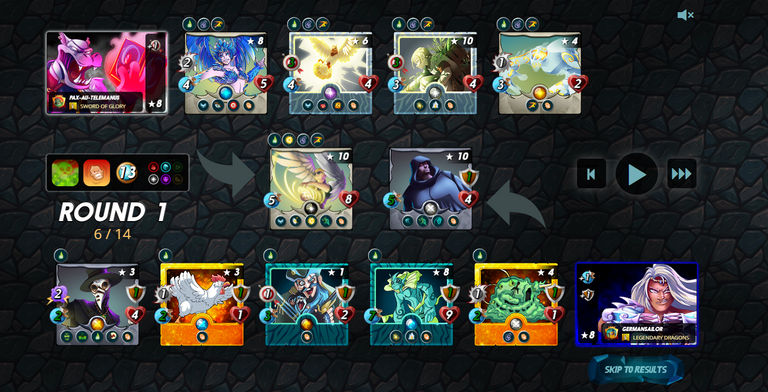 Click here to see the Battle.*
PS.
I like lobster well cooked and tastefully presented on a plate. See the picture above.
Have fun in the game wishes you
@germansailor
---
Acknowledgments
Screenshots from https://splinterlands.com
Picture of the lobster: sintec auf Pixabay
Own photomontage.
* The given link is an affiliate link.
Many thanks to @pax-au-telemanus for the exciting battle.
---
---