Winners of Giveaway #7
Hello Everybody again,
Normally when announcing the winners of last giveaway, I start a new giveaway.
Unfortunately due to personal matters, I may not be so active here for next couple of weeks, So this week it is only announcement of winners of Giveaway #7
I will start a new giveaway when I can be active again. Without further ado winners of Giveaway #7 are
First prize : 1x RARE Death Monster card Venari Bonesmith is @ozymnds , Congrats !!!
Second prize : 1x COMMON Earth Monster card Pelacor Mercenary is @amaari , Congrats !!!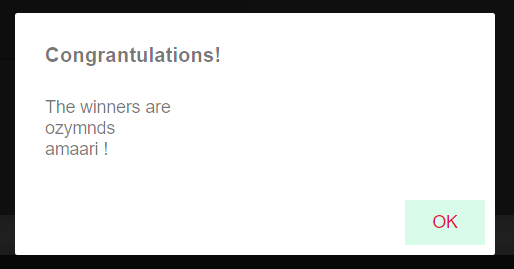 Winners please acknowledge your prize within next 72 hours by commenting below or contact me at discord or twitter
Failure to do so will be assumed as you are not interested in claiming the same
---
Promotion
In addition for the new players to Splinterlands if you sign up with my referral link and complete the spellbook purchase, I will send you 75 DEC in game which should help you get started by renting some cards and building up your teams
Follow me on Twitter
---
---
---