Splinterlands celebrates its 5th birthday | Splinterlands feiert seinen 5. Geburtstag! - The Great Burning [ENG/GER]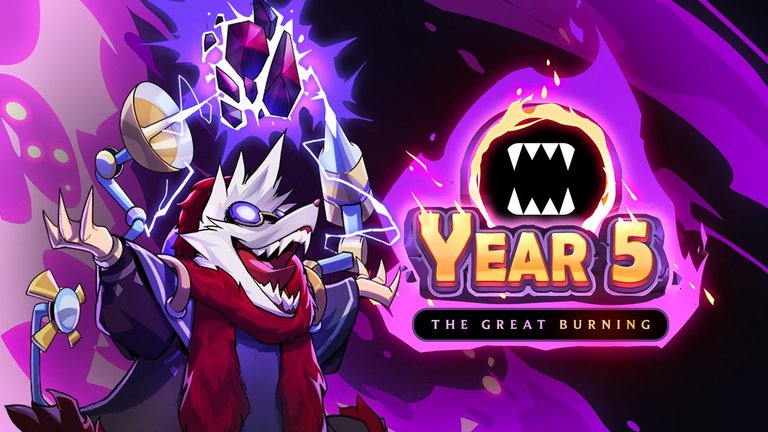 Five years ago Splinterlands opened its doors. The website went online and the sale of Alpha Packs started. To celebrate, there's The Great Burning - a big promo event with fabulous prizes!
The Great Burning - Prizes
Prizes include new titles for players, plots, runi and all kinds of booster packs. To earn the prizes, players must burn DEC and DEC-B. There are two ways players can win prizes. Players will receive random prizes and players will receive prizes depending on their place in the ranking list. Rank is determined by how much DEC and DEC-B the player has burned. Players will also receive Guild Power depending on how much they have burned.
Procedure of the event
The event will start during scheduled maintenance on Tuesday, May 30, 2023 and will run 30 days until June 29, 2023.
Players will be able to participate in the event via a new page in the shop. On the page, they can burn DEC or DEC-B and receive points for doing so. At the beginning of the event, players will receive three points for each DEC they burn. From day to day, players receive fewer and fewer points per DEC burnt. On the last day, only one point is awarded per DEC. It makes no difference whether DEC or DEC-B are burnt.
This is to encourage players to burn their Dark Energy Crystals as early as possible. This is to make it more difficult for players to take top positions in the ranking only at the last moment.
Only DEC and DEC-B burned through this special event website in the shop will count for this event! DEC or DEC-B burned via other methods, including manual shipping to "null" or upgrading guild buildings, will NOT be counted.
Ranking Prizes
Players with the most points on the leaderboard at the end of the event will receive the following prizes, depending on their rank: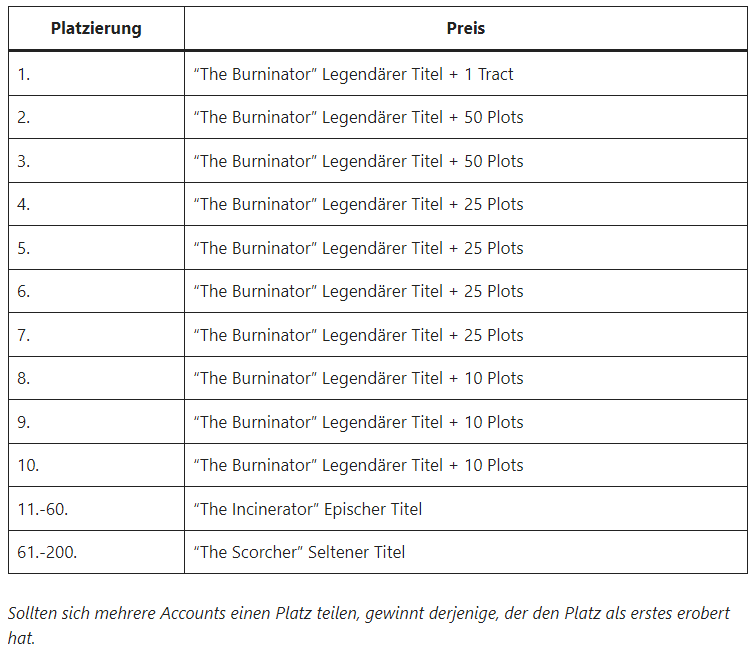 Random prizes
In addition to the ranked prizes, players can receive random prizes. This all works similar to a raffle. For every 10,000 points a player earns during the event, they have a chance to win one of the following prizes.
Land Plot (200 pieces available in total) - 120$ each
Alpha Pack (total of 100 available) - $101 each
Beta Pack (250 pieces available in total) - $24.74 per piece
Untamed Pack (500 pieces available in total) - $12.57 each*
Nightmare Pack (1000 pieces available in total) - $1.9 each
Riftwatchers Pack (total of 1000 available) - $4.1 each
Runi (25 pieces available in total) - $702 floorprice*.
*Prices from Splintercards, Hive-Engine and Opensea as of 29.05.2023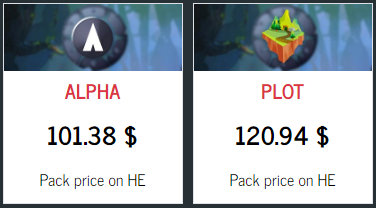 Players have a chance to receive one of the items from the list above for every 10,000 points they earn during the event. So if he has 50,000 points, he has a chance to get up to 5 items from the list. He does not have to be ranked in the leaderboard to do this. Players who are ranked will also have a chance to win these random prizes.
Totally, Splinterlands is giving away over 3500 different prizes during this event, currently worth over $150,000!
Guild Power - The DEC are not wasted!
However, the DEC and DEC-B that a player burns in this way during this event have another benefit! Every DEC or DEC-B burned is converted into Guild Power for that player. This Guild Power will be needed in the future to upgrade guild buildings. Instead of using DEC, players should upgrade guild buildings with their Guild Power. Players can obtain Guild Power by burning DEC at a ratio of 1:1. This offers a great advantage, because while the deposits in a guild were previously lost when a player changed guilds, the Guild Power is directly linked to the player. If he leaves the guild, he takes his Guild Power with him to the new guild and can use it again in the new guild.
A player who burns 1,000 DEC during the event will receive 1,000 Guild Power when the Guild Power update is released, which they can use towards the upgrade cost of any guild building. This is worthwhile even if the guild is already fully upgraded, as more guild buildings will be introduced in the coming months and the guilds with the most Guild Power will benefit greatly from their Guild Power.
Hatoto's conclusion
I will be at the event and burn all my DEC-B (55,000). probably then I will burn at least another 5,000 DEC because that's all I have. So I would have around 180,000 points and practically have 18 tickets. I have no illusions about the rankings. I have far too little DEC for that. I currently spend all my DEC on renting cards for the Guild Brawl. That's what I'm paying for at the moment.
In my opinion, this is a successful event. At least for players who are active in guilds. We'll have to buy Guild Power sooner or later anyway. With this event we also have the chance to win great prizes.
If you don't play in a guild yet, I think you should look around for a guild, because it simply brings a lot of advantages. Players with a lot of Guild Power are welcome in every guild.
But those who are not active in a guild should definitely consider burning DEC here. To get a "lottery ticket", they have to reach at least 10,000 points, i.e. burn 3,334 DEC on the first day. and then they haven't won anything by a long shot. Because it's just a chance to win one of these prizes. I roughly estimate that maybe every 5 or 10 tickets wins. But I can't estimate that at all. It's just a guess. And if all you get out of it is a Nightmares Pack for $1.9, it's hardly worth it. And then you've burned a lot of DEC for nothing.
How much DEC do you want to burn? Or will you leave the event alone? I look forward to your opinion 🙂
---
*This is not investment advice.
Unpaid advertising. I am invested myself and not objective.
*Affiliate link
The original version of this article first appeared on hatoto.de

---
---
---
Deutsch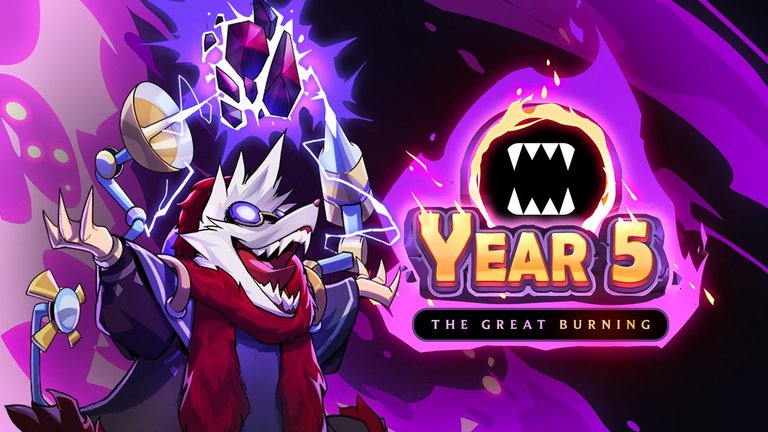 Vor fünf Jahren öffnete Splinterlands seine Tore. Die Website ging online und der Verkauf der Alpha Packs startete. Zur Feier gibt es The Great Burning - ein großes Promo-Event mit fabelhaften Preisen!
The Great Burning - Preise
Zu den Preise gehören neue Titel für Spieler, Grundstücke, Runi und alle Arten von Boosterpacks. Um sich die Preise zu verdienen, müssen die Spieler DEC und DEC-B verbrennen. Dabei können Spieler auf zwei Arten Preise gewinnen. Spieler werden zufällige Preise erhalten und Spieler werden abhängig von ihrem Platz in der Rangliste Preise erhalten. Der Platz in der Rangliste bestimmt sich dadurch, wie viel DEC und DEC-B der Spieler verbrannt hat. Außerdem erhalten Spieler Guild Power je nachdem wie viel sie verbrannt haben.
Ablauf des Events
Das Event startet während der geplanten Wartungsarbeiten am Dienstag, dem 30. Mai 2023 und wird 30 Tage bis zum 29. Juni 2023 laufen.
Über eine neue Seite im Shop werden Spieler an dem Event teilnehmen können. Auf der Seite können sie DEC oder DEC-B verbrennen und erhalten für dafür Punkte. Zu Begin des Events erhalten Spieler pro verbranntem DEC jeweils drei Punkte. Von Tag zu Tag erhalten die Spieler dann immer weniger Punkte pro verbranntem DEC. Am letzten Tag gibt es nur noch einen Punkt pro DEC. Dabei macht es keinen Unterschied ob DEC oder DEC-B verbrannt werden.
Auf diese Weise sollen die Spieler ermutigt werden, ihre Dark Energy Crystals so früh wie möglich zu verbrennen. So soll es Spielern erschwert werden erst im letzten Moment Spitzenplätze im Ranking einzunehmen.
Achtung: Für dieses Event zählen nur die DEC und DEC-B, die über diese spezielle Event-Website im Shop verbrannt werden! DEC oder DEC-B, die über andere Methoden gebrannt wurden, einschließlich des manuellen Versands an "null" oder der Aufwertung von Gildengebäuden, werden NICHT gezählt.
Ranglistenpreise
Spieler, die am Ende des Event die meisten Punkte in der Rangliste haben, erhalten je nach Rang folgende Preise: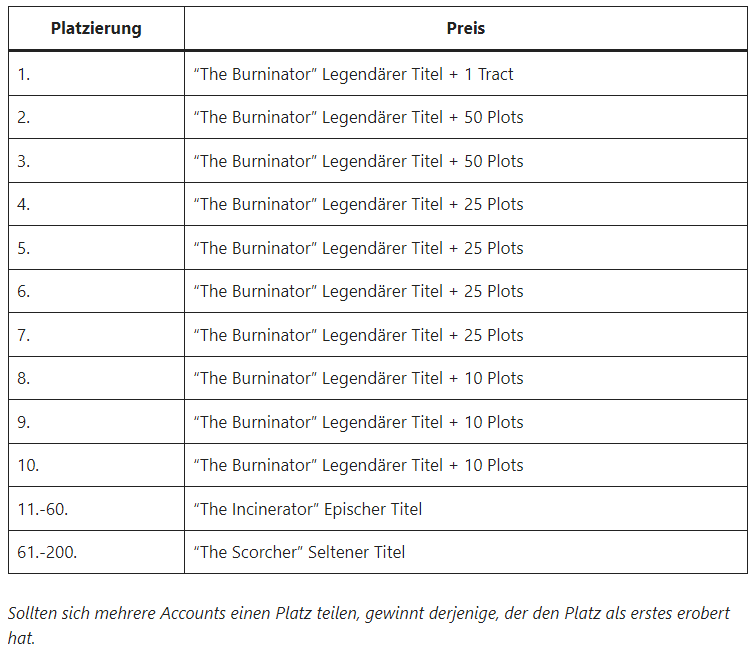 Zufällige Preise
Zusätzlichen zu den Ranglistenpreise können Spieler zufällige Preise erhalten. Das ganz funktioniert ähnlich wie bei einer Tombola. Für je 10.000 Punkte die ein Spieler während des Events verdient, hat er die Chance auf einen der folgenden Preise.
Land Plot (insgesamt 200 Stück verfügbar) - 120$ pro Stück*
Alpha Pack (insgesamt 100 Stück verfügbar) - 101$ pro Stück
Beta Pack (insgesamt 250 Stück verfügbar) - 24,74$ pro Stück*
Untamed Pack (insgesamt 500 Stück verfügbar) - 12,57$ pro Stück*
*Nightmare Pack (insgesamt 1000 Stück verfügbar) - 1,9$ pro Stück
Riftwatchers Pack (insgesamt 1000 Stück verfügbar) - 4,1$ pro Stück*
Runi (insgesamt 25 Stück verfügbar) - 702$ Floorprice*
*Preise von Splintercards, Hive-Engine und Opensea vom 29.05.2023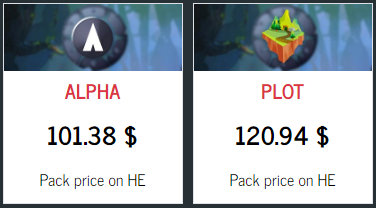 Spieler haben je 10.000 Punkte, die sie während des Event erhalten, die Chance einen der Gegenstände aus der obigen Liste zu erhalten. Hat er also 50.000 Punkte, hat er die Chance bis zu 5 Gegenstände aus der Liste zu erhalten. Dazu muss er keinen Platz in der Rangliste belegen. Spieler die in der Rangliste platziert sind, haben zusätzlich die Chance auf diese zufälligen Preise.
Insgesamt verteilt Splinterlands während dieses Events über 3500 verschiedene Preise, die aktuell über 150.000 $ wert sind!
Guild Power - Die DEC sind nicht verschwendet!
Die DEC und DEC-B die ein Spieler während dieses Events auf diese Weise verbrennt haben aber einen weiteren Nutzen! Jeder verbrannte DEC bzw DEC-B wird in Guild Power für diesen Spieler umgewandelt. Diese Guild Power wird zukünftig nötig sein, um Gildengebäude aufzuwerten. Denn anstelle mit DEC sollen Spieler in Zukunft die Gildengebäude mit ihrer Guild Power aufwerten. Die Guild Power können Spieler durch das Verbrennen von DEC im Verhältnis 1:1 erhalten. Dies bietet einen großen Vorteil, denn während die Einzahlungen in einer Gilde bisher verloren waren, wenn ein Spieler die Gilde gewechselt hat, so ist die Guild Power direkt an den Spieler gekoppelt. Verlässt er die Gilde, nimmt er seine Guild Power zur neuen Gilde mit und kann sie in der neuen Gilde wieder verwenden.
Ein Spieler der 1.000 DEC während des Events verbrennt, erhält bei der Veröffentlichung des Guild Power Updates 1.000 Guild Power, die er für die Upgrade-Kosten eines beliebigen Gildengebäudes verwenden kann. Das lohnt sich selbst, wenn die Gilde bereits voll ausgebaut ist, denn es werden in den nächsten Monaten weitere Gildengebäude eingeführt und die Gilden mit der größten Guild Power werden stark von ihrer Guild Power profitieren.
Hatotos Fazit
Ich werde beim Event dabei sein und all meine DEC-B (55.000) verbrennen. vermutlich werde ich dann noch mindestens 5.000 DEC verbrennen, denn mehr habe ich nicht. So hätte ich rund 180.000 Punkte und hätte praktisch 18 Lose. Auf die Rangliste mache ich mir keine Illusion. Dafür habe ich viel zu wenig DEC. Aktuell gebe ich alle DEC zum Mieten von Karten für den Guild Brawl aus. Da zahle ich momentan drauf.
Meiner Meinung nach ist das ein gelungenes Event. Zumindest für Spieler, die in Gilden aktiv sind. Wir müssen uns sowieso früher oder später Guild Power dazu kaufen. Mit diesem Event haben wir zusätzlich die Chance tolle Preise abzustauben.
Wer noch nicht in einer Gilde spielt, sollte sich meiner Meinung nach mal nach einer Gilde umschauen, denn es bringt einfach sehr viele Vorteile. Spieler mit viel Guild Power sind in jeder Gilde gern gesehen.
Wer aber nicht in einer Gilde aktiv ist, sollte sich durchaus überlegen, ob er hier DEC verbrennen will. Um ein "Los" zu erhalten, muss er mindestens 10.000 Punkte erreichen, also am ersten tag 3.334 DEC verbrennen. und dann hat er noch lange nichts gewonnen. Denn es ist nur die Chance auf einen dieser Preise. Ich schätze grob, dass vielleicht jedes 5 oder 10 Los gewinnt. Aber abschätzen kann ich das gar nicht. Das ist eine bloße Vermutung. Und wenn dann nur ein Nightmares Pack für 1,9$ dabei herauskommt, hat es sich kaum gelohnt. Und dann hat man umsonst viel DEC verbrannt.
Wie viel DEC willst Du denn verbrennen? Oder lässt Du die Finger von dem Event? Ich freue mich auf Deine Meinung 🙂
---
Dies ist keine Anlageberatung!
Unbezahlte Werbung. Ich bin selbst investiert und nicht objektiv.
*Affiliatelink
Link zum Originalbeitrag

---
---