Abriendo 20 paquetes Untamed ¿fue buena idea? || Opening 20 Untamed packs, was that a good idea?
Hola amigos de splinterlands, espero que estén muy bien, hoy vengo a compartirles un nuevo video, en esta oportunidad decidí abrir 20 paquetes de Untamed, abrir paquetes siempre conlleva un gran riesgo ya que estamos jugando la lotería en el que por probabilidades tenemos las de perder , como todo en la vida a mayor riesgo mayor la posibilidad de un premio grande pero la pregunta seria ¿vale la pena? Particularmente creo que no , al menos no para las personas que tenemos poco capital y buscan rentabilidad la compra de paquetes, actualmente las cartas mas caras que te pueden salir en la edición de Untamed son el invocador Llama ( versión oro) con un valor listado de 10600$ y el invocador Zaku (versión oro) con un valor listado de 10000$ son valores gigantescos la probabilidad de que le salga no de ellos es mínima, tanto así que aunque se han abierto más de 1 millón de paquetes de Untamed ( que daría más de 5 millones de cartas), solo hay un par de cientos de esas cartas, justo recuerdo un video que vi de un ballena de Spliterlands en Youtube abriendo 300 paquetes de Untamed sin que le saliera 1 sola legendaria oro, entonces ya es difícil que te salta una legendaria oro ahora imaginen que salga alguna de las 2 legendarias oro que tienen esos altos valores ( son 19 legendarias) .
---
Hello friends of splinterlands, I hope you are very well, today I am here to share a new video, this time I decided to open 20 Untamed packages, opening packages always carries a great risk since we are playing the lottery in which we probably have the chances of Losing, like everything in life, the greater the risk, the greater the possibility of a big prize, but the serious question is it worth it? In particular, I think not, at least not for people who have little capital and are looking for profitable purchase of packages, currently the most expensive cards that can come out in the Untamed edition are the summoner Llama (gold version) with a listed value of $10,600 and the summoner Zaku (gold version) with a listed value of $10,000 are gigantic values, the probability of not getting them is minimal, so much so that even though more than 1 million Untamed packs have been opened (which would give more than 5 million cards), there are only a couple hundred of those cards, I just remember a video I saw of a Spliterlands whale on Youtube opening 300 Untamed packs without getting 1 legendary gold, so it's already difficult that You skip a gold legendary now imagine that one of the 2 gold legendary that have those high values comes out (there are 19 legendary).
Como comento en el video yo estoy abriendo estos paquetes debido a que a la inversión que realice en la compra de los paquetes la recupere antes de que se terminara la edición compre 200 paquetes por 400000 DEC , actualmente solo los 20 paquetes que abrí ya valen más que 400000 DEC, el video al momento de abrir las cartas se bugo no se qué ocurrió pero esta como pegado jejej entonces les dejo aquí todas las cartas que me salieron en esta aventura.
---
As I comment in the video, I am opening these packages because I recovered the investment I made in purchasing the packages before the edition was finished. I bought 200 packages for 400,000 DEC, currently only the 20 packages that I opened are already worth more that 400000 DEC, the video at the moment of opening the letters bugged I don't know what happened but it's like stuck hehe so I leave here all the letters that I got in this adventure.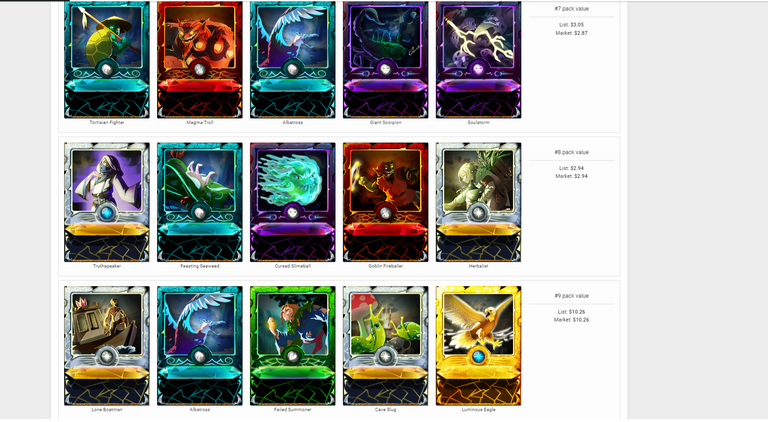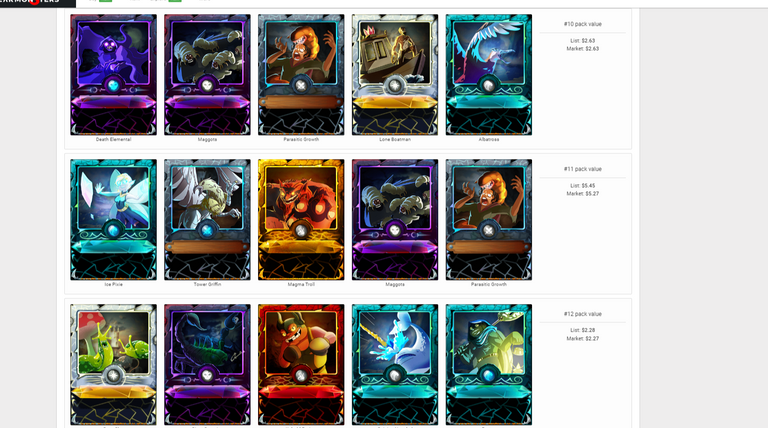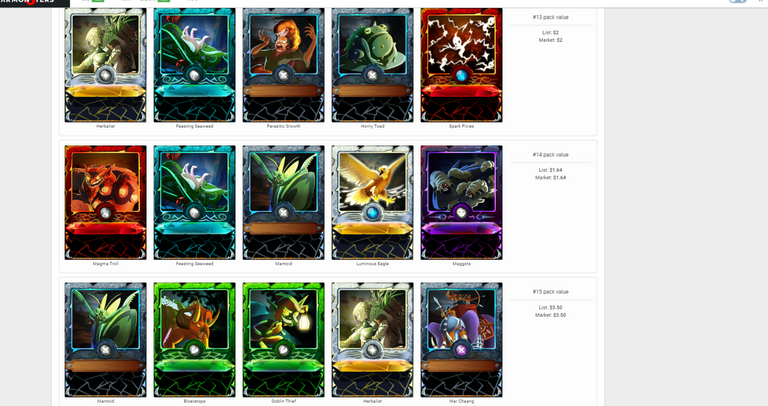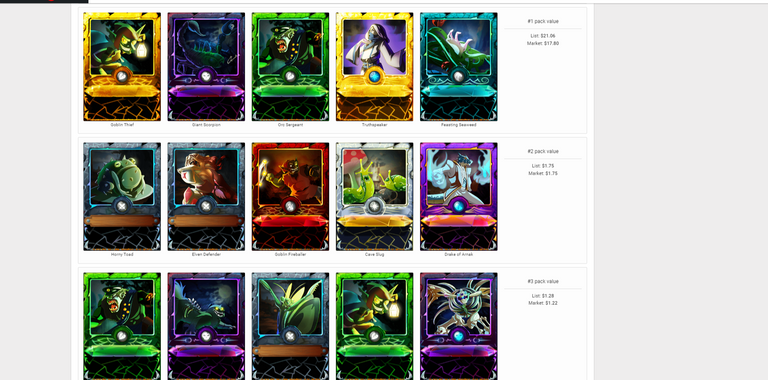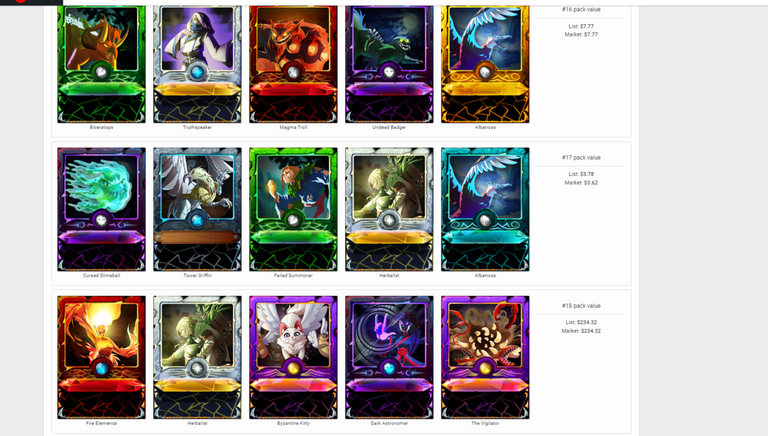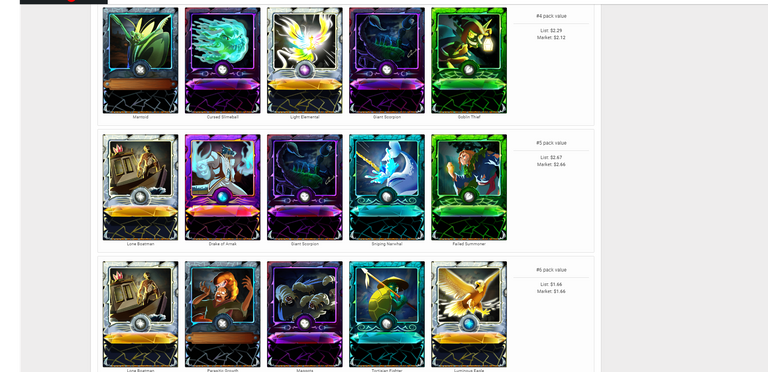 Como pudieron ver justo se confirmó lo que les comentaba anteriormente, es un gran riesgo abrir paquetes , paquetes que cuestan alrededor de 22$ dando cartas con valor en conjunto de apenas 1$ , alguien que compre 10 paquetes en este momento serian 220 $ y si llega abrir los 10 con valor próximo a 1$ estaría perdiendo más de 200$ por jugar la lotería, se puede ver que estuve bastante cerca de perder alrededor de 300 $ muchos paquetes con valor de cartas de poco más de 1$ pero 1 solo paquete me salvo de esa perdida, ese solo paquete arrojo más de 300$, nuevamente hago énfasis no es bueno que abran todos los paquetes que compran, ni siquiera es bueno abrir los paquetes que ganamos en los focus , si de verdad buscamos mejorar en el juego es mucho mejor vender los paquetes que ganamos y comprar las cartas que necesitamos con ese dinero, ya que abrir paquetes siempre la probabilidad estará en nuestra contra, es mucho mejor tener un crecimiento constante que estar jugando siempre a la ruleta esperando ganar la lotería con una carta muy cara.
---
As you could see, what I was saying before was confirmed, it is a great risk to open packages, packages that cost around $22 giving cards with a total value of just $1, someone who buys 10 packages at this time would be $220 and if When you open all 10 with a value close to $1, you would be losing more than $200 for playing the lottery, you can see that I was pretty close to losing around $300, many packs of cards with a value of just over $1, but only 1 pack It saved me from that loss, that single package yielded more than $300, once again I emphasize it is not good that they open all the packages they buy, it is not even good to open the packages we win in the focus, if we really seek to improve in the game It is much better to sell the packs we win and buy the cards we need with that money, since opening packs the probability will always be against us, it is much better to have constant growth than to always be playing rul He is hoping to win the lottery with a very expensive card.
Bueno amigos, solo quería decirte esto por ahora, si quieres ingresar a este maravilloso juego, puedes hacerlo a través del siguiente enlace: https://splinterlands.com?ref=hendersonp. Es todo por ahora, nos vemos en la batalla.
---
Well friends, I just wanted to tell you this for now, if you want to enter this wonderful game, you can do it through the following link: https://splinterlands.com?ref=hendersonp . It is all for now, see you in battle.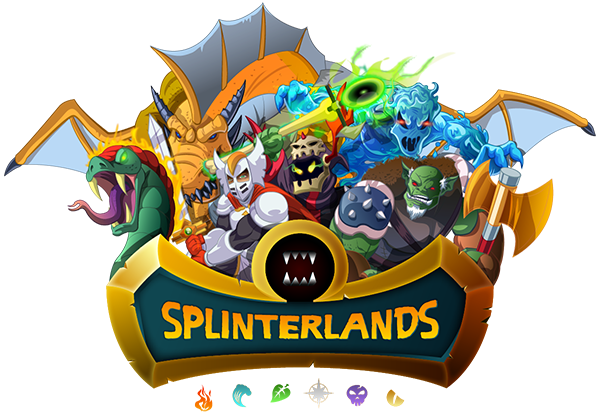 ---
---