Nuevo hito, superando los 80000 SPS estaqueados || New milestone, exceeding 80,000 staked SPS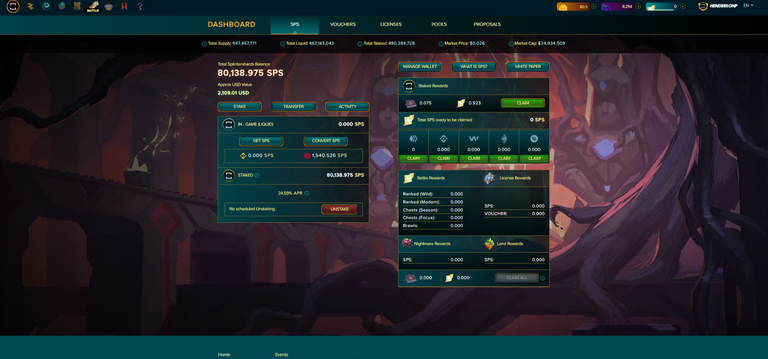 Hola amigos de splinterlands espero que estén muy bien, hoy vengo a compartir con ustedes un nuevo hito en el juego , después de ahorrar bastante y stakear estas semanas logre superar los 80000 SPS stakeados, a medida que pasa el tiempo acumular SPS es mas difícil el ritmo de ahorro va disminuyendo ya que el APR de stake disminuye, también disminuye la cantidad de SPS ganados por paquetes de TD ya que se van vendiendo más, creo que este año será la última oportunidad de acumular SPS aunque el número total de SPS parece gigantesco si el juego pasa por una nueva ola positiva de cripto es probable que gracias a la demanda ese número gigantesco comience a parecer pequeño ( al menos en su forma líquida) actualmente hay alrededor de 480 millones de sps líquidos y una capitalización de mercado de poco más de 24 millones de dólares, por lo que con que ingrese unos 100 millones de dólares el precio subiría fuertemente, el token de gobernanza a nivel de juego más popular es el AXS , actualmente tienen más de 900 millones de dólares en capitalización y eso que aún estamos en invierno cripto por lo que si las cosas salen bien vamos a tener un gran aumento de capitalización en el futuro.
---
Hello friends of splinterlands, I hope you are very well, today I am here to share with you a new milestone in the game, after saving a lot and staking these weeks, I managed to exceed 80,000 staked SPS, as time goes by, accumulating SPS is more difficult. saving rate is decreasing as staking APR decreases, also the amount of SPS earned by TD packs decreases as more are being sold, I think this year will be the last chance to accumulate SPS even though the total number of SPS seems gigantic if the game goes through a new positive wave of crypto it is likely that thanks to demand that gigantic number will start to seem small (at least in its liquid form) there are currently around 480 million liquid sps and a market capitalization of little more of 24 million dollars, so if it enters about 100 million dollars the price would rise sharply, the most popular gaming-level governance token is AXS, currently They have more than 900 million dollars in capitalization and we are still in crypto winter so if things go well we will have a large capitalization increase in the future.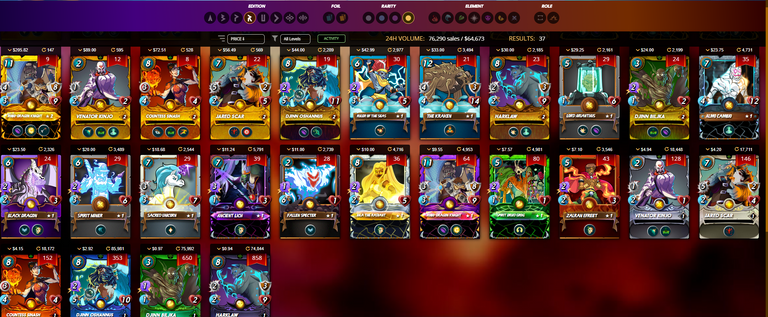 Ayer salió una publicación anunciando que hasta el 31 de este mes se imprimirán las tarjetas de recompensa tal cual la conocemos y se comenzará a imprimir tarjetas ligadas al alma que por ahora no se pueden comercializar debido a estas noticias muchas cartas de recompensas (las de alta utilidad) subieron de precio, particularmente me falta una alta cantidad de cartas para poder completar la colección de recompensa a nivel de legendarias y épicas debido a eso me veré forzado a vender SPS líquido para poder comprar algunas cartas que considero importante, espero que más adelante no me arrepienta, ya que las cartas actualmente no dan o implican una ganancia directa de SPS pero si son cartas que pueden mejorar nuestro juego indirectamente si nos ayuda a ganar más SPS ganando más batallas.
---
Yesterday a publication came out announcing that until the 31st of this month, the reward cards will be printed as we know them and soul-bound cards will begin to be printed that for now cannot be marketed due to these news, many reward cards (those with high utility) went up in price, particularly I lack a high number of cards to complete the reward collection at the level of legendary and epic because of that I will be forced to sell liquid SPS to be able to buy some cards that I consider important, I hope that later I do not regret it, since the cards currently do not give or imply a direct gain of SPS but they are cards that can improve our game indirectly if it helps us to gain more SPS by winning more battles.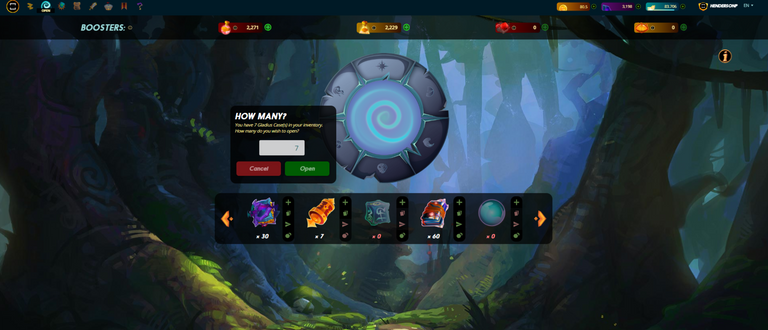 Por último les comparto mi última compra de paquetes Gladius, en esta oportunidad compré 7 paquetes lo que serán 35 cartas Gladius más para mi colección, en esta oportunidad no me salió ninguna carta legendaria, pero si me salieron 2 cartas épicas, en una de las actualizaciones publicadas anunciaron que viene una nueva habilidad que solo podrá tenerla invocadores y es que se podrán utilizar cartas gladiadores en batallas clasificatorias, esto es algo que motiva mucho más a seguir acumulando cartas Gladius porque sin duda son cartas muy fuertes tan fuertes que fácilmente pueden desbalancear totalmente una partida que este en igualdad de condiciones, solo imaginen a QUORA TOWERSHEAD nivel máximo por solo 10 de mana luego de matar 1 o 2, este con seguridad será un año emocionante en el juego se viene una nueva expansión de cartas para mitad de año, adicional varias actualizaciones de las Lands y el nuevo juego TD, será un año entretenido y lleno de emociones, crucemos los dedos poque también sea un año verde para las criptos para que de esa forma sea un año perfecto jejeje.
---
Finally, I share my last purchase of Gladius packs, this time I bought 7 packs, which will be 35 more Gladius cards for my collection, this time I did not get any legendary cards, but I did get 2 epic cards, in one of the Published updates announced that a new ability is coming that only summoners can have and that is that gladiator cards can be used in qualifying battles, this is something that motivates much more to continue accumulating Gladius cards because without a doubt they are very strong cards so strong that they can easily unbalance totally a game that is on equal terms, just imagine QUORA TOWERSHEAD maximum level for only 10 mana after killing 1 or 2, this will surely be an exciting year in the game, a new card expansion is coming for mid-year , plus several updates to the Lands and the new TD game, it will be an entertaining and exciting year, let's cross our fingers because It is also a green year for cryptos so that it is a perfect year hehehe.


Bueno amigos, solo quería decirte esto por ahora, si quieres ingresar a este maravilloso juego, puedes hacerlo a través del siguiente enlace: https://splinterlands.com?ref=hendersonp. Es todo por ahora, nos vemos en la batalla.
---
Well friends, I just wanted to tell you this for now, if you want to enter this wonderful game, you can do it through the following link: https://splinterlands.com?ref=hendersonp . It is all for now, see you in battle.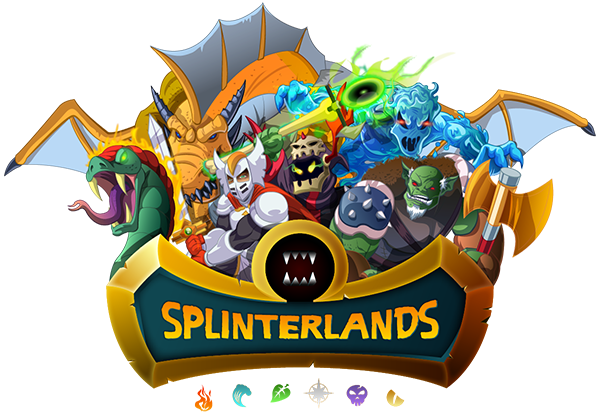 ---
---