# Splinter Stats Ranked Rewards Season 5 Report Card

It was a very difficult season. Victories were very hard to come by in the Wild mode. I don't know if it's the level of the players that got much better (or me getting worse and worse, it's possible 😀) or the bots got very strong. I didn't manage to reach Diamond I, not even Diamond II 😢

Match Report
Performance
| Stat | #Wild | #Modern |
| --- | --- | --- |
| Rank | Diamond #850 | Silver #17581 |
| Rating | 2934 - Diamond III | 1666 - Silver I |
| Rating High | 3081 | 1666 |
| Ratio (Win/Loss) | 0.87 (105/121) | 3.40 (17/5) |
| Longest Streak | 7 | 7 |
As I said in the introduction, in Wild, my win ratio went below 1. More losses than wins, it hadn't happened to me for a long time. I played a lot more especially in the last days to try to reach Diamond but it was difficult. 226 games for barely 105 wins, the season before I needed 171 games to get 100 wins. And for the current season, it's also difficult, still in Gold and only 4 days left 😧

Rewards Report
Standard Foil Cards
| Rarity | Quantity | 🔥DEC🔥 |
| --- | --- | --- |
| Common | 25 | 125 |
| Rare | 10 | 200 |
| Epic | 4 | 400 |
| Legendary | 0 | 0 |
| Total Standard | 39 | 725 |
Gold Foil Cards
| Rarity | Quantity | 🔥DEC🔥 |
| --- | --- | --- |
| Common | 3 | 375 |
| Rare | 0 | 0 |
| Epic | 0 | 0 |
| Legendary | 0 | 0 |
| Total Gold | 3 | 375 |
Loot Chests
| Reward Chests | Dailies | Season | Total | 💲Token |
| --- | --- | --- | --- | --- |
| Legendary Potions | 52 | 13 | 65 | 🟡 2600 |
| Alchemy Potions | 66 | 48 | 114 | 🟡 5700 |
| DEC | 2672 | 912 | - | 🟣 3584 |
| CREDITS | 0 | 0 | - | 🟡 0 |
| Merits | 1024 | 384 | - | 🎀 1408 |
| CHAOS Packs | 2 | 1 | 3 | 🟡 12000 |
| Cards (Total) | 23 | 19 | 42 | 🟣 1100 |
Captured DEC (Ranked Rewards)
| Ranked Play Wins | DEC Earned |
| --- | --- |
| undefined | 🟣 1743 |
Total Ranked Play Rewards
Total Ranked Play Earnings
🟣 6427 DEC
🟡 20300 CREDITS
By staying in Gold longer, the rewards have been less in all areas. Less potions, less DEC, it doesn't bother me too much because potions are useless and DEC aren't worth much at the moment. On the other hand, in terms of cards (my favorite part), it wasn't so great, only 42 cards, no legendaries and only 3 Gold Foils Common. My dream to stop working and live from Splinterlands isn't for today 😀. In total even less DEC in the end, I go from 10,000 per season to less than 6,500. The fall should be stopped.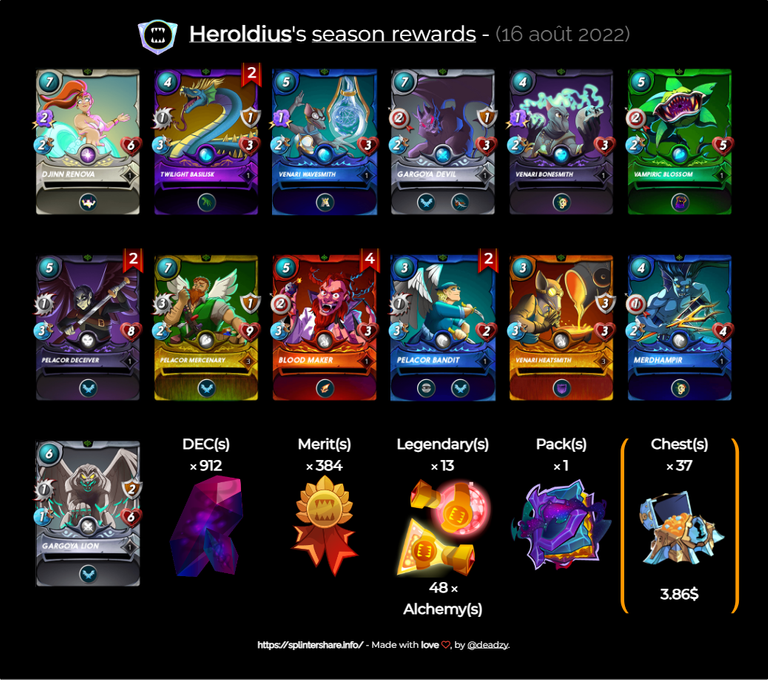 My last season reward... 2 Golds and 1 Chaos Pack... it saved a bit this nightmare season.

🟣 Rental Report
| Type | DEC (fees) |
| --- | --- |
| Revenue | 1537.621 (38.740) |
| Expenses | (0.000) |
| Cancellation Refunds | 0.000 |
| NET | 1498.881 |
As you know, I really don't care about this part. And I'm thinking of stopping it completely. Instead, I'm going to use my alternative account with my unused cards and maybe delegate its management to a bot, just to see if I can get something out of it. What do you think about it? Do you use a bot? Good ROI?


⭐ SPS Report
| Type | ⭐ Amount Claimed |
| --- | --- |
| Airdrop | 0.000 |
| Staking Rewards | 146.851 |
| NET SPS | 146.851 |
| + Voucher Drops | 11.911 🎟️ |
Without Airdrop, the SPS gain has decreased a lot, about ten SPS each day instead of a hundred. I already miss this airdrop 😀.


The game is getting harder and harder for me. The level is increasing and I would have to invest more $ to keep the same level as before. But that's not my intention, I hope to find some pleasure in the game. And this is the case this season, even when there are fights during my cards miss for no apparent reason (I jump on my seat but I stay calm, well not all the time). But with daily reward like this one, I like this game :

I don't need much 😀
And for you, has it become more difficult to win?
Have a great season and enjoy
---
Posted using SplinterStats Season Report Card.
This once a season tool for Splinterlands players provides a template to reflect on and share their performance, card usage statistics and rewards summary for the season. More features will be released in the future.
Follow @splinterstats and come visit us in Discord if you have any questions.
---
---