# Splinter Stats Ranked Rewards Season 7 Report Card

It's another difficult season in Wild mode. I have a lot of trouble to win a lot of combats in a row and therefore to progress quickly in the rating. I can hardly reach the Diamond League in the last days (or even in the last hours). Now my goal is to get to the Diamond level a little earlier to try to get better chests. However, the motivation is coming back. Strange but the days are shorter and colder here in Montreal (Canada), I'm like a bear, starting my hibernation inside. 😀
C'est une nouvelle saison difficile en Wild mode. J'ai beaucoup de mal à enchainer les victoires et donc à avancer au niveau du rating. J'arrive difficilement dans les dernières journées (ou même dans les dernières heures) à atteindre la Diamond League. Maintenant mon objectif est d'arriver un peu plus tôt au niveau Diamond pour essayer de récupérer de meilleurs coffres. Par contre, la motivation revient. Etrange mais les journées sont plus courtes et plus froides ici à Montréal (Canada), je suis comme un ours, je commence mon hibernation au chaud à l'intérieur. 😀

Match Report
Performance
| Stat | #Wild | #Modern |
| --- | --- | --- |
| Rank | Diamond #983 | Bronze #32037 |
| Rating | 2814 - Diamond III | 328 - Bronze III |
| Rating High | 2814 | 328 |
| Ratio (Win/Loss) | 1.26 (103/82) | Infinity (1/0) |
| Longest Streak | 7 | 3 |
Not even 200 fights, but the ratio of victories remains interesting (above 1, it's one of my goals). On the other hand, always 1 defeat to stop the momentum, which prevents me from making long streak of victories and to go up faster in rating. I don't know if it's because of the bots (like Archmage) or the skill of the players has increased, but it's much harder to win lately. Have you felt this or is it just my fighting skills that have declined? 😀
Même pas 200 combats, mais le ratio de victoires reste intéressant (au dessus de 1, c'est un de mes objectifs). Par contre, toujours entrecoupé de défaites, ce qui m'empêche de réaliser de longues séries de victoires et de monter plus vite au rating. Je ne sais pas si cela est à cause des bots style Archmage ou le niveau des joueurs a augmenté, mais c'est beaucoup plus difficile de gagner depuis quelques temps. Avez-vous ressenti cela ou c'est seulement mes capacités de combat qui ont décliné ? 😀

Rewards Report
Standard Foil Cards
| Rarity | Quantity | 🔥DEC🔥 |
| --- | --- | --- |
| Common | 16 | 80 |
| Rare | 6 | 120 |
| Epic | 4 | 400 |
| Legendary | 1 | 500 |
| Total Standard | 27 | 1100 |
Gold Foil Cards
| Rarity | Quantity | 🔥DEC🔥 |
| --- | --- | --- |
| Common | 1 | 125 |
| Rare | 0 | 0 |
| Epic | 0 | 0 |
| Legendary | 0 | 0 |
| Total Gold | 1 | 125 |
Loot Chests
| Reward Chests | Dailies | Season | Total | 💲Token |
| --- | --- | --- | --- | --- |
| Legendary Potions | 30 | 59 | 89 | 🟡 3560 |
| Alchemy Potions | 99 | 31 | 130 | 🟡 6500 |
| DEC | 0 | 0 | - | 🟣 0 |
| SPS | 17.196 | 262.680 | - | ⭐ 279.876 |
| Merits | 1320 | 0 | - | 🎀 1320 |
| CHAOS Packs | 1 | 2 | 3 | 🟡 12000 |
| Cards (Total) | 20 | 8 | 28 | 🟣 1225 |
Captured DEC/SPS (Ranked Rewards)
| Ranked Play Wins | DEC Earned |
| --- | --- |
| 104 | 🟣 0 + ⭐83.883 |
Total Ranked Play Rewards
Total Ranked Play Earnings
🟣 1225 DEC
🟡 22060 CREDITS
⭐ 363.759 SPS
Less fights (and especially victories), less chests to open, and therefore less rewards. I didn't get many cards this season, fortunately 3 Chaos packs (with 2 at the end of the season opening). I stocked up on Legendary and Alchemy potions perfect for the upcoming Riftwatchers pack opening. Not much SPS received, only 363... I saw a screenshot of a player who received more than 40,000 SPS in a chest (when he opened that chest that was almost 3,300 USD... and I'm happy when I get a Legendary card)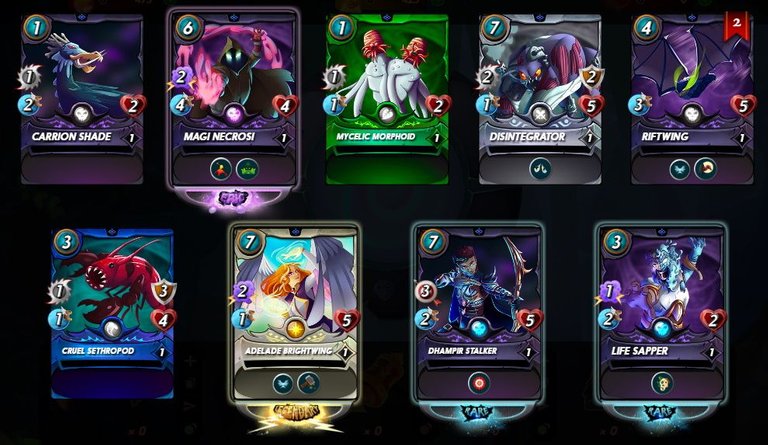 2 interestings packs to finish the season...
Moins de combats (et surtout de victoires), moins de coffres à ouvrir, et donc c'est logique moins de rewards. J'ai reçu peu de cartes cette saison, heureusement 3 paquets Chaos (avec 2 lors de l'ouverture de fin saison). J'ai fait le plein des potions Legendary et Alchemy parfait pour l'ouverture des packs Riftwatchers qui s'en vient. Peu SPS reçus, seulement 363... j'ai vu une capture d'écran d'un joueur qui a reçu plus de 40,000 SPS dans un coffre (quand il a ouvert ce coffre cela faisant presque 3,300 USD... et dire que je suis content quand j'ai une carte légendaire).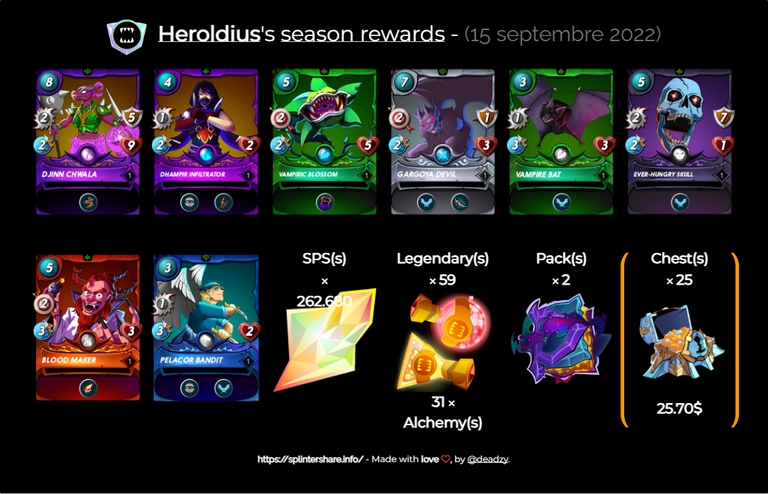 🟣 Rental Report
| Type | DEC |
| --- | --- |
| Revenue | 912.953 |
| Expenses (inc. fees) | (24.836) |
| Cancellation Refunds | 0.000 |
| NET | 888.117 |
I didn't get much with my rentals but it's normal I didn't take the time to manage that part. With less time to go outside to enjoy sun, I start this current season to manage it. We'll see the results at the end of this season. I have to at least double this amount (new goal).
Au niveau des rentals, je n'ai pas reçu grand chose mais normal je n'ai pas pris le temps de gérer cette partie. Avec moins de temps à me promener dehors, j'ai commencé à gérer cela. On verra les résultats à la fin de cette saison. Il faut au moins que je double ce montant (nouveau objectif).

⭐ SPS Report
| Type | ⭐ Amount Claimed |
| --- | --- |
| Staking Rewards | 183.661 |
| NET SPS | 183.661 |
| + Voucher Drops | 14.897 🎟️ |
The SPS harvest is largely less now that the Airdrop is finished. Only during the Daily Focus, I get some dust. As they say, it was better before. 😀
Niveau SPS, la récolte est largement moindre maintenant que l'Airdrop est fini. Seulement lors des Daily Focus, je reçois un peu de poussières. Comme on dit, c'était mieux avant. 😀

I hope that on your side the season has been good and that it's always a pleasure to play. For me, it's coming back slowly, I'm going to be on top this winter with snow & cold outside. Question, did you participate to the Riftwatchers presale? On my side, I bought 100 packs (with 10 in bonus) but I think I arrived too late to get the Promo card. It sold so fast... big success with Splinterlands.
J'espère que de votre côté la saison a été bonne et que c'est toujours un plaisir de jouer. Pour moi, cela revient lentement, je vais être au top cet hiver. Petite question comme cela, avez-vous participer à la prévente Riftwatchers ? De mon côté, j'ai acheté 100 paquets (avec 10 en bonus) mais je crois que je suis arrivé trop tard pour avoir la Promo card. C'est parti tellement vite... gros succès avec pour Splinterlands.
---
Posted using SplinterStats Season Report Card (Website|Blog).
This once a season tool for Splinterlands players provides a template to reflect on and share their performance, card usage statistics and rewards summary for the season. More features will be released in the future.
Follow @splinterstats and come visit us in Discord if you have any questions.
---
---