HiQ №23 | Smart, Stylish & Sexy | HiQs HiveFest 2022, Moments of HiveFest, Print-HiQ a.m.m.m.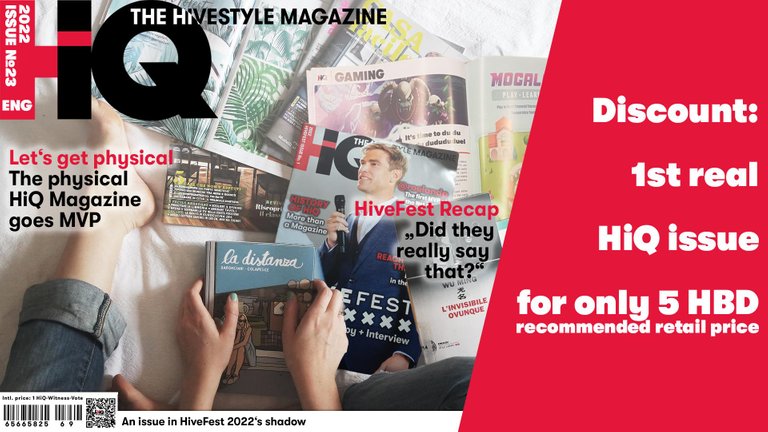 Info für deutsche Leser: Die deutsche Ausgabe wurde unter @hiq veröffentlicht. (Anm. d. R.: Ihr findet sie hier.)


By: @smooms
EDITORIAL  
We ventured out of our usual environment (Editor's note: The basement except for @mary-me and her west wing.) to cover the HiveFest for you. What we experienced, you can read about in this issue.
As in every issue, this one can't be without the MVP. But what would HiQ be without a little self-congratulation? You can read what we have up our sleeves for you in this issue.
The Column was written by our roving reporter @kvinna, who unfortunately couldn't be at HiveFest in person. What was her perception about the HiQ team's trip? You can read it in this issue.
Diligent as we are, we of course watched every talk live. What was talked about there, you'll read in this issue.
For us, HiveFest was not only about presentations. Of course the background stories also had to be covered. You can read all about our sidequests and experiences at HiveFest in this issue.
You know what else you can read about in this issue? Yes. of course, as always, Gossip, Hivestyle for Hivians and our all-time favourite category, the reader's letters. What we've pulled out of the hat from our biggest fans, you can read in this issue.
PS: As always you can participate in the Commentary Discount Sale and get up to 270 HIQS for the price of 0.3 SWAP.HIVE. Just write
!HIQS DesiredAmounts
in the comments. After 2 days we will publish a post at @hiq.shares that will handle the sale.
PPS: Vote HiQs Witness. Now. LOOL! ★

TABLE OF CONTENTS
  ➀ HiQs MVP - Print-HiQ
  ➁ THE COLUMN - Highfhive (but with three of us)
Cover Story
  ➂ HiQs HiveFest 2022 summary
  ➃ Moments of HiveFest 2022
Hivestyle
  ➄ Gossip
  ➅ Hivestyle for Hivians
  ➆ Reader's Letters ★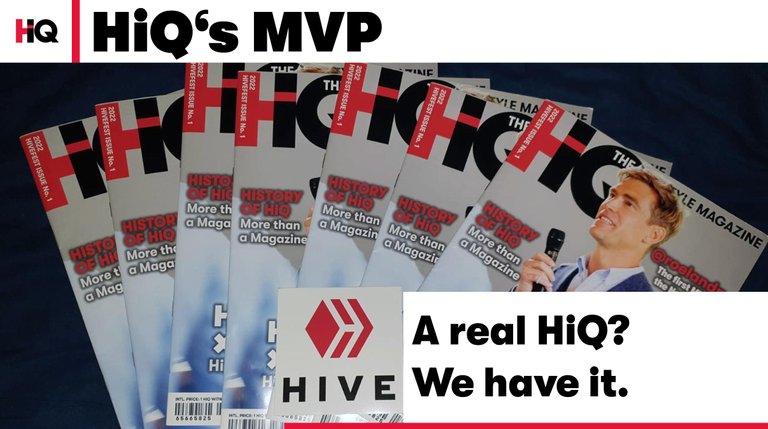 By: @smooms
➀ MVP  
One month, 2 MVPs. But in this digital edition, the stars are once again aligned for "patting yourself on the back" with FOMO as the ascendant. In this issue: The physical HiQ edition of HiveFest7.
Of course, we would have had a massive selection of users who could have been crowned MVP in this issue. But we also have to see that the cash still flows. As mentioned in the teaser, the MVP in this issue is the physical HiveFest magazine itself. HiQ - The Hivestyle Magazine - HiveFest Issue №1.
Nearly 3 months of stress, blood, sweat, tears, fomo, stress, finding advertising partners, busting the printer's balls, and stress got to us, but this issue is real. Really real. To touch and really turn the pages. A physical NFT with an exorbitant collector's value perhaps? Only time will tell. Based on the positive feedbaccak, however, it can be determined that this will not be the last issue. (Editor's note: Probably.)
At the HiveFest in Amsterdam all ticketed visitors got a free issue of HiQ in their goodie bags. However, we don't want to deprive the Hivians among you, who couldn't/wouldn't visit the HiveFest for whatever reason, of our high quality produced magazine. So we would like to point it out to you here once again:
HiQ - The Hivestyle Magazine (HiveFest Issue 1) is now available for purchase for EVERY HIVIAN. For only 5 HBD plus shipping (which is about 5 HBD) one of the copies can be yours. Just send us a mail to [email protected] with your address (which we will of course treat discreetly and delete after shipping) and we will tell you the fixed costs in a reply.
Get it NOW, while there are still copies left. As I said: collector's value, and all that jazz.

Are you the next HiQ MVP and can call yourself the most stylish user of the month?
NEW: Send 10 HIQS & get 100% votes for 1 MONTH!
Every month we look for the most stylish Hivian of the Hive. You can submit your photo too! Send 10 HIQS (+ possible bribe) to @hiq with the memo "HiQ MVP + link to your profile".
We will then publish your picture in one of the next issues. In addition, we will add you to our auto-voter for one month. That means: at least 28 days of 100% upvotes from the smart HiQ trail. ★
(only 1 vote per day)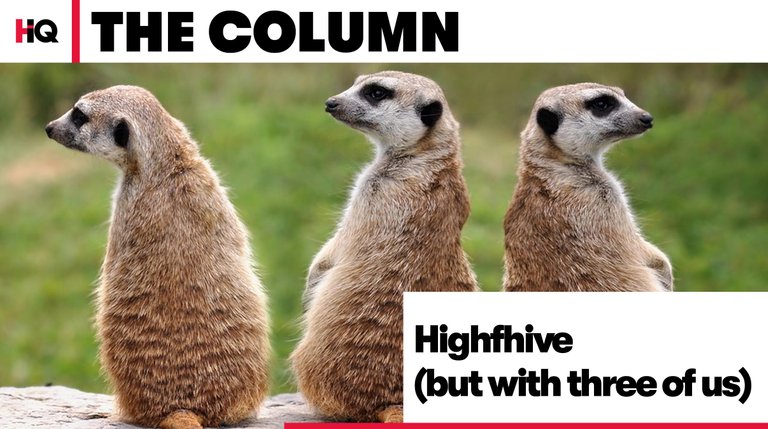 By: @kvinna
➁ THE COLUMN  
Most of you probably know that the three ??? from HiQ were at HiveFest, but you can now find out one or two personal anecdotes exclusively in this column.
HiveFest is now over again, along with all the excitement and preparation stress. Most relieved @roelandp should now breathe a sigh of relief and look back on a very successful conference. On the Hive blockchain, the posts of the visitors are still resonating, reporting on the impressions that are most important to them, to share with those not present.
I think the most interesting thing for you is definitely how the HiQ team did with the HiveFest, here from my observer role as an editorial expert. What was certain relatively quickly was that there would be a real physical print edition to touch, and as you know, there is. But other things were often discussed, discarded, taken up again, and so on and so forth.
"We're going, oh no, we're not, because it's too expensive, after all we want to go to THE event hotel." My suggestion with private accommodations was rejected indignantly and tents do not go at all. They gave me the bird because I dared to suggest something so inappropriate to the core team. Well, that's how it went back and forth for a long time. Houseboats and the risks of seasickness were discussed and what many of you probably know, the campsite won.
In the weeks before they were very stressed and the closer the print deadline came and created deadline pressure, the more stressed they were. Certainly also quite annoyed and easily irritated. They had retreated into hiding so they could work and be stressed undisturbed, so I hardly ever saw them. But anyway, almost all was well in the end, as we know.
Full of enthusiasm, camping by the water was now championed and how great that would be. @smooms who said he could sleep on a brick didn't, but feels that way and doesn't want to know about tents at HiveFest anymore. We can only hope that @detlev doesn't host the next HiveFest-Beer-Saturday in a beer tent and then @smooms bad memories come back to life. While @quekery took it all in stride with stoic composure, even the rain. He'd do it again, even if it was uncomfortable.
We are really lucky to still have our @quekery. By his own admission, he almost starved to death. Either the passionate explainer bear was talking to the other Hivians or the food ran out. Why weren't the other two in danger, you ask? Well, they had grabbed a kebab on the way when they were out on the town for reporting @mary-me's stolen bag. Plus, they were able to keep their heads above water with candy.
While @quekery certainly represented the HiQ team gracefully on Beer Saturday, @smooms took the exhausted @mary-me home, both showing chivalry and getting more much-needed night's rest. What do you think happens when a gamer and a woman are in the same room for a period of time? The gamer games and the woman falls asleep, it's as simple as that - with gamers, I guess you can safely be alone.
The blue rabbit is also said to have been there, he was at least seen by the core team from time to time. However, they allegedly searched for him more often than they found him, but that's how it is with the hare hunt. Who knows if @blue.rabbit doesn't even have a travel rabbit hole where he can disappear whenever he wants to and then enjoy @free.fall.
The conclusion I can draw is that when the three of them returned, they seemed tired and exhausted, but also happy as new parents who haven't had enough sleep for weeks. Who saw the joyful face when @mary-me held the HiQ print issue for the first time, or the beaming relief after Batman's presentation. There are many more funny and beautiful stories about all the many encounters and events there, but we don't want the column to be longer than the rest of this virtual issue. ★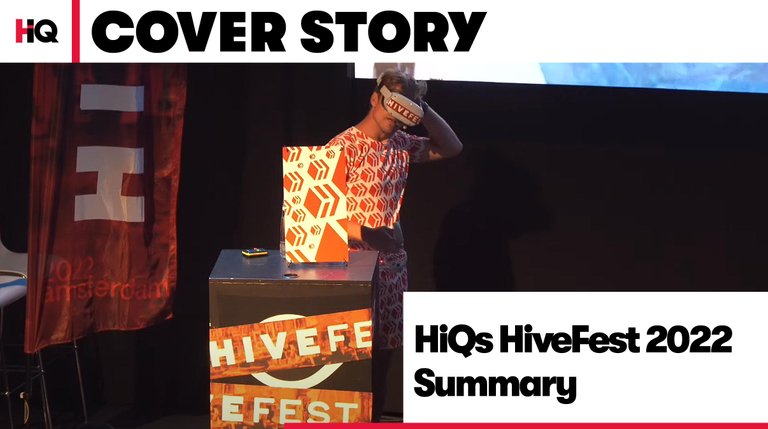 By: @quekery, @smooms, @mary-me & @manncpt
➂ COVER STORY  
We didn't miss a single lecture, always watched diligently and absorbed everything - that's the only way we could write this. (Editor's note: Thanks @roeland for the YouTube videos. LOOL)
Hive.io CoreDev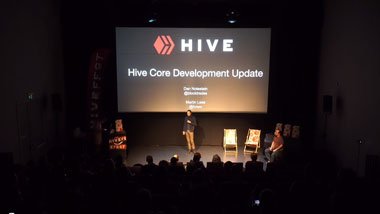 After a successful intro by @roelandp, the first day of talks started with a BlockTrades Hivechain update talk by @howo, in which he presented the new tricks and development advances of the HF26. Some of this was already revealed to us in the interview, which can be read in the physical edition (Editor's note: Buy the physical HiQ.), and can likewise be found on the Blockchain in various posts.
When Dan (@blocktrades) sat down at the piano, some Hivians were hoping for a snappy jam session, but unfortunately the piano remained silent. However, the presentation made up for it. @howo talked about OBI (One Block Irreversibility) during his presentation, which would bring scalability improvements to the 2nd layer by reducing the visibility of entries into a block from the APIs from 45 seconds to under 1 second. He also talked about block compression, which is interesting for Node operators as the blockchain already takes up a lot of storage now. Also, the RC cost for custom JSON transactions on the chain is to be adjusted and the ability to delegate RC mana is to be added. Much more was announced. If you want to watch the talk again, you can go to the YouTube video recording of the livestream here.

NFT for Peace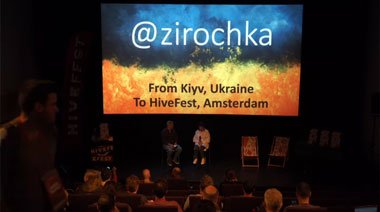 Afterwards @arcange interviewed @zirochka. It was about the project NFT for Peace and how @zirochka processed war experiences in Ukraine on Hive. With NFT for Peace, any user can buy badges on hivebuzz.me. The proceeds act as donations that benefit Ukrainians who are suffering due to the war situation. Just enter your name on Hivebuzz and click on the NFT for Peace tab. Then select a badge, the amount of your donation and you're done. So far the project has raised 4750 HIVE and 4526 HBD.
There is more to come! The badge with 4 stars costs 100 HIVE. If @manncpt can afford it, surely one other Hivian should feel motivated to obtain the five star badge. Any takers: @balte?

LasseCash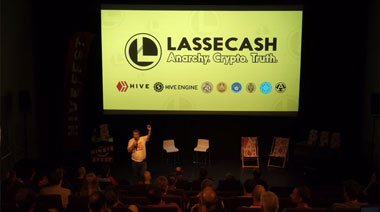 @lassehlers told us about the first Outpost in Hivestory. LASSECASH is a Tribe token including Outpost. The motto is Anarchy, Crypto and Truth. So to enjoy LASSECASH, you could post about one of the 3 themes and tag #lassecash.

Winalab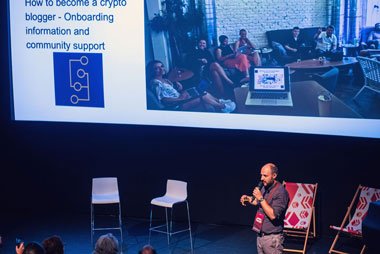 @manncpt presented @globalschool in his talk, as he did at Fest in Krakow 2018, and what has happened since then. The @cryptobrunch and @winalab projects are brands to bring newcomers to Hive. For @schmidi, it worked. He is now a face of Austria's "Crypto Bloggers" himself. And all in the wake of Meetups in Vienna.
#HiveMeetupVienna is the only local meetup in the DACH region, which has been held every month since Hive existed. The next Meetup is on 06.10.22. The community strategist called for organizing more "City Meetups" or "Stammtische", all it takes is two Hive friends to start. More about this in his talk - listen for yourself. (Editor's note: And we learned that @manncpt & @schmidi love WORKATION. And we love the word. From now on, we don't just work, we do Workation. LOOL)

Freechain Movie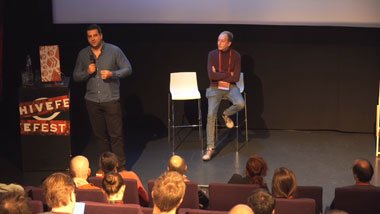 Petite @lordbutterfly (Editor's note: Pictured left.) and @little.lamb gave a talk about the film "Freechain". @freechain will be a professional documentary film about Hive. In the lecture we did witness a new teaser, which made us want to see more. The special thing about the film, according to @little.lamb, is that during the film the narrator gradually learns what Hive is and what makes our chain and the community around it so special. This is meant to create a special immersion.
Now the only question is when the film will come out and where we can admire it. @little.lamb said that it could be a good 6 months before the film is released. Various streaming platforms like Netflix and Amazon are being targeted as the place to watch it. And because it was so nice, there is now the HiveFest film footage in your face - look here.

Visionary Studios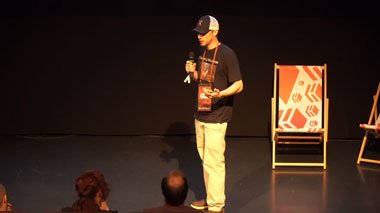 @jeffjagoe is one of the co-founders of @visionarystudios a Web3 Project Developing Company. Visionary Studios supports many different projects. Most of the projects are on Solana and focus on NFTs. Everything from a chicken restaurant to a game is included. In principle, he does not rule out Hive for future partners. Currently, however, Hive is only used as a social media presence.

Coinzdense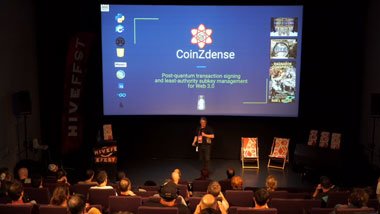 The blogger on Hive may not be aware, but whenever you make a transaction, it is signed. Signing is a crytographic process and on Hive and other Chains, ECDSA (Elliptic Curve Digital Signature Algorithm) is typically used. (Note from @quekery: You won't believe how I have to pull myself together now not to babble about elliptic curves). If one wanted to bruteforce ECDSA, the computational effort is so high that today's computers would have their problems with it. Quantum computers, however, would change this. How we could make our chains quantum safe is explained by @pibara in his talk. @quekery would have liked to hear more about the topic, but the idea could only be touched on briefly in this short presentation time slot.

Hive Marketing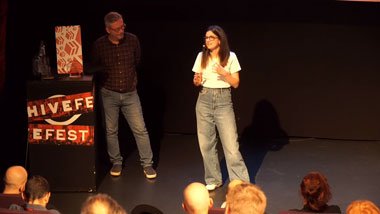 @behilarious presented how her agency promotes Hive to attract developers. Watch the presentation and form your own opinion about the project. It's not easy to design a centralized communication strategy for a platform that is so diverse and whose strength lies in its decentralized structure, made up of so many different projects.

Beerverse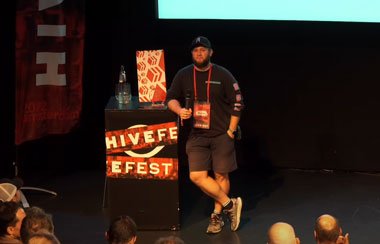 Did you know that the game CryptoBrewMaster is not just a game anymore? A whole beerverse has formed around the game. @rollie1212, who works in the alcohol industry himself, gives an overview of the activities away from the game. Mainly, it's about providing real breweries, whiskey producers, or even wine producers with the know-how they need to gain a foothold in Web 3.0. Beerverse organizes virtual tours of breweries, online meetups and supports producers with online marketing. If you want to know more about it or just want to get a promo code, you can check it out here.

Cold Beetroot Soup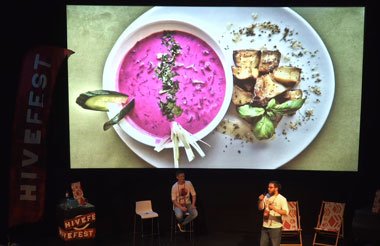 @minigunner and @artakush presented: @coldbeetrootsoup. Cold Beetroot Soup is a national dish from Lithuania. The creative minds behind the project make funny puns out of the individual ingredients of this delicious soup, which every HiveFest participant even got to try the next day.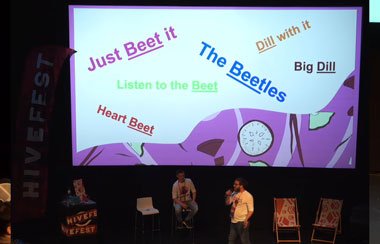 @k31ci3 is responsible for the unbelievably awesome design. Beet it and Beetles... LOOL. The laughs were on their side and the mood was visibly lightened. See for yourself.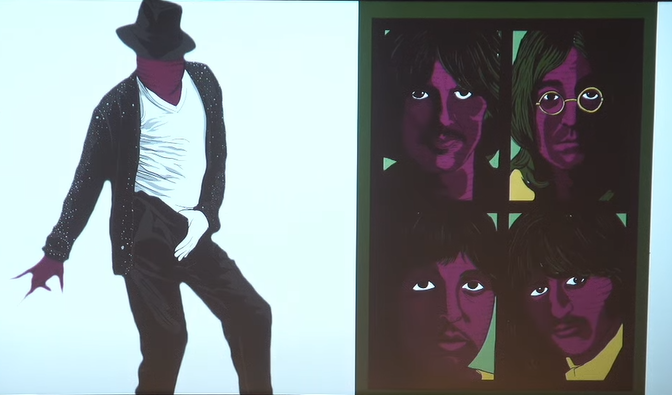 STEMsocial, citizen science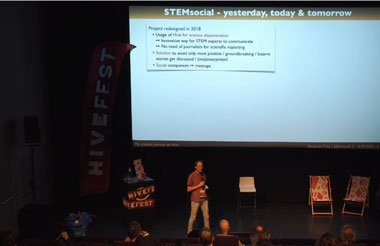 @lemouth brings us up to speed on @stemsocial. STEMsocial is a community that, as the name suggests, is all about Science, Technology, Engineering, and Math. (Note from @quekery: Finally, it's about Math, LOOL.) Even though it's gotten a little quiet around STEMsocial, it's the curation system, which has long been of interest to STEM bloggers. By the way, @quekery got his first big upvote here in 2018 and that too with a math post. There used to be a frontend too, this one @lemouth would like to bring back. So he is still looking for programmers to help with that. What else @lemouth has planned, you can see here.

How to maintain a community on Hive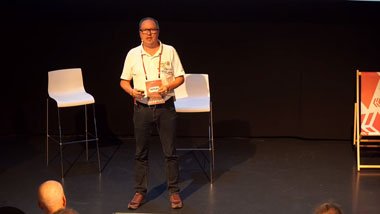 @detlev talked about communities and how to "accidentally" start a new one. #Beersaturday is the beer community of our blockchain. Using his example, you can see how it works to build a community around a topic. A must watch for all beer lovers and community builders. Detlev is a Hive veteran and an indispensable part of HiveFest. Afterwards we opened one or the other Heineken and toasted to the end of the first day. If you are also planning to start a community, you should have a look at Detlev's presentation.

Day 2
HiQ Magazine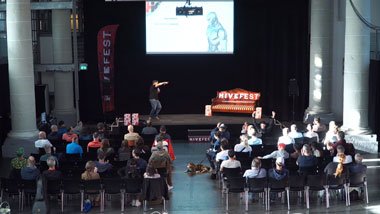 @smooms presented our much sought-after HiQ magazine and everything else that goes with it. If you want to know all the details, you'll have to watch THE presentation for yourself. We are proud of him and how he made our project shine in the light. Now some things should be clearer for all of you who are interested in the HiQ.
Just so you know, it was short and sweet and yes, there could be more international articles in the HiQ if English and Spanish speaking scribblers come forward and get involved. Because putting out a magazine like this takes time, energy, research skills and expressiveness. This is not everyone's cup of tea. For example, if you write about a lecture here, you have to stay neutral, even if one or the other lecture didn't blow us away - let alone ours. (Editor's note: Whereby we actually always find ourselves the coolest. LOOL)

OCD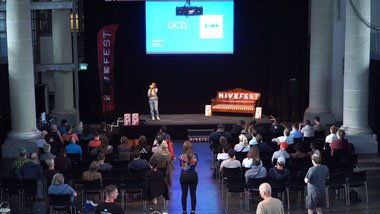 @livinguktaiwan is not only a curator on the @pinmapple team, but is also involved with @ocd. The following info stuck: Onboarding is rewarded - 100 HP per new user. Votes from @ocd are especially about supporting posts that are "undervalued". @ocd is an important pillar of community curation on Hive, so best check out the talk for yourself.

Peak Open Projects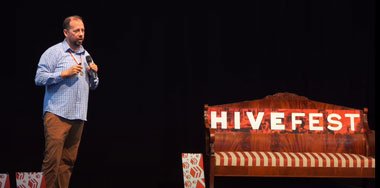 @jarvie presented Peak Open Projects, which consists of 7 individual projects with 6 devs and a 600 HBD proposal. The devs do not work for PeakD, they are from the community and develop tools for the community. On hivehub.dev or beta.hivehub.dev you can admire their work, e.g. the Block Explorer and Hive Stats.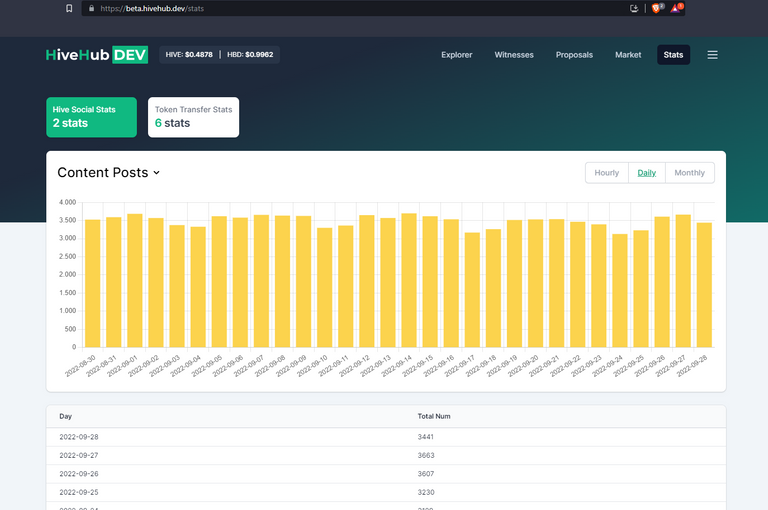 Lately, the internal market has been revamped and the currently most interesting project (Editor's note: for us) is the Discord-like messaging service, which is supposed to launch soon. How nice would it be if we could shift the time we normally spend on Discord, predominantly on editorial work of course, to a Hive-linked platform? Peak Open Projects' plan is to use the Hive communities for titles and roles, plus a direct messages service, group chats and private community chats. For us, this would make a little dream come true. If you want to know more about this, follow this link.

Carbonds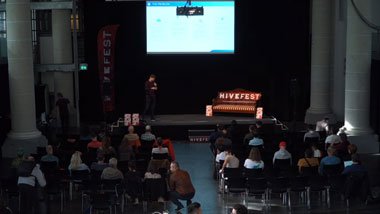 @lecharles presents Carbonds, a project on Ethereum. Carbonds combines CO2 compensation and cryptos. For example, a decentralized carbon marketplace is planned where certified carbon credits can be purchased. Among other things, the in-house token will allow the community to vote for project fundings. You can learn more in the presentation.

Who was Satoshi Nakamoto
@lrock asked the question, "Who or what created Bitcoin and why?" Was it a think tank, a military project, or a brave lone wolf after all? There is a lot of speculation and one or the other freeloader flew up in recent years. Currently, the Australian Craig Wright presents himself and claims to be the inventor of Bitcoin, Satoshi Nakamoto.

Whether this is the case and which arguments speak for and against it, you can see and hear for yourself in @lrock's presentation. So if you want to get to the bottom of this mystery, click here.

HAS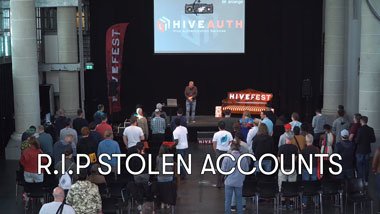 The second time @arcange was allowed to shine on stage (Editor's note: As a speaker, anyway. We won't count the one time he got a medal. LOOL), he presented his stroke of genius HAS (Hive Autentication Service). After a moment of silence for all those who had lost their hard-earned Hive assets to sleazy individuals, @arcange enumerated the benefits of HAS and delighted the crowd with a live demonstration that even involved the audience. (Editor's note: Instead of voting, @arcange should have sent himself some BEER. LOOL) HAS can be used to use a keystorage like Keychain to sign Hive transactions without having to enter the keys anywhere. This is especially interesting for being able to browse public devices on Hive without compromising your account. You can see the complete talk here.

Crypto Shots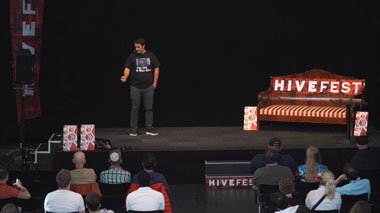 @keys-defender told us about the first shooter on Hive. (Editor's note: He didn't advertise it that way, but since it's the first shooter, it's the first shooter, LOOL.) Crypto Shots is a play-to-earn FPS. We tried the free demo and will follow up with a review as soon as we get bribed with assets. (Editor's note: The bribe unfortunately didn't arrive in time for the deadline, LOOL.) The game started on WAX, but now also makes Hive and the Hive infrastructure unsafe, such as Hive NFTs or Diesel Pools. One special feature is that the game runs in the browser, which means you don't need an end-crate graphics card, which is hard to come by anyway, to get your play-to-earn experience. There's also a HE token called DOOM (Editor's note: We can't see any reference to Doom.) and a Diesel Pool is in the works. Are we in for some PsyberX competition here, or is it more the other way around? Which of the two will bribe us more? We'll keep you posted.

Hybrid Delegations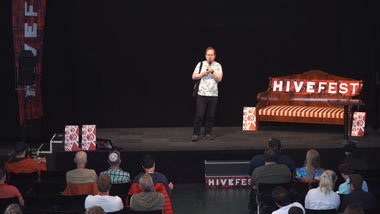 @edb suggests in his talk methods how to make Hive more secure. At the beginning of the talk, however, there was a brief discussion about Alexey Pertsev, who was allegedly arrested in Holland for the open source Ethereum app Tornado-Cash and is still not at large. @edb's suggestions for improving Hive's security were discussed in the Q&A session at the end of the presentation. Best make up your own mind and watch the presentation. Proof of authority and proof of identity incoming?

SPK Network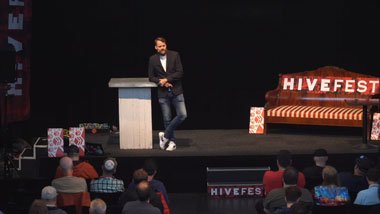 The talk by @starkerz was about the latest pranks from SPK Network. Besides encoding nodes, which are already live, SPK is working on content delivery nodes and storages nodes. The Speak Network is also expected to offer offchain mechanics, with Hive then acting as an indexer. On d.buzz, for example, you can already log in with Metamask right now.
Another focus of the talk was Breakaway Communities. In principle this is a competition to the outposts of Tribaldex. Breakaway Communities are Ecency Forks with Point System and own tokens. The special feature is that tokens are not distributed by the creator, but by a pay-in. Pay-ins from community members generate the liquidity of liquidity pools, which are called SIPs. A third aspect was wrapping, which is intended to enable cross-chain swapping.

Lightning strikes Hive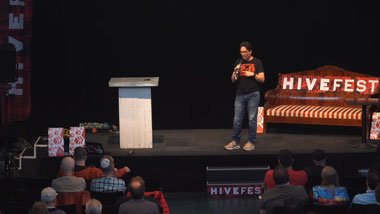 @brianoflondon gave a talk about his latest project - @podping. At the beginning of his talk he briefly discussed V4V. V4V allows you to make Lightning payments with HIVE or HBD, for example to donate SATS to a podcast. Swapping SATS in HIVE or HBD is also possible with V4V.
Podping is a tool that indexes podcasts on Hive. The idea is simple, but perhaps groundbreaking. Normally podcasts are indexed by Apple, Google or Spotify. The problem with this is that centralized indexing has become established. Podping, however, provides a remedy. The project, which is now just under a year old, outsources indexing to Hive. Should more podcasts and podcast apps use this variant of indexing, podcasting would be much more decentralized and censorship-proof, and that too through Hive.
Apps like Podcast Index or Podverse already use podping. So far over 4 million podcasts have been indexed by Podping. Are we in for a new standard?

Rising Star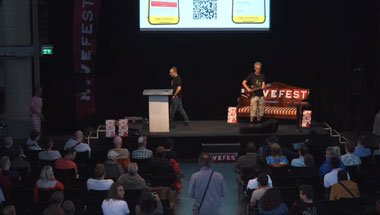 Towards the end of the 2nd day, we got another show performance from @jux and @steevc. The talk was about Rising Star. Rising Star is the "baby" of @jux and his wife and they seem to put a lot of heart and soul into the game. It is an NFT free-to-play browser game. It was very interesting to hear how the game is developing little by little and how @jux reacts to new challenges. Soon so-called raves will be added to the game. There is also a proposal, you can find it here.

So you read, there was a lot to see and hear at the HiveFest7. That's actually enough to fill one issue. But because we're workationaholics, you can learn more about HiveFest in the very next article, so we could also review everything again. ★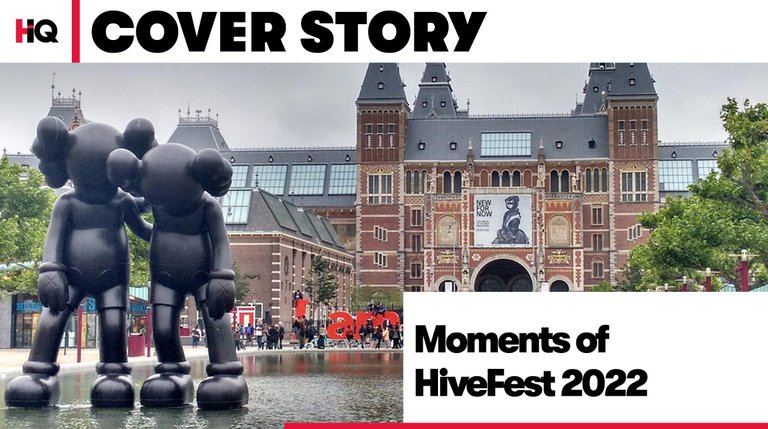 By: @quekery, @smooms & @mary-me
➃ COVER STORY  
Amsterdam: The bikes, the water (in the canals and from above), the film museum, the former church, the bars and pubs, the campground and the Volkshotel.... It was something very special.
I have completed my first HiveFest and it will definitely stay in my memory in a positive way, even though it was an exhausting 4 days. Of course, the talks were also an interesting experience with ups and downs. But between the talks, at the events and also in the evenings, a lot happened and I don't really know where to start. So sometimes it might be a bit blurry, after all we were Amsterdam picture book tourists.
For cost reasons and because we are extremely hard men, @smooms and I opted to stay in tents. @mary-me was a bit more luxurious staying in a cabin - we are not brutes after all. Just a pain that it rained all the time. The camping dudes from the HiQ already became their own HiveFest meme and I was also asked about it often. As a true Amsterdam tourist, we went to a bike rental before we even got to the first coffee shop. Only a pain that it rained constantly.
I met most of the people on day 2. After the lectures, there was a choice between Beer Saturday by @detlev and a poker tournament. Being a fresh-faced Amsterdam tourist, I opted for Beer Saturday. Just a pain that there is no good beer in Amsterdam. (Editor's note: And it rained. LOOL) But the local people were enough for me. In the first location I talked with @engrave and @priyanarc, among others, and had a smoker buddy in @rollie1212, who as a real beer expert first tested the most important types of beer. I still didn't know which beer was good then, but it was interesting to watch the master at work.
Before we knew it, we were off to the 2nd location. There I talked at length with @alexvan and also met new & old acquaintances like @rivalzzz, @louis88, @blue.rabbit and @leosoph. Part of the pack then wanted to continue on to the Volkshotel. I grabbed my bike and surprise, suprise it was raining. Half dripping wet I made it to the Volkshotel. After arriving there I first shared a "smoker's break" with @loonatic. Then we played a table soccer match. I warned everyone that I was bad, but I was even worse than I thought, LOOL. @loonatic even got to shine with handicap. Then when I became his handicap, we still lost.
Afterwards I went with @rivalzzz to the infamous 7th floor, which was also the location of the last day's after dinner. There we drank a little and danced. @manncpt told me that @therealwolf put on a show on the dancefloor the previous night and that @manncpt wants to join the HiQ. I guess we missed a show afterall. After a few hours I left to goto the campground. It was just a pain that it was raining again. With Google Maps in my ears, I almost made it to the campground. The area looked familiar, but after 4 Google Maps attempts, I still wasn't at my destination. Where is navigation smooms when you need him? I did some deep soul searching in desperation and realized that I was on the wrong side of the shore. Thanks Google Maps for nothing.
In the end, though, I did find the campground. Luckily, we were able to sleep in a bit to start our last official day. Our first physical HiveFest with our first physical edition and our first physical Team Meet Up will stay in my memory - that's for sure. It's just a bummer that it was raining all the time.

Once upon a time, we were on a train before our HiveFest: @quekery already had a seat, having been on this train for several hours. It was a gray, cloudy day, different from the days before. We were planning to camp, so it was inevitable that the weather would change and it would start to rain cats and dogs. Anyway, that's how it was. On the train, we unpacked the Switch and played Splatoon 3. Of course, the overpriced IC coffee can't be forgotten.
Fast forward to the Volkshotel. @quekery and I had already pitched the tents. A wise decision indeed because we arrived back at the campground as high as kites after the meeting with the other Hivians in the Volkshotel. What really made me chuffed was that the physical edition of HiQ looked like we hoped it would be. @roelandp in beastmode with the package center people.
On the first day our travel cash was stolen. Shit! But still, with the help of some Hivians, we managed to hustle our way through. Day 2, which was day 1 of the presentations, was as action packed as it could be. Instead of watching all the presentations I went with Mary by ferry, where many "Struikel gevaar" (Editor's note: "tripping hazards") existed, to the police station in the center of Amsterdam, where she filed a complaint. Subsequently, we bought her a "company cell phone". After all, she needed to be able to reach her people and more importantly, us, because @quekery and I almost roared away from her a few times on our bikes, which were full of go-faster stripes.
End of day 1. There would have been another boat tour and a pétanque tournament. However, we skipped that so we could prepare for the presentation. I still had to label my HiQCards. I was supposed to do that on the train, but the hype was too much for me to concentrate on it.
Presentation day 2: The time of my presentation had come. Ignorant people might have thought that I was nervous. However, I was the first presenter of the day and was discreetly stale because of my weed hangover and lack of sleep due to rain slapping down on my tent. On top of that, I felt like my tent was going to fly away with me inside due to the wind. LOOL
No matter - I played a blinder and pulled off the presentation. Afterwards, I had a drink to celebrate the success. If I had known that my "call to action" would be successful, I would have left it alone. As high as a kite, I was immediately approached and someone applied for a "job" as editor for the English version of HiQ. (Editor's note: Once again, welcome to @michelle.gent. Also to @tengolotodo who found his way onto our Discord).
End of the second day: Beer Saturday IRL. @mary-me and I are shattered and want to catch up on sleep. She did, I sat next to her and played Splatoon 3. Without freaking out, because otherwise she would have woken up. @quekery was fully diligent and "connected". Also worked - everyone now knows what the HiQ is and who made the physical edition. LOOL
Last day (Editor's note: Aka Sunday.): Sleep in. Then for the final "dinner". The food was not that good. But to see all the people for the last time was really nice. We were even able to examine Jupiter in our smocation (Editor's note: Or as we like to call it, the North Star.). In the Volkshotel we had free beer, which we didn't want to miss. However, the evening had to end sometime, because we had to get up early the next day.
Or should I rather say "should have"? Because we all overslept. (Note from Drill Sergeant @quekery: Except me, but that should teach them a lesson). What a fuck. That meant rushing off. We also had weed that needed to be smoked because we couldn't have taken it with us. That meant we had to make and smoke 2 more final joints. I was so high. I've never been that high before. The tram ride to the station almost turned into chaos too. We got off one stop too early due to some weird display shit on the tram, which meant we had to walk one stop and almost missed our train. We unfortunately missed our extended goodbye ritual with @mary-me.
The trip back wasn't as nice as the trip there. I had to convert my backpack into a stool to avoid sitting on the floor. Even though we were able to get a seat afterwards, however, we didn't play Splatoon 3 like we did on the outward journey. In Osnabrück @quekery and I parted ways again. That was the official end of the HiveFest.
Conclusion: I would do it again. (Only without camping. I'll never do that again at a HiveFest).

My #roadtohivefest began at the airport when I was given a stern look at the security checkpoint. My first thought was, "Sh"", they found the travel grinder that still had some traces of the last trip in my carry-on bag." Then one of the security guards approached me and asked me to open my bags. He swiped at the clothes in my suitcase with a swab. All I could think was, "What is he doing?" Until he held the swab out to me and said, "Take this in your hand and swipe it over your waistband." "Whaaaat?", I thought. I gathered all my courage and asked what he was doing. The security guy looked at me with an iron face and said, "This is an explosives test."
So the trip to HiveFest already had started chaotically for me and it would stay that way for the duration. I took the public transport from the airport directly to the Volkshotel, where the welcome took place and the badges and goodie bags were handed out. My eyes immediately fell on the print HiQs, which, contrary to expectations, looked exactly as I had imagined them, weeks before. Woohoo, we have completed the first quest.
Full of euphoria and surrounded by more or less strangers in a city unknown to me, the evening was to end convivially. At least that was the plan. But as life often plays, the usual damper was not long in coming. Yep, my handbag was stolen on the very first evening - in the lobby of the Volkshotel. In it, besides my cell phone, were HiQ's fiat travel fund and the crypto debit card with the rest of the editorial team's and my riches. Shit happens.
The incident was not to dampen our spirits, however. I cancelled all cards that same evening and the next day I filed a police report. After @smooms and I went to the police, we went to a cell phone store and I was allowed to choose a HiQ company cell phone. It was about time that the quota woman and Madame Secretary got a (Editor's note: pink) company cell phone.
On the second evening, or first official evening, @quekery, @smooms and I holed up in my room/cottage (Editor's note: Because we are the Hive Blockchain's money-saving foxes, Mary wasn't allowed to treat herself to a room at the luxurious Volkshotel, but had to sleep in a small cottage at the Amsterdam campground) to write our weekly editorial post on @hiq.redaktion and go over the presentation again.
The next morning, it was an early start for us, as our presentation was the first of the day. @smooms did well and his Batman t-shirt fit perfectly. (Editor's note: The choices were Duff Beer and Batman. [Note from. @mary-me: Definitely Batman. (Note from @quekery: Definitely Düff. But nobody asked me.)]) The day went by insanely fast and slowly the stress of the last days and weeks fell away.
On the last day we chilled out at my accommodation during the day and in the early evening we treated ourselves to a taxi to the location where the final dinner was held. Taking a taxi was pure luxury, considering that we had cycled all the way and the weather was unfortunately not so cooperative. The last evening ended where the whole spectacle began, namely in the Volkshotel. There was a bar on an upper floor where we had a separate area with access to the terrace. (Editor's note: And the booze was included.) We fell into bed or rather the sleeping bag (LOOL) late and unfortunately had to get out very early again, but all no problem if you have a drill sergeant @quekery.
All in all, it was a successful HiveFest7 despite suspicion of explosives and travel grinder panic, a stolen handbag, bad weather, generally long ways but toilet and shower within walking distance. With the chaotic pair @quekery and @smooms everything is twice as much fun and never boring. Looking forward to next year and curious on which continent, in which country, the next HiveFest will take place. Anyway, the core team of the HiQuarters 2.0 Discord server will try to be represented there as well. ★



Ad (Sponsored by @reiseamateur)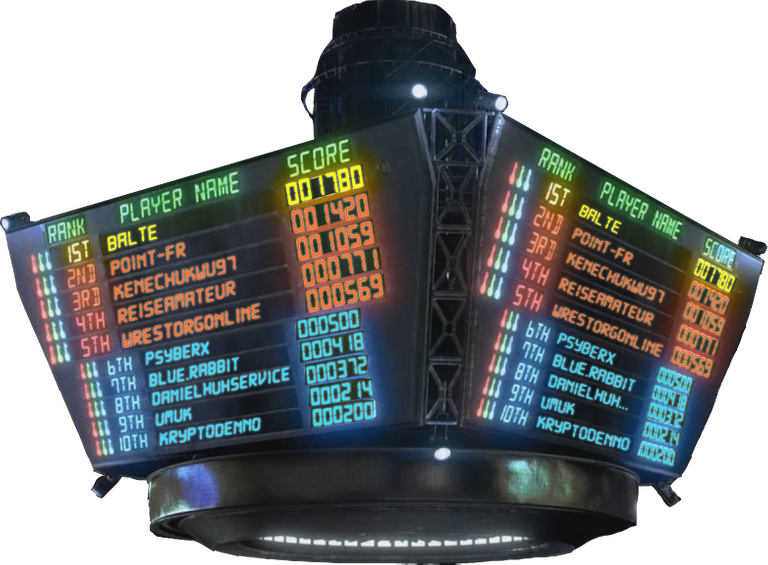 Ad
Do you also want to fomo into the competetive leaderboard of HiQ - The Hivestyle Magazine? Then stake HIQS like there is no tomorrow! The 10 highest stakers are determined anew in each issue via snapshot and then immortalised here. If you also want advertising space in the HiQ, then stake yourself in the top 3 and send us a banner in the format 728x90. You can send us the banner via Discord or by mail to [email protected].
★




Ad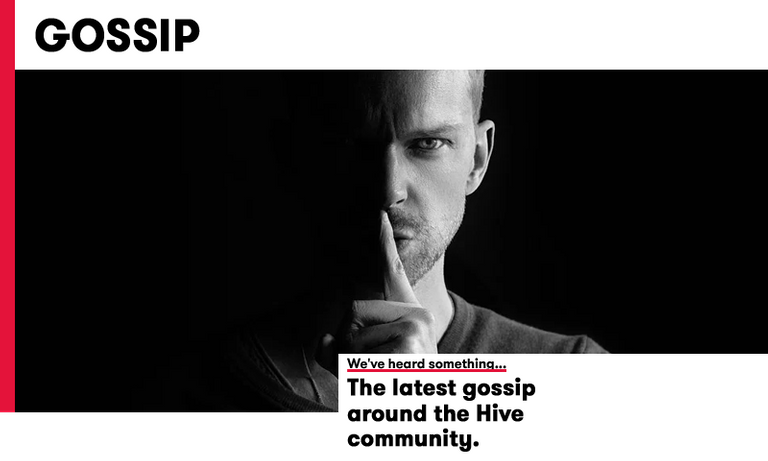 ➄ HIVESTYLE  
"Have you heard?" - Rumour has it that things got a bit crazy at HiveFest. We were right in the middle of the action, of course. Well, @quekery most of all.
HiQ core team has a clean slate
@smooms and @mary-me sit on a bench in the sun outside the location with @alexvan (Note from @mary-me: thanks again!) on day 2. @alexvan asks, "And you're really sleeping in a campsite?" @smooms replies, "Yeah, sure." @alexvan with a visibly worried look: "But you guys showered, right?" LOOL

The HiveFest is upside down
@minigunner, who was the master of the goodies stall, didn't find it so funny that @mary-me flipped some of the magazines from the HiveFest page to the HiQ page every time she passed the stall. Muhahaaa...

Ex-Rally co-pilot on the luggage carrier
The way from the Volkshotel to the campsite turned out to be a bit difficult on the first evening. Because @mary-me came directly from the airport to the Volkshotel, she didn't have a bike yet and so @quekery and @smooms had to work out who would take her and who would take her suitcase on the respective carrier of their bike. As we already had been in a coffee shop by this point, this was no easy quest. Because just before setting off, we consumed the ████ of our lives together with @felixxx. Of course, the Amsterdam tourist of today didn't factor in the way back. @smooms was barely responsive. The next day he claimed that it was because his mind was on the theft. But he may claim a lot of things. @quekery, who took on his role as drill sergeant just at that moment, decided, in spite of the odds, that @smooms would take the suitcase (Editor's note: Which had an accident twice. Luckily it didn't happen to @mary-me.) and @quekery @mary-me. With her co-pilot skills, @mary-me was able to help us reach the campsite (Editor's note: with shower) safely. Eureka! ★



Ad (Sponsored by @balte)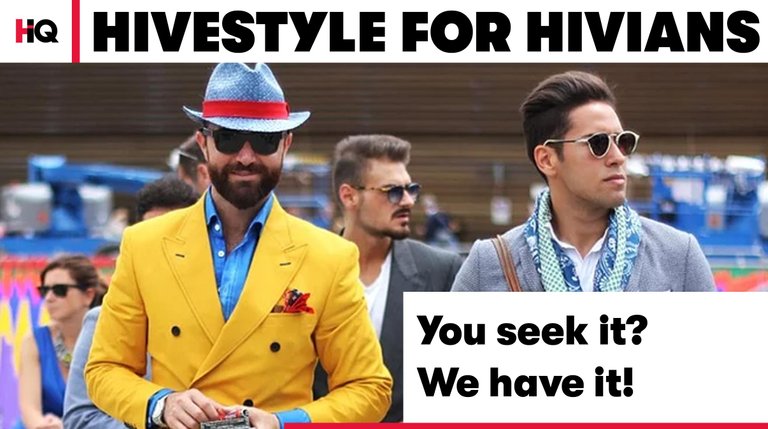 By: @kvinna, @quekery, @manncpt & @mary-me
➅ HIVESTYLE  
In an issue that is predominantly decorated by HiveFest articles, Hivestyle must of course not be neglected. After all, our good reputation as THE Hivestyle magazine is at stake.
Battle of Blockchains
On Twitter, the final round of the #BattleOfBlockchains is taking place. The final is Hive vs Proton. Only unfortunately, the voting was presumably infested by a bot army that voted in favor of Proton. Still, cool that our beloved Chain made it this far.


Lightning Proposal
If you ever wanted to donate or shop with Hive or HBD, we can only recommend V4V by @brianoflondon. And if you are also so excited about this possibility to pay with Hive, you might consider voting for the matching Proposal.

PeakD Proposal
@peakd, our favorite frontend, is planning a lot of new stuff like a Next Gen Hive Block Explorer. The special thing about this explorer is that it should be able to handle second layer transactions. While there are all transactions from second layer apps in the Hive chain, this new explorer can validate them as well. If you want to support PeakD's many projects, you can simply vote for their Proposal. More information can be found in our HiveFest Cover Story.

CryptoBrewMaster Proposal.
CryptoBrewMaster by @rollie1212 needs funds to develop the game further. If you want to support the project, you can vote for the Proposal. (Editor's note: Good thing we had one vote left, LOOL).

Hive Marketing Proposal
If you want to support the Hivefive initiative, there is a Proposal for that as well. The proposal aims to find external developers and integrate them into the Hive ecosystem. Hivefive is a project of @behilarious.

SPK Proposal
@spknetwork not only gave a talk at HiveFest. You can also support the project by voting for the Proposal. 390,090 HBD will be distributed per day and probably for more than a year. And don't forget to claim your LARYNX. You can do so here.

BeeSharp
Have you ever been looking for a Hive library for C#, for example because you want to make a game in Unity? Then we have good news for you. BeeSharp might help. BeeSharp is from @nbs.gmbh. They are working hard on improvements and video tutorials are planned.

Competition of the month
Self-promotion smells good, as we all know. @ynwa.andree had the idea in his last competition that every participant has to follow us. We can only say thank you for this smart, stylish and sexy idea. We have received a real wave of follows. If you enjoy giveaways, check out @ynwa.andree.

WOOHOO
The WOO Alpha General Sale by @wrestorgonline starts on October 31st. Each pack will cost 2 $ and can only be purchased with WOO. So if you want to treat yourself to some packs, don't forget to unstake your WOO. More information can be found here.

Tower Defense
You just can't get enough of pack sales? The presale of the upcoming tower defense game from Splinterlands has started.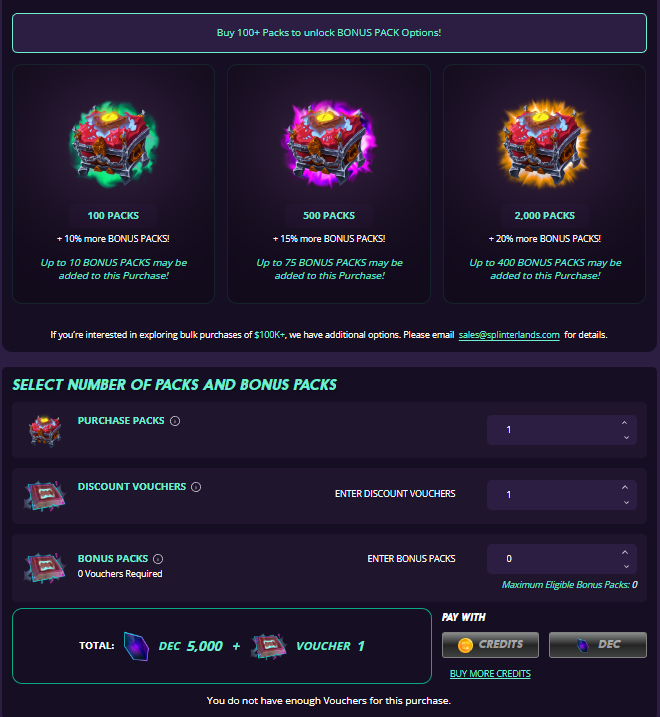 A pack costs around 8 &dollars; (Editor's note: 8000 DEC). But if you pay an additional 1 VOUCHER, you get a discount of 3000 DEC.

Web 3.0
On 27 September, there was an interesting talk with George Gilder on Life After Google - The Fall of Big Data and the Rise of the Blockchain Economy. You can find more information here and the link to the livestream here.

CROPS goes LP
A new Diesel Pool has seen the light of Engine. SWAP.HIVE:CROP is its name.

There are not many Hivians in the pool yet and it is clearly dominated by @scriptkittie. (Editor's note: Someone has to provide liquidity.) In the future, rewards will be added and Poolians will also get Holding Power. You can find out more here.

Photography
With all the PHOTO fans, it would be cool to have a community for it. @stresskiller has created something for you - the MacroPhotography Community.

When hardfork 26?
The date is still October 11th. In the latest post by @blocktrades he expresses confidence that this date can be met.

Vienna Hive Regulars' Table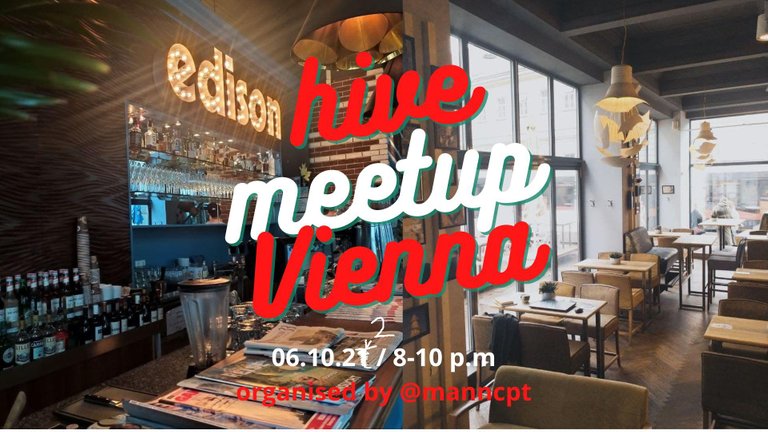 This time the #HiveMeetupVienna will take place again at Edison (@winalab co-working space). On 10-06 from 20-22 o'clock it's that time again. A few HiveFest participants have already signed up and it will mainly be about the event. There is so much to tell and in person. You should not miss it. Just post a comment under the invitation post. There will be a @hivebuzz badge and payout for all participants. "Meet and earn" - it's worth it! ★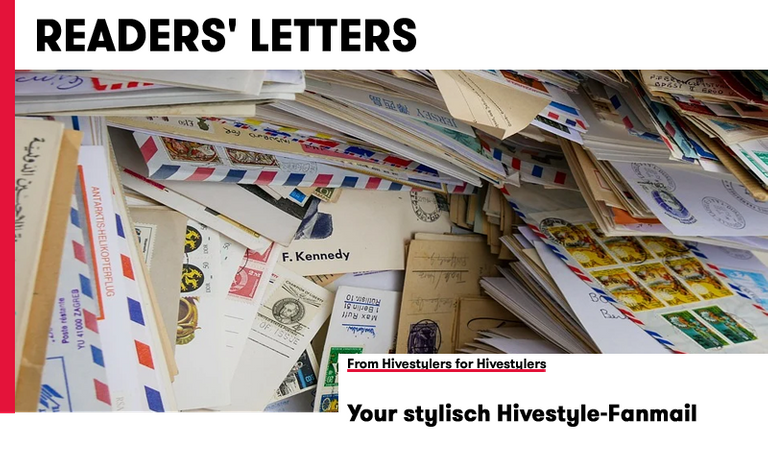 By: @smooms
➆ HIVESTYLE  
Even after HiveFest, it's important to pay attention to the incoming fan mail. Even though we are busy Hivians, we can't just leave you out, can we? This sentence is also only here to fill the text box. LOOL
@tengolotodo loves everything we do:
What a cracking project, I voted for your witness and got my first tokens today!
Our project has managed to grow over the past few years to what it is today. We are mega proud of what we have created and are very excited about what we can still create with the help of Hivians like you.

@kenechukwu97 also loves everything we do:
Amazing stuff. I love this. The more I know about this project, the more I fall in love with what you guys are doing on the blockchain. I really took my time to read this. First things first. You guys did a good job with this. I believe the print edition will also be amazing. God knows how much I love to see my name on the freaking Richlist.
Our project has managed to grow over the past few years to what it is today. We are mega proud of what we have created and are very excited about what we can still create with the help of Hivians like you.
P.S.: You can actually BUY the physical HiQ now. For only 5 HBD + shipping you can call a physical HiQ copy yours. Just send us a mail to [email protected] with the address you want it shipped to and we will manage everything from there.

@stdd likes voting with our smart bot:
I got buzzed again from reading without leaving Hive! Keep it up guys, it's really cool! And yes, your hiqvote is the smartest, most stylish and sexiest! That's for sure!
The bot, although already realy smart, will hopefully be smarter in the future. More vote optimization, more Hive Power, more Tribe Tokens and what is more important, with more stylishness.

@captaincryptic, why so unserious:
What a #fun filled post! Thanks for helping us spread the word about our new FUN tribe!
If there is something that we are it definitely isn't unfunny. We are glad that you like us. We like your projects, too.

@thatcryptodave needs digestive pills after reading:
Whoa... that is just packed right full of stuff to digest! Well done, HIQ team, and keep up the stellar work.
*HiQ
Will do, will do. ;)

@mrprofessordaily has a nice cat:
Whaaaa that's so cool! I didn't know about the magazine. Cute to see my little blue-eyed friend featured.
The cuteness of the cat nearly made us weak. We had to eat glass shards and punch some mofos to be hard again.

@ganjafarmer sees how much work goes into one issue:
Phenomenal job yet again and congratulations thank you very much for all of your hard work and continued posting here on the blockchain!
Even though it is hard sometimes we still try to deliver. After this issue we will take our deserved time off to recalibrate. We need some serious new shit eventually. ★

Donors: @monkaydee293 550 DWSWT & oliverschmid bzw. @nextcolony 300 DWSWT, 200 HIVE, 75 USD & @balte 395 DWSWT, 1330 HIVE, 35 HBD, 1700$ & @captaincryptic 500 FUN & @platuro 15 DWSWT, 100 ENG, 1 Boosterpack, 9.99 DWSWTBD & @greece-lover 110 DWSWT, 3 DWSWTBD und temporäre Delegationen & @jeenger 10 DWSWT, 29.9 HIVE & @schlees 10 € & @quekery 20 DWSWT, 2 DWSWTBD & @powerpaul 0.101 DWSWT, 2.152 DWSWTBD & @chappertron 2 DWSWTBD & @remotehorst23 1 DWSWTBD & @meins0815 0.35 DWSWTBD, 0.179 DWSWTBD & @louis88 10 Hive, 5 SBI, 5 BEER & @detlev 24 BEER & @commentcoin 100CC & @muelli 3 HIVE & @condeas 498 SWAP.DOGE, 40 HIVE & @satren 132.87 HIVE & @fw206 10 HIVE & @lauch3d 5 HIVE, 6 HBD & @who-knows 0.22 BNB & @manncpt 10 HBD & @altonos 10 HIVE, 7 HBD & @miketr 3 HIVE, 1 SLICENSE & @reiseamateur diverse Powerups & @captaincryptic 500 FUN
Delegators: (Editor's note: Semi alphabetically sorted, lool.) @alex2alex 10 HP & @balte 16804 HP & @barmbo 50 HP & @captainglondo 30 HP & @carmate 5 HP & @chrislybear 25 HP & @commentcoin 189 HP & @dirego1 20 HP & @ekavieka 150 HP & @emeka4 201 HP & @kirstin 50 HP & @levi-miron 25 HP & @monica-ene 100 HP & @photobook 104 HP & @fredfettmeister 101 HP & @princekham 150 HP & @prinzvalium 1005 HP & @twicejoy 100 HP & @umuk 50 HP
Immeasurable thanks go to all the donors, delegators, upvoters, rebloggers and subscribers!
Thanks also to the authors and content creators, which are @quekery, @smooms, @mary-me, @kvinna, @manncpt & @tengolotodo
Not to list, but still worth mentioning are of course all the little touches, ideas and tips from the community. Thanks for that! You guys are great!
---
Disclaimer

The opinion of individual authors does not necessarily reflect the opinion of the editorial staff or the publisher. If an article is published under an alias, the true (profile) name of the author is known. We reserve the right not to print submitted text contributions if the content contained therein is questionable or massively violates the boundaries of morality and order. Image material or raw image material is, unless otherwise stated, from pixabay.com or is screenshoted.
Editorial Core Team/Publisher: @quekery, @smooms & @mary-me.
HiQ - The Hivestyle Magazine is a project of the HiQuarters 2.0 Team.

---
If you're stylish and smart, you're subscribed to us: @adedayoolumide @adncabrera @alex2alex @alucian @andy-plays @atra-aranea @balte @bananofarmer @bechibenner @beeber @bitandi @blue.rabbit @btcsam @carolinmatthie @chaosmagic23 @chappertron @chrislybear @cloudlynx @coldbeetrootsoup @cultus-forex @danielhuhservice @dauerossi @dieradikalemitte @ditsch @ervin-lemark @failingforwards @flamo @florian-glechner @fredfettmeister @ganjafarmer @hatoto @hiq @hiq.magazine @hiq.redaktion @ischmieregal @jeenger @joseph23 @kadna @kaeptn-iglo @kenechukwu97 @kheldar1982 @klausklaus @konstice @kryptodenno @kvinna @lammbock @lauchmelder @leosoph @louis88 @mario89 @markus.light @mary-be @mary-me @miketr @mima2606 @misan @mrdalle @mryoung1979 @mwfiae @nessos @nkemakonam89 @oesterreich @platuro @points-fr @powerpaul @pundito @queker-bee @quekery @quelled @querdenker @r0nny @rachaeldwatson @reiseamateur @remotehorst23 @saffisara @satren @schmidi @sebescen81 @shakkei @simsibee @smooms @smoomslive @sodom @solarwarrior @solymi @stickupboys @stresskiller @syalla @tengolotodo @thatcryptodave @thatgermandude @tibfox @tribemieregal @twicejoy @twinner @untzuntzuntz @vasupi @vugel @ynwa.andree @yoshi-and-family @zockerpeine
---
---