Splinterlands Social Media Challenge - a cracking good game, and an investment opportunity
Splinterlands is a play2earn card trading battle game on the Hive Blockchain. First and foremost it is a game, where you pitch your deck of cards against your opponents deck of cards in battle. Luckily, you have access to a number of base cards for free when you first start, and then you can grow your deck with new cards, and leveling the ones you have up, over time.

The battles are fun, and depending on how many you want to do in a day, and how good you are at them, you can earn some pretty nice rewards. You proceed through levels, and the higher the level, the higher the reward. If you like card battle games anyway, then you will like Splinterlands.
However, the big differentiator with Splinterlands is the investment side of things. Its just a different ball game compared to other similar trading card apps.
It centres heavily around the cards, which have a value, and are very tradeable. Below are two screenshots that I've just taken from MonsterMarket (https://monstermarket.io/).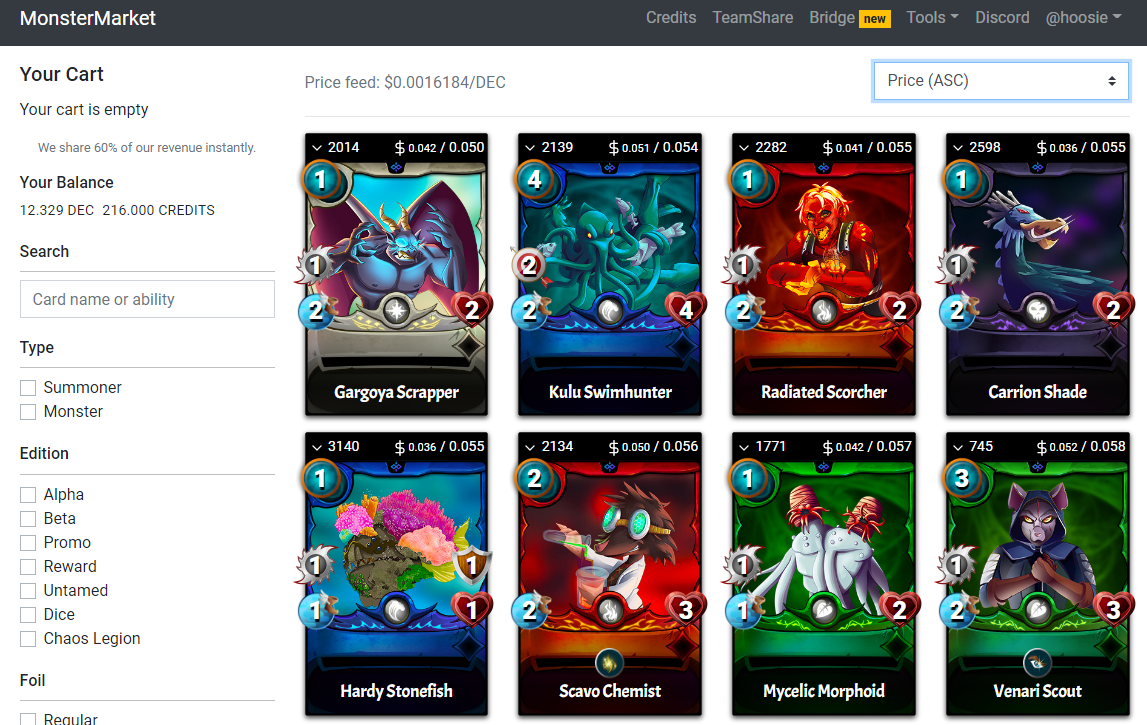 The screenshot above simply shows the first so many available cards, sorted from the cheapest. These cards are ranging at around $0.036 to $0.052 - so you can easily pick up some cards for not a lot of cash.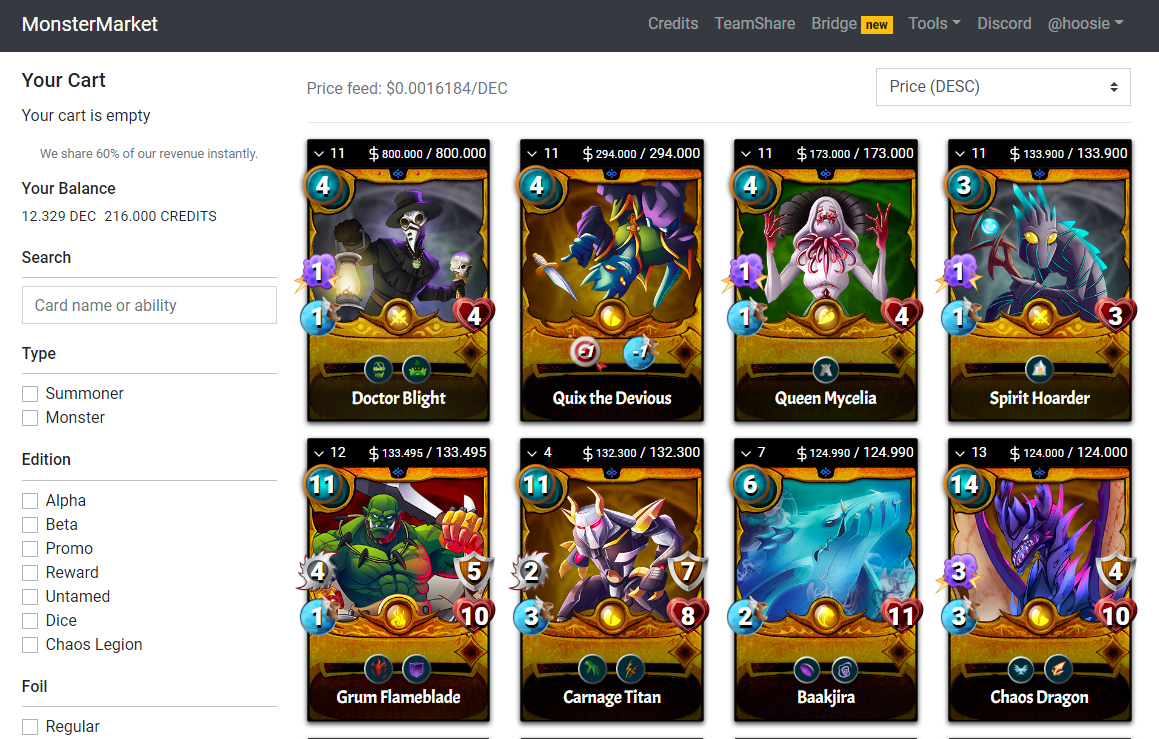 The screenshot above shows the other end of the market ranging from $124 to $800 per card ! That is serious money (in my book). You can currently buy a pack of cards for $4 which contains 5 cards. Its a lottery, but you can drop one of these crazy value cards from a pack opening.
Another interesting aspect is the rental market. Once you own some cards, you can then rent them out - and the rental market is very bouyant. As an exmaple, I have about 25 cards (which is not a lot at all), and I can regularly rent out around 10 of them daily, which brings me in some income, and many of those I got from rewards from playing the game. Obviosuly the better the card, the better reward - but its all passive income. You can see some of my rentals in the screen shot below.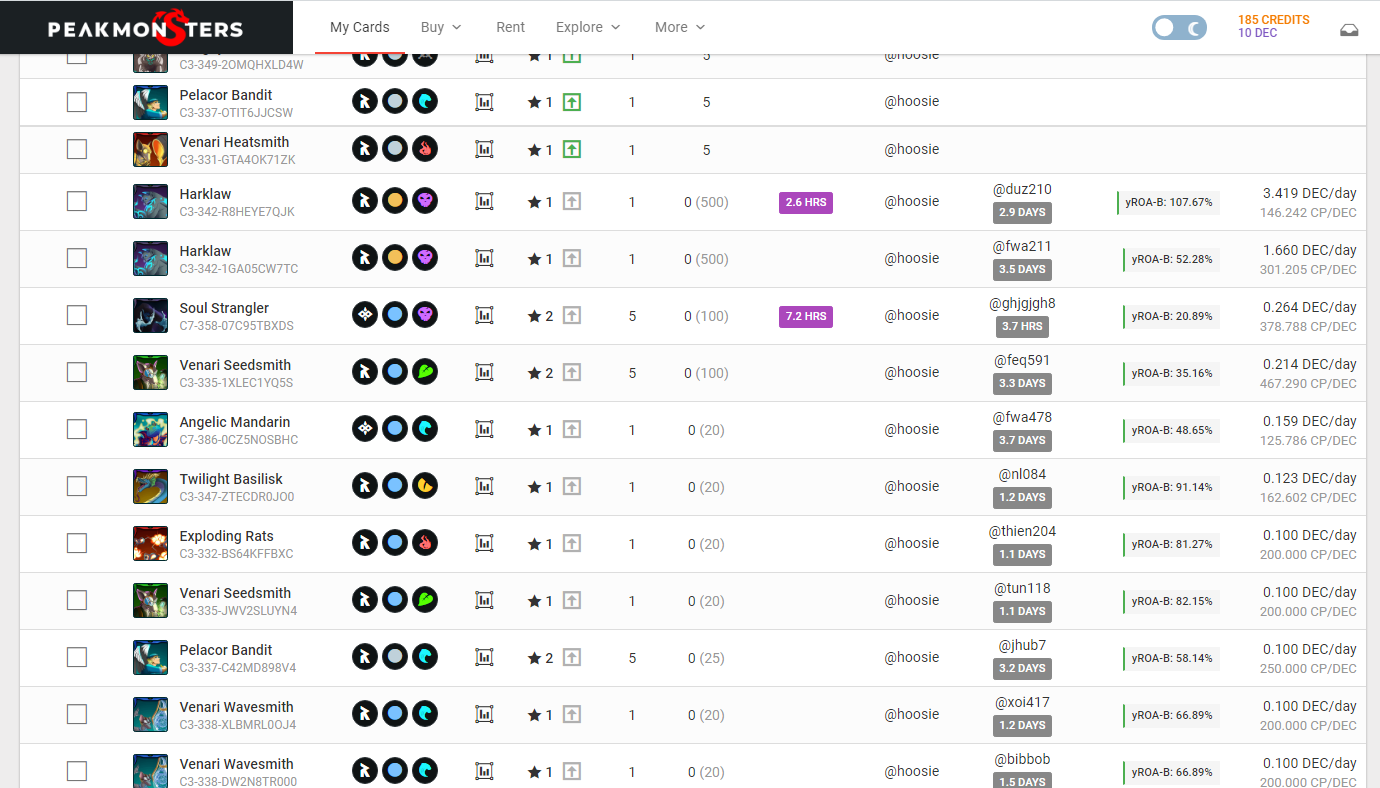 My deck aint great, but its giving me an income, and at the end of the day I'd also be able to sell the cards I own. For the ones I bought I'd get atleast the same amout of cash back, and the ones that were rewarded from within the game would be profit on top - so I see it as a fairly sure thing. So I buy the odd card now and again just to add to my deck, and to increase my rental income.
And then the other big advantage for me is the daily airdrop and staking rewards.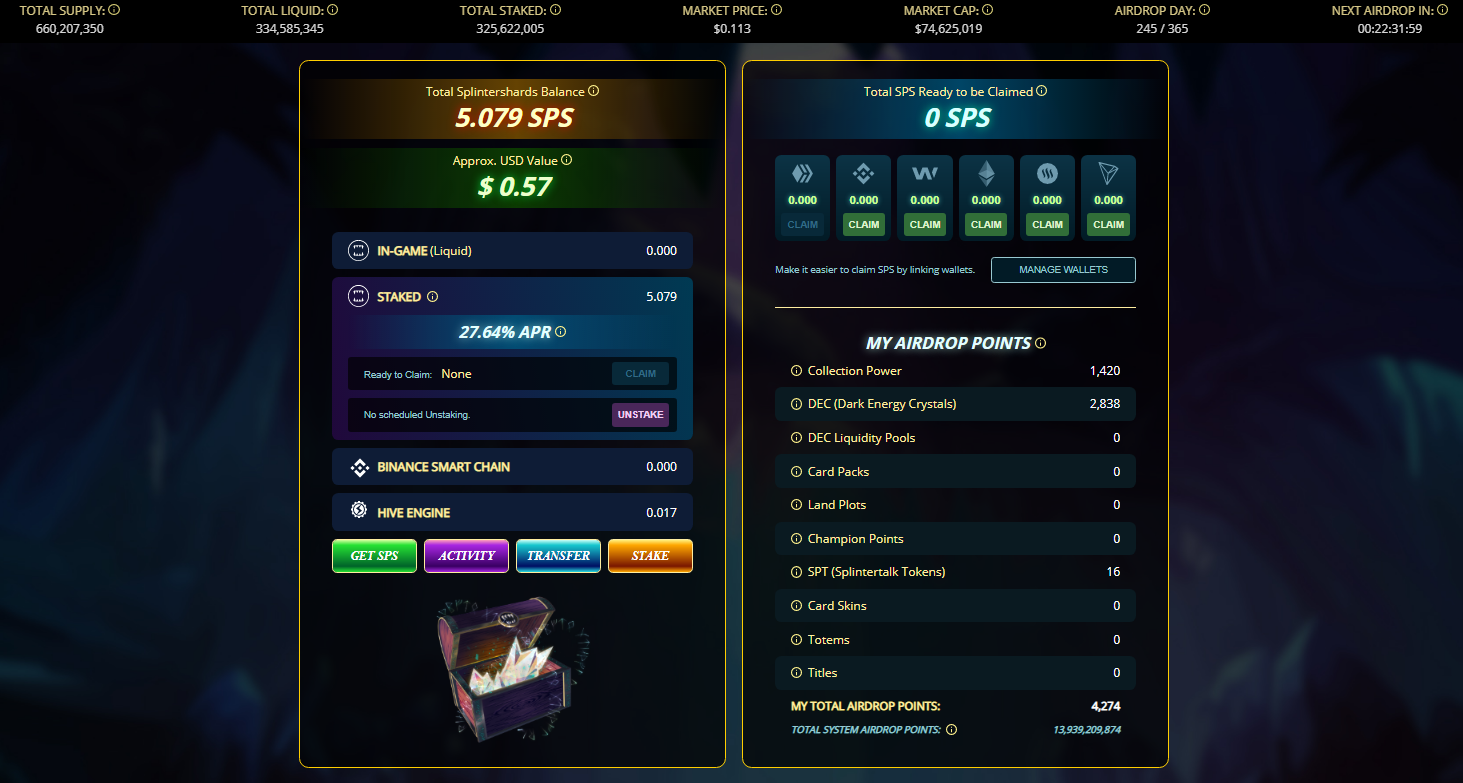 Each day the game gives you an airdrop in SPS (one of the game tokens which is tradeable on Hive Engine). The amount you get depends on a number of things including how many cards you own and how much of some of the other game currencies you hold. DEC is an interesting one because thats what you get paid in for your rental cards. So in my case, my DEC amount is increasing daily, and hence my airdrop amount is increasing daily - even if I do abolsutley nothing going forward.
Once you have your daily airdrop you can then stake that, and gain a staking payout, which as of today was running at 25.11% APR. So again, my staking increases daily because of my daily increasing airdrop - so its a nice little compounding earner.
Yes the values I'm earning are low - but I've not put much money into this game (maybe $15-20 which includes the intial $10 pass) - but my staking rewards are increasing daily, and I can easily see that I'll get back more than I put in.
So its a great game in my book:
Cool card battles,
Great community with lots of free giveaways and the like,
Great market for buying, selling and renting cards,
Great passive income from the dairly airdrop and staking.
If you are interested, then you can check it out at the following link:
https://splinterlands.com?ref=hoosie
Posted using Splintertalk
---
---