Battle Mage Secrets: Equal Opportunity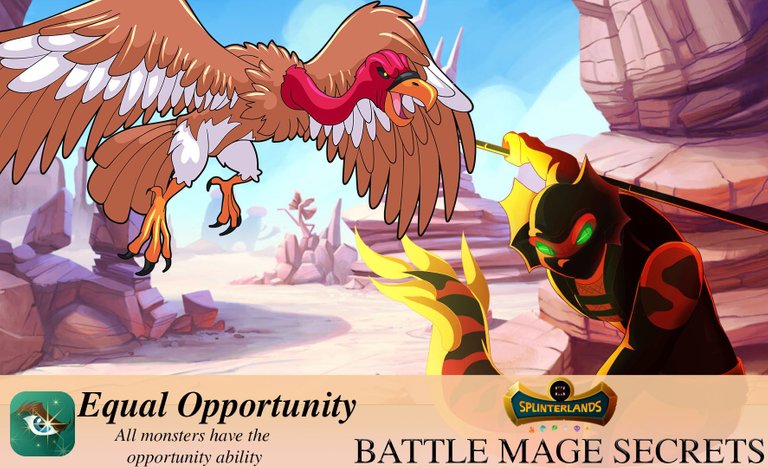 Hello Battle Mages!
Quite a long time since I last posted as I was away as I've been busy in preparation of my wedding last May but since it is over, I am back again doing the Battle MAge Secrets. I have missed out three challenge which is why on my upcoming post, I will try to write those missed topics and the current challenge in order for me to catch up.
So here it goes! For this challenge, we are going to discuss the equal opportunity ruleset or the ruleset where all monster have the opportunity ability.
For those who are new to my post, I usually post information about Gold Modern league which I usually play in rank, brawl and tournament.

👁️ Ruleset: Equal Opportunity
| Card | Description |
| --- | --- |
| Equal Opportunity | All monsters have the opportunity ability |
The equal opportunity ruleset provides a good benefit to those monsters who cannot attack in the backline specifically to those high damaging melee monsters. The monsters with opportunity ability deals damage first to those monsters with lowest health which is why the speed is very important in this ruleset.
Consideration
In my perspective, equal opportunity is directly proportional to the speed of the monsters no matter if the equal opportunity ruleset is with reverse speed or not. In this case, I usually consider and plan to have at least my team to attack first eliminating opponent monsters.
I also consider to use monsters with bait especially now that we have the martyr ability which sacrifice the monsters in order to power up the adjacent monsters. This martyr ability provides a boost in the basic stats of the monsters not limited to the attack and speed.
In terms of abilities, swiftness ability provide extra boost which can be an advantage to equal opportunity at a normal speed. The camouflage ability prevents monsters in being attack which is effective against equal opportunity ruleset. Those with bloodlust ability could also take a good part in this ruleset as targeting weak opponents may trigger a powerful bloodlust boost. Monsters with taunt could be a good choice as well preventing low health monsters on being attacked first.
Lastly, those monsters with sneak and scattershot ability could not be able to use the opportunity ruleset as we all know sneak and scattershot supersede the opportunity ability.

👁️ Cards
Suggested Cards
In terms of summoners in modern, there are quite a lot of summoners that is very compatible with equal opportunity. Those summoners with effect that is related to speed are very effective in the equal opportunity.
Below are my top summoners choice when it comes to Equal Opportunity
| Card | Information |
| --- | --- |
| Yodin Zaku | Given that the equal opportunity is in effect, having Yodin Zaku with the blast ability provides a devastating damage not only in the lowest health but as well to its adjacent. Just make sure to use monsters with high speed to further utilize the blast ability. |
| Conqueror Jacek | Looking at the +2 speed from Jacek, this monsters provides a great advantage on equal opportunity but take note of the scattershot which affects range and magic monsters that randomly attack target, this means the attack won't go to lowest health monster. It means Jacek with melee monsters for equal opportunity is the best to use as they also have piercing ability that slashes through armor. |
| Kelya Frendul | The speed boost by Kelya Frendul especially if legendary summoner is not allowed provides an advantage in the battle. |
| Byzantine Kitty | We all know how powerful Kitty is. The +2 speed and aim true is the real deal for the equal opportunity and provides a very high win rate. |
| Quix the Devious | Quix the Devious just like Kelya Frendul have something to do with speed. A less speed from the opponent gives extra boost to your team. |
| Lily Shieldpaw | Lily Shieldpaw on the otherhand provides camouflage ability which is against equal opportunity. No matter how low the health the monsters in the backline, as long as it does have camouflage it can't be attacked directly by an opportunity. Lily Shieldpaw is a good summoner for this ruleset in order to focus opponent attack on the frontline while your monster doing damage from the backline. |
In choosing the monsters, as I have mentioned those with something to do with speed are the good choice in the battle but personally there are some monsters that I think is best for this ruleset especially Jared Scar.
| Card | Information |
| --- | --- |
| Jared Scar | With the equal opportunity, Jared Scar with the three abilities: Bloodlust, Aim True and Piercing ability comes in handy. This means Jared Scar can be able to attack in the backline targetting lowest health which may trigger the bloodlust ability. |
Below are the list of my choices of monster with abilities that may provide advantage in the battle:
| Monster | Element | Ability | Remarks |
| --- | --- | --- | --- |
| Flame Monkey | Fire | Swiftness | Starting from Diamond League |
| Magnor | Fire | Taunt | Starting from Bronze League |
| Countess Sinash | Fire | Swiftness | Starting from Silver League |
| River Nymph | Water | Swiftness | Starting from Diamond League |
| Wave Brood | Water | Taunt | Starting from Bronze League |
| Mycelic Slipspawn | Earth | Taunt | Starting from Bronze League |
| Adelade Brightwing | Life | Swiftness | Starting from Diamond League |
| Shieldbearer | Life | Taunt | Starting from Bronze League |
| Dark Ha'on | Death | Taunt | Starting from Bronze League |
| Lira the Dark | Death | Swiftness | Starting from Gold League |
| Night Ghoul | Death | Taunt | Starting from Bronze League |
| Agor Longtail | Dragon | Taunt | Starting from Bronze League |
| Naga Assassin | Dragon | Swiftness | Starting from Diamond League |
| Coeurl Lurker | Dragon | Taunt | Starting from Bronze League |
| Supply Runner | Neutral | Swiftness | Starting from Silver League |
Those with Martyr abilities are a good decoy in this ruleset.
Disadvantage Cards
It seems there is no disadvantage card in this ruleset but I do think that besides the speed difference, those monsters with sneak and scattershot abilities are at a little disadvantage as they don't utilize the benefit that this ruleset provides.

👁️ Battle Strategy
Battle
Rules of Combat
Modifications: Equal Opportunity, Earthquake, Aim True
Mana Cap: 52
Playable Splinters: All except Dragon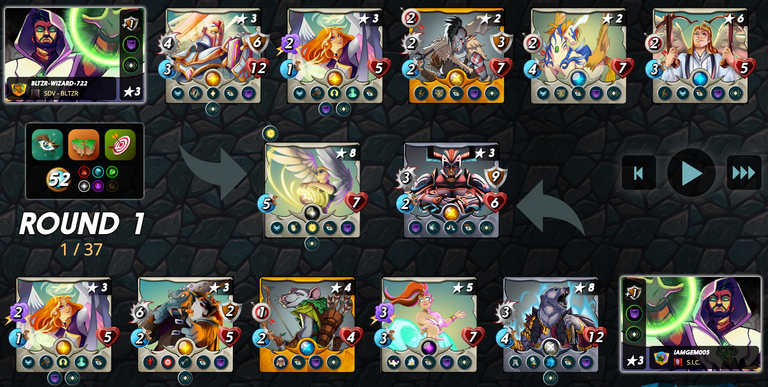 Team Composition
With the equal opportunity, earthquake and aim true in play. There are quite different strategy for this battle. It might be a combination of defensive and sustain with a main monster dealing the attacking.
Summoner: Having a high mana cap means a good use of legendary summoners. My main line-up is to have Jared Scar in my list, which makes me use of Grandmaster Rathe. Grandmaster Rathe provides extra armor against the earthquake.
1st Position: Legionnaire Alvar in the first position because of its high armor which can withstand the earthquake damage as well as the attack in the frontline.
2nd Position: Arkemis in the second position, since the equal opportunity is in effect this card may attack in the second position dealing halving effect as well as providing extra armor to all allies against physical attack and earthquake damage.
3rd Position: I personally choose Djinn Renova in this position for triage ability for sustain against damage in the backline. The strengthen also provides extra health.
4th Position: This is the strategy position I think the best one as I use Venari Marksrat which is use as the decoy and sacrificial lamb that may trigger martyr ability towards Jared Scar and Djinn Renova.
5th Position: Jared Scar as the main damager dealing a very powerful attack which can pierced through the armor
6th Position: Adelade Brightwing in the last position with the flying ability which is unaffected by the earthquake. The repair ability provides sustain to the armor damage in its allies as well as the ressurect ability which is dedicated to Venari Marksrat in order to trigger the martyr ability twice.
Battle Analysis
Looking on the opponent's line-up, the opponent focus much on the earthquake damage which is why 5 out of 6 of its monster are flying. There are also some disadvantage on my opponent line-up against my line up.
Here are some of my insight in the battle:
With the aim true in the ruleset, the flying ability won't have much impact when in comes to misses.
With the equal opportunity ruleset, Pelacor Conjurer is not of a good choice as it won't contribute to any attack. It's magic reflect won't be effective because of Void armor by Grandmaster Rathe
Drybone Rider is a good choice dealing 4x attack in each round.
Jared Scar is the MVP of this battle with the help of Venari Marksrat triggering the martyr twice. Look for the battle on how Jared Scar grow strong.
This is the type of battle which I did not care on the speed which is rare.
BATTLE LINK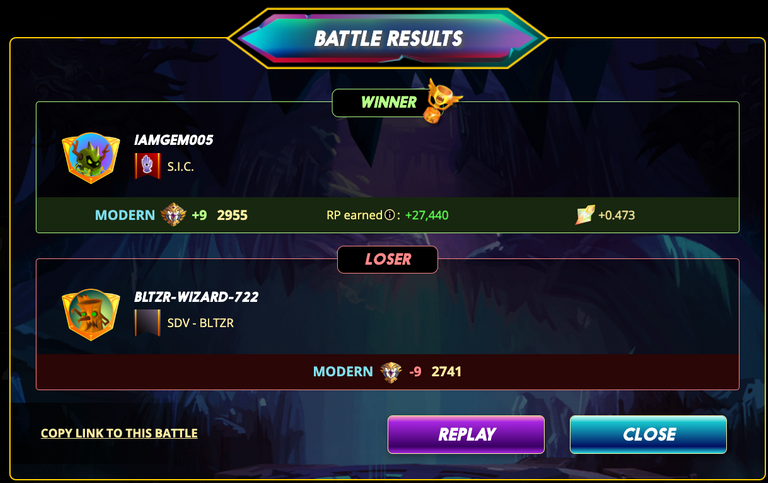 👁️ Closing Remarks
Equal Opportunity is a very good ruleset which provides an advantage especially to those melee monsters that can't attack in the backline. The opportunity itself is a powerful one which is why sometimes a good bait is required as having an opportunity attack means you know which monster in your lineup is the target.
Which strategy do you use for the Equal Opportunity? Do you have some decoys with martyr to power up other monsters?
Thank you for reading! See you in the next Battle Mage Secrets Weekly Challenge!

Want to join our awesome community? Signup to @Splinterlands using my referral code.

---
---