Splinterlands Art Contest, Week 155, SACRED UNICORN
My entry into the Splinterlands Art contest, but first a brief bit of background story as to how I came to draw my entry.
Its been a week since my last post on Hive, and I've really wanted to produce a post but have been lacking the creativity recently to find a project that I was happy with or excited enough about to share with you. I've bounced from one idea to another without really getting very far along. My cupboard of half finished crafts really took a hit this week that's for sure.
It just so happened that today art was everyone's topic of conversation in our household, even friends popping by got in on the discussion. Suddenly I had an Ah-Ha moment, you know one of those times a light bulb goes pop in your mind and you don't know why you didn't think of it sooner. I wanted to draw. Its been a while, nearly a year, since I've picked up a pencil. I realised in that moment it was something that I very much missed. But I had no idea what to do.
Checking my phone absent minded I saw a Splinterlands post in my feed and was instantly reminded that there was a Splinterlands art contest. I quickly checked it out, browsed the rules, made sure I could fit the criteria, and picked up a HB pencil and a piece of printer paper (I know not the best tools, but we work with what we have) It was the perfect focus to my artistic cravings.
The decision of what to draw was instant. My first purchased card in Splinterlands was the baby Unicorn, and one day I want to acquire the Sacred Unicorn. I like the card, and I like the attitude of the character art, 'I'm going to kick you in the teeth cause I'm a bad pony'. He's a too cute, angry unicorn.
My style is very different to the Splinterlands art, But I've tried to capture his attitude. Please enjoy the progress pictures below. Materials used, HB pencil, printer paper😅 and generic copic markers.

starting to sketch out the head and facial features, however he doesn't look grumpy enough yet.
---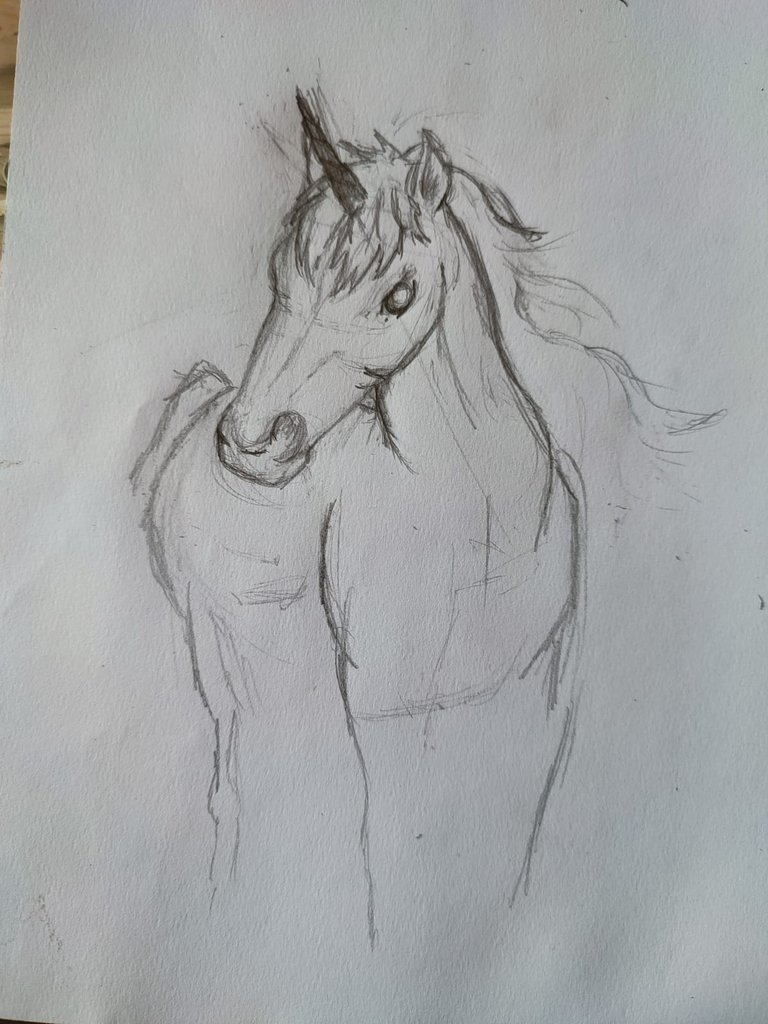 The start of the lower body. this took me a good while to find something I was happy with, that conveyed a sense of movement.
---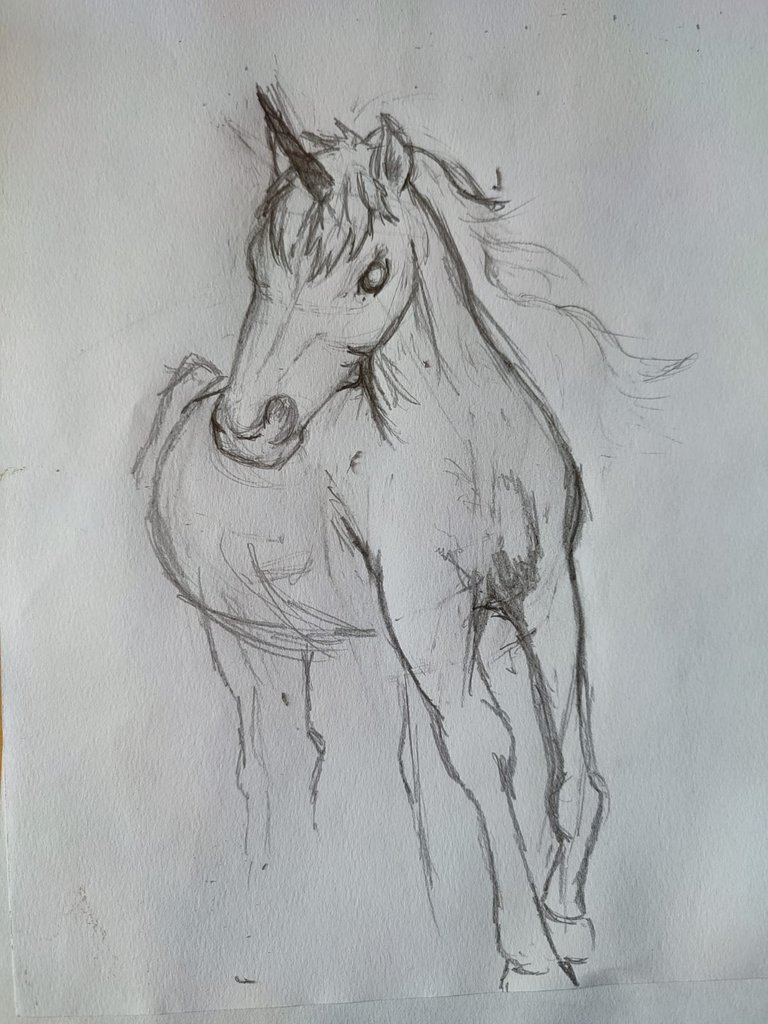 ---
The completed sketch. I am really very pleased with how the head turned out. Inside I gave myself a high five.
---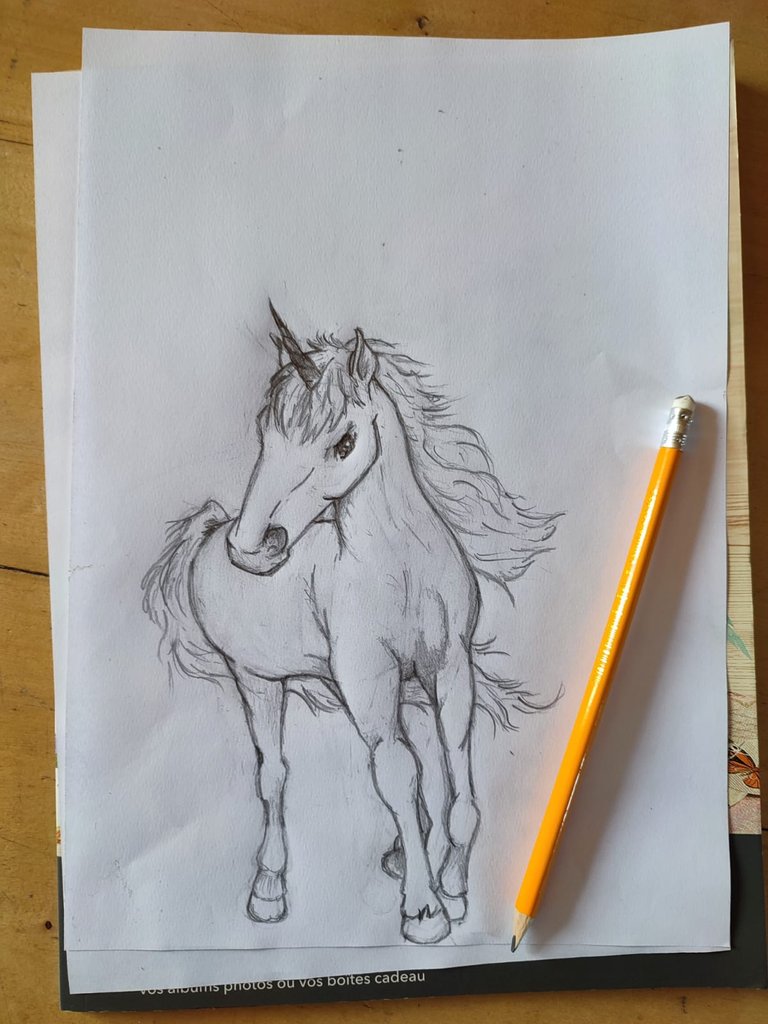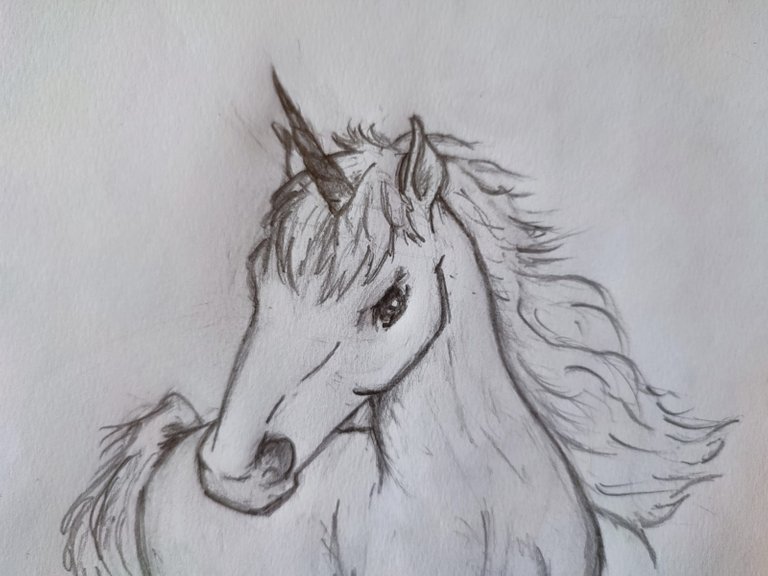 ---
I was unsure about what colours to use at this point if any. I really loved the pencil sketch, and markers are always a gamble for me. Sometimes they work, other times they don't. I took the time to contemplate colours and finally decided to go ahead and make my unicorn technicolour.

This is my favourite stage of my drawing, but I had already started with the marker work, I decided I might as well go ahead and try adding a black outline for definition. In for a penny in for a pound right?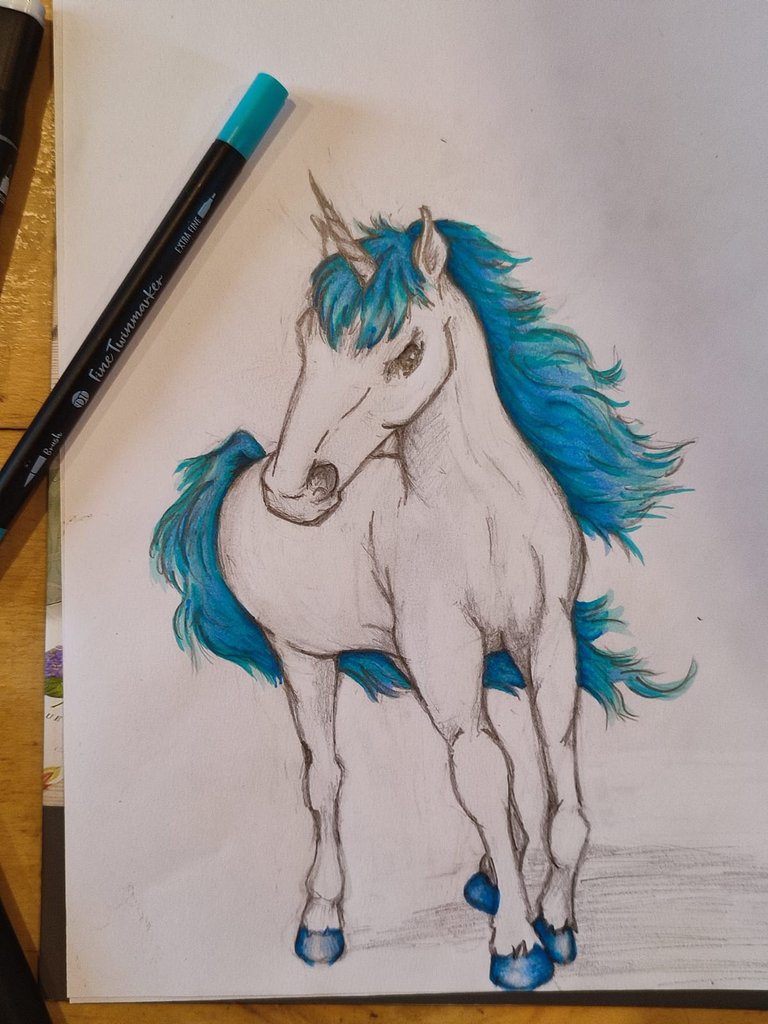 ---
The final image. There were some mistakes along the way, mainly from our not so puppy anymore puppy getting excited and jumping on my arm mid line, but overall its not bad. I am pleased with it and how it turned out.
And there you have it, my very first entry into the Splinterlands Art Contest, week 155.
If you managed to get all the way down to the bottom, Congratulations! There's no prize unfortunately, but you have my thanks for taking the time to read this.
---
---