Share your battle Legionnaire Alvar
Share your Battle Legionnaire Alvar
---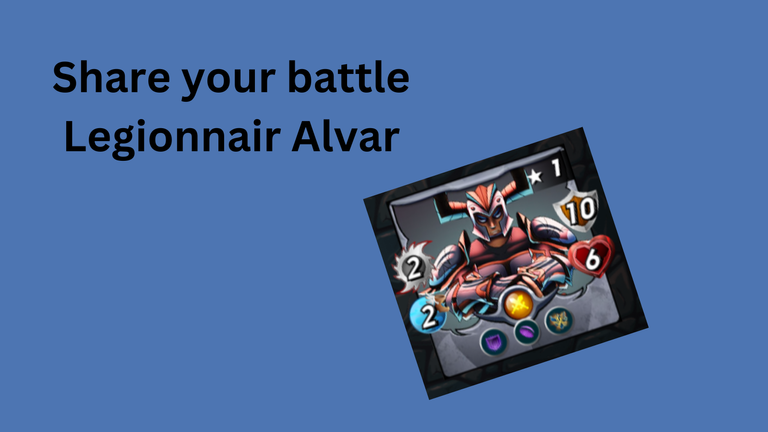 ---
Ruleset
Manacap: 99
Up Close & Personal: Only Monsters with Melee attack may be used in battles.
Armored Up: All Monsters have 2 Armor in addition to their normal Armor Stat.
---
Lineup
In this battle I choose to use the new summoner Immortalis which grants the abilities -1 health to each enemy monster, reduced damage to magic attacks, and Target's armor is destroyed when hit by an attack from Monsters with Shatter.
Tank: Legionnaire Alvar 2 melee attack 8 armor 6 health and Void Armor.
Second Position: Bramble Pixie 4 Melee with Reach and 9 health.
Third Position: Runi 3 melee attack with Opportunity, Rebirth, and True strike abilities.
Fourth Position: Disintegrator 2 melee attack with Demoralize and Trample abilities.
Fifth Position: Venari Scout 2 melee attack with Opportunity ability.
Sixth Position: Uraeus 2 melee attack 1 armor and 3 health with sneak ability.
I choose to to use a combination of demoralize to reduce the enemies attack by one each and to use opportunity and sneak to destroy their backline monsters. Immortalis adding shatter to each of my monsters should make quick destruction of armor and then allow each monster to be taken down.
---
Battle Link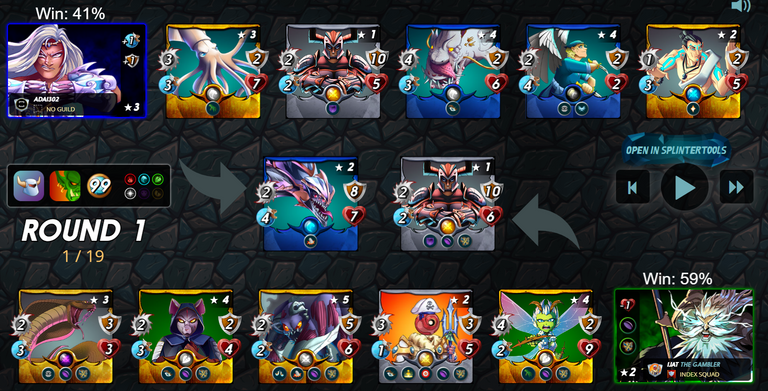 ---
How did it work
In the first round my team took down their sneak monster with my Opportunity combo.
Second round I lost Uraeus and they lost their tank Diemonshark.
Third round They had lost their Flying Squid while I had not taken any additional monsters.
Fourth round the lost their Legionnaire Alvar and their opportunity monster DeepLurker moved to the frontline position. This basically sealed their fate as I still had my tank.
---
Do I like Legionnaire Alvar
Yes I like the Legionnaire Alvar in combination with Immortalis. This combo make all magic hit for less and have to go through the armor first.
I plan to upgrade Legionnaire Alvar to reduce the penalty for using low level cards and earn more with each battle win.
If you wish to try out Splinterlands you can use my reference link.
https://splinterlands.com?ref=ijat
Posted using Splintertalk
---
---