Weekly Challenge - BATTLE MAGE SECRETS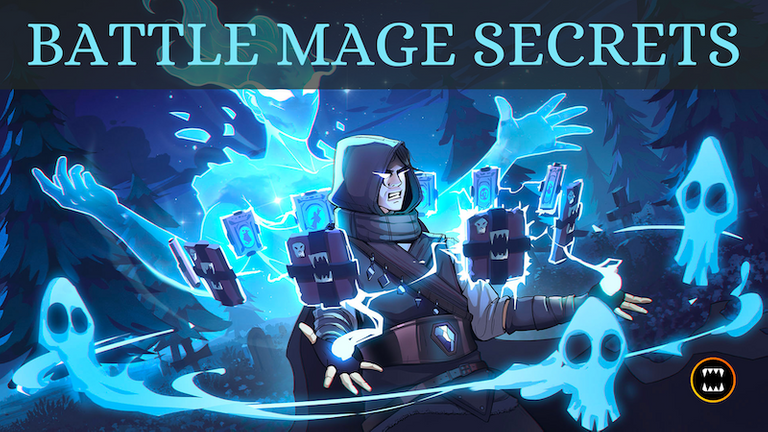 ---
Hello Splinterlands community, today I want to participate in the weekly challenge of these days, I was struggling until I got that kind of rule Lost Magic, which is that you can not use the magic units.
Hola comunidad de Splinterlands, el día de hoy quiero participar en el reto semanal de estos dias, estuve batallando hasta que me saliera ese tipo de regla Lost Magic, que consiste en que no se pueden usar las unidades mágicas.
---
Lost Magic
---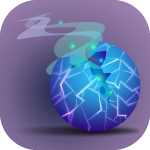 ---
Las unidades mágicas no se pueden usar en batalla.

Usa Thorns y Demoralize para contrarrestar los ataques cuerpo a cuerpo.

Usa Headwinds y Return Fire para contrarrestar los ataques a distancia.

No se pueden utilizar unidades con 2 tipos de ataque (que incluyen magia).
Magic units may not be used in battle.

Use Thorns and Demoralize to counter melee attacks.

Use Headwinds and Return Fire to counter ranged attacks.

Units with 2 types of attack (which include magic) cannot be used.
---
THE BATTLE
---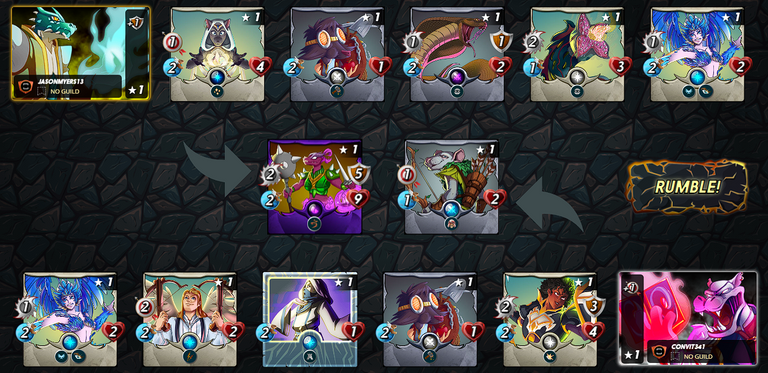 In this battle the mana limit was 27 and only the Fire, Life, Death and Dragon Splinters can be used with the aforementioned Lost Magic rule, in this battle I selected a dragon type summoner and then placed each one of the monsters using, using the amount of 27 mana in this battle.
En esta batalla el limite de mana era de 27 y nada mas se puede utilizar los Splinter de Fuego, Vida, Muerte y Dragon con la regla antes mencionada de Lost Magic, en esta batalla selecione un invocador de tipo dragon para luego ir colocando a cada uno de los monstruos usando, utilizando la cantidad de 27 de mana en esta batalla.
---
Summoner
DRAKE OF ARNAK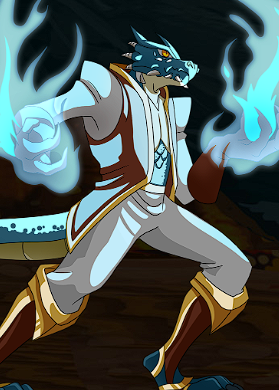 As a summoner use Drake of Arnak, this is a Dragon type summoner that has good characteristics, as it adds one more shield to all units.
Como invocador use a Drake of Arnak, este es un invocador de tipo Dragon que tiene buenas características, ya que suma uno mas de escudo a todas las unidades.
---
1
DJINN CHWALA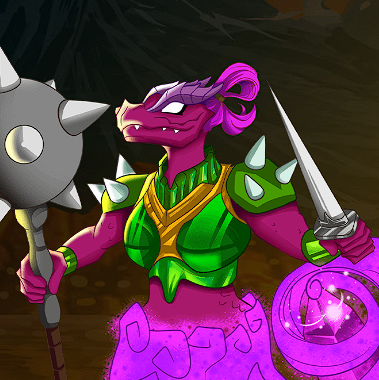 As a tank I decided to place Djinn Chawala, is one that has enough life and the amount of attack are enough for the cost of eight mana, two melee attack and has two speed with a great ability called Thorns.
Como tanque decidi colocar Djinn Chawala, es una que tiene bastante vida y la cantidad de ataque son bastante por el costo de ocho de mana, dos de ataque cuerpo a cuerpo y tiene dos de velocidad con una gran habilidad llamada Thorns.
---
2
VENARI CRYSTALSMITH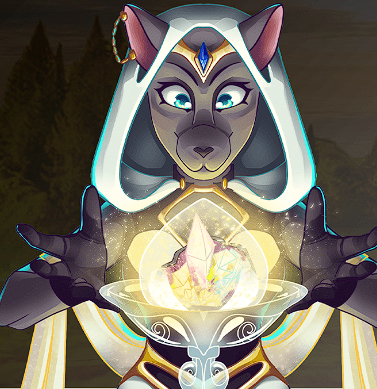 In second position I placed Venari Crystalsmith, the cost is four mana, this card has the type of ranged attack with one, but with two speed with respect to life is four and the good thing about this card is that it has an ability called Tank Heal, restores a portion of the health of the first monster in each round.
De segunda posición coloque a Venari Crystalsmith, el coste es de cuatro mana, esta carta tiene el tipo de ataque a distancia con uno, pero con dos de velocidad con respecto a la vida es de cuatro y lo bueno de esta carta es que posee una habilidad llamada Tank Heal, restaura una parte de la salud del primer monstruo en cada ronda.
---
3
SCAVO HIRELING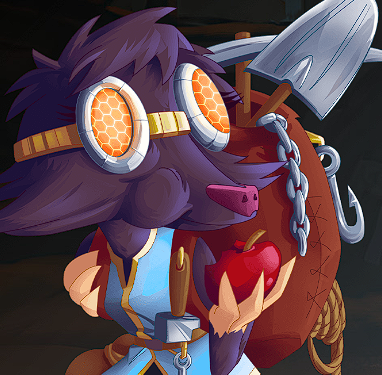 In the third position I used Scavo Hireling, it is a card that does not have large amounts of life and does not have any attack, but it has a great ability for the cost of three mana, called Repair, it restores part of the armor of the card whose armor has received the most damage.
En la tercera posición usé a Scavo Hireling, es una carta que no tiene grandes cantidades de vida y no posee ningun ataque, pero posee una gran habilidad por el coste de tres de mana, llamada Repair, restaura parte de la armadura de la carta cuya armadura ha recibido el mayor daño.
---
4
URAEUS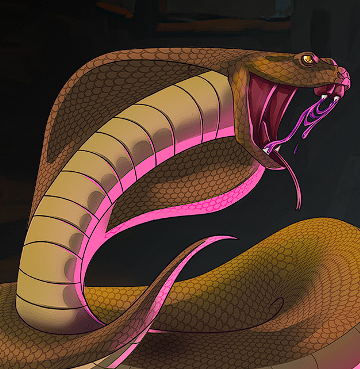 In the fourth position I used Uraeus, a neutral epic card that has two life points, with a shield of one, the attack is one melee type and the speed is two points, to summon it you need 3 mana and it has an ability called Sneak.
En la cuarta posición use a Uraeus, una carta epica tipo neutral que cuenta con dos puntos de vida, con escudo de uno, el ataque es de uno tipo cuerpo a cuerpo y la velocidad con dos punto, para poder invocarlo se necesita 3 de mana y tiene una habilidad llamada Sneak.
---
5
STITCH LEECH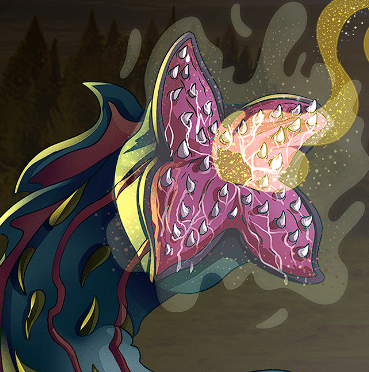 In the fifth position use Stitch Leech, the cost is three points of mana, it has three points of life, two points of melee attack and has one point of speed, with the ability Sneak, equal to the previous card.
En la quinta posición use a Stitch Leech, el coste es de tres puntos de maná, tiene tres puntos de vida, dos de ataque cuerpo a cuerpo y tiene un punto de velocidad, con la habilidad Sneak, igual al de la carta anterior.
---
6
CELESTIAL HARPY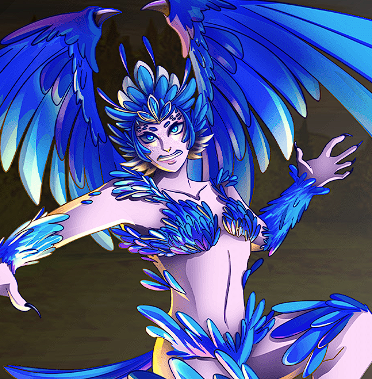 In the last position I used Celestial Harpy, to finish using the amount of mana of two mana, this card has two point of lives, a melee attacks and two speed and the good thing about this card is that it has two skills the first called Opportunity and the other Flying.
En la ultima posición use a Celestial Harpy, para terminar de usar la cantidad de mana de dos de mana, esta carta posee dos punto de vidas, un ataques cuerpo a cuerpo y dos de velocidad y lo bueno de esta carta es que tiene dos habilidades la primera llamada Opportunity y la otra Flying.
---
CONCLUSION
---
From the beginning of the battle I placed the best cards with the combination of dragon and life, a great tank with two cards that did the function of restoring life and the shield of the first card, the rest of the card had great abilities, but sometimes I didn't win the final this time, admiring the card selection that my rival used.
In the following link you can see the complete battle.
Desde el inicio de la batalla coloque las mejores cartas con la combinacion de dragon y vida, un gran tanque con dos cartas que hacian la funcion de restaurar la vida y el escudo de la primera carta, el resto de carta tenian grandes habilidades, pero a la final no cosegui la victoria en esta oportunidad, admirando la seleccion de carta que uso mi rival.
En el siguiente enlace pueden ver la batalla completa.
---
Link
---
---